Abstract
Epstein–Barr virus (EBV) is an oncogenic herpesvirus associated with several cancers of lymphocytic and epithelial origin1,2,3. EBV encodes EBNA1, which binds to a cluster of 20 copies of an 18-base-pair palindromic sequence in the EBV genome4,5,6. EBNA1 also associates with host chromosomes at non-sequence-specific sites7, thereby enabling viral persistence. Here we show that the sequence-specific DNA-binding domain of EBNA1 binds to a cluster of tandemly repeated copies of an EBV-like, 18-base-pair imperfect palindromic sequence encompassing a region of about 21 kilobases at human chromosome 11q23. In situ visualization of the repetitive EBNA1-binding site reveals aberrant structures on mitotic chromosomes characteristic of inherently fragile DNA. We demonstrate that increasing levels of EBNA1 binding trigger dose-dependent breakage at 11q23, producing a fusogenic centromere-containing fragment and an acentric distal fragment, with both mis-segregated into micronuclei in the next cell cycles. In cells latently infected with EBV, elevating EBNA1 abundance by as little as twofold was sufficient to trigger breakage at 11q23. Examination of whole-genome sequencing of EBV-associated nasopharyngeal carcinomas revealed that structural variants are highly enriched on chromosome 11. Presence of EBV is also shown to be associated with an enrichment of chromosome 11 rearrangements across 2,439 tumours from 38 cancer types. Our results identify a previously unappreciated link between EBV and genomic instability, wherein EBNA1-induced breakage at 11q23 triggers acquisition of structural variations in chromosome 11.
Access options
Access Nature and 54 other Nature Portfolio journals
Get Nature+, our best-value online-access subscription
$29.99 / 30 days
cancel any time
Subscribe to this journal
Receive 51 print issues and online access
$199.00 per year
only $3.90 per issue
Rent or buy this article
Get just this article for as long as you need it
$39.95
Prices may be subject to local taxes which are calculated during checkout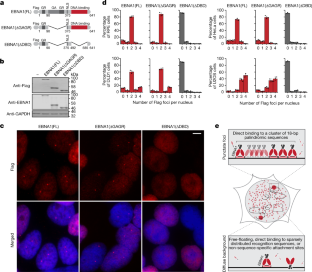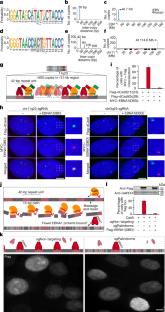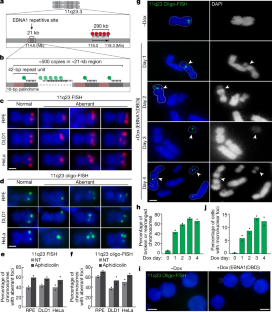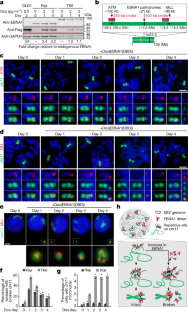 References
Pope, J. H., Horne, M. K. & Scott, W. Transformation of foetal human keukocytes in vitro by filtrates of a human leukaemic cell line containing herpes-like virus. Int. J. Cancer 3, 857–866 (1968).

Hsu, J. L. & Glaser, S. L. Epstein-Barr virus-associated malignancies: epidemiologic patterns and etiologic implications. Crit. Rev. Oncol. Hematol. 34, 27–53 (2000).

Thorley-Lawson, D. A. & Gross, A. Persistence of the Epstein-Barr virus and the origins of associated lymphomas. N. Engl. J. Med. 350, 1328–1337 (2004).

Rawlins, D. R., Milman, G., Hayward, S. D. & Hayward, G. S. Sequence-specific DNA binding of the Epstein-Barr virus nuclear antigen (EBNA-1) to clustered sites in the plasmid maintenance region. Cell 42, 859–868 (1985).

Bochkarev, A. et al. Crystal structure of the DNA-binding domain of the Epstein-Barr virus origin-binding protein EBNA 1. Cell 83, 39–46 (1995).

Bochkarev, A. et al. Crystal structure of the DNA-binding domain of the Epstein-Barr virus origin-binding protein, EBNA1, bound to DNA. Cell 84, 791–800 (1996).

Sears, J. et al. The amino terminus of Epstein-Barr Virus (EBV) nuclear antigen 1 contains AT hooks that facilitate the replication and partitioning of latent EBV genomes by tethering them to cellular chromosomes. J. Virol. 78, 11487–11505 (2004).

De Leo, A., Calderon, A. & Lieberman, P. M. Control of viral latency by episome maintenance proteins. Trends Microbiol. 28, 150–162 (2020).

Humme, S. et al. The EBV nuclear antigen 1 (EBNA1) enhances B cell immortalization several thousandfold. Proc. Natl Acad. Sci. USA 100, 10989–10994 (2003).

Altmann, M. et al. Transcriptional activation by EBV nuclear antigen 1 is essential for the expression of EBV's transforming genes. Proc. Natl Acad. Sci. USA 103, 14188–14193 (2006).

Frappier, L. Contributions of Epstein-Barr nuclear antigen 1 (EBNA1) to cell immortalization and survival. Viruses 4, 1537–1547 (2012).

Lu, F. et al. Genome-wide analysis of host-chromosome binding sites for Epstein-Barr virus nuclear antigen 1 (EBNA1). Virol. J. 7, 262 (2010).

Tempera, I. et al. Identification of MEF2B, EBF1, and IL6R as direct gene targets of Epstein-Barr virus (EBV) nuclear antigen 1 critical for EBV-infected B-lymphocyte survival. J. Virol. 90, 345–355 (2016).

Kim, K. D. et al. Epigenetic specifications of host chromosome docking sites for latent Epstein-Barr virus. Nat. Commun. 11, 877 (2020).

Kanda, T., Kamiya, M., Maruo, S., Iwakiri, D. & Takada, K. Symmetrical localization of extrachromosomally replicating viral genomes on sister chromatids. J. Cell Sci. 120, 1529–1539 (2007).

Wang, H. et al. CRISPR-mediated programmable 3D genome positioning and nuclear organization. Cell 175, 1405–1417 (2018).

Chen, B. et al. Dynamic imaging of genomic loci in living human cells by an optimized CRISPR/Cas system. Cell 155, 1479–1491 (2013).

Ambinder, R. F., Mullen, M. A., Chang, Y. N., Hayward, G. S. & Hayward, S. D. Functional domains of Epstein-Barr virus nuclear antigen EBNA-1. J. Virol. 65, 1466–1478 (1991).

Ambinder, R. F., Shah, W. A., Rawlins, D. R., Hayward, G. S. & Hayward, S. D. Definition of the sequence requirements for binding of the EBNA-1 protein to its palindromic target sites in Epstein-Barr virus DNA. J. Virol. 64, 2369–2379 (1990).

Brown, R. E. & Freudenreich, C. H. Structure-forming repeats and their impact on genome stability. Curr. Opin. Genet. Dev. 67, 41–51 (2021).

Wang, G. & Vasquez, K. M. Dynamic alternative DNA structures in biology and disease. Nat. Rev. Genet. 24, 211–234 (2023).

Durkin, S. G. & Glover, T. W. Chromosome fragile sites. Annu. Rev. Genet. 41, 169–192 (2007).

Glover, T. W., Wilson, T. E. & Arlt, M. F. Fragile sites in cancer: more than meets the eye. Nat. Rev. Cancer 17, 489–501 (2017).

Yunis, J. J. The chromosomal basis of human neoplasia. Science 221, 227–236 (1983).

Yunis, J. J. & Soreng, A. L. Constitutive fragile sites and cancer. Science 226, 1199–1204 (1984).

Yu, S. et al. Human chromosomal fragile site FRA16B is an amplified AT-rich minisatellite repeat. Cell 88, 367–374 (1997).

Boteva, L. et al. Common fragile sites are characterized by faulty condensin loading after replication stress. Cell Rep. 32, 108177 (2020).

Sfeir, A. et al. Mammalian telomeres resemble fragile sites and require TRF1 for efficient replication. Cell 138, 90–103 (2009).

Bashaw, J. M. & Yates, J. L. Replication from oriP of Epstein-Barr virus requires exact spacing of two bound dimers of EBNA1 which bend DNA. J. Virol. 75, 10603–10611 (2001).

Malik-Soni, N. & Frappier, L. Proteomic profiling of EBNA1-host protein interactions in latent and lytic Epstein-Barr virus infections. J. Virol. 86, 6999–7002 (2012).

Umbreit, N. T. et al. Mechanisms generating cancer genome complexity from a single cell division error. Science 368, eaba0712 (2020).

Lee, J. H. & Paull, T. T. Cellular functions of the protein kinase ATM and their relevance to human disease. Nat. Rev. Mol. Cell Biol. 22, 796–814 (2021).

Thirman, M. J. et al. Rearrangement of the MLL gene in acute lymphoblastic and acute myeloid leukemias with 11q23 chromosomal translocations. N. Engl. J. Med. 329, 909–914 (1993).

Fu, Y. H. et al. Variation of the CGG repeat at the fragile X site results in genetic instability: resolution of the Sherman paradox. Cell 67, 1047–1058 (1991).

van Wietmarschen, N. et al. Repeat expansions confer WRN dependence in microsatellite-unstable cancers. Nature 586, 292–298 (2020).

Lieberman, P. M. Keeping it quiet: chromatin control of gammaherpesvirus latency. Nat. Rev. Microbiol. 11, 863–875 (2013).

Stephens, P. J. et al. Massive genomic rearrangement acquired in a single catastrophic event during cancer development. Cell 144, 27–40 (2011).

Kato, H. & Sandberg, A. A. Chromosome pulverization in human cells with micronuclei. J. Natl Cancer Inst. 40, 165–179 (1968).

Zhang, C. Z. et al. Chromothripsis from DNA damage in micronuclei. Nature 522, 179–184 (2015).

Ly, P. et al. Selective Y centromere inactivation triggers chromosome shattering in micronuclei and repair by non-homologous end joining. Nat. Cell Biol. 19, 68–75 (2017).

Leibowitz, M. L. et al. Chromothripsis as an on-target consequence of CRISPR–Cas9 genome editing. Nat. Genet. 53, 895–905 (2021).

Cortés-Ciriano, I. et al. Comprehensive analysis of chromothripsis in 2,658 human cancers using whole-genome sequencing. Nat. Genet. 52, 331–341 (2020).

Young, L. S. & Rickinson, A. B. Epstein-Barr virus: 40 years on. Nat. Rev. Cancer 4, 757–768 (2004).

Pathmanathan, R., Prasad, U., Sadler, R., Flynn, K. & Raab-Traub, N. Clonal proliferations of cells infected with Epstein-Barr virus in preinvasive lesions related to nasopharyngeal carcinoma. N. Engl. J. Med. 333, 693–698 (1995).

Bruce, J. P. et al. Whole-genome profiling of nasopharyngeal carcinoma reveals viral-host co-operation in inflammatory NF-κB activation and immune escape. Nat. Commun. 12, 4193 (2021).

Li, Y. Y. et al. Exome and genome sequencing of nasopharynx cancer identifies NF-κB pathway activating mutations. Nat. Commun. 8, 14121 (2017).

The ICGC/TCGA Pan-Cancer Analysis of Whole Genomes Consortium. Pan-cancer analysis of whole genomes. Nature 578, 82–93 (2020).

Zapatka, M. et al. The landscape of viral associations in human cancers. Nat. Genet. 52, 320–330 (2020).

Sivachandran, N., Wang, X. & Frappier, L. Functions of the Epstein-Barr virus EBNA1 protein in viral reactivation and lytic infection. J. Virol. 86, 6146–6158 (2012).

Guo, R. et al. MYC controls the Epstein-Barr virus lytic switch. Mol. Cell 78, 653–669 (2020).

Chien, Y. C. et al. Serologic markers of Epstein-Barr virus infection and nasopharyngeal carcinoma in Taiwanese men. N. Engl. J. Med. 345, 1877–1882 (2001).

Ambinder, R. F. Gammaherpesviruses and "hit-and-run" oncogenesis. Am. J. Pathol. 156, 1–3 (2000).

Shoshani, O. et al. Chromothripsis drives the evolution of gene amplification in cancer. Nature 591, 137–141 (2021).

Celli, G. B. & de Lange, T. DNA processing is not required for ATM-mediated telomere damage response after TRF2 deletion. Nat. Cell Biol. 7, 712–718 (2005).

The Cancer Genome Atlas Research Network. Comprehensive molecular characterization of gastric adenocarcinoma. Nature 513, 202–209 (2014).
Acknowledgements
This work was financially supported by grants from the US National Institutes of Health (R35 GM122476 to D.W.C. and R01ES030993-01A1, R01ES032547 and R01CA269919 to L.B.A.). J.S.Z.L. is supported by a postdoctoral fellowship from the Damon Runyon Cancer Research Foundation. L.B.A. is supported by a Packard Fellowship for Science and Engineering. D.W.C. receives salary support from the Ludwig Institute for Cancer Research. We thank S. P. Nandi for help with sequencing. The computational analyses reported in this manuscript have utilized the Triton Shared Computing Cluster at the San Diego Supercomputer Center of UC San Diego.
Ethics declarations
Competing interests
L.B.A. is a compensated consultant and has equity interest in io9, LLC. His spouse is an employee of Biotheranostics, Inc. L.B.A. is an inventor of US patent 10,776,718 and also declares US provisional patent applications with serial numbers 63/289,601, 63/269,033 and 63/412,835. L.B.A. and A.A. declare US provisional patent applications with serial numbers 63/366,392 and 63/367,846. S.M.L. is a co-founder of io9, LLC and declares a provisional patent application for Methods and Biomarkers in Cancer (US provisional application serial number 63/179,215). All other authors declare no competing interests.
Peer review
Peer review information
Nature thanks Lori Frappier and the other, anonymous, reviewer(s) for their contribution to the peer review of this work.
Additional information
Publisher's note Springer Nature remains neutral with regard to jurisdictional claims in published maps and institutional affiliations.
Extended data figures and tables
Supplementary information
Uncropped western blots and protein gels. The black box indicates the area cropped for the corresponding figure.
Rights and permissions
Springer Nature or its licensor (e.g. a society or other partner) holds exclusive rights to this article under a publishing agreement with the author(s) or other rightsholder(s); author self-archiving of the accepted manuscript version of this article is solely governed by the terms of such publishing agreement and applicable law.
About this article
Cite this article
Li, J.S.Z., Abbasi, A., Kim, D.H. et al. Chromosomal fragile site breakage by EBV-encoded EBNA1 at clustered repeats. Nature 616, 504–509 (2023). https://doi.org/10.1038/s41586-023-05923-x
Received:

Accepted:

Published:

Issue Date:

DOI: https://doi.org/10.1038/s41586-023-05923-x
Comments
By submitting a comment you agree to abide by our Terms and Community Guidelines. If you find something abusive or that does not comply with our terms or guidelines please flag it as inappropriate.