Abstract
Adhesion G-protein-coupled receptors (aGPCRs) bear notable similarity to Notch proteins1, a class of surface receptors poised for mechano-proteolytic activation2,3,4, including an evolutionarily conserved mechanism of cleavage5,6,7,8. However, so far there is no unifying explanation for why aGPCRs are autoproteolytically processed. Here we introduce a genetically encoded sensor system to detect the dissociation events of aGPCR heterodimers into their constituent N-terminal and C-terminal fragments (NTFs and CTFs, respectively). An NTF release sensor (NRS) of the neural latrophilin-type aGPCR Cirl (ADGRL)9,10,11, from Drosophila melanogaster, is stimulated by mechanical force. Cirl-NRS activation indicates that receptor dissociation occurs in neurons and cortex glial cells. The release of NTFs from cortex glial cells requires trans-interaction between Cirl and its ligand, the Toll-like receptor Tollo (Toll-8)12, on neural progenitor cells, whereas expressing Cirl and Tollo in cis suppresses dissociation of the aGPCR. This interaction is necessary to control the size of the neuroblast pool in the central nervous system. We conclude that receptor autoproteolysis enables non-cell-autonomous activities of aGPCRs, and that the dissociation of aGPCRs is controlled by their ligand expression profile and by mechanical force. The NRS system will be helpful in elucidating the physiological roles and signal modulators of aGPCRs, which constitute a large untapped reservoir of drug targets for cardiovascular, immune, neuropsychiatric and neoplastic diseases13.
Access options
Access Nature and 54 other Nature Portfolio journals
Get Nature+, our best-value online-access subscription
$29.99 / 30 days
cancel any time
Subscribe to this journal
Receive 51 print issues and online access
$199.00 per year
only $3.90 per issue
Rent or buy this article
Get just this article for as long as you need it
$39.95
Prices may be subject to local taxes which are calculated during checkout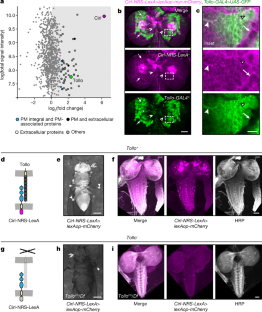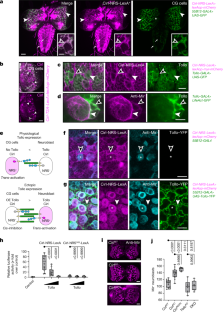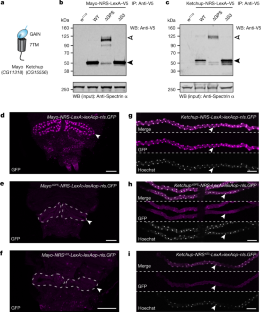 References
Nieberler, M., Kittel, R. J., Petrenko, A. G., Lin, H.-H. & Langenhan, T. in Adhesion G Protein-coupled Receptors: Molecular, Physiological and Pharmacological Principles in Health and Disease (eds Langenhan, T. & Schöneberg, T.) 83–109 (2016).

Gordon, W. R. et al. Mechanical allostery: evidence for a force requirement in the proteolytic activation of Notch. Dev. Cell 33, 729–736 (2015).

Meloty-Kapella, L., Shergill, B., Kuon, J., Botvinick, E. & Weinmaster, G. Notch ligand endocytosis generates mechanical pulling force dependent on dynamin, epsins, and actin. Dev. Cell 22, 1299–1312 (2012).

Langridge, P. D. & Struhl, G. Epsin-dependent ligand endocytosis activates Notch by force. Cell 171, 1383–1396 (2017).

Lin, H.-H. et al. Autocatalytic cleavage of the EMR2 receptor occurs at a conserved G protein-coupled receptor proteolytic site motif. J. Biol. Chem. 279, 31823–31832 (2004).

Araç, D. et al. A novel evolutionarily conserved domain of cell‐adhesion GPCRs mediates autoproteolysis. EMBO J. 31, 1364–1378 (2012).

Krasnoperov, V. G. et al. α-Latrotoxin stimulates exocytosis by the interaction with a neuronal G-protein-coupled receptor. Neuron 18, 925–937 (1997).

Gray, J. X. et al. CD97 is a processed, seven-transmembrane, heterodimeric receptor associated with inflammation. J. Immunol. 157, 5438–5447 (1996).

Scholz, N. et al. The adhesion GPCR latrophilin/CIRL shapes mechanosensation. Cell Rep. 11, 866–874 (2015).

Scholz, N. et al. Mechano-dependent signaling by latrophilin/CIRL quenches cAMP in proprioceptive neurons. eLife 6, e28360 (2017).

Dannhäuser, S. et al. Antinociceptive modulation by the adhesion GPCR CIRL promotes mechanosensory signal discrimination. eLife 9, e56738 (2020).

Lavalou, J. et al. Formation of polarized contractile interfaces by self-organized Toll-8/Cirl GPCR asymmetry. Dev. Cell 56, 1574–1588 (2021).

Bassilana, F., Nash, M. & Ludwig, M.-G. Adhesion G protein-coupled receptors: opportunities for drug discovery. Nat. Rev. Drug Discov. 18, 869–884 (2019).

Hamann, J. et al. International Union of Basic and Clinical Pharmacology. XCIV. Adhesion G protein-coupled receptors. Pharmacol. Rev. 67, 338–367 (2015).

Yeung, J. et al. GPR56/ADGRG1 is a platelet collagen-responsive GPCR and hemostatic sensor of shear force. Proc. Natl Acad. Sci. USA 117, 28275–28286 (2020).

Boyden, S. E. et al. Vibratory urticaria associated with a missense variant in ADGRE2. N. Engl. J. Med. 374, 656–663 (2016).

Liu, D. et al. CD97 promotes spleen dendritic cell homeostasis through the mechanosensing of red blood cells. Science 375, eabi5965 (2022).

Petersen, S. C. et al. The adhesion GPCR GPR126 has distinct, domain-dependent functions in Schwann cell development mediated by interaction with Laminin-211. Neuron 85, 755–769 (2015).

Scholz, N., Monk, K. R., Kittel, R. J. & Langenhan, T. in Adhesion G Protein-coupled Receptors: Molecular, Physiological and Pharmacological Principles in Health and Disease (eds Langenhan, T. & Schöneberg, T.) 221–247 (2016).

Vizurraga, A., Adhikari, R., Yeung, J., Yu, M. & Tall, G. G. Mechanisms of adhesion G protein-coupled receptor activation. J. Biol. Chem. 295, 14065–14083 (2020).

Beliu, G. et al. Tethered agonist exposure in intact adhesion/class B2 GPCRs through intrinsic structural flexibility of the GAIN domain. Mol. Cell 81, 905–921 (2021).

Stoveken, H. M., Hajduczok, A. G., Xu, L. & Tall, G. G. Adhesion G protein-coupled receptors are activated by exposure of a cryptic tethered agonist. Proc. Natl Acad. Sci. USA 112, 6194–6199 (2015).

Liebscher, I. et al. A tethered agonist within the ectodomain activates the adhesion g protein-coupled receptors GPR126 and GPR133. Cell Rep. 9, 2018–2026 (2014).

Bohnekamp, J. & Schöneberg, T. Cell adhesion receptor GPR133 couples to Gs protein. J. Biol. Chem. 286, 41912–41916 (2011).

Sando, R., Jiang, X. & Südhof, T. C. Latrophilin GPCRs direct synapse specificity by coincident binding of FLRTs and teneurins. Science 363, eaav7969 (2019).

Frenster, J. D. et al. Functional impact of intramolecular cleavage and dissociation of adhesion G protein–coupled receptor GPR133 (ADGRD1) on canonical signaling. J. Biol. Chem. 296, 100798 (2021).

Qu, X. et al. Structural basis of tethered agonism of the adhesion GPCRs ADGRD1 and ADGRF1. Nature 604, 779–785 (2022).

Barros-Álvarez, X. et al. The tethered peptide activation mechanism of adhesion GPCRs. Nature 604, 757–762 (2022).

Xiao, P. et al. Tethered peptide activation mechanism of the adhesion GPCRs ADGRG2 and ADGRG4. Nature 604, 771–778 (2022).

Ping, Y.-Q. et al. Structural basis for the tethered peptide activation of adhesion GPCRs. Nature 604, 763–770 (2022).

Kopan, R. & Ilagan, Ma. X. G. The canonical Notch signaling pathway: unfolding the activation mechanism. Cell 137, 216–233 (2009).

Stephenson, N. L. & Avis, J. M. Direct observation of proteolytic cleavage at the S2 site upon forced unfolding of the Notch negative regulatory region. Proc. Natl Acad. Sci. USA 109, E2757–E2765 (2012).

Schroeter, E. H., Kisslinger, J. A. & Kopan, R. Notch-1 signalling requires ligand-induced proteolytic release of intracellular domain. Nature 393, 382–386 (1998).

Strooper, B. D. et al. A presenilin-1-dependent γ-secretase-like protease mediates release of Notch intracellular domain. Nature 398, 518–522 (1999).

Struhl, G. & Adachi, A. Nuclear access and action of Notch in vivo. Cell 93, 649–660 (1998).

Mumm, J. S. et al. A ligand-induced extracellular cleavage regulates γ-secretase-like proteolytic activation of Notch1. Mol. Cell 5, 197–206 (2000).

Rebay, I., Fehon, R. G. & Artavanis-Tsakonas, S. Specific truncations of Drosophila Notch define dominant activated and dominant negative forms of the receptor. Cell 74, 319–329 (1993).

Karpus, O. N. et al. Shear stress-dependent downregulation of the adhesion-G protein-coupled receptor CD97 on circulating leukocytes upon contact with its ligand CD55. J. Immunol. 190, 3740–3748 (2013).

Desai, B. S., Chadha, A. & Cook, B. The stum gene is essential for mechanical sensing in proprioceptive neurons. Science 343, 1256–1259 (2014).

He, L., Binari, R., Huang, J., Falo-Sanjuan, J. & Perrimon, N. In vivo study of gene expression with an enhanced dual-color fluorescent transcriptional timer. eLife 8, e46181 (2019).

Krasnoperov, V. et al. Dissociation of the subunits of the calcium-independent receptor of α-latrotoxin as a result of two-step proteolysis. Biochemistry 48, 3230–3238 (2009).

Pereanu, W. & Hartenstein, V. Neural lineages of the Drosophila brain: a three-dimensional digital atlas of the pattern of lineage location and projection at the late larval stage. J. Neurosci. 26, 5534–5553 (2006).

Shearin, H. K., Quinn, C. D., Mackin, R. D., Macdonald, I. S. & Stowers, R. S. t-GRASP, a targeted GRASP for assessing neuronal connectivity. J. Neurosci. Meth. 306, 94–102 (2018).

Feinberg, E. H. et al. GFP reconstitution across synaptic partners (GRASP) defines cell contacts and synapses in living nervous systems. Neuron 57, 353–363 (2008).

Ito, K., Urban, J. & Technau, G. M. Distribution, classification, and development of Drosophila glial cells in the late embryonic and early larval ventral nerve cord. Rouxs Arch. Dev. Biol. 204, 284–307 (1995).

Usui, T. et al. Flamingo, a seven-pass transmembrane cadherin, regulates planar cell polarity under the control of Frizzled. Cell 98, 585–595 (1999).

Scholz, N., Langenhan, T. & Schöneberg, T. Revisiting the classification of adhesion GPCRs. Ann. NY Acad. Sci. 1456, 80–95 (2019).

Blanco-Redondo, B. & Langenhan, T. Parallel genomic engineering of two Drosophila genes using orthogonal attB/attP sites. G3 8, 3109–3118 (2018).

Kawasaki, T. & Kawai, T. Toll-Like receptor signaling pathways. Front. Immunol. 5, 461 (2014).

Sprinzak, D. et al. Cis-interactions between Notch and Delta generate mutually exclusive signalling states. Nature 465, 86–90 (2010).

Diegelmann, S., Bate, M. & Landgraf, M. Gateway cloning vectors for the LexA-based binary expression system in Drosophila. Fly 2, 236–239 (2008).

Lai, S.-L. & Lee, T. Genetic mosaic with dual binary transcriptional systems in Drosophila. Nat. Neurosci. 9, 703–709 (2006).

Struhl, G. & Adachi, A. Requirements for presenilin-dependent cleavage of notch and other transmembrane proteins. Mol. Cell 6, 625–636 (2000).

Harder, B. et al. TEV protease-mediated cleavage in Drosophila as a tool to analyze protein functions in living organisms. Biotechniques 44, 765–772 (2008).

Baas, S. et al. Sugar-free frosting, a homolog of SAD kinase, drives neural-specific glycan expression in the Drosophila embryo. Development 138, 553–563 (2011).

Ayyar, S. et al. NF-κB/Rel-mediated regulation of the neural fate in Drosophila. PLoS ONE 2, e1178 (2007).

Pogodalla, N. et al. Drosophila ßHeavy-Spectrin is required in polarized ensheathing glia that form a diffusion-barrier around the neuropil. Nat. Commun. 12, 6357 (2021).

Li, H.-H. et al. A GAL4 driver resource for developmental and behavioral studies on the larval CNS of Drosophila. Cell Rep. 8, 897–908 (2014).

Sanyal, S. Genomic mapping and expression patterns of C380, OK6 and D42 enhancer trap lines in the larval nervous system of Drosophila. Gene Expr. Patterns 9, 371–380 (2009).

Potter, C. J., Tasic, B., Russler, E. V., Liang, L. & Luo, L. The Q system: a repressible binary system for transgene expression, lineage tracing, and mosaic analysis. Cell 141, 536–548 (2010).

Ljaschenko, D., Ehmann, N. & Kittel, R. J. Hebbian plasticity guides maturation of glutamate receptor fields in vivo. Cell Rep. 3, 1407–1413 (2013).

Stewart, B. A., Atwood, H. L., Renger, J. J., Wang, J. & Wu, C.-F. Improved stability of Drosophila larval neuromuscular preparations in haemolymph-like physiological solutions. J. Comp. Physiol. 175, 179–191 (1994).

Schmid, A. & Sigrist, S. J. in Drosophila, Methods and Protocols 1st edn (ed. Dahmann, C.) 239–251 (2008).

Tyanova, S., Temu, T. & Cox, J. The MaxQuant computational platform for mass spectrometry-based shotgun proteomics. Nat. Protoc. 11, 2301–2319 (2016).

Tyanova, S. et al. The Perseus computational platform for comprehensive analysis of (prote)omics data. Nat. Methods 13, 731–740 (2016).

Schmied, C. & Tomancak, P. in Drosophila, Methods and Protocols 2nd edn (ed. Dahmann, C.) 189–202 (2016).

Tuthill, J. C. & Wilson, R. I. Parallel transformation of tactile signals in central circuits of Drosophila. Cell 164, 1046–1059 (2016).
Acknowledgements
This work was supported by grants from the Deutsche Forschungsgemeinschaft to N.S. and T.L. through FOR2149, project numbers 265903901 (project P01) and 265996823 (project P03) and through CRC 1423, project number 421152132 (projects A06 and B06); and by a junior research grant from the Faculty of Medicine, Leipzig University, to N.S. We thank C. Klämbt, R. Kopan, D. Montell, N. Perrimon, M. Rossner, R. Schuh, G. Struhl and W. Hütteroth for sharing materials and protocols; M. Ueffing for help with MS analyses; T. Lecuit for discussions on the Cirl–Tollo interaction; and L. Abicht, P. Beckmann, A. Böhme, H. Holzinger, K. Heise, S. Lautenschläger, M. Oppmann, S. Schmidt, U. Strobel and P. Tarlatt for technical assistance. Stocks obtained from the Bloomington Drosophila Stock Center (NIH P40OD018537) and Vienna Drosophila Resource Center (VDRC) were used in this study.
Ethics declarations
Competing interests
N.S. and T.L. are co-inventors of a pending patent covering NTF release sensors for aGPCRs (WO/2022/063915; priority application: EP 3974535; applicant: Leipzig University) covered in this manuscript. The remaining authors declare no competing interests.
Peer review
Peer review information
Nature thanks Gregory Tall and the other, anonymous, reviewer(s) for their contribution to the peer review of this work. Peer reviewer reports are available.
Additional information
Publisher's note Springer Nature remains neutral with regard to jurisdictional claims in published maps and institutional affiliations.
Extended data figures and tables
Supplementary information
This file contains Supplementary Table 1 and Supplementary Figure 1
Rights and permissions
Springer Nature or its licensor (e.g. a society or other partner) holds exclusive rights to this article under a publishing agreement with the author(s) or other rightsholder(s); author self-archiving of the accepted manuscript version of this article is solely governed by the terms of such publishing agreement and applicable law.
About this article
Cite this article
Scholz, N., Dahse, AK., Kemkemer, M. et al. Molecular sensing of mechano- and ligand-dependent adhesion GPCR dissociation. Nature 615, 945–953 (2023). https://doi.org/10.1038/s41586-023-05802-5
Received:

Accepted:

Published:

Issue Date:

DOI: https://doi.org/10.1038/s41586-023-05802-5
Comments
By submitting a comment you agree to abide by our Terms and Community Guidelines. If you find something abusive or that does not comply with our terms or guidelines please flag it as inappropriate.