Abstract
R-loops are RNA–DNA-hybrid-containing nucleic acids with important cellular roles. Deregulation of R-loop dynamics can lead to DNA damage and genome instability1, which has been linked to the action of endonucleases such as XPG2,3,4. However, the mechanisms and cellular consequences of such processing have remained unclear. Here we identify a new population of RNA–DNA hybrids in the cytoplasm that are R-loop-processing products. When nuclear R-loops were perturbed by depleting the RNA–DNA helicase senataxin (SETX) or the breast cancer gene BRCA1 (refs. 5,6,7), we observed XPG- and XPF-dependent cytoplasmic hybrid formation. We identify their source as a subset of stable, overlapping nuclear hybrids with a specific nucleotide signature. Cytoplasmic hybrids bind to the pattern recognition receptors cGAS and TLR3 (ref. 8), activating IRF3 and inducing apoptosis. Excised hybrids and an R-loop-induced innate immune response were also observed in SETX-mutated cells from patients with ataxia oculomotor apraxia type 2 (ref. 9) and in BRCA1-mutated cancer cells10. These findings establish RNA–DNA hybrids as immunogenic species that aberrantly accumulate in the cytoplasm after R-loop processing, linking R-loop accumulation to cell death through the innate immune response. Aberrant R-loop processing and subsequent innate immune activation may contribute to many diseases, such as neurodegeneration and cancer.
Access options
Access Nature and 54 other Nature Portfolio journals
Get Nature+, our best-value online-access subscription
$29.99 per month
cancel any time
Subscribe to this journal
Receive 51 print issues and online access
$199.00 per year
only $3.90 per issue
Rent or buy this article
Get just this article for as long as you need it
$39.95
Prices may be subject to local taxes which are calculated during checkout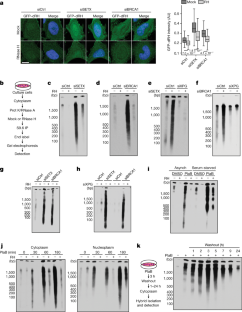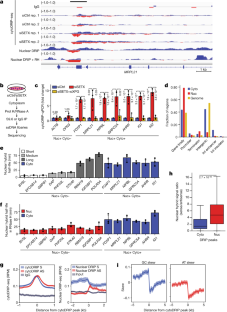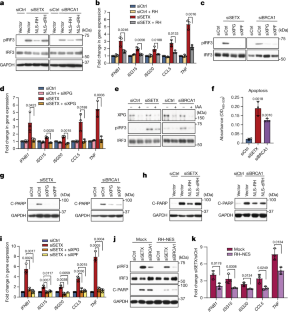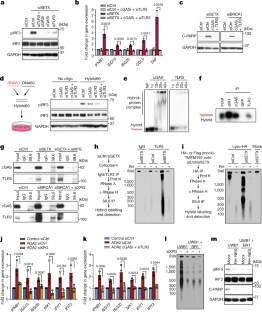 Code availability
Further code information is available on request from the corresponding author.
References
Crossley, M. P., Bocek, M. & Cimprich, K. A. R-loops as cellular regulators and genomic threats. Mol. Cell 73, 398–411 (2019).

Sollier, J. et al. Transcription-coupled nucleotide excision repair factors promote R-loop-induced genome instability. Mol. Cell 56, 777–785 (2014).

Makharashvili, N. et al. Sae2/CtIP prevents R-loop accumulation in eukaryotic cells. eLife 7, e42733 (2018).

Cristini, A. et al. Dual processing of R-loops and topoisomerase I induces transcription-dependent DNA double-strand breaks. Cell Rep. 28, 3167–3181 (2019).

Santos-Pereira, J. M. & Aguilera, A. R loops: new modulators of genome dynamics and function. Nat. Rev. Genet. 16, 583–597 (2015).

Hatchi, E. et al. BRCA1 recruitment to transcriptional pause sites is required for R-loop-driven DNA damage repair. Mol. Cell 57, 636–647 (2015).

Skourti-Stathaki, K., Proudfoot, N. J. & Gromak, N. Human senataxin resolves RNA/DNA hybrids formed at transcriptional pause sites to promote Xrn2-dependent termination. Mol. Cell 42, 794–805 (2011).

Schlee, M. & Hartmann, G. Discriminating self from non-self in nucleic acid sensing. Nat. Rev. Immunol. 16, 566–580 (2016).

Suraweera, A. et al. Senataxin, defective in ataxia oculomotor apraxia type 2, is involved in the defense against oxidative DNA damage. J. Cell Biol. 177, 969–979 (2007).

Harding, S. M. et al. Mitotic progression following DNA damage enables pattern recognition within micronuclei. Nature 548, 466–470 (2017).

He, Y. et al. NF-κB-induced R-loop accumulation and DNA damage select for nucleotide excision repair deficiencies in adult T cell leukemia. Proc. Natl Acad. Sci. USA 118, e2005568118 (2021).

Crossley, M. P. et al. Catalytically-inactive, purified RNaseH1: a specific and sensitive probe for RNA-DNA hybrid imaging. J. Cell Biol. 220, e202101092 (2021).

Nguyen, H. D. et al. Functions of replication protein A as a sensor of R loops and a regulator of RNaseH1. Mol. Cell 65, 832–847 (2017).

Bernardini, J. P. et al. Parkin inhibits BAK and BAX apoptotic function by distinct mechanisms during mitophagy. EMBO J. 38, e99916 (2019).

Tigano, M., Vargas, D. C., Tremblay-Belzile, S., Fu, Y. & Sfeir, A. Nuclear sensing of breaks in mitochondrial DNA enhances immune surveillance. Nature 591, 477–481 (2021).

Köhler, A. & Hurt, E. Exporting RNA from the nucleus to the cytoplasm. Nat. Rev. Mol. Cell Biol. 8, 761–773 (2007).

Chatzidoukaki, O. et al. R-loops trigger the release of cytoplasmic ssDNAs leading to chronic inflammation upon DNA damage. Sci. Adv. 7, eabj5769 (2021).

Koo, C. X. et al. RNA polymerase III regulates cytosolic RNA:DNA hybrids and intracellular microRNA expression. J. Biol. Chem. 290, 7463–7473 (2015).

Smolka, J. A., Sanz, L. A., Hartono, S. R. & Chédin, F. Recognition of RNA by the S9.6 antibody creates pervasive artifacts when imaging RNA:DNA hybrids. J. Cell Biol. 220, e202004079 (2021).

Petermann, E., Lan, L. & Zou, L. Sources, resolution and physiological relevance of R-loops and RNA-DNA hybrids. Nat. Rev. Mol. Cell Biol. 23, 521–540 (2022).

Crossley, M. P., Bocek, M. J., Hamperl, S., Swigut, T. & Cimprich, K. A. qDRIP: a method to quantitatively assess RNA-DNA hybrid formation genome-wide. Nucleic Acids Res. 48, e84 (2020).

Sanz, L. A. et al. Prevalent, dynamic, and conserved R-loop structures associate with specific epigenomic signatures in mammals. Mol. Cell 63, 167–178 (2016).

Lim, G. & Hohng, S. Single-molecule fluorescence studies on cotranscriptional G-quadruplex formation coupled with R-loop formation. Nucleic Acids Res. 48, 9195–9203 (2020).

Ginno, P. A., Lott, P. L., Christensen, H. C., Korf, I. & Chédin, F. R-loop formation is a distinctive characteristic of unmethylated human CpG island promoters. Mol. Cell 45, 814–825 (2012).

Ginno, P. A., Lim, Y. W., Lott, P. L., Korf, I. & Chédin, F. GC skew at the 5′ and 3′ ends of human genes links R-loop formation to epigenetic regulation and transcription termination. Genome Res. 23, 1590–1600 (2013).

Xu, W. et al. The R-loop is a common chromatin feature of the Arabidopsis genome. Nat. Plants 3, 704–714 (2017).

Shen, Y. J. et al. Genome-derived cytosolic DNA mediates type I interferon-dependent rejection of B cell lymphoma cells. Cell Rep. 11, 460–473 (2015).

Coquel, F. et al. SAMHD1 acts at stalled replication forks to prevent interferon induction. Nature 557, 57–61 (2018).

Mackenzie, K. J. et al. cGAS surveillance of micronuclei links genome instability to innate immunity. Nature 548, 461–465 (2017).

Weinreb, J. T. et al. Excessive R-loops trigger an inflammatory cascade leading to increased HSPC production. Dev. Cell 56, 627–640 (2021).

Giordano, A. M. S. et al. DNA damage contributes to neurotoxic inflammation in Aicardi–Goutières syndrome astrocytes. J. Exp. Med. 219, e20211121 (2022).

Suter, M. A. et al. cGAS-STING cytosolic DNA sensing pathway is suppressed by JAK2-STAT3 in tumor cells. Sci. Rep. 11, 7243 (2021).

Cristini, A. et al. RNase H2, mutated in Aicardi–Goutières syndrome, resolves co-transcriptional R-loops to prevent DNA breaks and inflammation. Nat. Commun. 13, 2961 (2022).

Chawla-Sarkar, M. et al. Apoptosis and interferons: role of interferon-stimulated genes as mediators of apoptosis. Apoptosis 8, 237–249 (2003).

Boulares, A. H. et al. Role of poly(ADP-ribose) polymerase (PARP) cleavage in apoptosis. Caspase 3-resistant PARP mutant increases rates of apoptosis in transfected cells. J. Biol. Chem. 274, 22932–22940 (1999).

Porter, A. G. & Jänicke, R. U. Emerging roles of caspase-3 in apoptosis. Cell Death Differ. 6, 99–104 (1999).

Wajant, H., Pfizenmaier, K. & Scheurich, P. Tumor necrosis factor signaling. Cell Death Differ. 10, 45–65 (2003).

Zhou, Y., He, C., Wang, L. & Ge, B. Post-translational regulation of antiviral innate signaling. Eur. J. Immunol. 47, 1414–1426 (2017).

Mankan, A. K. et al. Cytosolic RNA:DNA hybrids activate the cGAS-STING axis. EMBO J. 33, 2937–2946 (2014).

Blasius, A. L. & Beutler, B. Intracellular toll-like receptors. Immunity 32, 305–315 (2010).

Abu-Remaileh, M. et al. Lysosomal metabolomics reveals V-ATPase- and mTOR-dependent regulation of amino acid efflux from lysosomes. Science 358, 807–813 (2017).

Yeo, A. J. et al. R-loops in proliferating cells but not in the brain: implications for AOA2 and other autosomal recessive ataxias. PLoS ONE 9, e90219 (2014).

Kanagaraj, R. et al. Integrated genome and transcriptome analyses reveal the mechanism of genome instability in ataxia with oculomotor apraxia 2. Proc. Natl Acad. Sci. USA 119, e2114314119 (2022).

Semmler, L., Reiter-Brennan, C. & Klein, A. BRCA1 and breast cancer: a review of the underlying mechanisms resulting in the tissue-specific tumorigenesis in mutation carriers. J. Breast Cancer 22, 1–14 (2019).

Bai, G. et al. HLTF promotes fork reversal, limiting replication stress resistance and preventing multiple mechanisms of unrestrained DNA synthesis. Mol. Cell 78, 1237–1251 (2020).

Choi, J.-H., Kim, S.-Y., Kim, S.-K., Kemp, M. G. & Sancar, A. An integrated approach for analysis of the DNA damage response in mammalian cells: nucleotide excision repair, DNA damage checkpoint, and apoptosis. J. Biol. Chem. 290, 28812–28821 (2015).

Long, H. K. et al. Loss of extreme long-range enhancers in human neural crest drives a craniofacial disorder. Cell Stem Cell 27, 765–783 (2020).

Guerra, J. et al. Lysyl-tRNA synthetase produces diadenosine tetraphosphate to curb STING-dependent inflammation. Sci. Adv. 6, eaax3333 (2020).

Cristini, A., Groh, M., Kristiansen, M. S. & Gromak, N. RNA/DNA hybrid interactome identifies DXH9 as a molecular player in transcriptional termination and R-loop-associated DNA damage. Cell Rep. 23, 1891–1905 (2018).

Hamperl, S., Bocek, M. J., Saldivar, J. C., Swigut, T. & Cimprich, K. A. Transcription-replication conflict orientation modulates R-loop levels and activates distinct DNA damage responses. Cell 170, 774–786 (2017).

Natsume, T., Kiyomitsu, T., Saga, Y. & Kanemaki, M. T. Rapid protein depletion in human cells by auxin-inducible degron tagging with short homology donors. Cell Rep. 15, 210–218 (2016).

Sanjana, N. E., Shalem, O. & Zhang, F. Improved vectors and genome-wide libraries for CRISPR screening. Nat. Methods 11, 783–784 (2014).
Acknowledgements
We thank J. Wysocka, S. Hamperl and J. Sollier for discussions and comments; and M.-S. Tsai (for GFP–dRH) and the members of the Straight laboratory for help in designing AID–XPG in HeLa cells. This work was supported by the Leukemia and Lymphoma Society (5455-17 to M.P.C.); the National Institutes of Health (GM119334 to K.A.C., S10OD018220 to the Stanford Functional Genomics Facility, T32-CA09302 to M.J.B., T32-HG000044 to C.L., DP2-CA271386 to M.A.-R.); Stanford Cancer Institute, an NCI-designated Comprehensive Cancer Center, to M.A.-R. and M.P.C.; the Korea Research Institute of Standards and Science (KRISS-GP2021-0003-10 to J.-H.C.), the National Research Foundation of Korea (MSIT) (NRF-2020R1A2C1101575 to J.-H.C.); the National Science Foundation (GRFP to C.L.), Jane Coffin Childs Memorial Fund for Medical Research (61-1755 to J.R.B.), the Gravitation Program CancerGenomiCs.nl from the Netherlands Organisation for Scientific Research (NOW) and the Oncode Institute, which is partly financed by the Dutch Cancer Society to W.V., and the V Foundation (D2018-017 to K.A.C.). M.A.-R. is a Terman Fellow and Pew-Stewart Scholar. K.A.C. is an ACS research professor.
Ethics declarations
Competing interests
K.A.C. is a scientific advisory board member of RADD Pharmaceuticals and IDEAYA Biosciences. M.A.-R. is a scientific advisory board member of Lycia Therapeutics. The other authors declare no competing interests.
Peer review
Peer review information
Nature thanks the anonymous reviewers for their contribution to the peer review of this work.
Additional information
Publisher's note Springer Nature remains neutral with regard to jurisdictional claims in published maps and institutional affiliations.
Extended data figures and tables
Supplementary information
Uncropped gel images from western blots, cytoDRIP blot and agarose gels (Supplementary Fig. 1) and example gating strategy for flow cytometry (Supplementary Fig. 2).
Primers, siRNAs and antibodies used in this study.
Rights and permissions
Springer Nature or its licensor (e.g. a society or other partner) holds exclusive rights to this article under a publishing agreement with the author(s) or other rightsholder(s); author self-archiving of the accepted manuscript version of this article is solely governed by the terms of such publishing agreement and applicable law.
About this article
Cite this article
Crossley, M.P., Song, C., Bocek, M.J. et al. R-loop-derived cytoplasmic RNA–DNA hybrids activate an immune response. Nature 613, 187–194 (2023). https://doi.org/10.1038/s41586-022-05545-9
Received:

Accepted:

Published:

Issue Date:

DOI: https://doi.org/10.1038/s41586-022-05545-9
This article is cited by
Nature Structural & Molecular Biology (2023)
Comments
By submitting a comment you agree to abide by our Terms and Community Guidelines. If you find something abusive or that does not comply with our terms or guidelines please flag it as inappropriate.