Abstract
Sequential segmentation creates modular body plans of diverse metazoan embryos1,2,3,4. Somitogenesis establishes the segmental pattern of the vertebrate body axis. A molecular segmentation clock in the presomitic mesoderm sets the pace of somite formation4. However, how cells are primed to form a segment boundary at a specific location remains unclear. Here we developed precise reporters for the clock and double-phosphorylated Erk (ppErk) gradient in zebrafish. We show that the Her1–Her7 oscillator drives segmental commitment by periodically lowering ppErk, therefore projecting its oscillation onto the ppErk gradient. Pulsatile inhibition of the ppErk gradient can fully substitute for the role of the clock, and kinematic clock waves are dispensable for sequential segmentation. The clock functions upstream of ppErk, which in turn enables neighbouring cells to discretely establish somite boundaries in zebrafish5. Molecularly divergent clocks and morphogen gradients were identified in sequentially segmenting species3,4,6,7,8. Our findings imply that versatile clocks may establish sequential segmentation in diverse species provided that they inhibit gradients.
Access options
Access Nature and 54 other Nature Portfolio journals
Get Nature+, our best-value online-access subscription
$29.99 / 30 days
cancel any time
Subscribe to this journal
Receive 51 print issues and online access
$199.00 per year
only $3.90 per issue
Rent or buy this article
Get just this article for as long as you need it
$39.95
Prices may be subject to local taxes which are calculated during checkout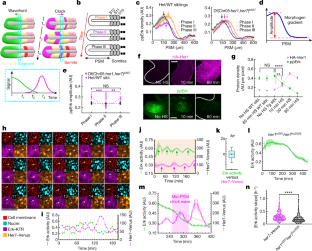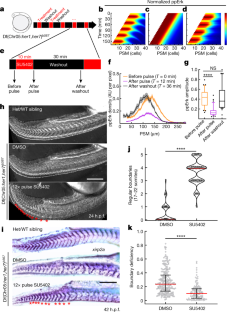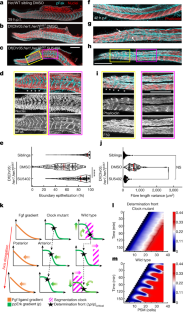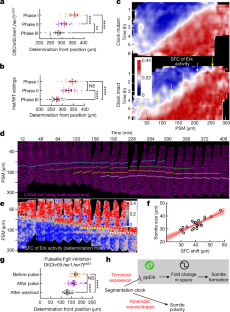 Data availability
The original microscopy image files are provided at BioStudies under accession number S-BSST895. Source data are provided with this paper.
References
Holland, N. D., Holland, L. Z. & Holland, P. W. Scenarios for the making of vertebrates. Nature 520, 450–455 (2015).

Tautz, D. Segmentation. Dev. Cell 7, 301–312 (2004).

Clark, E., Peel, A. D. & Akam, M. Arthropod segmentation. Development 146, dev170480 (2019).

Hubaud, A. & Pourquie, O. Signalling dynamics in vertebrate segmentation. Nat. Rev. Mol. Cell Biol. 15, 709–721 (2014).

Simsek, M. F. & Ozbudak, E. M. Spatial fold change of FGF signaling encodes positional information for segmental determination in zebrafish. Cell Rep. 24, 66–78 (2018).

Pueyo, J. I., Lanfear, R. & Couso, J. P. Ancestral Notch-mediated segmentation revealed in the cockroach Periplaneta americana. Proc. Natl Acad. Sci. USA 105, 16614–16619 (2008).

Sarrazin, A. F., Peel, A. D. & Averof, M. A segmentation clock with two-segment periodicity in insects. Science 336, 338–341 (2012).

El-Sherif, E., Averof, M. & Brown, S. J. A segmentation clock operating in blastoderm and germband stages of Tribolium development. Development 139, 4341–4346 (2012).

Cooke, J. & Zeeman, E. C. A clock and wavefront model for control of the number of repeated structures during animal morphogenesis. J. Theor. Biol. 58, 455–476 (1976).

Palmeirim, I., Henrique, D., Ish-Horowicz, D. & Pourquié, O. Avian hairy gene expression identifies a molecular clock linked to vertebrate segmentation and somitogenesiss. Cell 91, 639–648 (1997).

Holley, S. A., Geisler, R. & Nusslein-Volhard, C. Control of her1 expression during zebrafish somitogenesis by a delta-dependent oscillator and an independent wave-front activity. Genes Dev. 14, 1678–1690 (2000).

Jiang, Y. J. et al. Notch signalling and the synchronization of the somite segmentation clock. Nature 408, 475–479 (2000).

Sawada, A. et al. Zebrafish Mesp family genes, mesp-a and mesp-b are segmentally expressed in the presomitic mesoderm, and Mesp-b confers the anterior identity to the developing somites. Development 127, 1691–1702 (2000).

Giudicelli, F., Ozbudak, E. M., Wright, G. J. & Lewis, J. Setting the tempo in development: an investigation of the zebrafish somite clock mechanism. PLoS Biol. 5, e150 (2007).

Sonnen, K. F. et al. Modulation of phase shift between Wnt and Notch signaling oscillations controls mesoderm segmentation. Cell 172, 1079–1090 (2018).

Cotterell, J., Robert-Moreno, A. & Sharpe, J. A local, self-organizing reaction-diffusion model can explain somite patterning in embryos. Cell Syst. 1, 257–269 (2015).

Dubrulle, J., McGrew, M. J. & Pourquie, O. FGF signaling controls somite boundary position and regulates segmentation clock control of spatiotemporal Hox gene activation. Cell 106, 219–232 (2001).

Sawada, A. et al. Fgf/MAPK signalling is a crucial positional cue in somite boundary formation. Development 128, 4873–4880 (2001).

Aulehla, A. et al. Wnt3a plays a major role in the segmentation clock controlling somitogenesis. Dev. Cell 4, 395–406 (2003).

Bajard, L. et al. Wnt-regulated dynamics of positional information in zebrafish somitogenesis. Development 141, 1381–1391 (2014).

Niwa, Y. et al. Different types of oscillations in Notch and Fgf signaling regulate the spatiotemporal periodicity of somitogenesis. Genes Dev. 25, 1115–1120 (2011).

Krol, A. J. et al. Evolutionary plasticity of segmentation clock networks. Development 138, 2783–2792 (2011).

Dale, J. K. et al. Oscillations of the snail genes in the presomitic mesoderm coordinate segmental patterning and morphogenesis in vertebrate somitogenesis. Dev. Cell 10, 355–366 (2006).

Akiyama, R., Masuda, M., Tsuge, S., Bessho, Y. & Matsui, T. An anterior limit of FGF/Erk signal activity marks the earliest future somite boundary in zebrafish. Development 141, 1104–1109 (2014).

Henry, C. A. et al. Two linked hairy/Enhancer of split-related zebrafish genes, her1 and her7, function together to refine alternating somite boundaries. Development 129, 3693–3704 (2002).

Sari, D. W. K. et al. Time-lapse observation of stepwise regression of Erk activity in zebrafish presomitic mesoderm. Sci. Rep. 8, 4335 (2018).

Ay, A., Knierer, S., Sperlea, A., Holland, J. & Özbudak, E. M. Short-lived Her proteins drive robust synchronized oscillations in the zebrafish segmentation clock. Development 140, 3244–3253 (2013).

Keskin, S. et al. Regulatory network of the scoliosis-associated genes establishes rostrocaudal patterning of somites in zebrafish. iScience 12, 247–259 (2019).

Regot, S., Hughey, J. J., Bajar, B. T., Carrasco, S. & Covert, M. W. High-sensitivity measurements of multiple kinase activities in live single cells. Cell 157, 1724–1734 (2014).

Zinani, O. Q. H., Keseroglu, K., Ay, A. & Ozbudak, E. M. Pairing of segmentation clock genes drives robust pattern formation. Nature 589, 431–436 (2021).

Dias, A. S., de Almeida, I., Belmonte, J. M., Glazier, J. A. & Stern, C. D. Somites without a clock. Science 343, 791–795 (2014).

Wahl, M. B., Deng, C., Lewandoski, M. & Pourquie, O. FGF signaling acts upstream of the NOTCH and WNT signaling pathways to control segmentation clock oscillations in mouse somitogenesis. Development 134, 4033–4041 (2007).

Toda, S., Blauch, L. R., Tang, S. K. Y., Morsut, L. & Lim, W. A. Programming self-organizing multicellular structures with synthetic cell-cell signaling. Science 361, 156–162 (2018).

Toda, S. et al. Engineering synthetic morphogen systems that can program multicellular patterning. Science 370, 327–331 (2020).

Li, P. et al. Morphogen gradient reconstitution reveals Hedgehog pathway design principles. Science 360, 543–548 (2018).

Stapornwongkul, K. S., de Gennes, M., Cocconi, L., Salbreux, G. & Vincent, J. P. Patterning and growth control in vivo by an engineered GFP gradient. Science 370, 321–327 (2020).

Veenvliet, J. V. et al. Mouse embryonic stem cells self-organize into trunk-like structures with neural tube and somites. Science 370, eaba4937 (2020).

van den Brink, S. C. et al. Single-cell and spatial transcriptomics reveal somitogenesis in gastruloids. Nature 582, 405–409 (2020).

Liu, P., Jenkins, N. A. & Copeland, N. G. A highly efficient recombineering-based method for generating conditional knockout mutations. Genome Res. 13, 476–484 (2003).

Hanisch, A. et al. The elongation rate of RNA polymerase II in the zebrafish and its significance in the somite segmentation clock. Development 140, 444–453 (2013).

Ozbudak, E. M. & Lewis, J. Notch signalling synchronizes the zebrafish segmentation clock but is not needed to create somite boundaries. PLoS Genet. 4, e15 (2008).

Choorapoikayil, S., Willems, B., Strohle, P. & Gajewski, M. Analysis of her1 and her7 mutants reveals a spatio temporal separation of the somite clock module. PLoS ONE 7, e39073 (2012).

Schroter, C. et al. Topology and dynamics of the zebrafish segmentation clock core circuit. PLoS Biol. 10, e1001364 (2012).

Delaune, E. A., Francois, P., Shih, N. P. & Amacher, S. L. Single-cell-resolution imaging of the impact of notch signaling and mitosis on segmentation clock dynamics. Dev. Cell 23, 995–1005 (2012).

Kwan, K. M. et al. The Tol2kit: a multisite gateway-based construction kit for Tol2 transposon transgenesis constructs. Dev. Dyn. 236, 3088–3099 (2007).

Soroldoni, D. et al. Genetic oscillations. A Doppler effect in embryonic pattern formation. Science 345, 222–225 (2014).

de la Cova, C., Townley, R., Regot, S. & Greenwald, I. A real-time biosensor for ERK activity reveals signaling dynamics during C. elegans cell fate specification. Dev. Cell 42, 542–553 (2017).

Subach, O. M. et al. Conversion of red fluorescent protein into a bright blue probe. Chem. Biol. 15, 1116–1124 (2008).

Thisse, C. & Thisse, B. High-resolution in situ hybridization to whole-mount zebrafish embryos. Nat. Protoc. 3, 59–69 (2008).

Devoto, S. H., Melancon, E., Eisen, J. S. & Westerfield, M. Identification of separate slow and fast muscle precursor cells in vivo, prior to somite formation. Development. 122, 3371–3380 (1996).

Henry, C. A. et al. Roles for zebrafish focal adhesion kinase in notochord and somite morphogenesis. Dev. Biol. 240, 474–487 (2001).

Simsek, M. F. & Ozbudak, E. M. A 3-D tail explant culture to study vertebrate segmentation in zebrafish. J. Vis. Exp. 172, e61981 (2021).
Acknowledgements
We thank I. Ejikeme, H. Seawall, M. Batie, M. Kofron, the staff at Cincinnati Children's Imaging Core and Cincinnati Children's Veterinary Services for technical assistance; S. Knierer for help in generating transgenic clock reporter line; K. Keseroglu, B. Dulal, S. Zimik, C. McDaniel, S. Brown, L. Holland, N. Holland, D. Tautz and A. Sarrazin for discussions; and H. Seawall, R. Kopan, A. Zorn, B. Gebelein, H. Meijer and K. Dale for providing feedback on the manuscript. This work was funded by a US NIH (Eunice Kennedy Shriver National Institute of Child Health and Human Development) grant (R01HD103623) to E.M.Ö.
Ethics declarations
Competing interests
The authors declare no competing interests.
Peer review
Peer review information
Nature thanks J. Kim Dale and the other, anonymous, reviewer(s) for their contribution to the peer review of this work. Peer reviewer reports are available.
Additional information
Publisher's note Springer Nature remains neutral with regard to jurisdictional claims in published maps and institutional affiliations.
Extended data figures and tables
Supplementary information
Rights and permissions
Springer Nature or its licensor (e.g. a society or other partner) holds exclusive rights to this article under a publishing agreement with the author(s) or other rightsholder(s); author self-archiving of the accepted manuscript version of this article is solely governed by the terms of such publishing agreement and applicable law.
About this article
Cite this article
Simsek, M.F., Chandel, A.S., Saparov, D. et al. Periodic inhibition of Erk activity drives sequential somite segmentation. Nature 613, 153–159 (2023). https://doi.org/10.1038/s41586-022-05527-x
Received:

Accepted:

Published:

Issue Date:

DOI: https://doi.org/10.1038/s41586-022-05527-x
Comments
By submitting a comment you agree to abide by our Terms and Community Guidelines. If you find something abusive or that does not comply with our terms or guidelines please flag it as inappropriate.