Abstract
Genome-wide association studies have identified risk loci linked to inflammatory bowel disease (IBD)1—a complex chronic inflammatory disorder of the gastrointestinal tract. The increasing prevalence of IBD in industrialized countries and the augmented disease risk observed in migrants who move into areas of higher disease prevalence suggest that environmental factors are also important determinants of IBD susceptibility and severity2. However, the identification of environmental factors relevant to IBD and the mechanisms by which they influence disease has been hampered by the lack of platforms for their systematic investigation. Here we describe an integrated systems approach, combining publicly available databases, zebrafish chemical screens, machine learning and mouse preclinical models to identify environmental factors that control intestinal inflammation. This approach established that the herbicide propyzamide increases inflammation in the small and large intestine. Moreover, we show that an AHR–NF-κB–C/EBPβ signalling axis operates in T cells and dendritic cells to promote intestinal inflammation, and is targeted by propyzamide. In conclusion, we developed a pipeline for the identification of environmental factors and mechanisms of pathogenesis in IBD and, potentially, other inflammatory diseases.
Access options
Access Nature and 54 other Nature Portfolio journals
Get Nature+, our best-value online-access subscription
$29.99 per month
cancel any time
Subscribe to this journal
Receive 51 print issues and online access
$199.00 per year
only $3.90 per issue
Rent or buy this article
Get just this article for as long as you need it
$39.95
Prices may be subject to local taxes which are calculated during checkout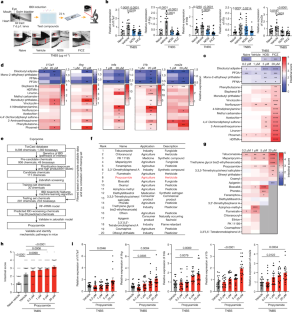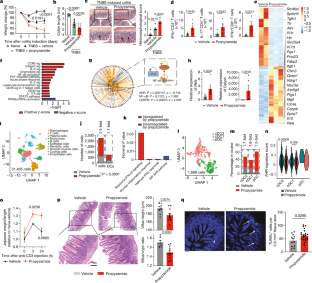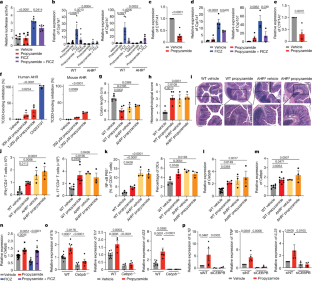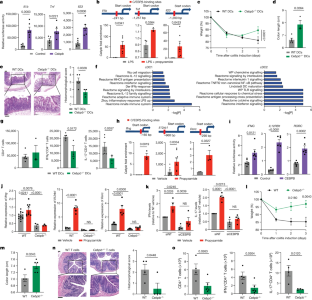 References
Huang, H. et al. Fine-mapping inflammatory bowel disease loci to single-variant resolution. Nature 547, 173–178 (2017).

Kamm, M. A. Rapid changes in epidemiology of inflammatory bowel disease. Lancet 390, 2741–2742 (2018).

Covacu, R. et al. System-wide analysis of the T cell response. Cell Rep. 14, 2733–2744 (2016).

Quintana, F. J. et al. Adaptive autoimmunity and Foxp3-based immunoregulation in zebrafish. PLoS ONE 5, e9478 (2010).

Wheeler, M. A. et al. Environmental control of astrocyte pathogenic activities in CNS inflammation. Cell 176, 581–596 (2019).

White, R. M. et al. DHODH modulates transcriptional elongation in the neural crest and melanoma. Nature 471, 518–522 (2011).

Scott, B. M. et al. Self-tunable engineered yeast probiotics for the treatment of inflammatory bowel disease. Nat. Med. 27, 1212–1222 (2021).

Fleming, A., Jankowski, J. & Goldsmith, P. In vivo analysis of gut function and disease changes in a zebrafish larvae model of inflammatory bowel disease: a feasibility study. Inflamm. Bowel Dis. 16, 1162–1172 (2010).

Goettel, J. A. et al. AHR activation is protective against colitis driven by T cells in humanized mice. Cell Rep. 17, 1318–1329 (2016).

Richard, A. M. et al. ToxCast chemical landscape: paving the road to 21st century toxicology. Chem. Res. Toxicol. 29, 1225–1251 (2016).

Gut, P. et al. Whole-organism screening for gluconeogenesis identifies activators of fasting metabolism. Nat. Chem. Biol. 9, 97–104 (2013).

North, T. E. et al. Prostaglandin E2 regulates vertebrate haematopoietic stem cell homeostasis. Nature 447, 1007–1011 (2007).

Richter, S., Schulze, U., Tomancak, P. & Oates, A. C. Small molecule screen in embryonic zebrafish using modular variations to target segmentation. Nat. Commun. 8, 1901 (2017).

Keiser, M. J. et al. Predicting new molecular targets for known drugs. Nature 462, 175–181 (2009).

Chassaing, B. et al. Dietary emulsifiers impact the mouse gut microbiota promoting colitis and metabolic syndrome. Nature 519, 92–96 (2015).

Kaakoush, N. O. Sutterella species, IgA-degrading bacteria in ulcerative colitis. Trends Microbiol. 28, 519–522 (2020).

Sanmarco, L. M. et al. Gut-licensed IFNγ+ NK cells drive LAMP1+TRAIL+ anti-inflammatory astrocytes. Nature 590, 473–479 (2021).

Schiering, C. et al. Feedback control of AHR signalling regulates intestinal immunity. Nature 542, 242–245 (2017).

Rothhammer, V. et al. Microglial control of astrocytes in response to microbial metabolites. Nature 557, 724–728 (2018).

Okey, A. B., Vella, L. M. & Harper, P. A. Detection and characterization of a low affinity form of cytosolic Ah receptor in livers of mice nonresponsive to induction of cytochrome P1-450 by 3-methylcholanthrene. Mol. Pharmacol. 35, 823–830 (1989).

Akashi, T. I., Nagano, K., Enomoto, E., Mizuno, M. & Shibaok, K. Effects of propyzamide on tobacco cell microtubules in vivo and in vitro. Plant Cell Physiol. 29, 1053–1062 (1988).

Jackman, R. W., Rhoads, M. G., Cornwell, E. & Kandarian, S. C. Microtubule-mediated NF-κB activation in the TNF-α signaling pathway. Exp. Cell. Res. 315, 3242–3249 (2009).

Garber, M. et al. A high-throughput chromatin immunoprecipitation approach reveals principles of dynamic gene regulation in mammals. Mol. Cell 47, 810–822 (2012).

Satpathy, A. T. et al. Notch2-dependent classical dendritic cells orchestrate intestinal immunity to attaching-and-effacing bacterial pathogens. Nat. Immunol. 14, 937–948 (2013).

Meredith, M. M. et al. Expression of the zinc finger transcription factor zDC (Zbtb46, Btbd4) defines the classical dendritic cell lineage. J. Exp. Med. 209, 1153–1165 (2012).

Elmentaite, R. et al. Single-cell sequencing of developing human gut reveals transcriptional links to childhood Crohn's disease. Dev. Cell 55, 771–783 (2020).

Martin, J. C. et al. Single-cell analysis of Crohn's disease lesions identifies a pathogenic cellular module associated with resistance to anti-TNF therapy. Cell 178, 1493–1508 (2019).

Boland, B. S. et al. Heterogeneity and clonal relationships of adaptive immune cells in ulcerative colitis revealed by single-cell analyses. Sci. Immunol. 5, eabb4432 (2020).

Cybulsky, M. I. et al. Gene structure, chromosomal location, and basis for alternative mRNA splicing of the human VCAM1 gene. Proc. Natl Acad. Sci. USA 88, 7859–7863 (1991).

Oh, H. & Ghosh, S. NF-κB: roles and regulation in different CD4+ T-cell subsets. Immunol. Rev. 252, 41–51 (2013).

Chu, H. et al. Gene-microbiota interactions contribute to the pathogenesis of inflammatory bowel disease. Science 352, 1116–1120 (2016).

Lamas, B. et al. CARD9 impacts colitis by altering gut microbiota metabolism of tryptophan into aryl hydrocarbon receptor ligands. Nat. Med. 22, 598–605 (2016).

Rothschild, D. et al. Environment dominates over host genetics in shaping human gut microbiota. Nature 555, 210–215 (2018).

Iyer, S. S. et al. Dietary and microbial oxazoles induce intestinal inflammation by modulating aryl hydrocarbon receptor responses. Cell 173, 1123–1134 (2018).

Cole, D. J. Metabolic Pathways of Agrochemicals. Part One—Herbicides and Plant Growth Regulators (eds Roberts, T. et al.) (Royal Society of Chemistry, 1998).

Propyzamide; Pesticide Tolerances; https://www.federalregister.gov/documents/2016/01/13/2016-00534/propyzamide-pesticide-tolerances (US Government, 2016).

Chaiklieng, S., Suggaravetsiri, P. & Autrup, H. Risk assessment on benzene exposure among gasoline station workers. Int. J. Environ. Res. Publ. Health 16, 2545 (2019).

Ott, M. G., Diller, W. F. & Jolly, A. T. Respiratory effects of toluene diisocyanate in the workplace: a discussion of exposure-response relationships. Crit. Rev. Toxicol. 33, 1–59 (2003).

Cuenca, L. et al. Environmentally-relevant exposure to diethylhexyl phthalate (DEHP) alters regulation of double-strand break formation and crossover designation leading to germline dysfunction in Caenorhabditis elegans. PLoS Genet. 16, e1008529 (2020).

World Health Organization. Guidelines for Drinking-Water Quality Vol. 2, Ch. 14.11, 461–467 (1996).

Toxicological Profile for Toluene Diisocyanate and Methylenediphenyl Diisocyanate (US Department of Health and Human Services, 2018).

World Health Organization. Guidelines for Drinking-Water Quality Vol. 2, Ch. 14.21, 530–540 (1996).

Sorg, O. AhR signalling and dioxin toxicity. Toxicol. Lett. 230, 225–233 (2014).

Muku, G. E., Murray, I. A., Espín, J. C. & Perdew, G. H. Urolithin A is a dietary microbiota-derived human aryl hydrocarbon receptor antagonist. Metabolites 8, 86 (2018).

Gerondakis, S., Fulford, T. S., Messina, N. L. & Grumont, R. J. NF-κB control of T cell development. Nat. Immunol. 15, 15–25 (2014).

Balasubramani, A. et al. Modular utilization of distal cis-regulatory elements controls Ifng gene expression in T cells activated by distinct stimuli. Immunity 33, 35–47 (2010).

Ruan, Q. et al. The Th17 immune response is controlled by the Rel-RORγ-RORγ T transcriptional axis. J. Exp. Med. 208, 2321–2333 (2011).

Yosef, N. et al. Dynamic regulatory network controlling TH17 cell differentiation. Nature 496, 461–468 (2013).

Jostins, L. et al. Host-microbe interactions have shaped the genetic architecture of inflammatory bowel disease. Nature 491, 119–124 (2012).

Satoh, T. et al. Identification of an atypical monocyte and committed progenitor involved in fibrosis. Nature 541, 96–101 (2017).

Jaronen, M., Wheeler, M. A. & Quintana, F. J. Protocol for inducing inflammation and acute myelin degeneration in larval zebrafish. STAR Protoc. 3, 101134 (2022).

Nüsslein-Volhard, C. & Dahm, R. Zebrafish: A Practical Approach 1st edn (Oxford Univ. Press, 2002).

Cusick, M. F., Libbey, J. E., Trede, N. S., Eckels, D. D. & Fujinami, R. S. Human T cell expansion and experimental autoimmune encephalomyelitis inhibited by Lenaldekar, a small molecule discovered in a zebrafish screen. J. Neuroimmunol. 244, 35–44 (2012).

Ridges, S. et al. Zebrafish screen identifies novel compound with selective toxicity against leukemia. Blood 119, 5621–5631 (2012).

ToxCast & Tox21 Summary Files from invitrodb_v3; https://www.epa.gov/chemical-research/toxicity-forecaster-toxcasttm-data (US EPA, accessed 28 October 2018).

Ruder, B., Atreya, R. & Becker, C. Tumour necrosis factor alpha in intestinal homeostasis and gut related diseases. Int. J. Mol. Sci. 20, 1887 (2019).

Andreou, N. P., Legaki, E. & Gazouli, M. Inflammatory bowel disease pathobiology: the role of the interferon signature. Ann. Gastroenterol. 33, 125–133 (2020).

McEntee, C. P., Finlay, C. M. & Lavelle, E. C. Divergent roles for the IL-1 family in gastrointestinal homeostasis and inflammation. Front. Immunol. 10, 1266 (2019).

Salas, A. et al. JAK-STAT pathway targeting for the treatment of inflammatory bowel disease. Nat. Rev. Gastroenterol. Hepatol. 17, 323–337 (2020).

Decara, J. et al. Peroxisome proliferator-activated receptors: experimental targeting for the treatment of inflammatory bowel diseases. Front. Pharmacol. 11, 730 (2020).

Pernomian, L., Duarte-Silva, M. & de Barros Cardoso, C. R. The aryl hydrocarbon receptor (AHR) as a potential target for the control of intestinal inflammation: insights from an immune and bacteria sensor receptor. Clin. Rev. Allergy Immunol. 59, 382–390 (2020).

Langfelder, P. & Horvath, S. Eigengene networks for studying the relationships between co-expression modules. BMC Syst. Biol. 1, 54 (2007).

Martínez-Camblor, P., Pérez-Fernández, S. & Díaz-Coto, S. The role of the p-value in the multitesting problem. J. Appl. Stat. 47, 1529–1542 (2020).

Breiman, L. Random forests. Mach. Learn. 45, 5–32 (2001).

Tong, H., Faloutsos, C. & Pan, J. Fast random walk with restart and its applications. In Proc. Sixth International Conference on Data Mining (ICDM'06) 613–622 (IEEE, 2006).

Kohler, S., Bauer, S., Horn, D. & Robinson, P. N. Walking the interactome for prioritization of candidate disease genes. Am. J. Hum. Genet. 82, 949–958 (2008).

Zhang, B. & Horvath, S. A general framework for weighted gene co-expression network analysis. Stat. Appl. Genet. Mol. Biol. 4, 17 (2005).

Zhou, G. et al. NetworkAnalyst 3.0: a visual analytics platform for comprehensive gene expression profiling and meta-analysis. Nucleic Acids Res. 47, W234–W241 (2019).

Neurath, M. F., Fuss, I., Kelsall, B. L., Stuber, E. & Strober, W. Antibodies to interleukin 12 abrogate established experimental colitis in mice. J. Exp. Med. 182, 1281–1290 (1995).

Soumillon, M., Cacchiarelli, D., Semrau, S., van Oudenaarden, A. & Mikkelsen, T. S. Characterization of directed differentiation by high-throughput single-cell RNA-Seq. Preprint at bioRxiv https://doi.org/10.1101/003236 (2014).

Dobin, A. et al. STAR: ultrafast universal RNA-seq aligner. Bioinformatics 29, 15–21 (2013).

Li, B. & Dewey, C. N. RSEM: accurate transcript quantification from RNA-Seq data with or without a reference genome. BMC Bioinform. 12, 323 (2011).

Bray, N. L., Pimentel, H., Melsted, P. & Pachter, L. Near-optimal probabilistic RNA-seq quantification. Nat. Biotechnol. 34, 525–527 (2016).

Love, M. S., Soneson, C. & Robinson, M. D. Importing transcript abundance datasets with tximport. Bioconductor https://bioconductor.org/packages/devel/bioc/vignettes/tximport/inst/doc/tximport.html (2017).

Love, M. I., Huber, W. & Anders, S. Moderated estimation of fold change and dispersion for RNA-seq data with DESeq2. Genome Biol. 15, 550 (2014).

Zhu, A., Ibrahim, J. G. & Love, M. I. Heavy-tailed prior distributions for sequence count data: removing the noise and preserving large differences. Bioinformatics 35, 2084–2092 (2019).

Zheng, G. X. et al. Massively parallel digital transcriptional profiling of single cells. Nat. Commun. 8, 14049 (2017).

Wolock, S. L., Lopez, R. & Klein, A. M. Scrublet: computational identification of cell doublets in single-cell transcriptomic data. Cell Syst. 8, 281–291 (2019).

Hafemeister, C. & Satija, R. Normalization and variance stabilization of single-cell RNA-seq data using regularized negative binomial regression. Genome Biol. 20, 296 (2019).

Butler, A., Hoffman, P., Smibert, P., Papalexi, E. & Satija, R. Integrating single-cell transcriptomic data across different conditions, technologies, and species. Nat. Biotechnol. 36, 411–420 (2018).

Korsunsky, I. et al. Fast, sensitive and accurate integration of single-cell data with Harmony. Nat. Methods 16, 1289–1296 (2019).

Mi, H., Muruganujan, A., Ebert, D., Huang, X. & Thomas, P. D. PANTHER version 14: more genomes, a new PANTHER GO-slim and improvements in enrichment analysis tools. Nucleic Acids Res. 47, D419–D426 (2019).

Finak, G. et al. MAST: a flexible statistical framework for assessing transcriptional changes and characterizing heterogeneity in single-cell RNA sequencing data. Genome Biol. 16, 278 (2015).

Caporaso, J. G. et al. Ultra-high-throughput microbial community analysis on the Illumina HiSeq and MiSeq platforms. ISME J. 6, 1621–1624 (2012).

Walters, W. et al. Improved bacterial 16S rRNA gene (V4 and V4-5) and fungal internal transcribed spacer marker gene primers for microbial community surveys. mSystems 1, e00009-15 (2016).

Cox, L. M. et al. Calorie restriction slows age-related microbiota changes in an Alzheimer's disease model in female mice. Sci. Rep. 9, 17904 (2019).

Caporaso, J. G. et al. QIIME allows analysis of high-throughput community sequencing data. Nat. Methods 7, 335–336 (2010).

Yoon, S. H. et al. Introducing EzBioCloud: a taxonomically united database of 16S rRNA gene sequences and whole-genome assemblies. Int. J. Syst. Evol. Microbiol. 67, 1613–1617 (2017).

Lozupone, C., Lladser, M. E., Knights, D., Stombaugh, J. & Knight, R. UniFrac: an effective distance metric for microbial community comparison. ISME J. 5, 169–172 (2011).

Chu, C. et al. The microbiota regulate neuronal function and fear extinction learning. Nature 574, 543–548 (2019).

Yeste, A. et al. Tolerogenic nanoparticles inhibit T cell-mediated autoimmunity through SOCS2. Sci. Signal. 9, ra61 (2016).

Rothhammer, V. et al. Type I interferons and microbial metabolites of tryptophan modulate astrocyte activity and central nervous system inflammation via the aryl hydrocarbon receptor. Nat. Med. 22, 586–597 (2016).

Burbach, K. M., Poland, A. & Bradfield, C. A. Cloning of the Ah receptor cDNA reveals a distinctive ligand-activated transcription factor. Proc. Natl Acad. Sci. USA 89, 8185–8189 (1992).

Dolwick, K. M., Schmidt, J. V., Carver, L. A., Swanson, H. I. & Bradfield, C. A. Cloning and expression of a human Ah receptor cDNA. Mol. Pharmacol. 44, 911–917 (1993).

Lowe, M. M. et al. Identification of cinnabarinic acid as a novel endogenous aryl hydrocarbon receptor ligand that drives IL-22 production. PLoS ONE 9, e87877 (2014).

Song, J. et al. A ligand for the aryl hydrocarbon receptor isolated from lung. Proc. Natl Acad. Sci. USA 99, 14694–14699 (2002).

Parks, A. J. et al. In silico identification of an aryl hydrocarbon receptor (AHR) antagonist with biological activity in vitro and in vivo. Mol. Pharmacol. 86, 593–608 (2014).

Mascanfroni, I. D. et al. IL-27 acts on DCs to suppress the T cell response and autoimmunity by inducing expression of the immunoregulatory molecule CD39. Nat. Immunol. 14, 1054–1063 (2013).

Joung, J. et al. Genome-scale CRISPR-Cas9 knockout and transcriptional activation screening. Nat. Protoc. 12, 828–863 (2017).
Acknowledgements
We thank all of the members of the Quintana laboratory for advice and discussions; R. Krishnan for technical assistance with flow cytometry studies; E. Buys and the BWH aquatics facility for assistance with breeding and maintaining the zebrafish; the staff at the Tufts and Harvard histology core facilities for providing histopathology services; the staff at the NeuroTechnology Studio at Brigham and Women's Hospital for providing instrument access; L. Zon and G. Stirtz at Boston Children's Hospital for providing zebrafish lines and advice; D. Rojas Marquez (@darwid_illustration) for help with the model figure. All of the other illustrations were created using BioRender. This work was supported by grants NS087867, ES025530, ES032323, AI126880 and AI093903 from the National Institutes of Health. C.-C.C. received support (104-2917-I-564 −024) from the Ministry of Science and Technology, Taiwan. Y.-C.W. received support by grants and 109-2221-E-010-013-MY3 and 107-2221-E-010-019-MY3 from the Ministry of Science and Technology, Taiwan. C.M.P. was supported by a fellowship from the FAPESP BEPE (2019/13731-0). C.G.-V. was supported by an Alfonso Martín Escudero Foundation postdoctoral fellowship and by a postdoctoral fellowship from the European Molecular Biology Organization (ALTF 610-2017). G.P. is a trainee in the Medical Scientist Training Program funded by NIH T32 GM007356. The content of this manuscript is solely the responsibility of the authors and does not necessarily represent the official views of the National Institute of General Medical Science or NIH. H.-G.L. was supported by a Basic Science Research Program through the National Research Foundation of Korea (NRF) funded by the Ministry of Education (2021R1A6A3A14039088). M.J. was supported by a post-doctoral fellowship from Sigrid Juselius, personal post-doctoral grants from Saastamoinen Foundation, Paulo Foundation, The Finnish MS-Foundation, Orion Farmos Research Foundation and Maud Kuistila Memory Foundation. M.A.W. was supported by the NIH (1K99NS114111, F32NS101790), a training grant from the NIH and Dana-Farber Cancer Institute (T32CA207201), a travelling neuroscience fellowship from the Program in Interdisciplinary Neuroscience at the Brigham and Women's Hospital and the Women's Brain Initiative at the Brigham and Women's Hospital. V.R. received support from an educational grant from Mallinkrodt Pharmaceuticals (A219074) and by a fellowship from the German Research Foundation (DFG RO4866 1/1). R.C. received support by a postdoctoral fellowship from the Swedish Research Council. B.M.A. received support from K12CA090354 from the NIH.
Ethics declarations
Competing interests
The authors declare no competing interests.
Peer review
Peer review information
Nature thanks Judy Cho, Mark Sundrud and the other, anonymous, reviewer(s) for their contribution to the peer review of this work.
Additional information
Publisher's note Springer Nature remains neutral with regard to jurisdictional claims in published maps and institutional affiliations.
Extended data figures and tables
Supplementary information
Rights and permissions
Springer Nature or its licensor (e.g. a society or other partner) holds exclusive rights to this article under a publishing agreement with the author(s) or other rightsholder(s); author self-archiving of the accepted manuscript version of this article is solely governed by the terms of such publishing agreement and applicable law.
About this article
Cite this article
Sanmarco, L.M., Chao, CC., Wang, YC. et al. Identification of environmental factors that promote intestinal inflammation. Nature 611, 801–809 (2022). https://doi.org/10.1038/s41586-022-05308-6
Received:

Accepted:

Published:

Issue Date:

DOI: https://doi.org/10.1038/s41586-022-05308-6
This article is cited by
Nature Reviews Immunology (2022)

Nature Reviews Gastroenterology & Hepatology (2022)
Comments
By submitting a comment you agree to abide by our Terms and Community Guidelines. If you find something abusive or that does not comply with our terms or guidelines please flag it as inappropriate.