Abstract
RORγt is a lineage-specifying transcription factor that is expressed by immune cells that are enriched in the gastrointestinal tract and promote immunity, inflammation and tissue homeostasis1,2,3,4,5,6,7,8,9,10,11,12,13,14,15. However, fundamental questions remain with regard to the cellular heterogeneity among these cell types, the mechanisms that control protective versus inflammatory properties and their functional redundancy. Here we define all RORγt+ immune cells in the intestine at single-cell resolution and identify a subset of group 3 innate lymphoid cells (ILC3s) that expresses ZBTB46, a transcription factor specifying conventional dendritic cells16,17,18,19,20. ZBTB46 is robustly expressed by CCR6+ lymphoid-tissue-inducer-like ILC3s that are developmentally and phenotypically distinct from conventional dendritic cells, and its expression is imprinted by RORγt, fine-tuned by microbiota-derived signals and increased by pro-inflammatory cytokines. ZBTB46 restrains the inflammatory properties of ILC3s, including the OX40L-dependent expansion of T helper 17 cells and the exacerbated intestinal inflammation that occurs after enteric infection. Finally, ZBTB46+ ILC3s are a major source of IL-22, and selective depletion of this population renders mice susceptible to enteric infection and associated intestinal inflammation. These results show that ZBTB46 is a transcription factor that is shared between conventional dendritic cells and ILC3s, and identify a cell-intrinsic function for ZBTB46 in restraining the pro-inflammatory properties of ILC3s and a non-redundant role for ZBTB46+ ILC3s in orchestrating intestinal health.
Relevant articles
Open Access articles citing this article.
Blossom Akagbosu

,

Zakieh Tayyebi

…

Chrysothemis C. Brown

Nature Open Access 07 September 2022
Access options
Access Nature and 54 other Nature Portfolio journals
Get Nature+, our best-value online-access subscription
$29.99 per month
cancel any time
Subscribe to this journal
Receive 51 print issues and online access
$199.00 per year
only $3.90 per issue
Rent or buy this article
Get just this article for as long as you need it
$39.95
Prices may be subject to local taxes which are calculated during checkout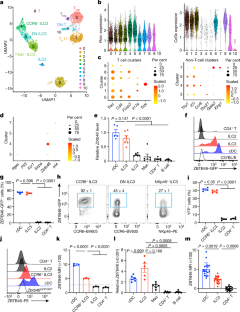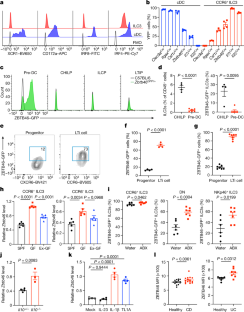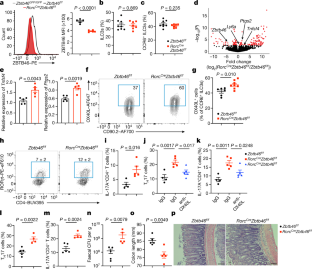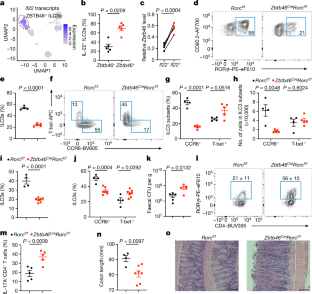 Data availability
All data necessary to understand and evaluate the conclusions of this paper are provided. Bulk RNA-seq data have been deposited in the Gene Expression Omnibus database under the accession number GSE181865 and scRNA-seq data have been deposited under the accession number GSE181864. Source data are provided with this paper.
References
Eberl, G. et al. An essential function for the nuclear receptor RORγt in the generation of fetal lymphoid tissue inducer cells. Nat. Immunol. 5, 64–73 (2004).

Eberl, G. & Littman, D. R. Thymic origin of intestinal αβ T cells revealed by fate mapping of RORγt+ cells. Science 305, 248–251 (2004).

Ivanov, I. I. et al. The orphan nuclear receptor RORγt directs the differentiation program of proinflammatory IL-17+ T helper cells. Cell 126, 1121–1133 (2006).

Ivanov, I. I., Zhou, L. & Littman, D. R. Transcriptional regulation of Th17 cell differentiation. Semin. Immunol. 19, 409–417 (2007).

Luci, C. et al. Influence of the transcription factor RORγt on the development of NKp46+ cell populations in gut and skin. Nat. Immunol. 10, 75–82 (2009).

Zhou, L. & Littman, D. R. Transcriptional regulatory networks in Th17 cell differentiation. Curr. Opin. Immunol. 21, 146–152 (2009).

Sanos, S. L. et al. RORγt and commensal microflora are required for the differentiation of mucosal interleukin 22-producing NKp46+ cells. Nat. Immunol. 10, 83–91 (2009).

Cella, M. et al. A human natural killer cell subset provides an innate source of IL-22 for mucosal immunity. Nature 457, 722–725 (2009).

Martin, B., Hirota, K., Cua, D. J., Stockinger, B. & Veldhoen, M. Interleukin-17-producing γδ T cells selectively expand in response to pathogen products and environmental signals. Immunity 31, 321–330 (2009).

Sutton, C. E. et al. Interleukin-1 and IL-23 induce innate IL-17 production from γδ T cells, amplifying Th17 responses and autoimmunity. Immunity 31, 331–341 (2009).

Buonocore, S. et al. Innate lymphoid cells drive interleukin-23-dependent innate intestinal pathology. Nature 464, 1371–1375 (2010).

Sawa, S. et al. Lineage relationship analysis of RORγt+ innate lymphoid cells. Science 330, 665–669 (2010).

Ohnmacht, C. et al. The microbiota regulates type 2 immunity through RORγt+ T cells. Science 349, 989–993 (2015).

Sefik, E. et al. Individual intestinal symbionts induce a distinct population of RORγ+ regulatory T cells. Science 349, 993–997 (2015).

Eberl, G. RORγt, a multitask nuclear receptor at mucosal surfaces. Mucosal Immunol. 10, 27–34 (2017).

Satpathy, A. T. et al. Zbtb46 expression distinguishes classical dendritic cells and their committed progenitors from other immune lineages. J. Exp. Med. 209, 1135–1152 (2012).

Meredith, M. M. et al. Expression of the zinc finger transcription factor zDC (Zbtb46, Btbd4) defines the classical dendritic cell lineage. J. Exp. Med. 209, 1153–1165 (2012).

Satpathy, A. T., Wu, X., Albring, J. C. & Murphy, K. M. Re(de)fining the dendritic cell lineage. Nat. Immunol. 13, 1145–1154 (2012).

Merad, M., Sathe, P., Helft, J., Miller, J. & Mortha, A. The dendritic cell lineage: ontogeny and function of dendritic cells and their subsets in the steady state and the inflamed setting. Annu. Rev. Immunol. 31, 563–604 (2013).

Cabeza-Cabrerizo, M. et al. Dendritic cells revisited. Annu. Rev. Immunol. 39, 131–166 (2021).

Hepworth, M. R. et al. Group 3 innate lymphoid cells mediate intestinal selection of commensal bacteria-specific CD4+ T cells. Science 348, 1031–1035 (2015).

Zhou, L. et al. Innate lymphoid cells support regulatory T cells in the intestine through interleukin-2. Nature 568, 405–409 (2019).

Teng, F. et al. A circadian clock is essential for homeostasis of group 3 innate lymphoid cells in the gut. Sci. Immunol. 4, eaax1215 (2019).

Fujino, S. et al. Increased expression of interleukin 17 in inflammatory bowel disease. Gut 52, 65–70 (2003).

Brown, C. C. et al. Transcriptional basis of mouse and human dendritic cell heterogeneity. Cell 179, 846–863 (2019).

Schraml, B. U. et al. Genetic tracing via DNGR-1 expression history defines dendritic cells as a hematopoietic lineage. Cell 154, 843–858 (2013).

Pokrovskii, M. et al. Characterization of transcriptional regulatory networks that promote and restrict identities and functions of intestinal innate lymphoid cells. Immunity 51, 185–197 (2019).

Britanova, L. & Diefenbach, A. Interplay of innate lymphoid cells and the microbiota. Immunol. Rev. 279, 36–51 (2017).

Chen, W. Y. et al. Inhibition of the androgen receptor induces a novel tumor promoter, ZBTB46, for prostate cancer metastasis. Oncogene 36, 6213–6224 (2017).

Kugathasan, S. et al. Loci on 20q13 and 21q22 are associated with pediatric-onset inflammatory bowel disease. Nat. Genet. 40, 1211–1215 (2008).

Meredith, M. M. et al. Zinc finger transcription factor zDC is a negative regulator required to prevent activation of classical dendritic cells in the steady state. J. Exp. Med. 209, 1583–1593 (2012).

Castellanos, J. G. et al. Microbiota-induced TNF-like ligand 1A drives group 3 innate lymphoid cell-mediated barrier protection and intestinal T cell activation during colitis. Immunity 49, 1077–1089 (2018).

Gajdasik, D. W. et al. Th1 responses in vivo require cell-specific provision of OX40L dictated by environmental cues. Nat. Commun. 11, 3421 (2020).

Yao, C. et al. Prostaglandin E2–EP4 signaling promotes immune inflammation through Th1 cell differentiation and Th17 cell expansion. Nat. Med. 15, 633–640 (2009).

Napolitani, G., Acosta-Rodriguez, E. V., Lanzavecchia, A. & Sallusto, F. Prostaglandin E2 enhances Th17 responses via modulation of IL-17 and IFN-γ production by memory CD4+ T cells. Eur. J. Immunol. 39, 1301–1312 (2009).

Vély, F. et al. Evidence of innate lymphoid cell redundancy in humans. Nat. Immunol. 17, 1291–1299 (2016).

Rankin, L. C. et al. Complementarity and redundancy of IL-22-producing innate lymphoid cells. Nat. Immunol. 17, 179–186 (2016).

Song, C. et al. Unique and redundant functions of NKp46+ ILC3s in models of intestinal inflammation. J. Exp. Med. 212, 1869–1882 (2015).

Zheng, Y. et al. Interleukin-22 mediates early host defense against attaching and effacing bacterial pathogens. Nat. Med. 14, 282–289 (2008).

Sonnenberg, G., Monticelli, L., Elloso, M., Fouser, L. & Artis, D. CD4+ lymphoid tissue-inducer cells promote innate immunity in the gut. Immunity 34, 122–134 (2011).

Ota, N. et al. IL-22 bridges the lymphotoxin pathway with the maintenance of colonic lymphoid structures during infection with Citrobacter rodentium. Nat. Immunol. 12, 941–948 (2011).

Dudakov, J. A., Hanash, A. M. & van den Brink, M. R. Interleukin-22: immunobiology and pathology. Annu. Rev. Immunol. 33, 747–785 (2015).

Basu, R. et al. Th22 cells are an important source of IL-22 for host protection against enteropathogenic bacteria. Immunity 37, 1061–1075 (2012).

Leppkes, M. et al. RORγ-expressing Th17 cells induce murine chronic intestinal inflammation via redundant effects of IL-17A and IL-17F. Gastroenterology 136, 257–267 (2009).

Bernink, J. H. et al. Human type 1 innate lymphoid cells accumulate in inflamed mucosal tissues. Nat. Immunol. 14, 221–229 (2013).

Wang, Y. et al. ZBTB46 is a shear-sensitive transcription factor inhibiting endothelial cell proliferation via gene expression regulation of cell cycle proteins. Lab. Invest. 99, 305–318 (2019).

Loschko, J. et al. Inducible targeting of cDCs and their subsets in vivo. J. Immunol. Methods 434, 32–38 (2016).

Caton, M. L., Smith-Raska, M. R. & Reizis, B. Notch–RBP-J signaling controls the homeostasis of CD8− dendritic cells in the spleen. J. Exp. Med. 204, 1653–1664 (2007).

Ahlfors, H. et al. IL-22 fate reporter reveals origin and control of IL-22 production in homeostasis and infection. J. Immunol. 193, 4602–4613 (2014).

Srinivas, S. et al. Cre reporter strains produced by targeted insertion of EYFP and ECFP into the ROSA26 locus. BMC Dev. Biol. 1, 4 (2001).

Choi, G. B. et al. The maternal interleukin-17a pathway in mice promotes autism-like phenotypes in offspring. Science 351, 933–939 (2016).

Finotto, S. et al. Development of spontaneous airway changes consistent with human asthma in mice lacking T-bet. Science 295, 336–338 (2002).

Kühn, R., Löhler, J., Rennick, D., Rajewsky, K. & Müller, W. Interleukin-10-deficient mice develop chronic enterocolitis. Cell 75, 263–274 (1993).

Lee, P. P. et al. A critical role for Dnmt1 and DNA methylation in T cell development, function, and survival. Immunity 15, 763–774 (2001).

Loschko, J. et al. Absence of MHC class II on cDCs results in microbial-dependent intestinal inflammation. J. Exp. Med. 213, 517–534 (2016).

Schlenner, S. M. et al. Fate mapping reveals separate origins of T cells and myeloid lineages in the thymus. Immunity 32, 426–436 (2010).

Butler, A., Hoffman, P., Smibert, P., Papalexi, E. & Satija, R. Integrating single-cell transcriptomic data across different conditions, technologies, and species. Nat. Biotechnol. 36, 411–420 (2018).

Hadley, W. ggplot2: Elegant Graphics for Data Analysis (Springer, 2016).

Dodt, M., Roehr, J. T., Ahmed, R. & Dieterich, C. FLEXBAR—flexible barcode and adapter processing for next-generation sequencing platforms. Biology 1, 895–905 (2012).

Dobin, A. et al. STAR: ultrafast universal RNA-seq aligner. Bioinformatics 29, 15–21 (2013).

Liao, Y., Smyth, G. K. & Shi, W. The R package Rsubread is easier, faster, cheaper and better for alignment and quantification of RNA sequencing reads. Nucleic Acids Res. 47, e47 (2019).

Love, M. I., Huber, W. & Anders, S. Moderated estimation of fold change and dispersion for RNA-seq data with DESeq2. Genome Biol. 15, 550 (2014).

Langmead, B. & Salzberg, S. L. Fast gapped-read alignment with Bowtie 2. Nat. Methods 9, 357–359 (2012).

Robinson, J. T., Thorvaldsdóttir, H., Wenger, A. M., Zehir, A. & Mesirov, J. P. Variant review with the Integrative Genomics Viewer. Cancer Res. 77, e31–e34 (2017).
Acknowledgements
We thank members of the G.F.S. laboratory for discussions and critical reading of the manuscript. Research in the G.F.S. laboratory is supported by the National Institutes of Health (R01AI143842, R01AI123368, R01AI145989, U01AI095608, R21CA249274, R01AI162936 and R01CA274534); an Investigators in the Pathogenesis of Infectious Disease Award from the Burroughs Wellcome Fund; the Meyer Cancer Center Collaborative Research Initiative; The Dalton Family Foundation; and Linda and Glenn Greenberg. W.Z. is supported by a fellowship from the Crohn's and Colitis Foundation (831404). L.Z. is supported by a fellowship from the Crohn's and Colitis Foundation (608975). G.F.S. is a CRI Lloyd J. Old STAR. We thank the Epigenomics Cores of Weill Cornell Medicine and G. Putzel for bioinformatics assistance; S. Mozumder for technical assistance; and J. Conrad for administrative assistance. The JRI IBD Live Cell Bank is supported by the JRI, Jill Roberts Center for IBD, Cure for IBD, the Rosanne H. Silbermann Foundation, the Sanders Family and Weill Cornell Medicine Division of Pediatric Gastroenterology and Nutrition.
Ethics declarations
Competing interests
The authors declare no competing interests.
Peer review
Peer review information
Nature thanks Bart Lambrecht and the other, anonymous, reviewer(s) for their contribution to the peer review of this work.
Additional information
Publisher's note Springer Nature remains neutral with regard to jurisdictional claims in published maps and institutional affiliations.
Extended data figures and tables
Supplementary information
Clinical metadata on paediatric patients with IBD and matched controls.
Differentially expressed genes among Zbtb46-deficient CCR6+ ILC3s and controls.
About this article
Cite this article
Zhou, W., Zhou, L., Zhou, J. et al. ZBTB46 defines and regulates ILC3s that protect the intestine. Nature 609, 159–165 (2022). https://doi.org/10.1038/s41586-022-04934-4
Received:

Accepted:

Published:

Issue Date:

DOI: https://doi.org/10.1038/s41586-022-04934-4
Comments
By submitting a comment you agree to abide by our Terms and Community Guidelines. If you find something abusive or that does not comply with our terms or guidelines please flag it as inappropriate.