Abstract
Chromosomal instability (CIN) drives cancer cell evolution, metastasis and therapy resistance, and is associated with poor prognosis1. CIN leads to micronuclei that release DNA into the cytoplasm after rupture, which triggers activation of inflammatory signalling mediated by cGAS and STING2,3. These two proteins are considered to be tumour suppressors as they promote apoptosis and immunosurveillance. However, cGAS and STING are rarely inactivated in cancer4, and, although they have been implicated in metastasis5, it is not known why loss-of-function mutations do not arise in primary tumours4. Here we show that inactivation of cGAS–STING signalling selectively impairs the survival of triple-negative breast cancer cells that display CIN. CIN triggers IL-6–STAT3-mediated signalling, which depends on the cGAS–STING pathway and the non-canonical NF-κB pathway. Blockade of IL-6 signalling by tocilizumab, a clinically used drug that targets the IL-6 receptor (IL-6R), selectively impairs the growth of cultured triple-negative breast cancer cells that exhibit CIN. Moreover, outgrowth of chromosomally instable tumours is significantly delayed compared with tumours that do not display CIN. Notably, this targetable vulnerability is conserved across cancer types that express high levels of IL-6 and/or IL-6R in vitro and in vivo. Together, our work demonstrates pro-tumorigenic traits of cGAS–STING signalling and explains why the cGAS–STING pathway is rarely inactivated in primary tumours. Repurposing tocilizumab could be a strategy to treat cancers with CIN that overexpress IL-6R.
Relevant articles
Open Access articles citing this article.
Haiyan Yan

,

Weiguo Lu

&

Fangwei Wang

Signal Transduction and Targeted Therapy Open Access 30 January 2023

Yang Liu

,

Nanshan Song

…

Ming Lu

Journal of Neuroinflammation Open Access 01 October 2022
Access options
Access Nature and 54 other Nature Portfolio journals
Get Nature+, our best-value online-access subscription
$29.99 per month
cancel any time
Subscribe to this journal
Receive 51 print issues and online access
$199.00 per year
only $3.90 per issue
Rent or buy this article
Get just this article for as long as you need it
$39.95
Prices may be subject to local taxes which are calculated during checkout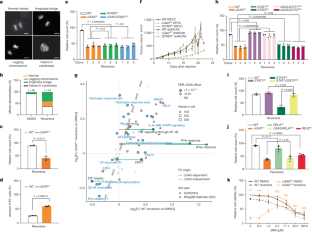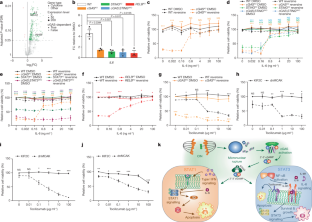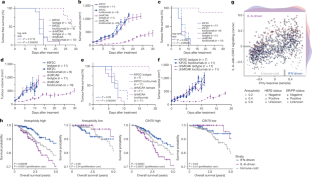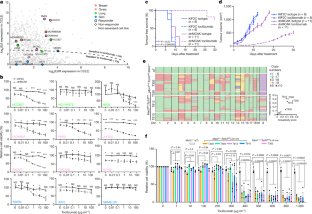 Data availability
All data from this study are available by request by contacting F.F. The RNA sequencing data have been deposited into ArrayExpress under the accession number E-MTAB-10923. Shallow single-cell whole-genome sequencing data have been deposited into the European Nucleotide Archive under the accession number PRJEB49800.  Source data are provided with this paper.
References
Sansregret, L., Vanhaesebroeck, B. & Swanton, C. Determinants and clinical implications of chromosomal instability in cancer. Nat. Rev. Clin. Oncol. 15, 139–150 (2018).

MacKenzie, K. J. et al. CGAS surveillance of micronuclei links genome instability to innate immunity. Nature 548, 461–465 (2017).

Harding, S. M. et al. Mitotic progression following DNA damage enables pattern recognition within micronuclei. Nature 548, 466–470 (2017).

Bakhoum, S. F. & Cantley, L. C. The multifaceted role of chromosomal instability in cancer and its microenvironment. Cell 174, 1347–1360 (2018).

Bakhoum, S. F. et al. Chromosomal instability drives metastasis through a cytosolic DNA response. Nature 553, 467–472 (2018).

Ben-David, U. & Amon, A. Context is everything: aneuploidy in cancer. Nat. Rev. Genet. 21, 44–62 (2020).

Zhou, L., Jilderda, L. J. & Foijer, F. Exploiting aneuploidy-imposed stresses and coping mechanisms to battle cancer. Open Biol. 10, 200148 (2020).

Santaguida, S. et al. Chromosome mis-segregation generates cell-cycle-arrested cells with complex karyotypes that are eliminated by the immune system. Dev. Cell 41, 638–651.e5 (2017).

Hirai, H. et al. Small-molecule inhibition of Wee1 kinase by MK-1775 selectively sensitizes p53-deficient tumor cells to DNA-damaging agents. Mol. Cancer Ther. 8, 2992–3000 (2009).

Heijink, A. M. et al. A haploid genetic screen identifies the G1/S regulatory machinery as a determinant of Wee1 inhibitor sensitivity. Proc. Natl Acad. Sci. USA 112, 15160–15165 (2015).

Pépin, G. & Gantier, M. Assessing the cGAS–cGAMP–STING activity of cancer cells. Methods Mol. Biol. 1725, 257–266 (2018).

Parkes, E. E. et al. The clinical and molecular significance associated with STING signaling in breast cancer. NPJ Breast Cancer 7, 81 (2021).

Dixon, C. R. et al. STING nuclear partners contribute to innate immune signaling responses. iScience 24, 103055 (2021).

Basit, A. et al. The cGAS/STING/TBK1/IRF3 innate immunity pathway maintains chromosomal stability through regulation of p21 levels. Exp. Mol. Med. 52, 643–657 (2020).

Zhong, L. et al. Phosphorylation of cGAS by CDK1 impairs self-DNA sensing in mitosis. Cell Discov. 6, 26 (2020).

Suter, M. A. et al. cGAS–STING cytosolic DNA sensing pathway is suppressed by JAK2–STAT3 in tumor cells. Sci. Rep. 11, 7243 (2021).

Vincent, J. et al. Small molecule inhibition of cGAS reduces interferon expression in primary macrophages from autoimmune mice. Nat. Commun. 8, 750 (2017).

Manning, A. L. et al. The kinesin-13 proteins Kif2a, Kif2b, and Kif2c/MCAK have distinct roles during mitosis in human cells. Mol. Biol. Cell 18, 2970–2979 (2007).

Pulaski, B. A. & Ostrand‐Rosenberg, S. Mouse 4T1 breast tumor model. Curr. Protoc. Immunol. https://doi.org/10.1002/0471142735.im2002s39 (2000).

Parkes, E. E. et al. Activation of STING-dependent innate immune signaling by S-phase-specific DNA damage in breast cancer. J. Natl Cancer Inst. 109, djw199 (2016).

Orr, B., Talje, L., Liu, Z., Kwok, B. H. & Compton, D. A. Adaptive resistance to an inhibitor of chromosomal instability in human cancer cells. Cell Rep. 17, 1755–1763 (2016).

Avalle, L., Pensa, S., Regis, G., Novelli, F. & Poli, V. STAT1 and STAT3 in tumorigenesis: a matter of balance. JAKSTAT 1, 65–72 (2012).

Hui, K. P. Y. et al. Highly pathogenic avian influenza H5N1 virus delays apoptotic responses via activation of STAT3. Sci. Rep. 6, 28593 (2016).

Carter, L. et al. Molecular analysis of circulating tumor cells identifies distinct copy-number profiles in patients with chemosensitive and chemorefractory small-cell lung cancer. Nat. Med. 23, 114–119 (2016).

Senftleben, U. et al. Activation by IKKα of a second, evolutionary conserved, NF-κB signaling pathway. Science 293, 1495–1499 (2001).

Chen, S.-J., Huang, S.-S. & Chang, N.-S. Role of WWOX and NF-κB in lung cancer progression. Transl. Resp. Med. 1, 15 (2013).

Zamanian-Daryoush, M., Mogensen, T. H., DiDonato, J. A. & Williams, B. R. G. NF-κB activation by double-stranded-RNA-activated protein kinase (PKR) is mediated through NF-κB-inducing kinase and IκB kinase. Mol. Cell. Biol. 20, 1278–1290 (2000).

Heijink, A. M. et al. BRCA2 deficiency instigates cGAS-mediated inflammatory signaling and confers sensitivity to tumor necrosis factor-α-mediated cytotoxicity. Nat. Commun. 10, 100 (2019).

Johnson, D. E., O'Keefe, R. A. & Grandis, J. R. Targeting the IL-6/JAK/STAT3 signalling axis in cancer. Nat. Rev. Clin. Oncol. 15, 234–248 (2018).

Horvath, C. M. The Jak–STAT pathway stimulated by interferon α or interferon β. Sci. STKE 2004, tr10 (2004).

Bromberg, J. F., Horvath, C. M., Wen, Z., Schreiber, R. D. & Darnell, J. E. Transcriptionally active Stat1 is required for the antiproliferative effects of both interferon alpha and interferon gamma. Proc. Natl Acad. Sci. USA 93, 7673–7678 (1996).

Carter, S. L., Eklund, A. C., Kohane, I. S., Harris, L. N. & Szallasi, Z. A signature of chromosomal instability inferred from gene expression profiles predicts clinical outcome in multiple human cancers. Nat. Genet. 38, 1043–1048 (2006).

Meyers, R. M. et al. Computational correction of copy number effect improves specificity of CRISPR–Cas9 essentiality screens in cancer cells. Nat. Genet. 49, 1779–1784 (2017).

Tsherniak, A. et al. Defining a cancer dependency map. Cell 170, 564–576 (2017).

Foijer, F. et al. Deletion of the MAD2L1 spindle assembly checkpoint gene is tolerated in mouse models of acute T-cell lymphoma and hepatocellular carcinoma. eLife 6, e20873 (2017).

Foijer, F. et al. Chromosome instability induced by Mps1 and p53 mutation generates aggressive lymphomas exhibiting aneuploidy-induced stress. Proc. Natl Acad. Sci. USA 111, 13427–13432 (2014).

de Wind, N., Dekker, M., Berns, A., Radman, M. & te Riele, H. Inactivation of the mouse Msh2 gene results in mismatch repair deficiency, methylation tolerance, hyperrecombination, and predisposition to cancer. Cell 82, 321–330 (1995).

Bakker, B. et al. Single-cell sequencing reveals karyotype heterogeneity in murine and human malignancies. Genome Biol. 17, 115 (2016).

van den Bos, H. et al. Quantification of aneuploidy in mammalian systems. Methods Mol. Biol. 1896, 159–190 (2019).

Shoshani, O. et al. Transient genomic instability drives tumorigenesis through accelerated clonal evolution. Genes Dev. 35, 1093–1109 (2021).

Pozo, F. M. et al. MYO10 drives genomic instability and inflammation in cancer. Sci. Adv. 7, eabg6908 (2021).

LJ, S. Tocilizumab: a review in rheumatoid arthritis. Drugs 77, 1865–1879 (2017).

Decout, A., Katz, J. D., Venkatraman, S. & Ablasser, A. The cGAS–STING pathway as a therapeutic target in inflammatory diseases. Nat. Rev. Immunol. 21, 548–569 (2021).

Jones, V. S. et al. Cytokines in cancer drug resistance: cues to new therapeutic strategies. Biochim. Biophys. Acta 1865, 255–265 (2016).

Duan, Z., Lamendola, D. E., Penson, R. T., Kronish, K. M. & Seiden, M. V. Overexpression of IL-6 but not IL-8 increases paclitaxel resistance of U-2OS human osteosarcoma cells. Cytokine 17, 234–242 (2002).

Ran, F. A. et al. Genome engineering using the CRISPR–Cas9 system. Nat. Protoc. 8, 2281–2308 (2013).

Schukken, K. The consequences of aneuploidy and chromosome instability: survival, cell death and cancer. PhD thesis, Univ. Groningen (2020).

FastQC: a quality control tool for high throughput sequence data version 0.11.9 (Babraham Bioinformatics, 2019).

Martin, M. Cutadapt removes adapter sequences from high-throughput sequencing reads. EMBnet J. 17, 10–12 (2011).

Kim, D., Langmead, B. & Salzberg, S. L. HISAT: a fast spliced aligner with low memory requirements. Nat. Methods 12, 357–360 (2015).

Love, M. I., Huber, W. & Anders, S. Moderated estimation of fold change and dispersion for RNA-seq data with DESeq2. Genome Biol. 15, 550 (2014).

Howe, K. L. et al. Ensembl 2021. Nucleic Acids Res. 49, D884–D891 (2021).

Liberzon, A. et al. The Molecular Signatures Database Hallmark Gene Set Collection. Cell Syst. 1, 417–425 (2015).

Garcia-Alonso, L. et al. Transcription factor activities enhance markers of drug sensitivity in cancer. Cancer Res. 78, 769–780 (2018).

Colaprico, A. et al. TCGAbiolinks: an R/Bioconductor package for integrative analysis of TCGA data. Nucleic Acids Res. 44, e71 (2016).

Hänzelmann, S., Castelo, R. & Guinney, J. GSVA: gene set variation analysis for microarray and RNA-seq data. BMC Bioinformatics 14, 7 (2013).

Yoshihara, K. et al. Inferring tumour purity and stromal and immune cell admixture from expression data. Nat. Commun. 4, 2612 (2013).

Buccitelli, C. et al. Pan-cancer analysis distinguishes transcriptional changes of aneuploidy from proliferation. Genome Res. 27, 501–511 (2017).

Jassal, B. et al. The reactome pathway knowledgebase. Nucleic Acids Res. 48, D498–D503 (2020).
Acknowledgements
We are grateful to the members of the Bruggeman, de Bruyn, van Vugt and Foijer laboratories for fruitful discussions. We thank M. Weij and D. Eichorn at the central animal facility for assistance with animal experiments; J. Teunis at the flow cytometry facility for help with flow cytometry; R. Arjaans and N. Halsema at the UMCG/ERIBA Research Sequencing facility for help with RNA sequencing library preparation and (single cell) sequencing; and M. Broekhuis and J. Seiler at the UMCG/ERIBA iPSC/CRISPR facility for advice regarding the CRISPR knockout experiments. This work was supported by Dutch Cancer Society grants to F.F. (2015-RUG-7833 & 2018-RUG-11457) and M.A.T.M.v.V. (2018-RUG-11352), UMCG research fellowships to C.H. and M. Requesens, and a UMCG Cancer Research Fund (KRF) grant to C.H.
Ethics declarations
Competing interests
M.A.T.M.v.V. has acted on the Scientific Advisory Board of Repare Therapeutics, which is unrelated to this work. B.v.d.V has acted as a consultant or scientific advisory board member (on request) for Visiopharm, Philips, MSD/Merck and as a speaker for Visiopharm, Diaceutics and MSD/Merck for which UMCG was compensated. This is all unrelated to this work. The other authors declare no competing interests.
Peer review
Peer review information
Nature thanks Glen Barber and the other, anonymous, reviewer(s) for their contribution to the peer review of this work. Peer reviewer reports are available.
Additional information
Publisher's note Springer Nature remains neutral with regard to jurisdictional claims in published maps and institutional affiliations.
Extended data figures and tables
Supplementary information
This file contains Supplementary Figs. 1 and 2 and Supplementary Tables 1 and 2.
About this article
Cite this article
Hong, C., Schubert, M., Tijhuis, A.E. et al. cGAS–STING drives the IL-6-dependent survival of chromosomally instable cancers. Nature 607, 366–373 (2022). https://doi.org/10.1038/s41586-022-04847-2
Received:

Accepted:

Published:

Issue Date:

DOI: https://doi.org/10.1038/s41586-022-04847-2
Comments
By submitting a comment you agree to abide by our Terms and Community Guidelines. If you find something abusive or that does not comply with our terms or guidelines please flag it as inappropriate.