Abstract
Reliable sensory discrimination must arise from high-fidelity neural representations and communication between brain areas. However, how neocortical sensory processing overcomes the substantial variability of neuronal sensory responses remains undetermined1,2,3,4,5,6. Here we imaged neuronal activity in eight neocortical areas concurrently and over five days in mice performing a visual discrimination task, yielding longitudinal recordings of more than 21,000 neurons. Analyses revealed a sequence of events across the neocortex starting from a resting state, to early stages of perception, and through the formation of a task response. At rest, the neocortex had one pattern of functional connections, identified through sets of areas that shared activity cofluctuations7,8. Within about 200 ms after the onset of the sensory stimulus, such connections rearranged, with different areas sharing cofluctuations and task-related information. During this short-lived state (approximately 300 ms duration), both inter-area sensory data transmission and the redundancy of sensory encoding peaked, reflecting a transient increase in correlated fluctuations among task-related neurons. By around 0.5 s after stimulus onset, the visual representation reached a more stable form, the structure of which was robust to the prominent, day-to-day variations in the responses of individual cells. About 1 s into stimulus presentation, a global fluctuation mode conveyed the upcoming response of the mouse to every area examined and was orthogonal to modes carrying sensory data. Overall, the neocortex supports sensory performance through brief elevations in sensory coding redundancy near the start of perception, neural population codes that are robust to cellular variability, and widespread inter-area fluctuation modes that transmit sensory data and task responses in non-interfering channels.
Access options
Access Nature and 54 other Nature Portfolio journals
Get Nature+, our best-value online-access subscription
$29.99 per month
cancel any time
Subscribe to this journal
Receive 51 print issues and online access
$199.00 per year
only $3.90 per issue
Rent or buy this article
Get just this article for as long as you need it
$39.95
Prices may be subject to local taxes which are calculated during checkout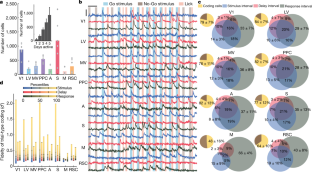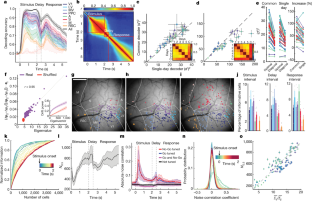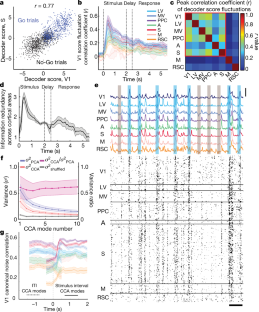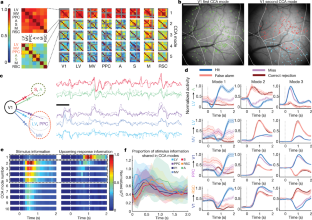 Data availability
The data supporting the findings of this study are available from the corresponding authors on reasonable request.
References
Faisal, A. A., Selen, L. P. & Wolpert, D. M. Noise in the nervous system. Nat. Rev. Neurosci. 9, 292–303 (2008).

Lutcke, H., Margolis, D. J. & Helmchen, F. Steady or changing? Long-term monitoring of neuronal population activity. Trends Neurosci. 36, 375–384 (2013).

Rumyantsev, O. I. et al. Fundamental bounds on the fidelity of sensory cortical coding. Nature 580, 100–105 (2020).

Stein, R. B., Gossen, E. R. & Jones, K. E. Neuronal variability: noise or part of the signal? Nat. Rev. Neurosci. 6, 389–397 (2005).

Zohary, E., Shadlen, M. N. & Newsome, W. T. Correlated neuronal discharge rate and its implications for psychophysical performance. Nature 370, 140–143 (1994).

Driscoll, L. N., Pettit, N. L., Minderer, M., Chettih, S. N. & Harvey, C. D. Dynamic reorganization of neuronal activity patterns in parietal cortex. Cell 170, 986–999 (2017).

Greicius, M. D., Supekar, K., Menon, V. & Dougherty, R. F. Resting-state functional connectivity reflects structural connectivity in the default mode network. Cereb. Cortex 19, 72–78 (2009).

Rosenberg, M. D. et al. A neuromarker of sustained attention from whole-brain functional connectivity. Nat. Neurosci. 19, 165–171 (2016).

Montijn, J. S., Meijer, G. T., Lansink, C. S. & Pennartz, C. M. Population-level neural codes are robust to single-neuron variability from a multidimensional coding perspective. Cell Rep. 16, 2486–2498 (2016).

Semedo, J. D., Zandvakili, A., Machens, C. K., Byron, M. Y. & Kohn, A. Cortical areas interact through a communication subspace. Neuron 102, 249–259 (2019).

Stringer, C. et al. Spontaneous behaviors drive multidimensional, brainwide activity. Science 364, 255 (2019).

Abbott, L. F. & Dayan, P. The effect of correlated variability on the accuracy of a population code. Neural Comput. 11, 91–101 (1999).

Averbeck, B. B. & Lee, D. Effects of noise correlations on information encoding and decoding. J. Neurophysiol. 95, 3633–3644 (2006).

Moreno-Bote, R. et al. Information-limiting correlations. Nat. Neurosci. 17, 1410–1417 (2014).

Carrillo-Reid, L., Han, S., Yang, W., Akrouh, A. & Yuste, R. Controlling visually guided behavior by holographic recalling of cortical ensembles. Cell 178, 447–457 (2019).

Graf, A. B., Kohn, A., Jazayeri, M. & Movshon, J. A. Decoding the activity of neuronal populations in macaque primary visual cortex. Nat. Neurosci. 14, 239–245 (2011).

Ziv, Y. et al. Long-term dynamics of CA1 hippocampal place codes. Nat. Neurosci. 16, 264–266 (2013).

Xia, J., Marks, T. D., Goard, M. J. & Wessel, R. Stable representation of a naturalistic movie emerges from episodic activity with gain variability. Nat. Commun. 12, 5170 (2021).

Gonzalez, W. G., Zhang, H., Harutyunyan, A. & Lois, C. Persistence of neuronal representations through time and damage in the hippocampus. Science 365, 821–825 (2019).

Deitch, D., Rubin, A. & Ziv, Y. Representational drift in the mouse visual cortex. Curr. Biol. 31, 4327–4339 (2021).

Sridharan, D., Levitin, D. J. & Menon, V. A critical role for the right fronto-insular cortex in switching between central-executive and default-mode networks. Proc. Natl Acad. Sci. USA 105, 12569–12574 (2008).

Allen, W. E. et al. Thirst regulates motivated behavior through modulation of brainwide neural population dynamics. Science 364, 253 (2019).

Musall, S., Kaufman, M. T., Juavinett, A. L., Gluf, S. & Churchland, A. K. Single-trial neural dynamics are dominated by richly varied movements. Nat. Neurosci. 22, 1677–1686 (2019).

Niell, C. M. & Stryker, M. P. Modulation of visual responses by behavioral state in mouse visual cortex. Neuron 65, 472–479 (2010).

Montani, F., Kohn, A., Smith, M. A. & Schultz, S. R. The role of correlations in direction and contrast coding in the primary visual cortex. J. Neurosci. 27, 2338–2348 (2007).

Goard, M. J., Pho, G. N., Woodson, J. & Sur, M. Distinct roles of visual, parietal, and frontal motor cortices in memory-guided sensorimotor decisions. eLife 5, e13764 (2016).

Poort, J. et al. Learning enhances sensory and multiple non-sensory representations in primary visual cortex. Neuron 86, 1478–1490 (2015).

Britten, K. H., Shadlen, M. N., Newsome, W. T. & Movshon, J. A. The analysis of visual motion: a comparison of neuronal and psychophysical performance. J. Neurosci. 12, 4745–4765 (1992).

Kanitscheider, I., Coen-Cagli, R. & Pouget, A. Origin of information-limiting noise correlations. Proc. Natl Acad. Sci. USA 112, E6973–E6982 (2015).

Bullmore, E. & Sporns, O. Complex brain networks: graph theoretical analysis of structural and functional systems. Nat. Rev. Neurosci. 10, 186–198 (2009).

Yu, Y., Stirman, J. N., Dorsett, C. R. & Smith, S. L. Mesoscale correlation structure with single cell resolution during visual coding. Preprint at bioRxiv https://doi.org/10.1101/469114 (2018).

Gregoriou, G. G., Gotts, S. J. & Desimone, R. Cell-type-specific synchronization of neural activity in FEF with V4 during attention. Neuron 73, 581–594 (2012).

Gregoriou, G. G., Gotts, S. J., Zhou, H. & Desimone, R. High-frequency, long-range coupling between prefrontal and visual cortex during attention. Science 324, 1207–1210 (2009).

Ruff, D. A. & Cohen, M. R. Attention increases spike count correlations between visual cortical areas. J. Neurosci. 36, 7523–7534 (2016).

van Kempen, J. et al. Top-down coordination of local cortical state during selective attention. Neuron 109, 894–904 (2021).

Chen, J. L., Voigt, F. F., Javadzadeh, M., Krueppel, R. & Helmchen, F. Long-range population dynamics of anatomically defined neocortical networks. eLife 5, e14679 (2016).

Doiron, B., Litwin-Kumar, A., Rosenbaum, R., Ocker, G. K. & Josic, K. The mechanics of state-dependent neural correlations. Nat. Neurosci. 19, 383–393 (2016).

Churchland, M. M. et al. Stimulus onset quenches neural variability: a widespread cortical phenomenon. Nat. Neurosci. 13, 369–378 (2010).

Wagner, M. J. et al. Shared cortex-cerebellum dynamics in the execution and learning of a motor task. Cell 177, 669–682 (2019).

Steinmetz, N. A., Zatka-Haas, P., Carandini, M. & Harris, K. D. Distributed coding of choice, action and engagement across the mouse brain. Nature 576, 266–273 (2019).

Britten, K. H., Newsome, W. T., Shadlen, M. N., Celebrini, S. & Movshon, J. A. A relationship between behavioral choice and the visual responses of neurons in macaque MT. Vis. Neurosci. 13, 87–100 (1996).

Keller, A. J., Roth, M. M. & Scanziani, M. Feedback generates a second receptive field in neurons of the visual cortex. Nature 582, 545–549 (2020).

Bondy, A. G., Haefner, R. M. & Cumming, B. G. Feedback determines the structure of correlated variability in primary visual cortex. Nat. Neurosci. 21, 598–606 (2018).

Zipser, K., Lamme, V. A. & Schiller, P. H. Contextual modulation in primary visual cortex. J. Neurosci. 16, 7376–7389 (1996).

Mashour, G. A., Roelfsema, P., Changeux, J. P. & Dehaene, S. Conscious processing and the global neuronal workspace hypothesis. Neuron 105, 776–798 (2020).

Cohen, M. X. & Ranganath, C. Reinforcement learning signals predict future decisions. J. Neurosci. 27, 371–378 (2007).

Bassett, D. S. & Bullmore, E. Small-world brain networks. Neuroscientist 12, 512–523 (2006).

Oh, S. W. et al. A mesoscale connectome of the mouse brain. Nature 508, 207–214 (2014).

Garrett, M. E., Nauhaus, I., Marshel, J. H. & Callaway, E. M. Topography and areal organization of mouse visual cortex. J. Neurosci. 34, 12587–12600 (2014).

Kalatsky, V. A. & Stryker, M. P. New paradigm for optical imaging: temporally encoded maps of intrinsic signal. Neuron 38, 529–545 (2003).

Marshel, J. H., Garrett, M. E., Nauhaus, I. & Callaway, E. M. Functional specialization of seven mouse visual cortical areas. Neuron 72, 1040–1054 (2011).

Zhuang, J. et al. An extended retinotopic map of mouse cortex. eLife 6, e18372 (2017).

Lecoq, J. et al. Visualizing mammalian brain area interactions by dual-axis two-photon calcium imaging. Nat. Neurosci. 17, 1825–1829 (2014).

Lein, E. S. et al. Genome-wide atlas of gene expression in the adult mouse brain. Nature 445, 168–176 (2007).

Thevenaz, P., Ruttimann, U. E. & Unser, M. A pyramid approach to subpixel registration based on intensity. IEEE Trans. Image Process. 7, 27–41 (1998).

Mukamel, E. A., Nimmerjahn, A. & Schnitzer, M. J. Automated analysis of cellular signals from large-scale calcium imaging data. Neuron 63, 747–760 (2009).

Kanitscheider, I., Coen-Cagli, R., Kohn, A. & Pouget, A. Measuring Fisher information accurately in correlated neural populations. PLoS Comput. Biol. 11, e1004218 (2015).

Barker, M. & Rayens, W. Partial least squares for discrimination. J. Chemometr. 17, 166–173 (2003).

Wold, H. in Multivariate Analysis (ed. Krishnajah, P. R.) 391–420 (Academic, 1966).

Kohn, A. & Smith, M. A. Stimulus dependence of neuronal correlation in primary visual cortex of the macaque. J. Neurosci. 25, 3661–3673 (2005).

Hotelling, H. in Breakthroughs in Statistics Vol. 2 (eds S. Kotz & N.L. Johnson) 162–190 (Springer, 1992).

Witten, D. M. & Tibshirani, R. J. Extensions of sparse canonical correlation analysis with applications to genomic data. Stat. Appl. Genet. Mol. Biol. 8, Article28 (2009).

Watts, D. J. & Strogatz, S. H. Collective dynamics of 'small-world'networks. Nature 393, 440–442 (1998).

Honey, C. J., Kotter, R., Breakspear, M. & Sporns, O. Network structure of cerebral cortex shapes functional connectivity on multiple time scales. Proc. Natl Acad. Sci. USA 104, 10240–10245 (2007).

Lu, J., Yu, X., Chen, G. & Cheng, D. Characterizing the synchronizability of small-world dynamical networks. IEEE Trans. Circ. Syst. I 51, 787–796 (2004).
Acknowledgements
We thank B. Ahanonu, A. Christensen, H. Kim, T. Rogerson, A. Shai and A. Tsao for conversations, and H. Zeng for providing transgenic mice. We acknowledge research support from HHMI (to M.J.S.); the Stanford CNC Program (to M.J.S.); DARPA (to M.J.S.); NIH BRAIN Initiative grant 1UF1NS107610-01 (to M.J.S.); the NSF NeuroNex Program (to M.J.S.); an NSF CAREER Award (to S.G.); the Burroughs-Wellcome (to S.G.), McKnight (to S.G.), James S. McDonnell (to S.G.) and Simons (to S.G. and M.J.S.) foundations; and a Stanford Graduate Fellowship (to O.R.).
Ethics declarations
Competing interests
M.J.S. is a scientific co-founder of Inscopix, which produces the Mosaic software used to identify individual neurons in the Ca2+ videos. J. Lecoq. is also an Inscopix stockholder.
Peer review
Peer review information
Nature thanks Tatiana Engel and the other, anonymous, reviewer(s) for their contribution to the peer review of this work.
Additional information
Publisher's note Springer Nature remains neutral with regard to jurisdictional claims in published maps and institutional affiliations.
Extended data figures and tables
Supplementary information
Mathematical analyses regarding neural fluctuations on two timescales and decoders with robustness to both types of variations.
Fluorescence Ca2+ activity in an awake behaving mouse. A fluorescence video of Ca2+ dynamics of layer 2/3 neocortical pyramidal neurons expressing GCaMP6f in an awake behaving mouse. The data were recorded at 20 Hz and are played back at 4× real speed. The field of view is 4 mm × 4 mm.
About this article
Cite this article
Ebrahimi, S., Lecoq, J., Rumyantsev, O. et al. Emergent reliability in sensory cortical coding and inter-area communication. Nature 605, 713–721 (2022). https://doi.org/10.1038/s41586-022-04724-y
Received:

Accepted:

Published:

Issue Date:

DOI: https://doi.org/10.1038/s41586-022-04724-y
Comments
By submitting a comment you agree to abide by our Terms and Community Guidelines. If you find something abusive or that does not comply with our terms or guidelines please flag it as inappropriate.