Abstract
The formation of strongly correlated fermion pairs is fundamental for the emergence of fermionic superfluidity and superconductivity1. For instance, Cooper pairs made of two electrons of opposite spin and momentum at the Fermi surface of the system are a key ingredient of Bardeen–Cooper–Schrieffer (BCS) theory—the microscopic explanation of the emergence of conventional superconductivity2. Understanding the mechanism behind pair formation is an ongoing challenge in the study of many strongly correlated fermionic systems3. Controllable many-body systems that host Cooper pairs would thus be desirable. Here we directly observe Cooper pairs in a mesoscopic two-dimensional Fermi gas. We apply an imaging scheme that enables us to extract the full in situ momentum distribution of a strongly interacting Fermi gas with single-particle and spin resolution4. Our ultracold gas enables us to freely tune between a completely non-interacting, unpaired system and weak attractions, where we find Cooper pair correlations at the Fermi surface. When increasing the attractive interactions even further, the pairs gradually turn into deeply bound molecules that break up the Fermi surface. Our mesoscopic system is closely related to the physics of nuclei, superconducting grains or quantum dots5,6,7. With the precise control over the interactions, particle number and potential landscape in our experiment, the observables we establish in this work provide an approach for answering longstanding questions concerning not only such mesoscopic systems but also their connection to the macroscopic world.
Access options
Subscribe to Nature+
Get immediate online access to the entire Nature family of 50+ journals
Subscribe to Journal
Get full journal access for 1 year
$199.00
only $3.90 per issue
All prices are NET prices.
VAT will be added later in the checkout.
Tax calculation will be finalised during checkout.
Buy article
Get time limited or full article access on ReadCube.
$32.00
All prices are NET prices.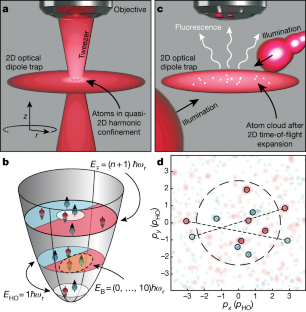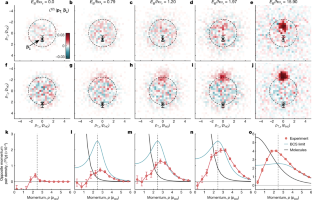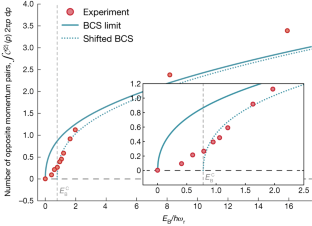 Data availability
The data that support the findings of this study are available from the corresponding author upon request. Source data are provided with this paper.
References
Yang, C. N. Concept of off-diagonal long-range order and the quantum phases of liquid He and of superconductors. Rev. Mod. Phys. 34, 694–704 (1962).

Bardeen, J., Cooper, L. N. & Schrieffer, J. R. Theory of superconductivity. Phys. Rev. 108, 1175–1204 (1957).

Zhou, X. et al. High-temperature superconductivity. Nat. Rev. Phys. 3, 462–465 (2021).

Holten, M. et al. Observation of Pauli crystals. Phys. Rev. Lett. 126, 020401 (2021).

Alhassid, Y. The statistical theory of quantum dots. Rev. Mod. Phys. 72, 895–968 (2000).

von Delft, J. Superconductivity in ultrasmall metallic grains. Ann. Phys. 10, 219–276 (2001).

Launey, K. (ed.) Emergent Phenomena in Atomic Nuclei from Large-scale Modeling : A Symmetry-Guided Perspective (World Scientific, 2017).

Altman, E., Demler, E. & Lukin, M. D. Probing many-body states of ultracold atoms via noise correlations. Phys. Rev. A 70, 013603 (2004).

Schweigler, T. et al. Experimental characterization of a quantum many-body system via higher-order correlations. Nature 545, 323–326 (2017).

Flammia, S. T., Gross, D., Liu, Y.-K. & Eisert, J. Quantum tomography via compressed sensing: error bounds, sample complexity and efficient estimators. New J. Phys. 14, 095022 (2012).

Zache, T. V., Schweigler, T., Erne, S., Schmiedmayer, J. & Berges, J. Extracting the field theory description of a quantum many-body system from experimental data. Phys. Rev. 10, 011020 (2020).

Cooper, L. N. Bound electron pairs in a degenerate Fermi gas. Phys. Rev. 104, 1189–1190 (1956).

Lee, P. A., Nagaosa, N. & Wen, X.-G. Doping a Mott insulator: physics of high-temperature superconductivity. Rev. Mod. Phys. 78, 17–85 (2006).

Bloch, I., Dalibard, J. & Zwerger, W. Many-body physics with ultracold gases. Rev. Mod. Phys. 80, 885–964 (2008).

Bloch, I., Dalibard, J. & Nascimbène, S. Quantum simulations with ultracold quantum gases. Nat. Phys. 8, 267–276 (2012).

Greiner, M., Regal, C. A., Stewart, J. T. & Jin, D. S. Probing pair-correlated fermionic atoms through correlations in atom shot noise. Phys. Rev. Lett. 94, 110401 (2005).

Fölling, S. et al. Spatial quantum noise interferometry in expanding ultracold atom clouds. Nature 434, 481–484 (2005).

Rom, T. et al. Free fermion antibunching in a degenerate atomic Fermi gas released from an optical lattice. Nature 444, 733–736 (2006).

Spielman, I., Phillips, W. & Porto, J. Mott-insulator transition in a two-dimensional atomic Bose gas. Phys. Rev. Lett. 98, 080404 (2007).

Jeltes, T. et al. Comparison of the Hanbury Brown–Twiss effect for bosons and fermions. Nature 445, 402–405 (2007).

Tenart, A., Hercé, G., Bureik, J.-P., Dareau, A. & Clément, D. Observation of pairs of atoms at opposite momenta in an equilibrium interacting Bose gas. Nat. Phys. 17, 1364–1368 (2021).

Bakr, W. S., Gillen, J. I., Peng, A., Fölling, S. & Greiner, M. A quantum gas microscope for detecting single atoms in a Hubbard-regime optical lattice. Nature 462, 74–77 (2009).

Sherson, J. F. et al. Single-atom-resolved fluorescence imaging of an atomic Mott insulator. Nature 467, 68–72 (2010).

Parsons, M. F. et al. Site-resolved measurement of the spin-correlation function in the Fermi–Hubbard model. Science 353, 1253–1256 (2016).

Koepsell, J. et al. Robust bilayer charge pumping for spin- and density-resolved quantum gas microscopy. Phys. Rev. Lett. 125, 010403 (2020).

Bergschneider, A. et al. Spin-resolved single-atom imaging of 6Li in free space. Phys. Rev. A 97, 063613 (2018).

Preiss, P. M. et al. High-contrast interference of ultracold fermions. Phys. Rev. Lett. 122, 143602 (2019).

Bayha, L. et al. Observing the emergence of a quantum phase transition shell by shell. Nature 587, 583–587 (2020).

Serwane, F. et al. Deterministic preparation of a tunable few-fermion system. Science 332, 336–338 (2011).

Zürn, G. et al. Precise characterization of 6Li Feshbach resonances using trap-sideband-resolved RF spectroscopy of weakly bound molecules. Phys. Rev. Lett. 110, 135301 (2013).

Randeria, M., Duan, J.-M. & Shieh, L.-Y. Superconductivity in a two-dimensional Fermi gas: evolution from Cooper pairing to Bose condensation. Phys. Rev. B 41, 327–343 (1990).

Bohr, A. & Mottelson, B. R. Nuclear Structure Vols I, II (W.A. Benjamin, 1975).

Bruun, G. M. Long-lived Higgs mode in a two-dimensional confined Fermi system. Phys. Rev. A 90, 023621 (2014).

Bjerlin, J., Reimann, S. & Bruun, G. Few-body precursor of the Higgs mode in a Fermi gas. Phys. Rev. Lett. 116, 155302 (2016).

Randeria, M., Duan, J.-M. & Shieh, L.-Y. Bound states, Cooper pairing, and Bose condensation in two dimensions. Phys. Rev. Lett. 62, 981–984 (1989).

Asteria, L., Zahn, H. P., Kosch, M. N., Sengstock, K. & Weitenberg, C. Quantum gas magnifier for sub-lattice-resolved imaging of 3D quantum systems. Nature 599, 571–575 (2021).

Murthy, P. A. et al. High-temperature pairing in a strongly interacting two-dimensional Fermi gas. Science 359, 452–455 (2017).

Pecak, D. & Sowiński, T. Signatures of unconventional pairing in spin-imbalanced one-dimensional few-fermion systems. Phys. Rev. Res. 2, 012077 (2020).

Chevy, F. & Mora, C. Ultra-cold polarized Fermi gases. Rep. Prog. Phys. 73, 112401 (2010).

Palm, L., Grusdt, F. & Preiss, P. M. Skyrmion ground states of rapidly rotating few-fermion systems. New J. Phys. 22, 083037 (2020).

Pecci, G., Naldesi, P., Minguzzi, A. & Amico, L. The phase of a degenerate Fermi gas. Preprint at https://arxiv.org/abs/2105.10408 (2021).

Idziaszek, Z. & Calarco, T. Analytical solutions for the dynamics of two trapped interacting ultracold atoms. Phys. Rev. A 74, 022712 (2006).

Zwierlein, M. W. High-Temperature Superfluidity in an Ultracold Fermi Gas. PhD thesis, Massachusetts Institute of Technology (2007).
Acknowledgements
We acknowledge discussions with A. Faribault and J. von Delft. This work has been supported in parts by the Deutsche Forschungsgemeinschaft (DFG, German Research Foundation): the Collaborative Research Centre SFB 1225 (ISOQUANT) and Germany's Excellence Strategy EXC2181/1-390900948 (the Heidelberg STRUCTURES Excellence Cluster). It was also funded by the European Union's Horizon 2020 research and innovation programme under grant agreement no. 817482 (PASQuanS) and no. 725636 (QuStA). We also acknowledge support by the Heidelberg Center for Quantum Dynamics.
Ethics declarations
Competing interests
The authors declare no competing interests.
Peer review
Peer review information
Nature thanks Grigori Astrakharchik, Servaas Kokkelmans and the other, anonymous, reviewer(s) for their contribution to the peer review of this work. Peer reviewer reports are available.
Additional information
Publisher's note Springer Nature remains neutral with regard to jurisdictional claims in published maps and institutional affiliations.
Extended data figures and tables
Supplementary information
About this article
Cite this article
Holten, M., Bayha, L., Subramanian, K. et al. Observation of Cooper pairs in a mesoscopic two-dimensional Fermi gas. Nature 606, 287–291 (2022). https://doi.org/10.1038/s41586-022-04678-1
Received:

Accepted:

Published:

Issue Date:

DOI: https://doi.org/10.1038/s41586-022-04678-1
Comments
By submitting a comment you agree to abide by our Terms and Community Guidelines. If you find something abusive or that does not comply with our terms or guidelines please flag it as inappropriate.