Abstract
NLRP3 is an intracellular sensor protein that when activated by a broad spectrum of exogenous and endogenous stimuli leads to inflammasome formation and pyroptosis1,2. The conformational states of NLRP3 and the way antagonistic small molecules act at the molecular level remain poorly understood2,3. Here we report the cryo-electron microscopy structures of full-length human NLRP3 in its native form and complexed with the inhibitor CRID3 (also named MCC950)4. Inactive, ADP-bound NLRP3 is a decamer composed of homodimers of intertwined leucine-rich repeat (LRR) domains that assemble back-to-back as pentamers. The NACHT domain is located at the apical axis of this spherical structure. One pyrin domain dimer is in addition formed inside the LRR cage. Molecular contacts between the concave sites of two opposing LRR domains are mediated by an acidic loop that extends from an LRR transition segment. Binding of CRID3 considerably stabilizes the NACHT and LRR domains relative to each other. CRID3 binds into a cleft, connecting four subdomains of the NACHT with the transition LRR. Its central sulfonylurea group interacts with the Walker A motif of the NLRP3 nucleotide-binding domain and is sandwiched between two arginine residues, which explains the specificity of NLRP3 for this chemical entity. With the determination of the binding site of this key therapeutic agent, specific targeting of NLRP3 for the treatment of autoinflammatory and autoimmune diseases and rational drug optimization is within reach.
This is a preview of subscription content
Access options
Subscribe to Nature+
Get immediate online access to the entire Nature family of 50+ journals
Subscribe to Journal
Get full journal access for 1 year
$199.00
only $3.90 per issue
All prices are NET prices.
VAT will be added later in the checkout.
Tax calculation will be finalised during checkout.
Buy article
Get time limited or full article access on ReadCube.
$32.00
All prices are NET prices.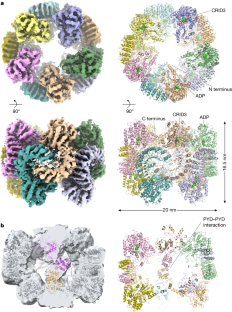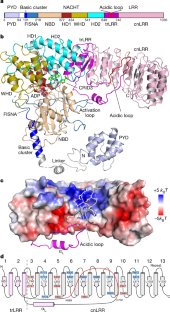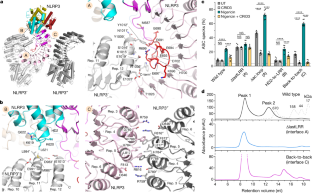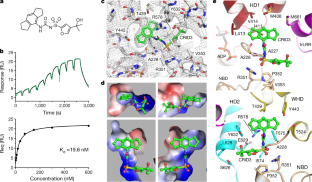 References
Schroder, K. & Tschopp, J. The inflammasomes. Cell 140, 821–832 (2010).

Swanson, K. V., Deng, M. & Ting, J. P. The NLRP3 inflammasome: molecular activation and regulation to therapeutics. Nat. Rev. Immunol. 19, 477–489 (2019).

Latz, E., Xiao, T. S. & Stutz, A. Activation and regulation of the inflammasomes. Nat. Rev. Immunol. 13, 397–411 (2013).

Laliberte, R. E. et al. Glutathione S-transferase omega 1-1 is a target of cytokine release inhibitory drugs and may be responsible for their effect on interleukin-1β posttranslational processing. J. Biol. Chem. 278, 16567–16578 (2003).

Song, N. et al. NLRP3 phosphorylation is an essential priming event for inflammasome activation. Mol. Cell 68, 185–197 (2017).

Schmid-Burgk, J. L. et al. A genome-wide CRISPR (clustered regularly interspaced short palindromic repeats) screen identifies NEK7 as an essential component of NLRP3 inflammasome activation. J. Biol. Chem. 291, 103–109 (2016).

Shi, H. et al. NLRP3 activation and mitosis are mutually exclusive events coordinated by NEK7, a new inflammasome component. Nat. Immunol. 17, 250–258 (2016).

He, Y., Zeng, M. Y., Yang, D., Motro, B. & Núñez, G. NEK7 is an essential mediator of NLRP3 activation downstream of potassium efflux. Nature 530, 354–357 (2016).

Mangan, M. S. J. et al. Targeting the NLRP3 inflammasome in inflammatory diseases. Nat. Rev. Drug Discov. 17, 588–606 (2018).

Primiano, M. J. et al. Efficacy and pharmacology of the NLRP3 inflammasome inhibitor CP-456,773 (CRID3) in murine models of dermal and pulmonary inflammation. J. Immunol. 197, 2421–2433 (2016).

Harrison, D. et al. Discovery of a series of ester-substituted NLRP3 inflammasome inhibitors. Bioorg. Med. Chem. Lett. 30, 127560 (2020).

Coll, R. C. et al. A small-molecule inhibitor of the NLRP3 inflammasome for the treatment of inflammatory diseases. Nat. Med. 21, 248–255 (2015).

Vande Walle, L. et al. MCC950/CRID3 potently targets the NACHT domain of wild-type NLRP3 but not disease-associated mutants for inflammasome inhibition. PLoS Biol. 17, e3000354 (2019).

Corcoran, S. E., Halai, R. & Cooper, M. A. Pharmacological inhibition of the Nod-like receptor family pyrin domain containing 3 inflammasome with MCC950. Pharmacol. Rev. 73, 968–1000 (2021).

Sharif, H. et al. Structural mechanism for NEK7-licensed activation of NLRP3 inflammasome. Nature 570, 338–343 (2019).

Kobe, B. & Deisenhofer, J. Mechanism of ribonuclease inhibition by ribonuclease inhibitor protein based on the crystal structure of its complex with ribonuclease A. J. Mol. Biol. 264, 1028–1043 (1996).

Bae, J. Y. & Park, H. H. Crystal structure of NALP3 protein pyrin domain (PYD) and its implications in inflammasome assembly. J. Biol. Chem. 286, 39528–39536 (2011).

Maekawa, S., Ohto, U., Shibata, T., Miyake, K. & Shimizu, T. Crystal structure of NOD2 and its implications in human disease. Nat. Commun. 7, 11813 (2016).

Hu, Z. et al. Crystal structure of NLRC4 reveals its autoinhibition mechanism. Science 341, 172–175 (2013).

Tenthorey, J. L. et al. The structural basis of flagellin detection by NAIP5: a strategy to limit pathogen immune evasion. Science 358, 888–893 (2017).

Erzberger, J. P. & Berger, J. M. Evolutionary relationships and structural mechanisms of AAA+ proteins. Annu. Rev. Biophys. Biomol. Struct. 35, 93–114 (2006).

Hoss, F. et al. Alternative splicing regulates stochastic NLRP3 activity. Nat. Commun. 10, 3238 (2019).

Touitou, I. et al. Infevers: an evolving mutation database for auto-inflammatory syndromes. Hum. Mutat. 24, 194–198 (2004).

Coll, R. C. et al. MCC950 directly targets the NLRP3 ATP-hydrolysis motif for inflammasome inhibition. Nat. Chem. Biol. 15, 556–559 (2019).

Tapia-Abellán, A. et al. MCC950 closes the active conformation of NLRP3 to an inactive state. Nat. Chem. Biol. 15, 560–564 (2019).

Wendler, P., Ciniawsky, S., Kock, M. & Kube, S. Structure and function of the AAA+ nucleotide binding pocket. Biochim. Biophys. Acta 1823, 2–14 (2012).

Compan, V. et al. Cell volume regulation modulates NLRP3 inflammasome activation. Immunity 37, 487–500 (2012).

Zhang, Z. et al. Protein kinase D at the Golgi controls NLRP3 inflammasome activation. J. Exp. Med. 214, 2671–2693 (2017).

Green, J. P. et al. Chloride regulates dynamic NLRP3-dependent ASC oligomerization and inflammasome priming. Proc. Natl Acad. Sci. USA 115, E9371–E9380 (2018).

Hafner-Bratkovič, I. et al. NLRP3 lacking the leucine-rich repeat domain can be fully activated via the canonical inflammasome pathway. Nat. Commun. 9, 5182 (2018).

Hochheiser, I. V. et al. Directionality of PYD filament growth determined by the transition of NLRP3 nucleation seeds to ASC elongation. Preprint at https://doi.org/10.1101/2021.11.25.470035 (2021).

Andreeva, L. et al. Full-length NLRP3 forms oligomeric cages to mediate NLRP3 sensing and activation. Preprint at https://doi.org/10.1101/2021.09.12.459968 (2021).

Schwaid, A. G. & Spencer, K. B. Strategies for targeting the NLRP3 inflammasome in the clinical and preclinical space. J. Med. Chem. 64, 101–122 (2021).

Mastronarde, D. N. Automated electron microscope tomography using robust prediction of specimen movements. J. Struct. Biol. 152, 36–51 (2005).

Zivanov, J. et al. New tools for automated high-resolution cryo-EM structure determination in RELION-3. eLife 7, e42166 (2018).

Waterhouse, A. et al. SWISS-MODEL: homology modelling of protein structures and complexes. Nucleic Acids Res. 46, W296–W303 (2018).

Pettersen, E. F. et al. UCSF Chimera—a visualization system for exploratory research and analysis. J. Comput. Chem. 25, 1605–1612 (2004).

Casañal, A., Lohkamp, B. & Emsley, P. Current developments in Coot for macromolecular model building of electron cryo-microscopy and crystallographic data. Protein Sci. 29, 1055–1064 (2020).

Dekker, C. et al. Crystal structure of NLRP3 NACHT domain with an inhibitor defines mechanism of inflammasome inhibition. J. Mol. Biol. 433, 167309 (2021).

Hochheiser, I. V. et al. Cryo-EM structure of the NLRP3 decamer bound to the cytokine release inhibitory drug CRID3. Preprint at https://doi.org/10.1101/2021.07.22.453353 (2021).

Liebschner, D. et al. Macromolecular structure determination using X-rays, neutrons and electrons: recent developments in Phenix. Acta Crystallogr. D 75, 861–877 (2019).

Croll, T. I. ISOLDE: a physically realistic environment for model building into low-resolution electron-density maps. Acta Crystallogr. D 74, 519–530 (2018).

Prisant, M. G., Williams, C. J., Chen, V. B., Richardson, J. S. & Richardson, D. C. New tools in MolProbity validation: CaBLAM for cryoEM backbone, UnDowser to rethink "waters," and NGL Viewer to recapture online 3D graphics. Protein Sci. 29, 315–329 (2020).

Krissinel, E. & Henrick, K. Inference of macromolecular assemblies from crystalline state. J. Mol. Biol. 372, 774–797 (2007).

Keuler, T. et al. Development of fluorescent and biotin probes targeting NLRP3. Front. Chem. 9, 642273 (2021).

Kofoed, E. M. & Vance, R. E. Blue native polyacrylamide gel electrophoresis to monitor inflammasome assembly and composition. Methods Mol. Biol. 1040, 169–183 (2013).

Sester, D. P. et al. A novel flow cytometric method to assess inflammasome formation. J. Immunol. 194, 455–462 (2015).

Zhang, L. et al. Cryo-EM structure of the activated NAIP2-NLRC4 inflammasome reveals nucleated polymerization. Science 350, 404–409 (2015).

Park, K. et al. Control of repeat-protein curvature by computational protein design. Nat. Struct. Mol. Biol. 22, 167–174 (2015).

Robert, X. & Gouet, P. Deciphering key features in protein structures with the new ENDscript server. Nucleic Acids Res. 42, W320–W324 (2014).
Acknowledgements
Access to cryo-EM time was supported by iNEXT-Discovery grant PID 11967 for the NLRP3–CRID3 sample and INSTRUCT grant PID 11340 for the NLRP3 apo sample. We thank W. Hagen, F. Weis and A. Durand for cryo-EM data recordings; H. Stark for initial advice on electron microscopy sample preparation; and A. Steiner for instructions on cell assays. C.E. thanks B. Böttcher for facility access, R. Witzgall for JEM2100F access, G. Meister for shared infrastructure, G. Lehmann and N. Eichner for IT support and all members of the Structural Biochemistry Group of the Regensburg Center for Biochemistry for help and support. C.E. and M.P. acknowledge funding by the Emmy Noether Programme (DFG grant EN 1204/1-1 to C.E.) and SFB 960 (TP-A8 to C.E.). M.G. and E.L. are funded by the Deutsche Forschungsgemeinschaft under Germany's Excellence Strategy–EXC2151–390873048.
Ethics declarations
Competing interests
M.G. and E.L. are co-founders and consultants of IFM Therapeutics. The other authors declare no competing interests.
Peer review
Peer review information
Nature thanks the anonymous reviewers for their contribution to the peer review of this work. Peer reviewer reports are available.
Additional information
Publisher's note Springer Nature remains neutral with regard to jurisdictional claims in published maps and institutional affiliations.
Extended data figures and tables
Supplementary information
About this article
Cite this article
Hochheiser, I.V., Pilsl, M., Hagelueken, G. et al. Structure of the NLRP3 decamer bound to the cytokine release inhibitor CRID3. Nature 604, 184–189 (2022). https://doi.org/10.1038/s41586-022-04467-w
Received:

Accepted:

Published:

Issue Date:

DOI: https://doi.org/10.1038/s41586-022-04467-w
Comments
By submitting a comment you agree to abide by our Terms and Community Guidelines. If you find something abusive or that does not comply with our terms or guidelines please flag it as inappropriate.