Abstract
Lung infections and smoking are risk factors for multiple sclerosis, a T-cell-mediated autoimmune disease of the central nervous system1. In addition, the lung serves as a niche for the disease-inducing T cells for long-term survival and for maturation into migration-competent effector T cells2. Why the lung tissue in particular has such an important role in an autoimmune disease of the brain is not yet known. Here we detected a tight interconnection between the lung microbiota and the immune reactivity of the brain. A dysregulation in the lung microbiome significantly influenced the susceptibility of rats to developing autoimmune disease of the central nervous system. Shifting the microbiota towards lipopolysaccharide-enriched phyla by local treatment with neomycin induced a type-I-interferon-primed state in brain-resident microglial cells. Their responsiveness towards autoimmune-dominated stimulation by type II interferons was impaired, which led to decreased proinflammatory response, immune cell recruitment and clinical signs. Suppressing lipopolysaccharide-producing lung phyla with polymyxin B led to disease aggravation, whereas addition of lipopolysaccharide-enriched phyla or lipopolysaccharide recapitulated the neomycin effect. Our data demonstrate the existence of a lung–brain axis in which the pulmonary microbiome regulates the immune reactivity of the central nervous tissue and thereby influences its susceptibility to autoimmune disease development.
Relevant articles
Open Access articles citing this article.
Qian Li

,

Chun Dang

&

Li-Hua Wang

Military Medical Research Open Access 20 December 2022
Access options
Access Nature and 54 other Nature Portfolio journals
Get Nature+, our best-value online-access subscription
$29.99 per month
cancel any time
Subscribe to this journal
Receive 51 print issues and online access
$199.00 per year
only $3.90 per issue
Rent or buy this article
Get just this article for as long as you need it
$39.95
Prices may be subject to local taxes which are calculated during checkout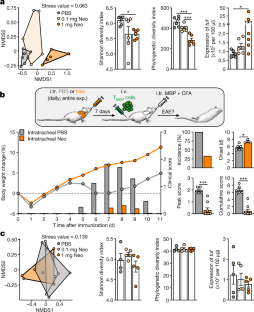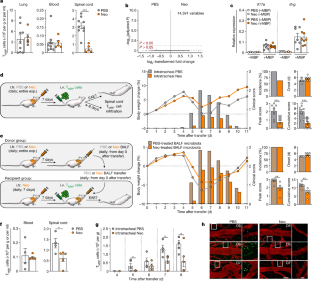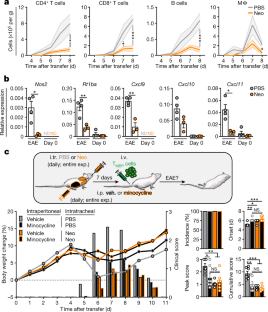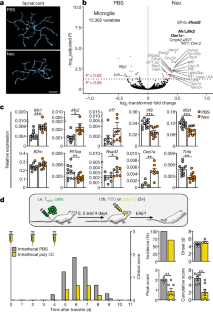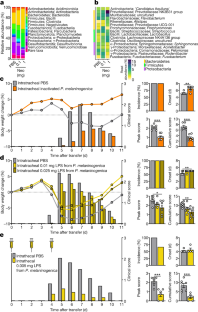 References
Olsson, T., Barcellos, L. F. & Alfredsson, L. Interactions between genetic, lifestyle and environmental risk factors for multiple sclerosis. Nat. Rev. Neurol. 13, 25–36 (2017).

Odoardi, F. et al. T cells become licensed in the lung to enter the central nervous system. Nature 488, 675–679 (2012).

O'Dwyer, D. N., Dickson, R. P. & Moore, B. B. The lung microbiome, immunity, and the pathogenesis of chronic lung disease. J. Immunol. 196, 4839–4847 (2016).

Jin, C. et al. Commensal microbiota promote lung cancer development via γδ T cells. Cell 176, 998–1013 (2019).

Yokote, H. et al. NKT cell-dependent amelioration of a mouse model of multiple sclerosis by altering gut flora. Am. J. Pathol. 173, 1714–1723 (2008).

Ochoa-Repáraz, J. et al. Role of gut commensal microflora in the development of experimental autoimmune encephalomyelitis. J. Immunol. 183, 6041–6050 (2009).

Berer, K. et al. Commensal microbiota and myelin autoantigen cooperate to trigger autoimmune demyelination. Nature 479, 538–541 (2011).

Rothhammer, V. et al. Type I interferons and microbial metabolites of tryptophan modulate astrocyte activity and central nervous system inflammation via the aryl hydrocarbon receptor. Nat. Med. 22, 586–597 (2016).

Miyauchi, E. et al. Gut microorganisms act together to exacerbate inflammation in spinal cords. Nature 585, 102–106 (2020).

Flügel, A., Willem, M., Berkowicz, T. & Wekerle, H. Gene transfer into CD4+ T lymphocytes: green fluorescent protein-engineered, encephalitogenic T cells illuminate brain autoimmune responses. Nat. Med. 5, 843–847 (1999).

Lodygin, D. et al. β-Synuclein-reactive T cells induce autoimmune CNS grey matter degeneration. Nature 566, 503–508 (2019).

Bartholomäus, I. et al. Effector T cell interactions with meningeal vascular structures in nascent autoimmune CNS lesions. Nature 462, 94–98 (2009).

Kivisäkk, P. et al. Localizing central nervous system immune surveillance: meningeal antigen-presenting cells activate T cells during experimental autoimmune encephalomyelitis. Ann. Neurol. 65, 457–469 (2009).

Lodygin, D. et al. A combination of fluorescent NFAT and H2B sensors uncovers dynamics of T cell activation in real time during CNS autoimmunity. Nat. Med. 19, 784–790 (2013).

Starossom, S. C. et al. Galectin-1 deactivates classically activated microglia and protects from inflammation-induced neurodegeneration. Immunity 37, 249–263 (2012).

Kawakami, N. et al. The activation status of neuroantigen-specific T cells in the target organ determines the clinical outcome of autoimmune encephalomyelitis. J. Exp. Med. 199, 185–197 (2004).

Odoardi, F. et al. Instant effect of soluble antigen on effector T cells in peripheral immune organs during immunotherapy of autoimmune encephalomyelitis. Proc. Natl Acad. Sci. USA 104, 920–925 (2007).

Heppner, F. L. et al. Experimental autoimmune encephalomyelitis repressed by microglial paralysis. Nat. Med. 11, 146–152 (2005).

Hanisch, U. K. & Kettenmann, H. Microglia: active sensor and versatile effector cells in the normal and pathologic brain. Nat. Neurosci. 10, 1387–1394 (2007).

Rock, R. B. et al. Transcriptional response of human microglial cells to interferon-γ. Genes Immun. 6, 712–719 (2005).

Popovic, N. et al. Inhibition of autoimmune encephalomyelitis by a tetracycline. Ann. Neurol. 51, 215–223 (2002).

Elmore, M. R. et al. Colony-stimulating factor 1 receptor signaling is necessary for microglia viability, unmasking a microglia progenitor cell in the adult brain. Neuron 82, 380–397 (2014).

Prinz, M. et al. Distinct and nonredundant in vivo functions of IFNAR on myeloid cells limit autoimmunity in the central nervous system. Immunity 28, 675–686 (2008).

Khorooshi, R. et al. Induction of endogenous type I interferon within the central nervous system plays a protective role in experimental autoimmune encephalomyelitis. Acta Neuropathol. 130, 107–118 (2015).

McNab, F., Mayer-Barber, K., Sher, A., Wack, A. & O'Garra, A. Type I interferons in infectious disease. Nat. Rev. Immunol. 15, 87–103 (2015).

Bradley, K. C. et al. Microbiota-driven tonic interferon signals in lung stromal cells protect from influenza virus infection. Cell Rep. 28, 245–256 (2019).

d'Hennezel, E., Abubucker, S., Murphy, L. O. & Cullen, T. W. Total lipopolysaccharide from the human gut microbiome silences toll-like receptor signaling. mSystems 2, e00046-17 (2017).

Yang, D. et al. Dysregulated lung commensal bacteria drive interleukin-17B production to promote pulmonary fibrosis through their outer membrane vesicles. Immunity 50, 692–706 (2019).

Bhor, V. M., Thomas, C. J., Surolia, N. & Surolia, A. Polymyxin B: an ode to an old antidote for endotoxic shock. Mol. Biosyst. 1, 213–222 (2005).

Vargas-Caraveo, A. et al. Lipopolysaccharide enters the rat brain by a lipoprotein-mediated transport mechanism in physiological conditions. Sci. Rep. 7, 13113 (2017).

Sandiego, C. M. et al. Imaging robust microglial activation after lipopolysaccharide administration in humans with PET. Proc. Natl Acad. Sci. USA 112, 12468–12473 (2015).

Dickson, R. P., Erb-Downward, J. R., Martinez, F. J. & Huffnagle, G. B. The microbiome and the respiratory tract. Annu. Rev. Physiol 78, 481–504 (2016).

Belkaid, Y. & Hand, T. W. Role of the microbiota in immunity and inflammation. Cell 157, 121–141 (2014).

Erny, D. et al. Host microbiota constantly control maturation and function of microglia in the CNS. Nat. Neurosci. 18, 965–977 (2015).

Braniste, V. et al. The gut microbiota influences blood–brain barrier permeability in mice. Sci. Transl. Med. 6, 263ra158 (2014).

Wang, Y. et al. An intestinal commensal symbiosis factor controls neuroinflammation via TLR2-mediated CD39 signalling. Nat. Commun. 5, 4432 (2014).

Luu, M. et al. The short-chain fatty acid pentanoate suppresses autoimmunity by modulating the metabolic-epigenetic crosstalk in lymphocytes. Nat. Commun. 10, 760 (2019).

Sonner, J. K. et al. Dietary tryptophan links encephalogenicity of autoreactive T cells with gut microbial ecology. Nat. Commun. 10, 4877 (2019).

Jakimovski, D., Kolb, C., Ramanathan, M., Zivadinov, R. & Weinstock-Guttman, B. Interferon β for multiple sclerosis. Cold Spring Harb. Perspect. Med. 8, a032003 (2018).

Guo, B., Chang, E. Y. & Cheng, G. The type I IFN induction pathway constrains Th17-mediated autoimmune inflammation in mice. J. Clin. Invest. 118, 1680–1690 (2008).

Bauer, H., Horowitz, R. E., Levenson, S. M. & Popper, H. The response of the lymphatic tissue to the microbial flora. Studies on germfree mice. Am. J. Pathol. 42, 471–483 (1963).

Smith, K., McCoy, K. D. & Macpherson, A. J. Use of axenic animals in studying the adaptation of mammals to their commensal intestinal microbiota. Semin. Immunol. 19, 59–69 (2007).

Kennedy, E. A., King, K. Y. & Baldridge, M. T. Mouse microbiota models: comparing germ-free mice and antibiotics treatment as tools for modifying gut bacteria. Front. Physiol. 9, 1534 (2018).

Wypych, T. P., Wickramasinghe, L. C. & Marsland, B. J. The influence of the microbiome on respiratory health. Nat. Immunol. 20, 1279–1290 (2019).

Balmer, M. L. et al. The liver may act as a firewall mediating mutualism between the host and its gut commensal microbiota. Sci. Transl. Med. 6, 237ra266 (2014).

Määttä, J. A., Coffey, E. T., Hermonen, J. A., Salmi, A. A. & Hinkkanen, A. E. Detection of myelin basic protein isoforms by organic concentration. Biochem. Biophys. Res. Commun. 238, 498–502 (1997).

Murray, C. et al. Interdependent and independent roles of type I interferons and IL-6 in innate immune, neuroinflammatory and sickness behaviour responses to systemic poly I:C. Brain Behav. Immun. 48, 274–286 (2015).

Rittirsch, D. et al. Acute lung injury induced by lipopolysaccharide is independent of complement activation. J. Immunol. 180, 7664–7672 (2008).

Klindworth, A. et al. Evaluation of general 16S ribosomal RNA gene PCR primers for classical and next-generation sequencing-based diversity studies. Nucleic Acids Res. 41, e1 (2013).

von Hoyningen-Huene, A. J. E. et al. Bacterial succession along a sediment porewater gradient at Lake Neusiedl in Austria. Sci. Data 6, 163 (2019).

Rognes, T., Flouri, T., Nichols, B., Quince, C. & Mahé, F. VSEARCH: a versatile open source tool for metagenomics. PeerJ 4, e2584 (2016).

Yilmaz, P. et al. The SILVA and "All-species Living Tree Project (LTP)" taxonomic frameworks. Nucleic Acids Res. 42, D643–D648 (2014).

Quast, C. et al. The SILVA ribosomal RNA gene database project: improved data processing and web-based tools. Nucleic Acids Res. 41, D590–D596 (2013).

Chen, L. et al. GMPR: a robust normalization method for zero-inflated count data with application to microbiome sequencing data. PeerJ 6, e4600 (2018).

Andersen, K. S., Kirkegaard, R. H., Karst, S. M. & Albertsen, M. ampvis2: an R package to analyse and visualise 16S rRNA amplicon data. Preprint at https://doi.org/10.1101/299537 (2018).

Wickham, H. ggplot2: Elegant Graphics for Data Analysis (Springer, 2016).

Schläger, C. et al. Effector T-cell trafficking between the leptomeninges and the cerebrospinal fluid. Nature 530, 349–353 (2016).

Cabeza, R. et al. An RNA sequencing transcriptome analysis reveals novel insights into molecular aspects of the nitrate impact on the nodule activity of Medicago truncatula. Plant Physiol. 164, 400–411 (2014).

Love, M. I., Huber, W. & Anders, S. Moderated estimation of fold change and dispersion for RNA-seq data with DESeq2. Genome Biol. 15, 550 (2014).

Huang, D. W., Sherman, B. T. & Lempicki, R. A. Systematic and integrative analysis of large gene lists using DAVID bioinformatics resources. Nat. Protoc. 4, 44–57 (2009).

Doorn, K. J. et al. Brain region-specific gene expression profiles in freshly isolated rat microglia. Front. Cell. Neurosci. 9, 84 (2015).

Klinkert, W. E. et al. TNF-α receptor fusion protein prevents experimental auto-immune encephalomyelitis and demyelination in Lewis rats: an overview. J. Neuroimmunol. 72, 163–168 (1997).
Acknowledgements
We thank S. Schwarz for helping in the quantification of the tuf gene expression; M. Ulisse for contributing to characterizing the lung immune milieu; G. Salinas for performing the transcriptome analyses; O. Shomroni for the analysis of the transcriptome data; S. Hamann, M. Weig and M. Heinemann for technical assistance; A. Poehlein for performing the 16S rRNA sequencing; D. Schneider for providing the bioinformatic amplicon processing pipeline; D. Miljković for helping with animal experiments and reading the manuscript; and C. Ludwig for text editing. This work was supported by the Deutsche Forschungsgemeinschaft (DFG, German Research Foundation) RK-Grant FL 377/3-1; FL 377/2-2; SFB 1328/1 project A01, project no. 335447717; OD 87/1-1, OD 87/3-1; SFB TRR 274/1 2020 projects A03 and A04, project no. 408885537; and by the European Commission under the European Union's Horizon 2020 research and innovation programme, grant agreement no. 101021345 (T-Neuron). L.H. is supported by the Klaus Faber Stiftung.
Ethics declarations
Competing interests
The authors declare no competing interests.
Peer review
Peer review information
Nature thanks Sarkis Mazmanian, Vijay Kuchroo and the other, anonymous, reviewer(s) for their contribution to the peer review of this work.
Additional information
Publisher's note Springer Nature remains neutral with regard to jurisdictional claims in published maps and institutional affiliations.
Extended data figures and tables
Supplementary information
About this article
Cite this article
Hosang, L., Canals, R.C., van der Flier, F.J. et al. The lung microbiome regulates brain autoimmunity. Nature 603, 138–144 (2022). https://doi.org/10.1038/s41586-022-04427-4
Received:

Accepted:

Published:

Issue Date:

DOI: https://doi.org/10.1038/s41586-022-04427-4
Comments
By submitting a comment you agree to abide by our Terms and Community Guidelines. If you find something abusive or that does not comply with our terms or guidelines please flag it as inappropriate.