Abstract
Genetic risk for autism spectrum disorder (ASD) is associated with hundreds of genes spanning a wide range of biological functions1,2,3,4,5,6. The alterations in the human brain resulting from mutations in these genes remain unclear. Furthermore, their phenotypic manifestation varies across individuals7,8. Here we used organoid models of the human cerebral cortex to identify cell-type-specific developmental abnormalities that result from haploinsufficiency in three ASD risk genes—SUV420H1 (also known as KMT5B), ARID1B and CHD8—in multiple cell lines from different donors, using single-cell RNA-sequencing (scRNA-seq) analysis of more than 745,000 cells and proteomic analysis of individual organoids, to identify phenotypic convergence. Each of the three mutations confers asynchronous development of two main cortical neuronal lineages—γ-aminobutyric-acid-releasing (GABAergic) neurons and deep-layer excitatory projection neurons—but acts through largely distinct molecular pathways. Although these phenotypes are consistent across cell lines, their expressivity is influenced by the individual genomic context, in a manner that is dependent on both the risk gene and the developmental defect. Calcium imaging in intact organoids shows that these early-stage developmental changes are followed by abnormal circuit activity. This research uncovers cell-type-specific neurodevelopmental abnormalities that are shared across ASD risk genes and are finely modulated by human genomic context, finding convergence in the neurobiological basis of how different risk genes contribute to ASD pathology.
Relevant articles
Open Access articles citing this article.
Yang Li

,

Peng-Ming Zeng

…

Zhen-Ge Luo

Neuroscience Bulletin Open Access 24 May 2023

Artem Smirnov

,

Gerry Melino

&

Eleonora Candi

Biology Direct Open Access 25 March 2023

Kseniia Sarieva

,

Theresa Kagermeier

…

Simone Mayer

Molecular Psychiatry Open Access 06 March 2023
Access options
Access Nature and 54 other Nature Portfolio journals
Get Nature+, our best-value online-access subscription
$29.99 / 30 days
cancel any time
Subscribe to this journal
Receive 51 print issues and online access
$199.00 per year
only $3.90 per issue
Rent or buy this article
Get just this article for as long as you need it
$39.95
Prices may be subject to local taxes which are calculated during checkout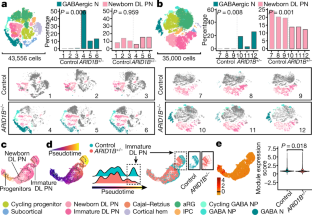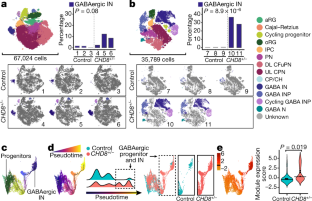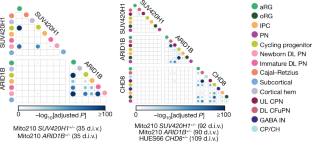 Data availability
Read-level data from scRNA-seq and scATAC-seq, along with proteomics data, supporting the findings of this study have been deposited in a controlled access repository at https://www.synapse.org with accession number project ID syn26346373 Count-level data and metadata have been deposited at the Single Cell Portal (https://singlecell.broadinstitute.org/single_cell/study/SCP1129). The electrophysiology materials and data are available from the corresponding authors on request. Public data used in this paper include the GRCh38 human reference genome and the EnsDb.Hsapiens.v86 annotation package.
References
Lord, C. et al. Autism spectrum disorder. Nat. Rev. Dis. Primers 6, 5 (2020).

Rosenberg, R. E. et al. Characteristics and concordance of autism spectrum disorders among 277 twin pairs. Arch. Pediatr. Adolesc. Med. 163, 907–914 (2009).

Sanders, S. J. et al. De novo mutations revealed by whole-exome sequencing are strongly associated with autism. Nature 485, 237–241 (2012).

Ruzzo, E. K. et al. Inherited and de novo genetic risk for autism impacts shared networks. Cell 178, 850–866 (2019).

Grove, J. et al. Identification of common genetic risk variants for autism spectrum disorder. Nat. Genet. 51, 431–444 (2019).

Satterstrom, F. K. et al. Large-scale exome sequencing study implicates both developmental and functional changes in the neurobiology of autism. Cell 180, 568–584 (2020).

Cooper, D., Krawczak, M., Polychronakos, C., Tyler-Smith, C. & Kehrer-Sawatzki, H. Where genotype is not predictive of phenotype: towards an understanding of the molecular basis of reduced penetrance in human inherited disease. Hum. Genet. 132, 1077–1130 (2013).

Zlotogora, J. Penetrance and expressivity in the molecular age. Genet. Med. 5, 347–352 (2003).

Velasco, S. et al. Individual brain organoids reproducibly form cell diversity of the human cerebral cortex. Nature 570, 523–527 (2019).

de Rubeis, S. et al. Synaptic, transcriptional and chromatin genes disrupted in autism. Nature 515, 209–215 (2014).

Stessman, H. A. F. et al. Targeted sequencing identifies 91 neurodevelopmental-disorder risk genes with autism and developmental-disability biases. Nat. Genet. 49, 515–526 (2017).

Yuen, R. K. C. et al. Whole genome sequencing resource identifies 18 new candidate genes for autism spectrum disorder. Nat. Neurosci. 20, 602–611 (2017).

Sanders, S. J. et al. Insights into autism spectrum disorder genomic architecture and biology from 71 risk loci. Neuron 87, 1215–1233 (2015).

Bernier, R. et al. Disruptive CHD8 mutations define a subtype of autism early in development. Cell 158, 263–276 (2014).

Faundes, V. et al. Histone lysine methylases and demethylases in the landscape of human developmental disorders. Am. J. Hum. Genet. 102, 175–187 (2018).

Vals, M. et al. Coffin-Siris syndrome with obesity, macrocephaly, hepatomegaly and hyperinsulinism caused by a mutation in the ARID1B gene. Eur. J. Hum. Genet. 22, 1327–1329 (2014).

Lodato, S. & Arlotta, P. Generating neuronal diversity in the mammalian cerebral cortex. Annu. Rev. Cell Dev. Biol. 31, 699–720 (2015).

Greig, L. C., Woodworth, M. B., Galazo, M. J., Padmanabhan, H. & Macklis, J. D. Molecular logic of neocortical projection neuron specification, development and diversity. Nat. Rev. Neurosci. 14, 755–769 (2013).

Langfelder, P. & Horvath, S. WGCNA: an R package for weighted correlation network analysis. BMC Bioinform. 9, 559 (2008).

Wickramasekara, R. N. & Stessman, H. A. F. Histone 4 lysine 20 methylation: a case for neurodevelopmental disease. Biology 8, 11 (2019).

Garaschuk, O., Linn, J., Eilers, J. & Konnerth, A. Large-scale oscillatory calcium waves in the immature cortex. Nat. Neurosci. 3, 452–459 (2000).

Adelsberger, H., Garaschuk, O. & Konnerth, A. Cortical calcium waves in resting newborn mice. Nat. Neurosci. 8, 988–990 (2005).

Wang, Z.-J. et al. Autism risk gene KMT5B deficiency in prefrontal cortex induces synaptic dysfunction and social deficits via alterations of DNA repair and gene transcription. Neuropsychopharmacology 46, 1617–1626 (2021).

Villa, C. E. et al. CHD8 haploinsufficiency alters the developmental trajectories of human excitatory and inhibitory neurons linking autism phenotypes with transient cellular defects. Preprint at bioRxiv https://doi.org/10.1101/2020.11.26.399469 (2020).

Wang, P. et al. CRISPR/Cas9-mediated heterozygous knockout of the autism gene CHD8 and characterization of its transcriptional networks in cerebral organoids derived from iPS cells. Mol. Autism 8, 11 (2017).

Tuncbag, N. et al. Network-based interpretation of diverse high-throughput datasets through the Omics Integrator software package. PLoS Comput. Biol. 12, e1004879 (2016).

Szklarczyk, D. et al. STRING v11: protein-protein association networks with increased coverage, supporting functional discovery in genome-wide experimental datasets. Nucleic Acids Res. 47, D607–D613 (2019).

Rubenstein, J. L. R. & Merzenich, M. M. Model of autism: increased ratio of excitation/inhibition in key neural systems. Genes Brain Behav. 2, 255–267 (2003).

Gogolla, N. et al. Common circuit defect of excitatory-inhibitory balance in mouse models of autism. J. Neurodev. Disord. 1, 172–181 (2009).

Dani, V. S. et al. Reduced cortical activity due to a shift in the balance between excitation and inhibition in a mouse model of Rett syndrome. Proc. Natl Acad. Sci. USA 102, 12560–12565 (2005).

Mariani, J. et al. FOXG1-dependent dysregulation of GABA/glutamate neuron differentiation in autism spectrum disorders. Cell 162, 375–390 (2015).

Marchetto, M. C. et al. Altered proliferation and networks in neural cells derived from idiopathic autistic individuals. Mol. Psychiatry 22, 820–835 (2017).

Adhya, D. et al. Atypical neurogenesis in induced pluripotent stem cells from autistic individuals. Biol. Psychiatry 89, 486–496 (2020).

Wade, A. A., Lim, K., Catta-Preta, R. & Nord, A. S. Common CHD8 genomic targets contrast with model-specific transcriptional impacts of CHD8 haploinsufficiency. Front. Mol. Neurosci. 11, 481 (2019).

Moffat, J. J., Smith, A. L., Jung, E. M., Ka, M. & Kim, W. Y. Neurobiology of ARID1B haploinsufficiency related to neurodevelopmental and psychiatric disorders. Mol. Psychiatry https://doi.org/10.1038/s41380-021-01060-x (2021).

Velmeshev, D. et al. Single-cell genomics identifies cell type-specific molecular changes in autism. Science 364, 685–689 (2019).

Willsey, A. J. et al. Coexpression networks implicate human midfetal deep cortical projection neurons in the pathogenesis of autism. Cell 155, 997–1007 (2013).

Bourgeron, T. From the genetic architecture to synaptic plasticity in autism spectrum disorder. Nat. Rev. Neurosci. 16, 551–563 (2015).

Chen, A. E. et al. Optimal timing of inner cell mass isolation increases the efficiency of human embryonic stem cell derivation and allows generation of sibling cell lines. Cell Stem Cell 4, 103–106 (2009).

Church, G. M. The personal genome project. Mol. Syst. Biol. 1, 2005.0030 (2005).

Velasco, S., Paulsen, B. & Arlotta, P. Highly reproducible human brain organoids recapitulate cerebral cortex cellular diversity. Protoc. Exchange https://doi.org/10.21203/rs.2.9542/v1 (2019).

Lovell-Badge, R. et al. ISSCR guidelines for stem cell research and clinical translation: the 2021 update. Stem Cell Rep. 16, 1398–1408 (2021).

Doench, J. G. et al. Rational design of highly active sgRNAs for CRISPR-Cas9–mediated gene inactivation. Nat. Biotechnol. 32, 1262–1267 (2014).

Hsu, P. D. et al. DNA targeting specificity of RNA-guided Cas9 nucleases. Nat. Biotechnol. 31, 827–832 (2013).

Mangeot, P. E. et al. Genome editing in primary cells and in vivo using viral-derived nanoblades loaded with Cas9-sgRNA ribonucleoproteins. Nat. Commun. 10, 45 (2019).

Park, Y.-G. et al. Protection of tissue physicochemical properties using polyfunctional crosslinkers. Nat. Biotechnol. 37, 73–83 (2019).

Schneider, C. A., Rasband, W. S. & Eliceiri, K. W. NIH Image to ImageJ: 25 years of image analysis. Nat. Methods 9, 671–675 (2012).

Ohgane, K. Quantification of gel bands by an Image J macro, band/peak quantification tool. protocols.io https://doi.org/10.17504/protocols.io.7vghn3w (2019).

Pachitariu, M. et al. Suite2p: beyond 10,000 neurons with standard two-photon microscopy. Preprint at bioRxiv https://doi.org/10.1101/061507 (2017).

Müller, J. et al. High-resolution CMOS MEA platform to study neurons at subcellular, cellular, and network levels. Lab Chip 15, 2767–2780 (2015).

Ostasiewicz, P., Zielinska, D. F., Mann, M. & Wisniewski, J. R. Proteome, phosphoproteome, and N-glycoproteome are quantitatively preserved in formalin-fixed paraffin embedded tissue and analyzable by high-resolution mass spectrometry. J. Proteome Res. 9, 3688–3700 (2010).

Wiśniewski, J. R. Quantitative evaluation of filter aided sample preparation (FASP) and multienzyme digestion FASP protocols. Anal. Chem. 88, 5438–5443 (2016).

Bairoch, A. & Apweiler, R. The SWISS-PROT protein sequence data bank and its supplement TrEMBL in 1999. Nucleic Acids Res. 27, 49–54 (1999).

Consortium, T. U. UniProt: a worldwide hub of protein knowledge. Nucleic Acids Res. 47, D506–D515 (2018).

Käll, L., Storey, J. D., MacCoss, M. J. & Noble, W. S. Posterior error probabilities and false discovery rates: two sides of the same coin. J. Proteome Res. 7, 40–44 (2008).

Zhang, X. et al. Proteome-wide identification of ubiquitin interactions using UbIA-MS. Nat. Protoc. 13, 530–550 (2018).

Ritchie, M. E. et al. limma powers differential expression analyses for RNA-sequencing and microarray studies. Nucleic Acids Res. 43, e47 (2015).

Subramanian, A. et al. Gene set enrichment analysis: a knowledge-based approach for interpreting genome-wide expression profiles. Proc. Natl Acad. Sci. USA 102, 15545–15550 (2005).

Tuncbag, N. et al. Simultaneous reconstruction of multiple signaling pathways via the prize-collecting steiner forest problem. J. Comput. Biol. 20, 124–136 (2013).

Akhmedov, M. et al. PCSF: an R-package for network-based interpretation of high-throughput data. PLoS Comput. Biol. 13, e1005694 (2017).

Shannon, P. et al. Cytoscape: a software environment for integrated models of biomolecular interaction networks. Genome Res. 13, 2498–2504 (2003).

Yoon, S. et al. GScluster: network-weighted gene-set clustering analysis. BMC Genom. 20, 352 (2019).

Quadrato, G., Sherwood, J. L. & Arlotta, P. Long term culture and electrophysiological characterization of human brain organoids. Protoc. Exchange https://doi.org/10.1038/protex.2017.049 (2017).

Zheng, G. X. Y. et al. Massively parallel digital transcriptional profiling of single cells. Nat. Commun. 8, 14049 (2017).

Stuart, T. et al. Comprehensive integration of single-cell data. Cell 177, 1888–1902 (2019).

McCarthy, D. J. et al. Cardelino: computational integration of somatic clonal substructure and single-cell transcriptomes. Nat. Methods 17, 414–421 (2020).

Huang, Y., McCarthy, D. J. & Stegle, O. Vireo: Bayesian demultiplexing of pooled single-cell RNA-seq data without genotype reference. Genome Biol. 20, 273 (2019).

Korsunsky, I. et al. Fast, sensitive and accurate integration of single-cell data with Harmony. Nat. Methods 16, 1289–1296 (2019).

Pardy, C. mpmi: mixed-pair mutual information estimators (2020).

Bates, D., Mächler, M., Bolker, B. & Walker, S. Fitting linear mixed-effects models using lme4. J. Stat. Softw. 67, 1–48 (2015).

Fonseka, C. Y. et al. Mixed-effects association of single cells identifies an expanded effector CD4+ T cell subset in rheumatoid arthritis. Sci. Transl. Med. 10, eaaq0305 (2018).

Cao, J. et al. The single-cell transcriptional landscape of mammalian organogenesis. Nature 566, 496–502 (2019).

Love, M. I., Huber, W. & Anders, S. Moderated estimation of fold change and dispersion for RNA-seq data with DESeq2. Genome Biol. 15, 550 (2014).

Lun, A. T. L. & Marioni, J. C. Overcoming confounding plate effects in differential expression analyses of single-cell RNA-seq data. Biostatistics 18, 451–464 (2017).

Yu, G., Wang, L.-G., Han, Y. & He, Q.-Y. clusterProfiler: an R package for comparing biological themes among gene clusters. Omics 16, 284–287 (2012).

Nuclei Isolation from Mouse Brain Tissue for Single Cell ATAC Sequencing Rev B (10x Genomics, 2019).

Corces, M. R. et al. An improved ATAC-seq protocol reduces background and enables interrogation of frozen tissues. Nat. Methods 14, 959–962 (2017).

Stuart, T., Srivastava, A., Madad, S., Lareau, C. A. & Satija, R. Single-cell chromatin state analysis with Signac. Nat. Methods 18, 1333–1341 (2021).

Rainer, J. EnsDb.Hsapiens.v86: ensembl based annotation package (2017).

Heinz, S. et al. Simple combinations of lineage-determining transcription factors prime cis-regulatory elements required for macrophage and B cell identities. Mol. Cell 38, 576–589 (2010).
Acknowledgements
We thank J. R. Brown (from the P.A. laboratory) for input and assistance in editing the manuscript and all of the members of the Arlotta laboratory for discussions; M. Daly, E. Robinson and B. Neale for discussions on autism genetics; T. Nguyen (from the G.Q. laboratory) for support with organoid generation; X. Jin (from the P.A. laboratory) for helping with designing and sequencing edited lines; A. Shetty (from the P.A. laboratory) for help with scRNA-seq cell type classification; N. Haywood for help with scRNA-seq experiments; D. Di Bella (from the P.A. laboratory) for help with final edits of the manuscript; S. Andreadis and S. Getz (from the P.A. laboratory) for help with editing images; F. Zhang and J. Pan for supporting the creation of the HUES66 CHD8-mutant line; members of the Talkowski laboratory for the GM08330 line; members of the Cohen laboratory for the Mito210 line; members of the Ricci laboratory for providing nanoblades for the generation of SUV420H1 edited cell lines; L. M. Daheron at the Harvard Stem Cell Facility for expanding edited lines; and B. Budnik at the Harvard Center for Mass Spectrometry for assisting with proteomics experiments. This work was supported by grants from the Stanley Center for Psychiatric Research, the Broad Institute of MIT and Harvard, the National Institutes of Health (R01-MH112940 to P.A. and J.Z.L.; P50MH094271, U01MH115727 and 1RF1MH123977 to P.A.), the Klarman Cell Observatory to J.Z.L. and A.R., and the Howard Hughes Medical Institute to A.R. A.R. was a Howard Hughes Medical Institute and a Koch Institute extramural member while conducting this study. The HUES66 CHD8-mutant line was created with support from the Simons Foundation (346073 to F. Zhang) and the National Institutes of Health (MH099448 to J. Pan).
Ethics declarations
Competing interests
P.A. is a SAB member at Herophilus, Foresite Labs, and Rumi Scientific, a consultant for the New York Stem cell Foundation, and is a co-founder of esalius Therapeutics. A.R. is a founder and equity holder of Celsius Therapeutics, an equity holder in Immunitas Therapeutics and, until 31 August 2020, was a SAB member of Syros Pharmaceuticals, Neogene Therapeutics, Asimov and Thermo Fisher Scientific. From 1 August 2020, A.R. is an employee of Genentech. N.E.S. is an advisor to Vertex and Qiagen.
Peer review information
Nature thanks Prisca Liberali, Annie Vogel-Ciernia and Irina Voineagu for their contribution to the peer review of this work.
Additional information
Publisher's note Springer Nature remains neutral with regard to jurisdictional claims in published maps and institutional affiliations.
Extended data figures and tables
Supplementary information
About this article
Cite this article
Paulsen, B., Velasco, S., Kedaigle, A.J. et al. Autism genes converge on asynchronous development of shared neuron classes. Nature 602, 268–273 (2022). https://doi.org/10.1038/s41586-021-04358-6
Received:

Accepted:

Published:

Issue Date:

DOI: https://doi.org/10.1038/s41586-021-04358-6
Comments
By submitting a comment you agree to abide by our Terms and Community Guidelines. If you find something abusive or that does not comply with our terms or guidelines please flag it as inappropriate.