Abstract
The 10–23 DNAzyme is one of the most prominent catalytically active DNA sequences1,2. Its ability to cleave a wide range of RNA targets with high selectivity entails a substantial therapeutic and biotechnological potential2. However, the high expectations have not yet been met, a fact that coincides with the lack of high-resolution and time-resolved information about its mode of action3. Here we provide high-resolution NMR characterization of all apparent states of the prototypic 10–23 DNAzyme and present a comprehensive survey of the kinetics and dynamics of its catalytic function. The determined structure and identified metal-ion-binding sites of the precatalytic DNAzyme–RNA complex reveal that the basis of the DNA-mediated catalysis is an interplay among three factors: an unexpected, yet exciting molecular architecture; distinct conformational plasticity; and dynamic modulation by metal ions. We further identify previously hidden rate-limiting transient intermediate states in the DNA-mediated catalytic process via real-time NMR measurements. Using a rationally selected single-atom replacement, we could considerably enhance the performance of the DNAzyme, demonstrating that the acquired knowledge of the molecular structure, its plasticity and the occurrence of long-lived intermediate states constitutes a valuable starting point for the rational design of next-generation DNAzymes.
Relevant articles
Open Access articles citing this article.
BIOspektrum Open Access 13 February 2022
Access options
Access Nature and 54 other Nature Portfolio journals
Get Nature+, our best-value online-access subscription
$29.99 per month
cancel any time
Subscribe to this journal
Receive 51 print issues and online access
$199.00 per year
only $3.90 per issue
Rent or buy this article
Get just this article for as long as you need it
$39.95
Prices may be subject to local taxes which are calculated during checkout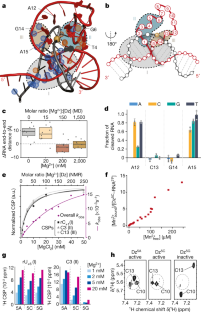 Data availability
NMR resonance assignments of Dz5C–RNA2ʹF are available via the BMRB with the accession code: 34654. Atomic coordinates of the Dz5C–RNA2ʹF ensemble (cluster I) are deposited in the PDB under the accession code: 7PDU. Coordinates of additional cluster and scripts for data analysis are available from the corresponding author upon reasonable request.
Code availability
The codes used for structure calculation, MD simulations and simulation of real-time NMR data are available from the corresponding author upon reasonable request.
References
Santoro, S. W. & Joyce, G. F. A general purpose RNA-cleaving DNA enzyme. Proc. Natl Acad. Sci. USA 94, 4262–4266 (1997).

Silverman, S. K. Catalytic DNA: scope, applications, and biochemistry of deoxyribozymes. Trends Biochem. Sci 41, 595–609 (2016).

Rosenbach, H. et al. Molecular features and metal ions that influence 10-23 DNAzyme activity. Molecules 25, 3100 (2020).

Cuenoud, B. & Szostak, J. W. A DNA metalloenzyme with DNA ligase activity. Nature 375, 611–614 (1995).

Pradeepkumar, P. I., Höbartner, C., Baum, D. A. & Silverman, S. K. DNA-catalyzed formation of nucleopeptide linkages. Angew. Chemie Int. Ed. 47, 1753–1757 (2008).

Shen, Z. et al. A catalytic DNA activated by a specific strain of bacterial pathogen. Angew. Chemie Int. Ed. 55, 2431–2434 (2016).

Torabi, S.-F. et al. In vitro selection of a sodium-specific DNAzyme and its application in intracellular sensing. Proc. Natl Acad. Sci. USA 112, 5903–5908 (2015).

Ponce-Salvatierra, A., Wawrzyniak-Turek, K., Steuerwald, U., Höbartner, C. & Pena, V. Crystal structure of a DNA catalyst. Nature 529, 231–234 (2016).

Liu, H. et al. Crystal structure of an RNA-cleaving DNAzyme. Nat. Commun. 8, 2006 (2017).

Victor, J., Steger, G. & Riesner, D. Inability of DNAzymes to cleave RNA in vivo is due to limited Mg2+ concentration in cells. Eur. Biophys. J. 47, 333–343 (2018).

Young, D. D., Lively, M. O. & Deiters, A. Activation and deactivation of DNAzyme and antisense function with light for the photochemical regulation of gene expression in mammalian cells. J. Am. Chem. Soc. 132, 6183–6193 (2010).

Wang, Y., Nguyen, K., Spitale, R. C. & Chaput, J. C. A biologically stable DNAzyme that efficiently silences gene expression in cells. Nat. Chem. 13, 319–326 (2021).

Liu, C. et al. Self‐assembly of copper–DNAzyme nanohybrids for dual‐catalytic tumor therapy. Angew. Chemie Int. Ed. 60, 14324–14328 (2021).

Wang, Y., Liu, E., Lam, C. H. & Perrin, D. M. A densely modified M2+-independent DNAzyme that cleaves RNA efficiently with multiple catalytic turnover. Chem. Sci. 9, 1813–1821 (2018).

Nowakowski, J., Shim, P. J., Prasad, G. S., Stout, C. D. & Joyce, G. F. Crystal structure of an 82-nucleotide RNA-DNA complex formed by the 10-23 DNA enzyme. Nat. Struct. Biol. 6, 151–156 (1999).

Zaborowska, Z., Fürste, J. P., Erdmann, V. A. & Kurreck, J. Sequence requirements in the catalytic core of the "10–23" DNA enzyme. J. Biol. Chem. 277, 40617–40622 (2002).

Vögeli, B., Olsson, S., Güntert, P. & Riek, R. The exact NOE as an alternative in ensemble structure determination. Biophys. J. 110, 113–126 (2016).

Elstner, M., Hobza, P., Frauenheim, T., Suhai, S. & Kaxiras, E. Hydrogen bonding and stacking interactions of nucleic acid base pairs: a density-functional-theory based treatment. J. Chem. Phys. 114, 5149–5155 (2001).

Kisseleva, N., Khvorova, A., Westhof, E. & Schiemann, O. Binding of manganese(II) to a tertiary stabilized hammerhead ribozyme as studied by electron paramagnetic resonance spectroscopy. RNA 11, 1–6 (2005).

Rosenbach, H. et al. Influence of monovalent metal ions on metal binding and catalytic activity of the 10–23 DNAzyme. Biol. Chem. 402, 99–111 (2020).

Balbach, J. et al. Protein folding monitored at individual residues during a two-dimensional NMR experiment. Science 274, 1161–1163 (1996).

Etzkorn, M., Böckmann, A. & Baldus, M. Kinetic analysis of protein aggregation monitored by real-time 2D solid-state NMR spectroscopy. J. Biomol. NMR 49, 121–129 (2011).

Nawrot, B. et al. Mapping of the functional phosphate groups in the catalytic core of deoxyribozyme 10-23. FEBS J. 274, 1062–1072 (2007).

Horton, T. E., Clardy, D. R. & DeRose, V. J. Electron paramagnetic resonance spectroscopic measurement of Mn2+ binding affinities to the hammerhead ribozyme and correlation with cleavage activity. Biochemistry 37, 18094–18101 (1998).

Hunsicker-Wang, L., Vogt, M. & Derose, V. J. EPR methods to study specific metal-ion binding sites in RNA. Methods Enzymol. 468, 335–367 (2009).

Rinnenthal, J., Klinkert, B., Narberhaus, F. & Schwalbe, H. Modulation of the stability of the Salmonella fourU-type RNA thermometer. Nucleic Acids Res. 39, 8258–8270 (2011).

Delaglio, F. et al. NMRPipe: a multidimensional spectral processing system based on UNIX pipes. J. Biomol. NMR 6, 277–293 (1995).

Keller, R. L. J. Computer Aided Resonance Assignment Tutorial (Cantina, 2004).

Lee, W., Tonelli, M. & Markley, J. L. NMRFAM-SPARKY: enhanced software for biomolecular NMR spectroscopy. Bioinformatics 31, 1325–1327 (2015).

Schubert, S. RNA cleaving '10-23' DNAzymes with enhanced stability and activity. Nucleic Acids Res. 31, 5982–5992 (2003).

Thakur, C. S., Luo, Y., Chen, B., Eldho, N. V. & Dayie, T. K. Biomass production of site selective 13C/15N nucleotides using wild type and a transketolase E. coli mutant for labeling RNA for high resolution NMR. J. Biomol. NMR 52, 103–114 (2012).

Orts, J., Vögeli, B. & Riek, R. relaxation matrix analysis of spin diffusion for the NMR structure calculation with eNOEs. J. Chem. Theory Comput. 8, 3483–3492 (2012).

Schwieters, C. D., Kuszewski, J. J., Tjandra, N. & Marius Clore, G. The Xplor-NIH NMR molecular structure determination package. J. Magn. Reson. 160, 65–73 (2003).

Valafar, H. & Prestegard, J. H. REDCAT: a residual dipolar coupling analysis tool. J. Magn. Reson. 167, 228–241 (2004).

Huang, K. et al. Solution structure of the MEF2A–DNA complex: structural basis for the modulation of DNA bending and specificity by MADS-box transcription factors. EMBO J. 19, 2615–2628 (2000).

Pimenta, J. et al. NMR solution structure and SRP54M predicted interaction of the N-terminal sequence (1-30) of the ovine Doppel protein. Peptides 49, 32–40 (2013).

Case, D. A. et al. Amber 2020 (Univ. California, 2020).

Wang, J., Cieplak, P. & Kollman, P. A. How well does a restrained electrostatic potential (RESP) model perform in calculating conformational energies of organic and biological molecules? J. Comput. Chem. 21, 1049–1074 (2000).

Bas, D. C., Rogers, D. M. & Jensen, J. H. Very fast prediction and rationalization of pKa values for protein-ligand complexes. Proteins 73, 765–783 (2008).

Jorgensen, W. L., Chandrasekhar, J., Madura, J. D., Impey, R. W. & Klein, M. L. Comparison of simple potential functions for simulating liquid water. J. Chem. Phys. 79, 926–935 (1983).

Joung, I. S. & Cheatham, T. E. Determination of alkali and halide monovalent ion parameters for use in explicitly solvated biomolecular simulations. J. Phys. Chem. B 112, 9020–9041 (2008).

Schott-Verdugo, S. & Gohlke, H. PACKMOL-Memgen: a simple-to-use, generalized workflow for membrane-protein–lipid-bilayer system building. J. Chem. Inf. Model. 59, 2522–2528 (2019).

Li, P., Roberts, B. P., Chakravorty, D. K. & Merz, K. M. Rational design of particle mesh Ewald compatible Lennard-Jones parameters for +2 metal cations in explicit solvent. J. Chem. Theory Comput. 9, 2733–2748 (2013).

Darden, T., York, D. & Pedersen, L. Particle mesh Ewald: an N ⋅log(N) method for Ewald sums in large systems. J. Chem. Phys. 98, 10089–10092 (1993).

Ryckaert, J.-P., Ciccotti, G. & Berendsen, H. J. C. Numerical integration of the cartesian equations of motion of a system with constraints: molecular dynamics of n-alkanes. J. Comput. Phys. 23, 327–341 (1977).

Hanke, C. A. & Gohlke, H. In Computational Methods for Understanding Riboswitches Vol. 553 (eds. Chen, S.-J. & Burke-Aguero, D. H. B.) 163–191 (Academic Press, 2015).

Roe, D. R. & Cheatham, T. E. PTRAJ and CPPTRAJ: software for processing and analysis of molecular dynamics trajectory data. J. Chem. Theory Comput. 9, 3084–3095 (2013).

Richter, C. et al. Determination of sugar conformation in large RNA oligonucleotides from analysis of dipole–dipole cross correlated relaxation by solution NMR spectroscopy. J. Biomol. NMR 15, 241–250 (1999).

Steger, G. Thermal denaturation of double-stranded nucleic acids: prediction of temperatures critical for gradient gel electrophoresis and polymerase chain reaction. Nucleic Acids Res. 22, 2760–2768 (1994).

Sugimoto, N. et al. Thermodynamic parameters to predict stability of RNA/DNA hybrid duplexes. Biochemistry 34, 11211–11216 (1995).

Poland, D. Recursion relation generation of probability profiles for specific-sequence macromolecules with long-range correlations. Biopolymers 13, 1859–1871 (1974).
Acknowledgements
We acknowledge access to the Jülich-Düsseldorf Biomolecular NMR Center. We thank H. Arthanari, A. Boeszoermenyi and T. Viennet for valuable support regarding the 19F-NMR experiments; R. Biehl for helpful discussions; and R. Kümmerle for data acquisition at 1.1 GHz. H.G. is grateful for computational support and infrastructure provided by the "Zentrum für Informations-und Medientechnologie" (ZIM) at the Heinrich Heine University Düsseldorf and the John von Neumann Institute for Computing (NIC) (user ID: HKF7, VSK33). This work was supported by the German Research Foundation (DFG) (ET 103/2-1, ET 103/2-2, ET 103/4-1, and ET 103/5-1) to M.E., the Chemical Industry Fund (Li 196/05 to I.S. and Hoe 700080 to H.R.), the German Academic Scholarship Foundation (to H.R.), the Bayer AG (Grants4Ag program to I.S.), and the European Union's Horizon 2020 research and innovation program under the Marie Sklodowska-Curie grant agreement number 660258 to A.V. The Center for Structural Studies is funded by the DFG (grant number 417919780).
Ethics declarations
Competing interests
The authors declare no competing interests.
Additional information
Peer review information Nature thanks Harald Schwalbe, Scott Silverman and the other, anonymous, reviewer(s) for their contribution to the peer review of this work. Peer reviewer reports are available.
Publisher's note Springer Nature remains neutral with regard to jurisdictional claims in published maps and institutional affiliations.
Extended data figures and tables
Supplementary information
This file contains Supplementary Text, Supplementary Figs. 1, 2, Supplementary Tables 1, 2 and Supplementary Equations.
About this article
Cite this article
Borggräfe, J., Victor, J., Rosenbach, H. et al. Time-resolved structural analysis of an RNA-cleaving DNA catalyst. Nature 601, 144–149 (2022). https://doi.org/10.1038/s41586-021-04225-4
Received:

Accepted:

Published:

Issue Date:

DOI: https://doi.org/10.1038/s41586-021-04225-4
Comments
By submitting a comment you agree to abide by our Terms and Community Guidelines. If you find something abusive or that does not comply with our terms or guidelines please flag it as inappropriate.