Abstract
Endogenous DNA damage can perturb transcription, triggering a multifaceted cellular response that repairs the damage, degrades RNA polymerase II and shuts down global transcription1,2,3,4. This response is absent in the human disease Cockayne syndrome, which is caused by loss of the Cockayne syndrome A (CSA) or CSB proteins5,6,7. However, the source of endogenous DNA damage and how this leads to the prominent degenerative features of this disease remain unknown. Here we find that endogenous formaldehyde impedes transcription, with marked physiological consequences. Mice deficient in formaldehyde clearance (Adh5−/−) and CSB (Csbm/m; Csb is also known as Ercc6) develop cachexia and neurodegeneration, and succumb to kidney failure, features that resemble human Cockayne syndrome. Using single-cell RNA sequencing, we find that formaldehyde-driven transcriptional stress stimulates the expression of the anorexiogenic peptide GDF15 by a subset of kidney proximal tubule cells. Blocking this response with an anti-GDF15 antibody alleviates cachexia in Adh5−/−Csbm/m mice. Therefore, CSB provides protection to the kidney and brain against DNA damage caused by endogenous formaldehyde, while also suppressing an anorexic endocrine signal. The activation of this signal might contribute to the cachexia observed in Cockayne syndrome as well as chemotherapy-induced anorectic weight loss. A plausible evolutionary purpose for such a response is to ensure aversion to genotoxins in food.
Relevant articles
Open Access articles citing this article.
Ondrej Suchanek

,

John R. Ferdinand

…

Menna R. Clatworthy

Nature Communications Open Access 04 November 2023

Lisa-Maria Winter

,

Diana Reinhardt

…

Seong-Wook Yun

Scientific Reports Open Access 26 July 2023

Asrar Ali Khan

,

Gema Valera Vazquez

…

Martin Hrabĕ de Angelis

Mammalian Genome Open Access 19 July 2023
Access options
Access Nature and 54 other Nature Portfolio journals
Get Nature+, our best-value online-access subscription
$29.99 / 30 days
cancel any time
Subscribe to this journal
Receive 51 print issues and online access
$199.00 per year
only $3.90 per issue
Rent or buy this article
Prices vary by article type
from$1.95
to$39.95
Prices may be subject to local taxes which are calculated during checkout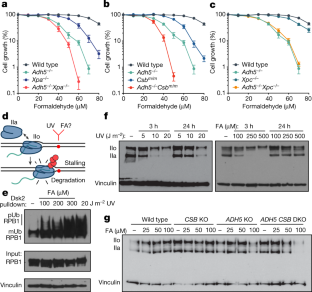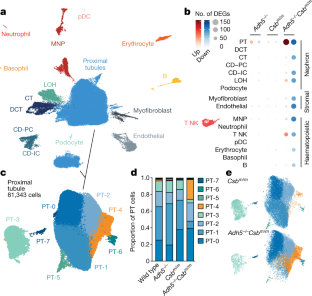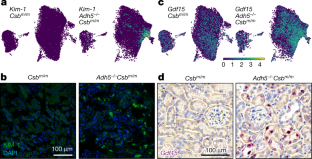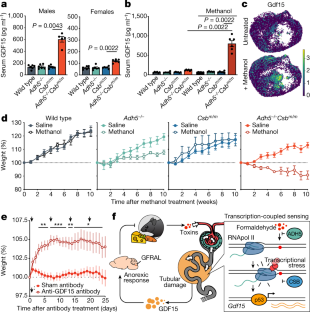 Data availability
All scRNA-seq data have been deposited in the Gene Expression Omnibus under accession GSE175792.
References
Brueckner, F., Hennecke, U., Carell, T. & Cramer, P. CPD damage recognition by transcribing RNA polymerase II. Science 315, 859–862 (2007).

Xu, J. et al. Structural basis for the initiation of eukaryotic transcription-coupled DNA repair. Nature 551, 653–657 (2017).

Gregersen, L. H. & Svejstrup, J. Q. The cellular response to transcription-blocking DNA damage. Trends Biochem. Sci. 43, 327–341 (2018).

Tufegdžić Vidaković, A. et al. Regulation of the RNAPII pool is integral to the DNA damage response. Cell 180, 1245–1261.e21 (2020).

Laugel, V. Cockayne syndrome: the expanding clinical and mutational spectrum. Mech. Ageing Dev. 134, 161–170 (2013).

Stern-Delfils, A. et al. Renal disease in Cockayne syndrome. Eur. J. Med. Genet. 63, 103612 (2020).

Kubota, M. et al. Nationwide survey of Cockayne syndrome in Japan: incidence, clinical course and prognosis. Pediatr. Int. 57, 339–347 (2015).

Lans, H., Hoeijmakers, J. H. J., Vermeulen, W. & Marteijn, J. A. The DNA damage response to transcription stress. Nat. Rev. Mol. Cell Biol. 20, (2019).

Wilson, M. D., Harreman, M. & Svejstrup, J. Q. Ubiquitylation and degradation of elongating RNA polymerase II: the last resort. Biochim. Biophys. Acta 1829, 151–157 (2013).

van der Horst, G. T. et al. Defective transcription-coupled repair in Cockayne syndrome B mice is associated with skin cancer predisposition. Cell 89, 425–435 (1997).

van der Horst, G. T. J. et al. UVB radiation-induced cancer predisposition in Cockayne syndrome group A (Csa) mutant mice. DNA Repair 1, 143–157 (2002).

Pontel, L. B. et al. Endogenous formaldehyde is a hematopoietic stem cell genotoxin and metabolic carcinogen. Mol. Cell 60, 177–188 (2015).

Cheng, G. et al. Reactions of formaldehyde plus acetaldehyde with deoxyguanosine and DNA: formation of cyclic deoxyguanosine adducts and formaldehyde cross-links. Chem. Res. Toxicol. 16, 145–152 (2003).

Marteijn, J. A., Lans, H., Vermeulen, W. & Hoeijmakers, J. H. J. Understanding nucleotide excision repair and its roles in cancer and ageing. Nat. Rev. Mol. Cell Biol. 15, 465–481 (2014).

Ranes, M. et al. A ubiquitylation site in Cockayne syndrome B required for repair of oxidative DNA damage, but not for transcription-coupled nucleotide excision repair. Nucleic Acids Res. 44, 5246–5255 (2016).

Wei, W. et al. S-nitrosylation from GSNOR deficiency impairs DNA repair and promotes hepatocarcinogenesis. Sci. Transl. Med. 2, 19ra13 (2010).

Niedernhofer, L. J., Bohr, V. A., Sander, M. & Kraemer, K. H. Xeroderma pigmentosum and other diseases of human premature aging and DNA repair: Molecules to patients. Mech. Ageing Dev. 132, 340–347 (2011).

Langevin, F., Crossan, G. P., Rosado, I. V., Arends, M. J. & Patel, K. J. Fancd2 counteracts the toxic effects of naturally produced aldehydes in mice. Nature 475, 53–59 (2011).

Garaycoechea, J. I. et al. Genotoxic consequences of endogenous aldehydes on mouse haematopoietic stem cell function. Nature 489, 571–575 (2012).

Young, M. D. et al. Single-cell transcriptomes from human kidneys reveal the cellular identity of renal tumors. Science 361, 594–599 (2018).

Feng, D., Ngov, C., Henley, N., Boufaied, N. & Gerarduzzi, C. Characterization of matricellular protein expression signatures in mechanistically diverse mouse models of kidney injury. Sci. Rep. 9, 16736 (2019).

Vaidya, V. S., Ramirez, V., Ichimura, T., Bobadilla, N. A. & Bonventre, J. V. Urinary kidney injury molecule-1: a sensitive quantitative biomarker for early detection of kidney tubular injury. Am. J. Physiol. 290, 517–529 (2006).

Dieterle, F. et al. Urinary clusterin, cystatin C, Β2-microglobulin and total protein as markers to detect drug-induced kidney injury. Nat. Biotechnol. 28, 463–469 (2010).

Brooks, C. R. et al. KIM‐1/TIM‐1‐mediated phagocytosis links ATG5/ULK1‐dependent clearance of apoptotic cells to antigen presentation. EMBO J. 34, 2441–2464 (2015).

Freitas, M. C. S. et al. Type I interferon pathway mediates renal ischemia/reperfusion injury. Transplantation 92, 131–138 (2011).

Liu, J. et al. Molecular characterization of the transition from acute to chronic kidney injury following ischemia/reperfusion. JCI Insight 2, (2017).

Espinosa, J. M., Verdun, R. E. & Emerson, B. M. p53 functions through stress- and promoter-specific recruitment of transcription initiation components before and after DNA damage. Mol. Cell 12, 1015–1027 (2003).

Campisi, J. & D'Adda Di Fagagna, F. Cellular senescence: when bad things happen to good cells. Nat. Rev. Mol. Cell Biol. 8, 729–740 (2007).

Mullican, S. E. et al. GFRAL is the receptor for GDF15 and the ligand promotes weight loss in mice and nonhuman primates. Nat. Med. 23, 1150–1157 (2017).

Tufegdzic Vidakovic, A. et al. Analysis of RNA polymerase II ubiquitylation and proteasomal degradation. Methods 159–160, 146–156 (2019).

Wilson, B. T. et al. The Cockayne Syndrome Natural History (CoSyNH) study: clinical findings in 102 individuals and recommendations for care. Genet. Med. 18, 483–493 (2016).

Hsu, J. Y. et al. Non-homeostatic body weight regulation through a brainstem-restricted receptor for GDF15. Nature 550, 255–259 (2017).

Breen, D. M. et al. GDF-15 neutralization alleviates platinum-based chemotherapy-induced emesis, anorexia, and weight loss in mice and nonhuman primates. Cell Metab. 32, 938–950.e6 (2020).

Enoiu, M., Jiricny, J. & Schärer, O. D. Repair of cisplatin-induced DNA interstrand crosslinks by a replication-independent pathway involving transcription-coupled repair and translesion synthesis. Nucleic Acids Res. 40, 8953–8964 (2012).

Knipscheer, P. et al. The Fanconi anemia pathway promotes replication-dependent DNA interstrand cross-link repair. Science 326, 1698–1701 (2009).

Mulderigg, L. & Garaycoechea, J. I. XPF-ERCC1 protects liver, kidney and blood homeostasis outside the canonical excision repair pathways. PLoS Genet. 16, e1008555 (2020).

Vermeij, W. P. et al. Restricted diet delays accelerated ageing and genomic stress in DNA-repair-deficient mice. Nature 537, 427–431 (2016).

Watson, H. J. et al. Genome-wide association study identifies eight risk loci and implicates metabo-psychiatric origins for anorexia nervosa. Nat. Genet. 51, 1207–1214 (2019).

Crossan, G. P. et al. Disruption of mouse Slx4, a regulator of structure-specific nucleases, phenocopies Fanconi anemia. Nat. Genet. 43, 147–152 (2011).

de Vries, A. et al. Increased susceptibility to ultraviolet-B and carcinogens of mice lacking the DNA excision repair gene XPA. Nature 377, 169–173 (1995).

Cheo, D. L. et al. Characterization of defective nucleotide excision repair in XPC mutant mice. Mutat. Res. 374, 1–9 (1997).

Liu, L. et al. Essential roles of S-nitrosothiols in vascular homeostasis and endotoxic shock. Cell 116, 617–628 (2004).

Donehower, L. A. et al. Mice deficient for p53 are developmentally normal but susceptible to spontaneous tumours. Nature 356, 215–221 (1992).

Guyenet, S. J. et al. A simple composite phenotype scoring system for evaluating mouse models of cerebellar ataxia. J. Vis. Exp. 39, 1787 (2010).

Dingler, F. A. et al. Two aldehyde clearance systems are essential to prevent lethal formaldehyde accumulation in mice and humans. Mol. Cell 80, 996–1012.e9 (2020).

Young, M. D. & Behjati, S. SoupX removes ambient RNA contamination from droplet based single cell RNA sequencing data. Gigascience 9, giaa151 (2020).

Wolock, S. L., Lopez, R. & Klein, A. M. Scrublet: computational identification of cell doublets in single-cell transcriptomic data. Cell Syst. 8, 281–291.e9 (2019).

Popescu, D. M. et al. Decoding human fetal liver haematopoiesis. Nature 574, 365–371 (2019).

Stuart, T. et al. Comprehensive integration of single-cell data. Cell 177, 1888–1902.e21 (2019).

Wolf, F. A., Angerer, P. & Theis, F. J. SCANPY: large-scale single-cell gene expression data analysis. Genome Biol. 19, 15 (2018).

Benjamini, Y. & Hochberg, Y. Controlling the false discovery rate: a practical and powerful approach to multiple testing. J. R. Stat. Soc. B 57, 289–300 (1995).

Park, J. et al. Single-cell transcriptomics of the mouse kidney reveals potential cellular targets of kidney disease. Science 360, 758–763 (2018).

Traag, V. A., Waltman, L. & van Eck, N. J. From Louvain to Leiden: guaranteeing well-connected communities. Sci. Rep. 9, 5233 (2019).

McInnes, L., Healy, J., Saul, N. & Großberger, L. UMAP: uniform manifold approximation and projection. J. Open Source Softw. 3, 861 (2018).
Acknowledgements
We thank members of the K.J.P., G.P.C. and J.I.G. laboratories for critical reading of the manuscript. We thank J. Svejstrup and A. Tufegdzic Vidakovic for the pGEX-Dsk2 plasmid, E. Friedberg, G. T. van der Horst and J. Hoeijmakers for sharing the Xpc−/−, Xpa−/− and Csbm/m mice and S. Wells, M. Stewart and H. Cater for work done at MRC Harwell. We thank Pfizer for the GDF15 monoclonal antibody. K.J.P. is supported by MRC, CRUK (C42693/A23273), Wellcome Trust (106202/Z/14/Z) and European Union Research and Innovation programme Horizon 2020 (Grant Agreement Number 730879). L.M., F.A.D. and G.P.C. were supported by CRUK (C42693/A23273). J.I.G. is supported by the Hubrecht Institute. C.L.M. is supported by the Wellcome Trust (106202/Z/14/Z). M.R.C. is funded by an NIHR Research Professorship (RP-2017-08-ST2-002). J.R.F. is funded by NIHR Cambridge Blood and Transplant Research Unit Organ Donation. Z.K.T. and M.R.C. are funded by MRC HCA grant MR/S035842/1. L.G. is funded from CRUK (FC0001166), the UK Medical Research Council (FC001166) and the Wellcome Trust (FC001166). S.O. is supported by the Medical Research Council MRC.MC.UU.12012.1, a Wellcome Senior Investigator Award 214274/Z/18/Z and the NIHR Cambridge Biomedical Research Centre. J.A.T. is supported by an NIHR Clinical Lectureship (CL-2019-14-504).
Ethics declarations
Competing interests
The authors declare no competing interests.
Additional information
Peer review information Nature thanks Stephan Herzig, Ruben van Boxtel and the other, anonymous, reviewer(s) for their contribution to the peer review of this work. Peer reviewer reports are available.
Publisher's note Springer Nature remains neutral with regard to jurisdictional claims in published maps and institutional affiliations.
Extended data figures and tables
Supplementary information
About this article
Cite this article
Mulderrig, L., Garaycoechea, J.I., Tuong, Z.K. et al. Aldehyde-driven transcriptional stress triggers an anorexic DNA damage response. Nature 600, 158–163 (2021). https://doi.org/10.1038/s41586-021-04133-7
Received:

Accepted:

Published:

Issue Date:

DOI: https://doi.org/10.1038/s41586-021-04133-7
Comments
By submitting a comment you agree to abide by our Terms and Community Guidelines. If you find something abusive or that does not comply with our terms or guidelines please flag it as inappropriate.