Abstract
Synaptic transmission involves cell-to-cell communication at the synaptic junction between two neurons, and chemical and electrical forms of this process have been extensively studied. In the brain, excitatory glutamatergic synapses are often made on dendritic spines that enlarge during learning1,2,3,4,5. As dendritic spines and the presynaptic terminals are tightly connected with the synaptic cleft6, the enlargement may have mechanical effects on presynaptic functions7. Here we show that fine and transient pushing of the presynaptic boutons with a glass pipette markedly promotes both the evoked release of glutamate and the assembly of SNARE (soluble N-ethylmaleimide-sensitive factor attachment protein receptor) proteins8,9,10,11,12—as measured by Förster resonance transfer (FRET) and fluorescence lifetime imaging—in rat slice culture preparations13. Both of these effects persisted for more than 20 minutes. The increased presynaptic FRET was independent of cytosolic calcium (Ca2+), but dependent on the assembly of SNARE proteins and actin polymerization in the boutons. Notably, a low hypertonic solution of sucrose (20 mM) had facilitatory effects on both the FRET and the evoked release without inducing spontaneous release, in striking contrast with a high hypertonic sucrose solution (300 mM), which induced exocytosis by itself14. Finally, spine enlargement induced by two-photon glutamate uncaging enhanced the evoked release and the FRET only when the spines pushed the boutons by their elongation. Thus, we have identified a mechanosensory and transduction mechanism15 in the presynaptic boutons, in which the evoked release of glutamate is enhanced for more than 20 min.
This is a preview of subscription content
Access options
Subscribe to Journal
Get full journal access for 1 year
$199.00
only $3.90 per issue
All prices are NET prices.
VAT will be added later in the checkout.
Tax calculation will be finalised during checkout.
Rent or Buy article
Get time limited or full article access on ReadCube.
from$8.99
All prices are NET prices.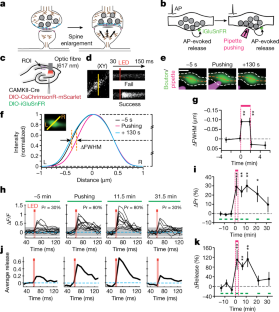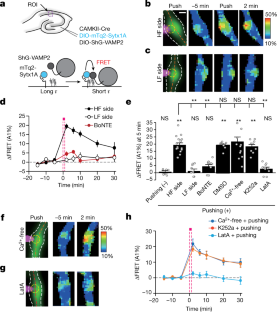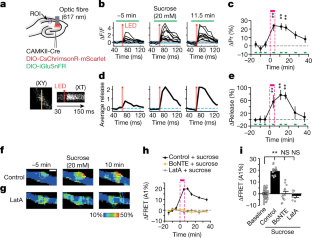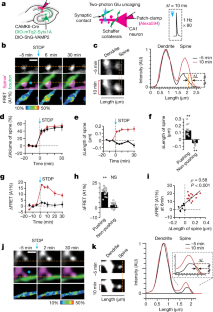 Data availability
All data are available from the corresponding author upon reasonable request. Source data are provided with this paper.
References
1.

Matsuzaki, M., Honkura, N., Ellis-Davies, G. C. & Kasai, H. Structural basis of long-term potentiation in single dendritic spines. Nature 429, 761–766 (2004).

2.

Harvey, C. D., Yasuda, R., Zhong, H. & Svoboda, K. The spread of Ras activity triggered by activation of a single dendritic spine. Science 321, 136–140 (2008).

3.

Herring, B. E. & Nicoll, R. A. Long-term potentiation: from CaMKII to AMPA receptor trafficking. Annu. Rev. Physiol. 78, 351–365 (2016).

4.

Noguchi, J. et al. Bidirectional in vivo structural dendritic spine plasticity revealed by two-photon glutamate uncaging in the mouse neocortex. Sci. Rep. 9, 13922 (2019).

5.

Kasai, H., Ziv, N. E., Okazaki, H., Yagishita, S. & Toyoizumi, T. Spine dynamics in the brain, mental disorders and artificial neural networks. Nat. Rev. Neurosci. 22, 407–422 (2021).

6.

Missler, M., Sudhof, T. C. & Biederer, T. Synaptic cell adhesion. Cold Spring Harb. Perspect. Biol. 4, a005694 (2012).

7.

Kasai, H., Fukuda, M., Watanabe, S., Hayashi-Takagi, A. & Noguchi, J. Structural dynamics of dendritic spines in memory and cognition. Trends Neurosci. 33, 121–129 (2010).

8.

Sudhof, T. C. & Rothman, J. E. Membrane fusion: grappling with SNARE and SM proteins. Science 323, 474–477 (2009).

9.

Jahn, R. & Scheller, R. H. SNAREs–engines for membrane fusion. Nat. Rev. Mol. Cell Biol. 7, 631–643 (2006).

10.

Augustine, G. J. How does calcium trigger neurotransmitter release? Curr. Opin. Neurobiol. 11, 320–326 (2001).

11.

Tucker, W. C., Weber, T. & Chapman, E. R. Reconstitution of Ca2+-regulated membrane fusion by synaptotagmin and SNAREs. Science 304, 435–438 (2004).

12.

Kasai, H., Takahashi, N. & Tokumaru, H. Distinct initial SNARE configurations underlying the diversity of exocytosis. Physiol. Rev. 92, 1915–1964 (2012).

13.

Takahashi, N. et al. Two-photon fluorescence lifetime imaging of primed SNARE complexes in presynaptic terminals and β cells. Nat. Commun. 6, 8531 (2015).

14.

Fatt, P. & Katz, B. Spontaneous subthreshold activity at motor nerve endings. J. Physiol. 117, 109–128 (1952).

15.

Hannezo, E. & Heisenberg, C. P. Mechanochemical feedback loops in development and disease. Cell 178, 12–25 (2019).

16.

Imig, C. et al. The morphological and molecular nature of synaptic vesicle priming at presynaptic active zones. Neuron 84, 416–431 (2014).

17.

Rosenmund, C. & Stevens, C. F. Definition of the readily releasable pool of vesicles at hippocampal synapses. Neuron 16, 1197–1207 (1996).

18.

Marvin, J. S. et al. An optimized fluorescent probe for visualizing glutamate neurotransmission. Nat. Methods 10, 162–170 (2013).

19.

Klapoetke, N. C. et al. Independent optical excitation of distinct neural populations. Nat. Methods 11, 338–346 (2014).

20.

Murakoshi, H., Shibata, A. C., Nakahata, Y. & Nabekura, J. A dark green fluorescent protein as an acceptor for measurement of Förster resonance energy transfer. Sci. Rep. 5, 15334 (2015).

21.

Delmas, P. & Coste, B. Mechano-gated ion channels in sensory systems. Cell 155, 278–284 (2013).

22.

Tapley, P., Lamballe, F. & Barbacid, M. K252a is a selective inhibitor of the tyrosine protein kinase activity of the trk family of oncogenes and neurotrophin receptors. Oncogene 7, 371–381 (1992).

23.

Doussau, F. & Augustine, G. J. The actin cytoskeleton and neurotransmitter release: an overview. Biochimie 82, 353–363 (2000).

24.

Cingolani, L. A. & Goda, Y. Actin in action: the interplay between the actin cytoskeleton and synaptic efficacy. Nat. Rev. Neurosci. 9, 344–356 (2008).

25.

Tanaka, J. et al. Protein synthesis and neurotrophin-dependent structural plasticity of single dendritic spines. Science 319, 1683–1687 (2008).

26.

Iino, M. Tension responses of chemically skinned fibre bundles of the guinea-pig taenia caeci under varied ionic environments. J. Physiol. 320, 449–467 (1981).

27.

Harris, K. M. & Stevens, J. K. Dendritic spines of CA 1 pyramidal cells in the rat hippocampus: serial electron microscopy with reference to their biophysical characteristics. J. Neurosci. 9, 2982–2997 (1989).

28.

de Vivo, L. et al. Ultrastructural evidence for synaptic scaling across the wake/sleep cycle. Science 355, 507–510 (2017).

29.

Watanabe, S. et al. Ultrafast endocytosis at Caenorhabditis elegans neuromuscular junctions. Elife 2, e00723 (2013).

30.

Honkura, N., Matsuzaki, M., Noguchi, J., Ellis-Davies, G. C. & Kasai, H. The subspine organization of actin fibers regulates the structure and plasticity of dendritic spines. Neuron 57, 719–729 (2008).

31.

Chang, J. Y. et al. CaMKII autophosphorylation is necessary for optimal integration of Ca2+ signals during LTP induction, but not maintenance. Neuron 94, 800–808 (2017).

32.

Kishimoto, T. et al. Vacuolar sequential exocytosis of large dense-core vesicles in adrenal medulla. EMBO J. 25, 673–682 (2006).

33.

Ninomiya, Y., Kishimoto, T., Miyashita, Y. & Kasai, H. Ca2+-dependent exocytotic pathways in Chinese hamster ovary fibroblasts revealed by a caged-Ca2+ compound. J. Biol. Chem. 271, 17751–17754 (1996).

34.

Iino, Y. et al. Dopamine D2 receptors in discrimination learning and spine enlargement. Nature 579, 555–560 (2020).

35.

Shibata, A. C. E. et al. Photoactivatable CaMKII induces synaptic plasticity in single synapses. Nat. Commun. 12, 751 (2021).

36.

Dana, H. et al. High-performance calcium sensors for imaging activity in neuronal populations and microcompartments. Nat. Methods 16, 649–657 (2019).

37.

Grieger, J. C., Choi, V. W. & Samulski, R. J. Production and characterization of adeno-associated viral vectors. Nat. Protoc. 1, 1412–1428 (2006).

38.

Leung, R. W., Yeh, S. C. & Fang, Q. Effects of incomplete decay in fluorescence lifetime estimation. Biomed. Opt. Express 2, 2517–2531 (2011).

39.

Drobizhev, M., Makarov, N. S., Tillo, S. E., Hughes, T. E. & Rebane, A. Two-photon absorption properties of fluorescent proteins. Nat. Methods 8, 393–399 (2011).

40.

Kasai, H. et al. A new quantitative (TEPIQ) analysis for diameters of exocytic vesicles and its application to mouse pancreatic islets. J. Physiol 568, 891–903 (2005).

41.

Hayama, T. et al. GABA promotes the competitive selection of dendritic spines by controlling local Ca2+ signaling. Nat. Neurosci. 16, 1409–1416 (2013).
Acknowledgements
We thank H. Murakoshi for providing ShadowG and paCaMKII; M. Iino for discussion; and S. Fujii, C. Fujinami, Y. Sakata, R. Yonemoto, H. Ohno and A. Kurabayashi for their technical assistance. This work was supported by CREST (JPMJCR21E2 and JPMJCR1652 to H.K.) from JST, KAKENHI (JP20H05685 to H.K., JP21K15203 to H.U., JP21K07535 to S.W., JP18K06497 to J.N., JP19J10613 and JP21K20682 to Y.M., JP20K15893 to Y.I., JP21H05176 and JP21H02594 to S.Y., and JP17K08530 and JP20K07280 to N.T.) from JSPS, SRPBS (JP20dm0107120 to H.K.) and Brain/MINDS (JP21dm0207069 to S.Y.) from AMED, the World Premier International Research Center Initiative (WPI) from MEXT, Takeda Science Foundation (to S.Y.) and a grant-in-aid of The Fugaku Trust for Medical Research (to H.K.).
Ethics declarations
Competing interests
The authors declare no competing interests.
Additional information
Peer review information Nature thanks Edwin Chapman, Ryohei Yasuda and the other, anonymous, reviewer(s) for their contribution to the peer review of this work. Peer reviewer reports are available.
Publisher's note Springer Nature remains neutral with regard to jurisdictional claims in published maps and institutional affiliations.
Extended data figures and tables
Supplementary information
About this article
Cite this article
Ucar, H., Watanabe, S., Noguchi, J. et al. Mechanical actions of dendritic-spine enlargement on presynaptic exocytosis. Nature (2021). https://doi.org/10.1038/s41586-021-04125-7
Received:

Accepted:

Published:
Comments
By submitting a comment you agree to abide by our Terms and Community Guidelines. If you find something abusive or that does not comply with our terms or guidelines please flag it as inappropriate.