Abstract
Confocal microscopy1 remains a major workhorse in biomedical optical microscopy owing to its reliability and flexibility in imaging various samples, but suffers from substantial point spread function anisotropy, diffraction-limited resolution, depth-dependent degradation in scattering samples and volumetric bleaching2. Here we address these problems, enhancing confocal microscopy performance from the sub-micrometre to millimetre spatial scale and the millisecond to hour temporal scale, improving both lateral and axial resolution more than twofold while simultaneously reducing phototoxicity. We achieve these gains using an integrated, four-pronged approach: (1) developing compact line scanners that enable sensitive, rapid, diffraction-limited imaging over large areas; (2) combining line-scanning with multiview imaging, developing reconstruction algorithms that improve resolution isotropy and recover signal otherwise lost to scattering; (3) adapting techniques from structured illumination microscopy, achieving super-resolution imaging in densely labelled, thick samples; (4) synergizing deep learning with these advances, further improving imaging speed, resolution and duration. We demonstrate these capabilities on more than 20 distinct fixed and live samples, including protein distributions in single cells; nuclei and developing neurons in Caenorhabditis elegans embryos, larvae and adults; myoblasts in imaginal disks of Drosophila wings; and mouse renal, oesophageal, cardiac and brain tissues.
Relevant articles
Open Access articles citing this article.
Xuesong Li

,

Yicong Wu

…

Hari Shroff

Nature Biotechnology Open Access 26 January 2023

Yue Li

,

Yijun Su

…

Hari Shroff

Nature Methods Open Access 31 October 2022

Histochemistry and Cell Biology Open Access 29 August 2022
Access options
Subscribe to Nature+
Get immediate online access to Nature and 55 other Nature journal
Subscribe to Journal
Get full journal access for 1 year
$199.00
only $3.90 per issue
All prices are NET prices.
VAT will be added later in the checkout.
Tax calculation will be finalised during checkout.
Buy article
Get time limited or full article access on ReadCube.
$32.00
All prices are NET prices.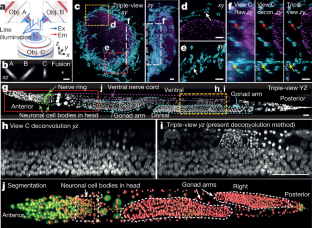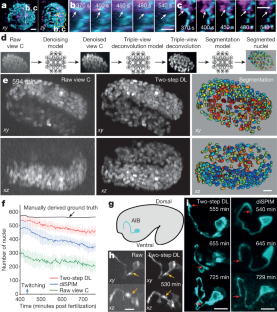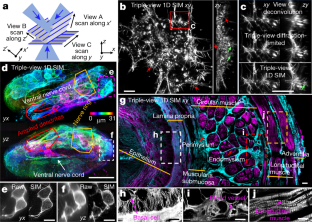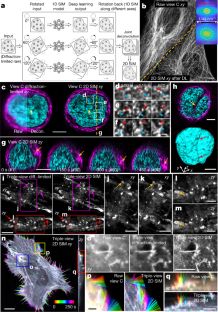 Data availability
The data that support the findings of this study are included in Extended Data Figs. 1–18 and Supplementary Videos 1–8, and some representative source data for the figures (Figs. 1c, g, 2a, h, 3b, 4b, i) are publicly available at https://zenodo.org/record/5495955#.YVItPTHMJaS. Other datasets are available from the corresponding author upon reasonable request. Source data are provided with this paper.
References
Pawley, J. B. (ed.) Handbook of Biological Confocal Microscopy 3rd edn (Springer, 2006).

Laissue, P. P., Alghamdi, R. A., Tomancak, P., Reynaud, E. G., Shroff, H. Assessing phototoxicity in live fluorescence imaging. Nat. Methods 14, 657–661 (2017).

Baumgart, E. & Kubitscheck, U. Scanned light sheet microscopy with confocal slit detection. Opt. Express 20, 21805–21814 (2012).

Kumar, A. et al. Using stage- and slit-scanning to improve contrast and optical sectioning in dual-view inverted light-sheet microscopy (diSPIM). Biol. Bull. 231, 26–39 (2016).

Guo, M. et al. Rapid image deconvolution and multiview fusion for optical microscopy. Nat. Biotechnol. 38, 1337–1346 (2020).

Lucy, L. B. An iterative technique for the rectification of observed distributions. Astron. J. 79, 745–754 (1974).

Richardson, W. H. Bayesian-based iterative method of image restoration. J. Opt. Soc. Am. 62, 55–59 (1972).

Descloux, A., Grußmayer, K. S. & Radenovic, A. Parameter-free image resolution estimation based on decorrelation analysis. Nat. Methods 16, 918–924 (2019).

Chen, F., Tillberg, P. & Boyden, E. S. Expansion microscopy. Science 347, 543–548 (2015).

He, K., Gkioxari, G., Dollár, P. & Girshick, R. Mask R-CNN. In 2017 IEEE Conf. Computer Vision (ICCV) (eds Ikeuchi, K. et al.) 2980–2988 (2017).

Lin, T.-Y. et al. Microsoft COCO: common objects in context. In Computer Vision – CCV 2014 (eds Fleet, D. et al.) 740–755 (Springer, 2014).

Kosmach, A. et al. Monitoring mitochondrial calcium and metabolism in the beating MCU-KO heart. Cell Rep. 37, 109846 (2021).

Wu, Y. et al. Inverted selective plane illumination microscopy (iSPIM) enables coupled cell identity lineaging and neurodevelopmental imaging in Caenorhabditis elegans. Proc. Natl Acad. Sci. USA 108, 17708–17713 (2011).

Weigert, M. et al. Content-aware image restoration: pushing the limits of fluorescence microscopy. Nat. Methods 15, 1090–1097 (2018).

Sulston, J. E., Schierenberg, E., White, J. G. & Thomson, J. N. The embryonic cell lineage of the nematode Caenorhabditis elegans. Dev. Biol. 100, 64–119 (1983).

Wu, Y. et al. Spatially isotropic four-dimensional imaging with dual-view plane illumination microscopy. Nat. Biotechnol. 31, 1032–1038 (2013).

Kumar, A. et al. Dual-view plane illumination microscopy for rapid and spatially isotropic imaging. Nat. Protoc. 9, 2555–2573 (2014).

Duncan, L. H. et al. Isotropic light-sheet microscopy and automated cell lineage analyses to catalogue Caenorhabditis elegans embryogenesis with subcellular resolution. J. Vis. Exp. 148, e59533 (2019).

Towlson, E. K., Vértes, P. E., Ahnert, S. E., Schafer, W. R. & Bullmore, E. T. The rich club of the C. elegans neuronal connectome. J. Neurosci. 33, 6380–6387 (2013).

White, J. G., Southgate, E., Thomson, J. N. & Brenner, S. The structure of the nervous system of the nematode Caenorhabditis elegans. Phil. Trans. R. Soc. B 314, 1–340 (1986).

Armenti, S. T., Lohmer, L. L., Sherwood, D. R. & Nance, J. Repurposing an endogenous degradation system for rapid and targeted depletion of C. elegans proteins. Development 141, 4640–4647 (2014).

Wu, Y. & Shroff, H. Faster, sharper, and deeper: structured illumination microscopy for biological imaging. Nat. Methods 15, 1011–1019 (2018); correction 16, 205 (2019).

Fischer, R. S., Gardel, M. L., Ma, X., Adelstein, R. S. & Waterman, C. M. Local cortical tension by myosin II guides 3D endothelial cell branching. Curr Biol. 19, 260–265 (2009).

York, A. G. et al. Instant super-resolution imaging in live cells and embryos via analog image processing. Nat. Methods 10, 1122–1126 (2013).

Gambarotto, D. et al. Imaging cellular ultrastructures using expansion microscopy (U-ExM). Nat. Methods 16, 71–74 (2019).

Tabara, H., Motohashi, T. & Kohara, Y. A multi-well version of in situ hybridization on whole mount embryos of Caenorhabditis elegans. Nucleic Acids Res. 24, 2119–2124 (1996).

Chen, J. et al. Three-dimensional residual channel attention networks denoise and sharpen fluorescence microscopy image volumes. Nat. Methods 18, 678–687 (2020).

Wu, Y. et al. Simultaneous multiview capture and fusion improves spatial resolution in wide-field and light-sheet microscopy. Optica 3, 897–910 (2016).

Barth, R., Bystricky, K. & Shaban, H. A. Coupling chromatin structure and dynamics by live super-resolution imaging. Sci. Adv. https://doi.org/10.1126/sciadv.aaz2196 (2020).

Han, X. et al. A polymer index-matched to water enables diverse applications in fluorescence microscopy. Lab Chip 21, 1549–1562 (2021).

Chen, B.-C. et al. Lattice light-sheet microscopy: imaging molecules to embryos at high spatiotemporal resolution. Science 346, 1257998 (2014).

Gustafsson, M. G. L. et al. Three-dimensional resolution doubling in wide-field fluorescence microscopy by structured illumination. Biophys. J. 94, 4957–4970 (2008).

Rego, E. H. et al. Nonlinear structured-illumination microscopy with a photoswitchable protein reveals cellular structures at 50-nm resolution. Proc. Natl Acad. Sci. USA 109, E135–E143 (2011).

Krüger, J.-R., Keller-Findeisen, J., Geisler, C. & Egner, A. Tomographic STED microscopy. Biomed. Opt. Express 11, 3139–3163 (2020).

Wu, Y. et al. Reflective imaging improves spatiotemporal resolution and collection efficiency in light sheet microscopy. Nat. Commun. 8, 1452 (2017).

Shroff, H., York, A., Giannini, J. P. & Kumar, A. Resolution enhancement for line scanning excitation microscopy systems and methods. US patent 10,247,930 (2019).

Wang, H. et al. Deep learning enables cross-modality super-resolution in fluorescence microscopy. Nat. Methods 16, 103–110 (2019).

Ji, N. Adaptive optical fluorescence microscopy. Nat. Methods 14, 374–380 (2017).

Royer, L. A. et al. Adaptive light-sheet microscopy for long-term, high-resolution imaging in live organisms. Nat. Biotechnol. 34, 1267–1278 (2016).

Liu, T.-L. et al. Observing the cell in its native state: imaging subcellular dynamics in multicellular organisms. Science 360, eaaq1392 (2018).

Zheng, W. et al. Adaptive optics improves multiphoton super-resolution imaging. Nat. Methods 14, 869–872 (2017).
Acknowledgements
We thank C. Liu and F. Zhang from the NHLBI Transgenic Core for making the TOMM20–mNeonGreen transgenic mouse line; E. Jorgensen, C. Frøkjær-Jensen and M. Rich for sharing the EG6994 C. elegans strain; L. Samelson for the gift of the Jurkat T cells; G. Patterson for the H2B–GFP plasmid; J. Hammer for the F-tractin–tdTomato plasmid; N. Koonce and L. Shao for sharing images of larvae imaged with spinning-disk microscopy and iSIM; SVision LLC for maintaining and updating the 3D RCAN GitHub site; X. Li for assistance with imaging samples on the OMX 3D SIM; E. Tyler and A. Hoofring (NIH Medical Arts) for help with figure preparation; R. Leapman, H. Eden, S. Parekh and M. Guo for feedback on the manuscript; Q. Dai for supporting X.H.'s visit to H.S.'s lab; and C. Waterman for supporting R.F's participation in this project. We thank the Research Center for Minority Institutions programme, the Marine Biological Laboratories (MBL) and the Instituto de Neurobiología de la Universidad de Puerto Rico for providing meeting and brainstorming platforms. H.S., P.L.R. and D.C.-R. acknowledge the Whitman and Fellows programme at MBL for providing funding and space for discussions valuable to this work. Research in the D.C.-R. lab was supported by NIH grant no. R24-OD016474, NIH R01NS076558, DP1NS111778 and by an HHMI Scholar Award. X.H. was supported by an international exchange fellowship from the Chinese Scholar Council. This research was supported by the intramural research programmes of the National Institute of Biomedical Imaging and Bioengineering; National Institute of Heart, Lung, and Blood; Eunice Kennedy Shriver National Institute of Child Health and Human Development; and the National Cancer Institute within the National Institutes of Health. C.S. acknowledges funding from the National Institute of General Medical Sciences of the NIH under award number R25GM109439 (project title: University of Chicago Initiative for Maximizing Student Development (IMSD)) and NIBIB under grant number T32 EB002103. Y.P. and Y. Sun are supported by the Center for Cancer Research, the Intramural Program of the National Cancer Institute, NIH (Z01-BC 006150). This research is funded in part by the Gordon and Betty Moore Foundation. A.U. acknowledges support from NIH R01 GM131054. S.R. acknowledges support from NIH R35GM124878. This work utilized the computational resources of the NIH HPC Biowulf cluster (http://hpc.nih.gov), and we also thank the Office of Data Science Strategy, NIH, for providing a seed grant enabling us to train deep-learning models using cloud-based computational resources. The NIH and its staff do not recommend or endorse any company, product or service.
Ethics declarations
Competing interests
Y.W., X.H., P.L.R. and H.S. have filed invention disclosures covering aspects of this work (US patent application no. 63/001,672 and PCT application no. WO2021/202316). M.G. and J.S.D. are employees of Applied Scientific Instrumentation, which manufactures the line scanning units used in this work.
Additional information
Publisher's note Springer Nature remains neutral with regard to jurisdictional claims in published maps and institutional affiliations.
Extended data figures and tables
Supplementary information
About this article
Cite this article
Wu, Y., Han, X., Su, Y. et al. Multiview confocal super-resolution microscopy. Nature 600, 279–284 (2021). https://doi.org/10.1038/s41586-021-04110-0
Received:

Accepted:

Published:

Issue Date:

DOI: https://doi.org/10.1038/s41586-021-04110-0
Comments
By submitting a comment you agree to abide by our Terms and Community Guidelines. If you find something abusive or that does not comply with our terms or guidelines please flag it as inappropriate.