Abstract
Pathogens use virulence factors to inhibit the immune system1. The guard hypothesis2,3 postulates that hosts monitor (or 'guard') critical innate immune pathways such that their disruption by virulence factors provokes a secondary immune response1. Here we describe a 'self-guarded' immune pathway in human monocytes, in which guarding and guarded functions are combined in one protein. We find that this pathway is triggered by ICP0, a key virulence factor of herpes simplex virus type 1, resulting in robust induction of anti-viral type I interferon (IFN). Notably, induction of IFN by ICP0 is independent of canonical immune pathways and the IRF3 and IRF7 transcription factors. A CRISPR screen identified the ICP0 target MORC34 as an essential negative regulator of IFN. Loss of MORC3 recapitulates the IRF3- and IRF7-independent IFN response induced by ICP0. Mechanistically, ICP0 degrades MORC3, which leads to de-repression of a MORC3-regulated DNA element (MRE) adjacent to the IFNB1 locus. The MRE is required in cis for IFNB1 induction by the MORC3 pathway, but is not required for canonical IFN-inducing pathways. As well as repressing the MRE to regulate IFNB1, MORC3 is also a direct restriction factor of HSV-15. Our results thus suggest a model in which the primary anti-viral function of MORC3 is self-guarded by its secondary IFN-repressing function—thus, a virus that degrades MORC3 to avoid its primary anti-viral function will unleash the secondary anti-viral IFN response.
Access options
Subscribe to Nature+
Get immediate online access to the entire Nature family of 50+ journals
Subscribe to Journal
Get full journal access for 1 year
$199.00
only $3.90 per issue
All prices are NET prices.
VAT will be added later in the checkout.
Tax calculation will be finalised during checkout.
Buy article
Get time limited or full article access on ReadCube.
$32.00
All prices are NET prices.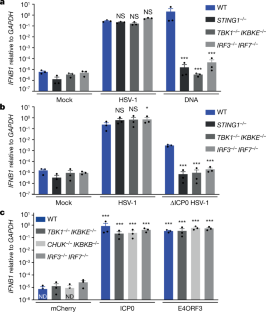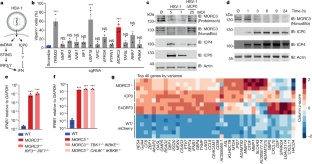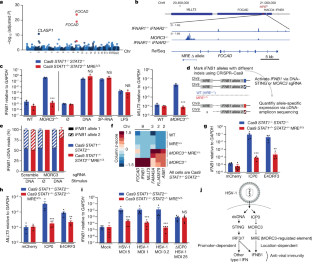 Data availability
RNA-seq and ATAC-seq data that support the findings of the study have been deposited in the Gene Expression Omnibus under accession GSE183011. CRISPR–Cas9 screen data have been deposited in the Sequence Read Archive under accession PRJNA759267. Source data are provided with this paper.
References
Lopes Fischer, N., Naseer, N., Shin, S. & Brodsky, I. E. Effector-triggered immunity and pathogen sensing in metazoans. Nat. Microbiol. 5, 14–26 (2020).

Jones, J. D. & Dangl, J. L. The plant immune system. Nature 444, 323–329 (2006).

Van der Biezen, E. A. & Jones, J. D. Plant disease-resistance proteins and the gene-for-gene concept. Trends Biochem. Sci. 23, 454–456 (1998).

Sloan, E. et al. Analysis of the SUMO2 proteome during HSV-1 infection. PLoS Pathog. 11, e1005059 (2015).

Sloan, E., Orr, A. & Everett, R. D. MORC3, a component of PML nuclear bodies, has a role in restricting herpes simplex virus 1 and human cytomegalovirus. J. Virol. 90, 8621–8633, https://doi.org/10.1128/JVI.00621-16 (2016).

Janeway, C. A., Jr Approaching the asymptote? Evolution and revolution in immunology. Cold Spring Harb. Symp. Quant. Biol. 54, 1–13 (1989).

Hopfner, K. P. & Hornung, V. Molecular mechanisms and cellular functions of cGAS–STING signalling. Nat. Rev. Mol. Cell Biol. 21, 501–521 (2020).

Ishikawa, H., Ma, Z. & Barber, G. N. STING regulates intracellular DNA-mediated, type I interferon-dependent innate immunity. Nature 461, 788–792 (2009).

Scherer, M. & Stamminger, T. Emerging role of PML nuclear bodies in innate immune signaling. J. Virol. 90, 5850–5854 (2016).

Everett, R. D., Boutell, C. & Hale, B. G. Interplay between viruses and host sumoylation pathways. Nat. Rev. Microbiol. 11, 400–411 (2013).

Sacks, W. R. & Schaffer, P. A. Deletion mutants in the gene encoding the herpes simplex virus type 1 immediate-early protein ICP0 exhibit impaired growth in cell culture. J. Virol. 61, 829–839 (1987).

Rapino, F. et al. C/EBPα induces highly efficient macrophage transdifferentiation of B lymphoma and leukemia cell lines and impairs their tumorigenicity. Cell Rep. 3, 1153–1163 (2013).

Ullman, A. J. & Hearing, P. Cellular proteins PML and Daxx mediate an innate antiviral defense antagonized by the adenovirus E4 ORF3 protein. J. Virol. 82, 7325–7335 (2008).

Everett, R. D. Construction and characterization of herpes simplex virus type 1 mutants with defined lesions in immediate early gene 1. J. Gen. Virol. 70, 1185–1202 (1989).

Lopez, P., Van Sant, C. & Roizman, B. Requirements for the nuclear-cytoplasmic translocation of infected-cell protein 0 of herpes simplex virus 1. J. Virol. 75, 3832–3840 (2001).

Crowl, J. T. & Stetson, D. B. SUMO2 and SUMO3 redundantly prevent a noncanonical type I interferon response. Proc. Natl Acad. Sci. USA 115, 6798–6803 (2018).

Decque, A. et al. Sumoylation coordinates the repression of inflammatory and anti-viral gene-expression programs during innate sensing. Nat. Immunol. 17, 140–149 (2016).

Ferri, F. et al. TRIM33 switches off Ifnb1 gene transcription during the late phase of macrophage activation. Nat. Commun. 6, 8900 (2015).

Malakhova, O. A. et al. UBP43 is a novel regulator of interferon signaling independent of its ISG15 isopeptidase activity. EMBO J. 25, 2358–2367 (2006).

Jadhav, G., Teguh, D., Kenny, J., Tickner, J. & Xu, J. Morc3 mutant mice exhibit reduced cortical area and thickness, accompanied by altered haematopoietic stem cells niche and bone cell differentiation. Sci. Rep. 6, 25964 (2016).

Li, D. Q., Nair, S. S. & Kumar, R. The MORC family: new epigenetic regulators of transcription and DNA damage response. Epigenetics 8, 685–693 (2013).

Rosendorff, A. et al. NXP-2 association with SUMO-2 depends on lysines required for transcriptional repression. Proc. Natl Acad. Sci. USA 103, 5308–5313 (2006).

Mimura, Y., Takahashi, K., Kawata, K., Akazawa, T. & Inoue, N. Two-step colocalization of MORC3 with PML nuclear bodies. J. Cell Sci. 123, 2014–2024 (2010).

Ver, L. S., Marcos-Villar, L., Landeras-Bueno, S., Nieto, A. & Ortin, J. The cellular factor NXP2/MORC3 is a positive regulator of influenza virus multiplication. J. Virol. 89, 10023–10030 (2015).

Zhang, Y. et al. MORC3 is a target of the influenza A viral protein NS1. Structure 27, 1029–1033.e1023 (2019).

Groh, S. et al. Morc3 silences endogenous retroviruses by enabling Daxx-mediated H3.3 incorporation. Nat. Commun. 12, 5996 (2021).

Yu, P. et al. Nucleic acid-sensing Toll-like receptors are essential for the control of endogenous retrovirus viremia and ERV-induced tumors. Immunity 37, 867–879 (2012).

Lopez-Flores, I. & Garrido-Ramos, M. A. The repetitive DNA content of eukaryotic genomes. Genome Dyn. 7, 1–28 (2012).

Gaidt, M. M. et al. Human monocytes engage an alternative inflammasome pathway. Immunity 44, 833–846 (2016).

Gaidt, M. M. et al. The DNA inflammasome in human myeloid cells is initiated by a STING-cell death program upstream of NLRP3. Cell 171, 1110–1124.e1118 (2017).

Blaho, J. A., Morton, E. R. & Yedowitz, J. C. Herpes simplex virus: propagation, quantification, and storage. Curr. Protoc. Microbiol. Ch. 14, Unit 14E.11 (2005).

Schmidt, T., Schmid-Burgk, J. L., Ebert, T. S., Gaidt, M. M. & Hornung, V. Designer nuclease-mediated generation of knockout THP1 cells. Methods Mol. Biol. 1338, 261–272 (2016).

Schmid-Burgk, J. L. et al. OutKnocker: a web tool for rapid and simple genotyping of designer nuclease edited cell lines. Genome Res. 24, 1719–1723 (2014).

Labun, K. et al. CHOPCHOP v3: expanding the CRISPR web toolbox beyond genome editing. Nucleic Acids Res. 47, W171–W174 (2019).

Schmidt, T., Schmid-Burgk, J. L. & Hornung, V. Synthesis of an arrayed sgRNA library targeting the human genome. Sci. Rep. 5, 14987 (2015).

Sanjana, N. E., Shalem, O. & Zhang, F. Improved vectors and genome-wide libraries for CRISPR screening. Nat. Methods 11, 783–784 (2014).

Bartok, E. et al. iGLuc: a luciferase-based inflammasome and protease activity reporter. Nat. Methods 10, 147–154 (2013).

Spahn, P. N. et al. PinAPL-Py: a comprehensive web-application for the analysis of CRISPR/Cas9 screens. Sci. Rep. 7, 15854 (2017).

Andrews, S. FastQC: a quality control tool for high throughput sequence data. (2010).

Langmead, B. & Salzberg, S. L. Fast gapped-read alignment with Bowtie 2. Nat. Methods 9, 357–359 (2012).

Li, B. & Dewey, C. N. RSEM: accurate transcript quantification from RNA-seq data with or without a reference genome. BMC Bioinf. 12, 323 (2011).

Love, M. I., Huber, W. & Anders, S. Moderated estimation of fold change and dispersion for RNA-seq data with DESeq2. Genome Biol. 15, 550 (2014).

Yu, G., Wang, L. G., Han, Y. & He, Q. Y. clusterProfiler: an R package for comparing biological themes among gene clusters. OMICS 16, 284–287 (2012).

Liberzon, A. et al. Molecular signatures database (MSigDB) 3.0. Bioinformatics 27, 1739–1740 (2011).

Buenrostro, J. D., Wu, B., Chang, H. Y. & Greenleaf, W. J. ATAC-seq: a method for assaying chromatin accessibility genome-wide. Curr. Protoc. Mol. Biol. 109, 21–29 (2015).

Martin, M. Cutadapt removes adapter sequences from high-throughput sequencing reads. EMBnet.journal 17, 10–12 (2011).

Li, H. et al. The sequence alignment/map format and SAMtools. Bioinformatics 25, 2078–2079 (2009).

Amemiya, H. M., Kundaje, A. & Boyle, A. P. The ENCODE blacklist: identification of problematic regions of the genome. Sci. Rep. 9, 9354 (2019).

Buenrostro, J. D., Giresi, P. G., Zaba, L. C., Chang, H. Y. & Greenleaf, W. J. Transposition of native chromatin for fast and sensitive epigenomic profiling of open chromatin, DNA-binding proteins and nucleosome position. Nat. Methods 10, 1213–1218, https://doi.org/10.1038/nmeth.2688 (2013).

Zhang, Y. et al. Model-based analysis of ChIP-Seq (MACS). Genome Biol. 9, R137 (2008).

Cavalcante, R. G. & Sartor, M. A. annotatr: genomic regions in context. Bioinformatics 33, 2381–2383 (2017).

Dobin, A. et al. STAR: ultrafast universal RNA-seq aligner. Bioinformatics 29, 15–21 (2013).

Criscione, S. W., Zhang, Y., Thompson, W., Sedivy, J. M. & Neretti, N. Transcriptional landscape of repetitive elements in normal and cancer human cells. BMC Genomics 15, 583 (2014).

Robinson, M. D., McCarthy, D. J. & Smyth, G. K. edgeR: a Bioconductor package for differential expression analysis of digital gene expression data. Bioinformatics 26, 139–140 (2010).

Freund, E. C. et al. Efficient gene knockout in primary human and murine myeloid cells by non-viral delivery of CRISPR–Cas9. J. Exp. Med. 217, e20191692 (2020).
Acknowledgements
We thank members of the Vance and Barton laboratories for advice and discussions; L. Coscoy, B. Glaunsinger and G. Barton for comments on the manuscript; D. Stetson, T. Graf, R. Tjian, X. Darzacq, D. Raulet and V. Hornung for cell lines; D. Kotov for the plasmid pMCP; B. Roizman for HSV-1 BACs; P. Dietzen and R. Chavez for technical assistance; A. Valeros and H. Nolla for assistance with automated cell sorting; M. West and P. He for assistance with robotics-based liquid handling; and F. Ramirez, C. Rose, C. Hann-Soden and S. McDevitt for deep sequencing. M.M.G. was supported by an EMBO Postdoctoral Fellowship (ALTF 1082-2018). R.E.V. is an Investigator of the Howard Hughes Medical Institute and is funded by NIH grants AI075039, AI063302 and AI155634.
Ethics declarations
Competing interests
R.E.V. consults for Ventus Therapeutics and Tempest Therapeutics. A provisional patent application covering these findings has been submitted.
Additional information
Peer review information Nature thanks John Schoggins and the other, anonymous, reviewer(s) for their contribution to the peer review of this work. Peer reviewer reports are available.
Publisher's note Springer Nature remains neutral with regard to jurisdictional claims in published maps and institutional affiliations.
Extended data figures and tables
Supplementary information
About this article
Cite this article
Gaidt, M.M., Morrow, A., Fairgrieve, M.R. et al. Self-guarding of MORC3 enables virulence factor-triggered immunity. Nature 600, 138–142 (2021). https://doi.org/10.1038/s41586-021-04054-5
Received:

Accepted:

Published:

Issue Date:

DOI: https://doi.org/10.1038/s41586-021-04054-5
This article is cited by
Samuel Liegeois
Dominique Ferrandon

Immunogenetics (2022)
Comments
By submitting a comment you agree to abide by our Terms and Community Guidelines. If you find something abusive or that does not comply with our terms or guidelines please flag it as inappropriate.