Abstract
Inspired by living organisms, soft robots are developed from intrinsically compliant materials, enabling continuous motions that mimic animal and vegetal movement1. In soft robots, the canonical hinges and bolts are replaced by elastomers assembled into actuators programmed to change shape following the application of stimuli, for example pneumatic inflation2,3,4,5. The morphing information is typically directly embedded within the shape of these actuators, whose assembly is facilitated by recent advances in rapid prototyping techniques6,7,8,9,10,11. Yet, these manufacturing processes have limitations in scalability, design flexibility and robustness. Here we demonstrate a new all-in-one methodology for the fabrication and the programming of soft machines. Instead of relying on the assembly of individual parts, our approach harnesses interfacial flows in elastomers that progressively cure to robustly produce monolithic pneumatic actuators whose shape can easily be tailored to suit applications ranging from artificial muscles to grippers. We rationalize the fluid mechanics at play in the assembly of our actuators and model their subsequent morphing. We leverage this quantitative knowledge to program these soft machines and produce complex functionalities, for example sequential motion obtained from a monotonic stimulus. We expect that the flexibility, robustness and predictive nature of our methodology will accelerate the proliferation of soft robotics by enabling the assembly of complex actuators, for example long, tortuous or vascular structures, thereby paving the way towards new functionalities stemming from geometric and material nonlinearities.
Relevant articles
Open Access articles citing this article.
Dongliang Fan

,

Xi Yuan

…

Peiwu Qin

Nature Communications Open Access 29 August 2022
Access options
Subscribe to Nature+
Get immediate online access to the entire Nature family of 50+ journals
Subscribe to Journal
Get full journal access for 1 year
$199.00
only $3.90 per issue
All prices are NET prices.
VAT will be added later in the checkout.
Tax calculation will be finalised during checkout.
Buy article
Get time limited or full article access on ReadCube.
$32.00
All prices are NET prices.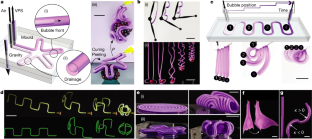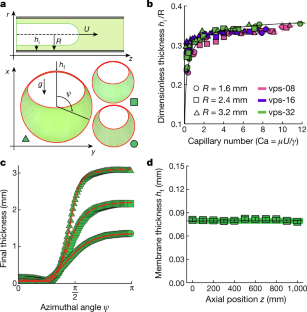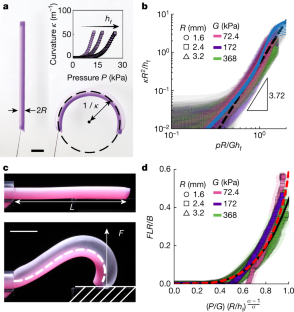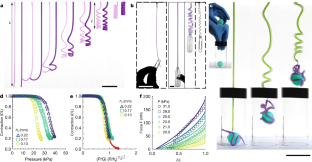 Data availability
The data used in this study are available from the corresponding authors upon reasonable request. Source data are provided with this paper.
Code availability
The codes that support the findings of this study are available from the corresponding authors upon reasonable request.
References
Whitesides, G. M. Soft robotics. Angew. Chem. Int. Ed. 57, 4258–4273 (2018).

Polygerinos, P., Wang, Z., Galloway, K. C., Wood, R. J. & Walsh, C. J. Soft robotic glove for combined assistance and at-home rehabilitation. Rob. Autom. Syst. 73, 135–143 (2015).

Shepherd, R. F. et al. Multigait soft robot. Proc. Natl Acad. Sci. USA 108, 20400–20403 (2011).

Martinez, R. V. et al. Robotic tentacles with three-dimensional mobility based on flexible elastomers. Adv. Mater. 25, 205–212 (2013).

Roche, E. T. et al. A bioinspired soft actuated material. Adv. Mater. 26, 1200–1206 (2014).

Mosadegh, B. et al. Pneumatic networks for soft robotics that actuate rapidly. Adv. Funct. Mater. 24, 2163–2170 (2014).

Yap, H. K., Ng, H. Y. & Yeow, C.-H. High-force soft printable pneumatics for soft robotic applications. Soft Robot. 3, 144–158 (2016).

Wehner, M. et al. An integrated design and fabrication strategy for entirely soft, autonomous robots. Nature 536, 451–455 (2016).

Zhao, H., Li, Y., Elsamadisi, A. & Shepherd, R. Scalable manufacturing of high force wearable soft actuators. Extreme Mech. Lett. 3, 89–104 (2015).

Paek, J., Cho, I. & Kim, J. Microrobotic tentacles with spiral bending capability based on shape-engineered elastomeric microtubes. Sci. Rep. 5, 10768 (2015).

Jin, L., Forte, A. E., Deng, B., Rafsanjani, A. & Bertoldi, K. Kirigami-inspired inflatables with programmable shapes. Adv. Mater. 32, 2001863 (2020).

Ilievski, F., Mazzeo, A. D., Shepherd, R. F., Chen, X. & Whitesides, G. M. Soft robotics for chemists. Angew. Chem. Int. Ed. 50, 1890–1895 (2011).

Marchese, A. D., Onal, C. D. & Rus, D. Autonomous soft robotic fish capable of escape maneuvers using fluidic elastomer actuators. Soft Robot. 1, 75–87 (2014).

Yang, D. et al. Buckling pneumatic linear actuators inspired by muscle. Adv. Mater. Technol. 1, 1600055 (2016).

Overvelde, J. T. B., Kloek, T., D'haen, J. J. A. & Bertoldi, K. Amplifying the response of soft actuators by harnessing snap-through instabilities. Proc. Natl Acad. Sci. USA 112, 10863–10868 (2015).

Hawkes, E. W., Blumenschein, L. H., Greer, J. D. & Okamura, A. M. A soft robot that navigates its environment through growth. Sci. Robot. 2, aan3028 (2017).

Majidi, C. Soft robotics: a perspective—current trends and prospects for the future. Soft Robot. 1, 5–11 (2014).

Gladman, A. S., Matsumoto, E. A., Nuzzo, R. G., Mahadevan, L. & Lewis, J. A. Biomimetic 4D printing. Nat. Mater. 15, 413–418 (2016).

Kanik, M. et al. Strain-programmable fiber-based artificial muscle. Science 365, 145–150 (2019).

William Boley, J. W. et al. Shape-shifting structured lattices via multimaterial 4D printing. Proc. Natl Acad. Sci. USA 116, 20856–20862 (2019).

Guseinov, R., McMahan, C., Pérez, J., Daraio, C. & Bickel, B. Programming temporal morphing of self-actuated shells. Nat. Commun. 11, 237 (2020).

Kim, Y., Yuk, H., Zhao, R., Chester, S. A. & Zhao, X. Printing ferromagnetic domains for untethered fast-transforming soft materials. Nature 558, 274–279 (2018).

Hu, W., Lum, G. Z., Mastrangeli, M. & Sitti, M. Small-scale soft-bodied robot with multimodal locomotion. Nature 554, 81–85 (2018).

Acome, E. et al. Hydraulically amplified self-healing electrostatic actuators with muscle-like performance. Science 359, 61–65 (2018).

Gorissen, B. et al. Elastic inflatable actuators for soft robotic applications. Adv. Mater. 29, 1604977 (2017).

Polygerinos, P. et al. Soft robotics: review of fluid-driven intrinsically soft devices; manufacturing, sensing, control, and applications in human-robot interaction. Adv. Eng. Mater. 19, 1700016 (2017).

Siéfert, E., Reyssat, E., Bico, J. & Roman, B. Bio-inspired pneumatic shape-morphing elastomers. Nat. Mater. 18, 24–28 (2019).

Vasios, N., Gross, A. J., Soifer, S., Overvelde, J. T. B. & Bertoldi, K. Harnessing viscous flow to simplify the actuation of fluidic soft robots. Soft Robot. 7, 1–9 (2020).

Jambon-Puillet, E., Piéchaud, M. R. & Brun, P.-T. Elastic amplification of the Rayleigh–Taylor instability in solidifying melts. Proc. Natl Acad. Sci. USA 118, e2020701118 (2021).

Bretherton, F. P. The motion of long bubbles in tubes. J. Fluid Mech. 10, 166–188 (1961).

Aussillous, P. & Quéré, D. Quick deposition of a fluid on the wall of a tube. Phys. Fluids 12, 2367–2371 (2000).

Klaseboer, E., Gupta, R. & Manica, R. An extended Bretherton model for long Taylor bubbles at moderate capillary numbers. Phys. Fluids 26, 032107 (2014).

Takagi, D. & Huppert, H. E. Flow and instability of thin films on a cylinder and sphere. J. Fluid Mech. 647, 221–238 (2010).

Lee, A. et al. Fabrication of slender elastic shells by the coating of curved surfaces. Nat. Commun. 7, 11155 (2016).

Audoly, B. & Pomeau, Y. Elasticity and Geometry: From Hair Curls to the Non-Linear Response of Shells (Oxford Univ. Press, 2010).

Gerbode, S. J., Puzey, J. R., McCormick, A. G. & Mahadevan, L. How the cucumber tendril coils and overwinds. Science 337, 1087–1091 (2012).

Miller, J. T., Lazarus, A., Audoly, B. & Reis, P. M. Shapes of a suspended curly hair. Phys. Rev. Lett. 112, 068103 (2014).

Yang, H. D., Greczek, B. T. & Asbeck, A. T. Modeling and analysis of a high-displacement pneumatic artificial muscle with integrated sensing. Front. Robot. AI 5, 136 (2019).

Kaufman, J. J. et al. Structured spheres generated by an in-fibre fluid instability. Nature 487, 463–467 (2012).

Marthelot, J., Strong, E. F., Reis, P. M. & Brun, P.-T. Designing soft materials with interfacial instabilities in liquid films. Nat. Commun. 9, 4477 (2018).

Zhao, C. et al. Layered nanocomposites by shear-flow-induced alignment of nanosheets. Nature 580, 210–215 (2020).

Nerger, B. A., Brun, P.-T. & Nelson, C. M. Marangoni flows drive the alignment of fibrillar cell-laden hydrogels. Sci. Adv. 6, eaaz7748 (2020).

Cybulski, O. et al. Concentric liquid reactors for chemical synthesis and separation. Nature 586, 57–63 (2020).
Acknowledgements
This work was supported by NSF CAREER award (CBET 2042930) and through the Princeton University Materials Research Science and Engineering Center (NSF Grant DMR-1420541) and the Princeton Yang Family and David T. Wilkinson Innovation Funds.
Ethics declarations
Competing interests
The authors declare no competing interests.
Additional information
Peer review information Nature thanks Detlef Lohse, Orlin Velev and the other, anonymous, reviewer(s) for their contribution to the peer review of this work.
Publisher's note Springer Nature remains neutral with regard to jurisdictional claims in published maps and institutional affiliations.
Extended data figures and tables
Supplementary information
About this article
Cite this article
Jones, T.J., Jambon-Puillet, E., Marthelot, J. et al. Bubble casting soft robotics. Nature 599, 229–233 (2021). https://doi.org/10.1038/s41586-021-04029-6
Received:

Accepted:

Published:

Issue Date:

DOI: https://doi.org/10.1038/s41586-021-04029-6
This article is cited by
Dongliang Fan
Xi Yuan
Peiwu Qin

Nature Communications (2022)

JiaQi Zhu
MengHao Pu
ZhiGang Wu

Science China Technological Sciences (2022)
Comments
By submitting a comment you agree to abide by our Terms and Community Guidelines. If you find something abusive or that does not comply with our terms or guidelines please flag it as inappropriate.