Abstract
Understanding human organ formation is a scientific challenge with far-reaching medical implications1,2. Three-dimensional stem-cell cultures have provided insights into human cell differentiation3,4. However, current approaches use scaffold-free stem-cell aggregates, which develop non-reproducible tissue shapes and variable cell-fate patterns. This limits their capacity to recapitulate organ formation. Here we present a chip-based culture system that enables self-organization of micropatterned stem cells into precise three-dimensional cell-fate patterns and organ shapes. We use this system to recreate neural tube folding from human stem cells in a dish. Upon neural induction5,6, neural ectoderm folds into a millimetre-long neural tube covered with non-neural ectoderm. Folding occurs at 90% fidelity, and anatomically resembles the developing human neural tube. We find that neural and non-neural ectoderm are necessary and sufficient for folding morphogenesis. We identify two mechanisms drive folding: (1) apical contraction of neural ectoderm, and (2) basal adhesion mediated via extracellular matrix synthesis by non-neural ectoderm. Targeting these two mechanisms using drugs leads to morphological defects similar to neural tube defects. Finally, we show that neural tissue width determines neural tube shape, suggesting that morphology along the anterior–posterior axis depends on neural ectoderm geometry in addition to molecular gradients7. Our approach provides a new route to the study of human organ morphogenesis in health and disease.
Relevant articles
Open Access articles citing this article.
Jinglei Zhai

,

Jing Guo

…

Hongmei Wang

Nature Open Access 14 December 2022

Yueqi Wang

,

Simone Chiola

…

Aleksandr Shcheglovitov

Nature Communications Open Access 06 October 2022
Access options
Subscribe to Nature+
Get immediate online access to Nature and 55 other Nature journal
Subscribe to Journal
Get full journal access for 1 year
$199.00
only $3.90 per issue
All prices are NET prices.
VAT will be added later in the checkout.
Tax calculation will be finalised during checkout.
Buy article
Get time limited or full article access on ReadCube.
$32.00
All prices are NET prices.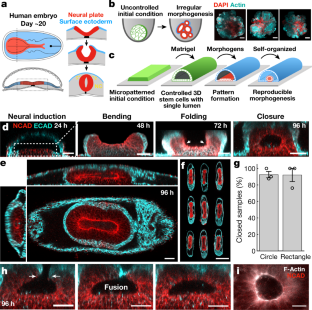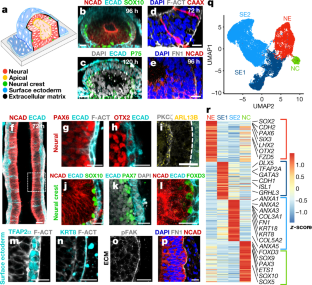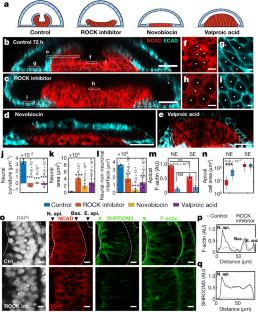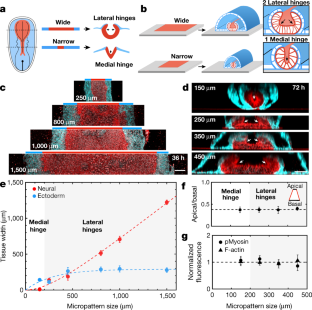 References
Wallingford, J. B., Niswander, L. A., Shaw, G. M. & Finnell, R. H. The continuing challenge of understanding, preventing, and treating neural tube defects. Science 339, 1222002 (2013).

Lee, S. & Gleeson, J. G. Closing in on mechanisms of open neural tube defects. Trends Neurosci. 43, 519–532 (2020).

Kim, J., Koo, B.-K. & Knoblich, J. A. Human organoids: model systems for human biology and medicine. Nat. Rev. Mol. Cell Biol. 21, 571–584 (2020).

Quadrato, G. & Arlotta, P. Present and future of modeling human brain development in 3D organoids. Curr. Opin. Cell Biol. 49, 47–52 (2017).

Haremaki, T. et al. Self-organizing neuruloids model developmental aspects of Huntington's disease in the ectodermal compartment. Nat. Biotechnol. 37, 1198–1208 (2019).

Britton, G., Heemskerk, I., Hodge, R., Qutub, A. A. & Warmflash, A. A novel self-organizing embryonic stem cell system reveals signaling logic underlying the patterning of human ectoderm. Development 146, dev179093 (2019).

Ybot-Gonzalez, P., Cogram, P., Gerrelli, D. & Copp, A. J. Sonic hedgehog and the molecular regulation of mouse neural tube closure. Development 129, 2507–2517 (2002).

Nikolopoulou, E., Galea, G. L., Rolo, A., Greene, N. D. E. & Copp, A. J. Neural tube closure: cellular, molecular and biomechanical mechanisms. Development 144, 552–566 (2017).

Nikolaev, M. et al. Homeostatic mini-intestines through scaffold-guided organoid morphogenesis. Nature 585, 574–578 (2020).

Xue, X. et al. Mechanics-guided embryonic patterning of neuroectoderm tissue from human pluripotent stem cells. Nat. Mater. 17, 633–641 (2018).

Zheng, Y. et al. Dorsal-ventral patterned neural cyst from human pluripotent stem cells in a neurogenic niche. Sci. Adv. 5, eaax5933 (2019).

Sahni, G. et al. A micropatterned human‐specific neuroepithelial tissue for modeling gene and drug‐induced neurodevelopmental defects. Adv. Sci. 8, 2001100 (2021).

Developmental Stages in Human Embryos (eds O'Rahilly, R. & Müller, F.) (Carnegie Institute of Washington, 1987).

Ray, H. J. & Niswander, L. A. Dynamic behaviors of the non-neural ectoderm during mammalian cranial neural tube closure. Dev. Biol. 416, 279–285 (2016).

Rolo, A. et al. Regulation of cell protrusions by small GTPases during fusion of the neural folds. eLife 5, e13273 (2016).

Martins-Green, M. Origin of the dorsal surface of the neural tube by progressive delamination of epidermal ectoderm and neuroepithelium: implications for neurulation and neural tube defects. Development 103, 687–706 (1988).

Molè, M. A. et al. Integrin-mediated focal anchorage drives epithelial zippering during mouse neural tube closure. Dev. Cell 52, 321–334.e6 (2020).

Ji, Y. et al. Single cell transcriptomics and developmental trajectories of murine cranial neural crest cell fate determination and cell cycle progression. Preprint at https://doi.org/10.1101/2021.05.10.443503 (2021).

Vega, F. M., Fruhwirth, G., Ng, T. & Ridley, A. J. RhoA and RhoC have distinct roles in migration and invasion by acting through different targets. J. Cell Biol. 193, 655–665 (2011).

Baldassarre, M. et al. Filamins regulate cell spreading and initiation of cell migration. PLoS ONE 4, e7830 (2009).

Grande-García, A. et al. Caveolin-1 regulates cell polarization and directional migration through Src kinase and Rho GTPases. J. Cell Biol. 177, 683–694 (2007).

de Almeida, P. G., Pinheiro, G. G., Nunes, A. M., Gonçalves, A. B. & Thorsteinsdóttir, S. Fibronectin assembly during early embryo development: A versatile communication system between cells and tissues. Dev. Dyn. 245, 520–535 (2016).

Haigo, S. L., Hildebrand, J. D., Harland, R. M. & Wallingford, J. B. Shroom induces apical constriction and is required for hingepoint formation during neural tube closure. Curr. Biol. 13, 2125–2137 (2003).

Chen, Z., Kuang, L., Finnell, R. H. & Wang, H. Genetic and functional analysis of SHROOM1–4 in a Chinese neural tube defect cohort. Hum. Genet. 137, 195–202 (2018).

Butler, M. B. et al. Rho kinase-dependent apical constriction counteracts M-phase apical expansion to enable mouse neural tube closure. J. Cell Sci. 132, jcs230300 (2019).

Schoenwolf, G. C. & Smith, J. L. Mechanisms of neurulation: traditional viewpoint and recent advances. Development 109, 243–270 (1990).

Hernandez, I. et al. A farnesyltransferase inhibitor activates lysosomes and reduces tau pathology in mice with tauopathy. Sci. Transl. Med. 11, eaat3005 (2019).

Karzbrun, E., Khankhel, A. & Streichan, S. J. Recapitulating neural tube morphogenesis with human pluripotent stem cells. Protoc. Exch. https://doi.org/10.21203/rs.3.pex-1606/v1 (2021).

Li, L. et al. Ectodermal progenitors derived from epiblast stem cells by inhibition of Nodal signaling. J. Mol. Cell. Biol. 7, 455–465 (2015).

Wilson, P. A., Lagna, G., Suzuki, A. & Hemmati-Brivanlou, A. Concentration-dependent patterning of the Xenopus ectoderm by BMP4 and its signal transducer Smad1. Development 124, 3177–3184 (1997).

Boel, N. M.-E., Hunter, M. C. & Edkins, A. L. LRP1 is required for novobiocin-mediated fibronectin turnover. Sci. Rep. 8, 11438 (2018).

Robert, E. & Guibaud, P. Maternal valproic acid and congenital neural tube defects. Lancet 320, 937 (1982).

Hughes, A., Greene, N. D. E., Copp, A. J. & Galea, G. L. Valproic acid disrupts the biomechanics of late spinal neural tube closure in mouse embryos. Mech. Dev. 149, 20–26 (2018).

Hamburger, V. & Hamilton, H. L. A series of normal stages in the development of the chick embryo. Dev. Dyn. 195, 231–272 (1992).

Theiler, K. The House Mouse: Atlas of Embryonic Development (Springer Science & Business Media, 1989).

Butler, A., Hoffman, P., Smibert, P., Papalexi, E. & Satija, R. Integrating single-cell transcriptomic data across different conditions, technologies, and species. Nat. Biotechnol. 36, 411–420 (2018).

Stuart, T. et al. Comprehensive integration of single-cell data. Cell 177, 1888–1902.e21 (2019).

McGinnis, C. S., Murrow, L. M. & Gartner, Z. J. DoubletFinder: doublet detection in single-cell RNA sequencing data using artificial nearest neighbors. Cell Syst. 8, 329–337.e4 (2019).

Hafemeister, C. & Satija, R. Normalization and variance stabilization of single-cell RNA-seq data using regularized negative binomial regression. Genome Biol. 20, 296 (2019).

Zhou, Y. et al. Metascape provides a biologist-oriented resource for the analysis of systems-level datasets. Nat. Commun. 10, 1523 (2019).

Tirosh, I. et al. Dissecting the multicellular ecosystem of metastatic melanoma by single-cell RNA-seq. Science 352, 189–196 (2016)
Acknowledgements
S.J.S. acknowledges NIH grant R21 HD099598-0. E.K. acknowledges the Human Frontier Science Program for the long-term postdoctoral fellowship (LT000629/2018-L). A.H.K. acknowledges support of the National Science Foundation Graduate Research Fellowship Program (grant no. 1650114). E.D.S. acknowledges NSF grant 2013131. A.W. acknowledges Welch Foundation grant no C-2021. S.M.K.G. was recipient of an Early Postdoc Mobility grant and a Postdoc Mobility grant from the Swiss National Science Foundation (P2ZHP3_174753 and P400PB_186800). B.I.S. acknowledges NSF Physics grant 1707973. K.S.K. acknowledges support from Dr Miriam and Sheldon G. Adelson Medical Research Foundation. We thank Y. Huang and the Gladstone institute for sharing CTR2 hiPS cell line, and Brivanlou laboratory and the Rockefeller University for sharing RUES2 embryonic and reporter lines. We thank UCLA Technology Center for Genomics and Bioinformatics for sequencing of 10X libraries. We thank the Streichan and Kosik laboratory members, as well as the UCSB Stem Cell Center and associate director C. Arnold for fruitful discussions and advice. Finally, we thank A. M. Tayar for valuable comments on the manuscript.
Ethics declarations
Competing interests
The authors declare no competing interests.
Additional information
Peer review information Nature thanks Gioele La Manno, Matthias Lutolf and the other, anonymous, reviewer(s) for their contribution to the peer review of this work.
Publisher's note Springer Nature remains neutral with regard to jurisdictional claims in published maps and institutional affiliations.
Extended data figures and tables
Supplementary information
About this article
Cite this article
Karzbrun, E., Khankhel, A.H., Megale, H.C. et al. Human neural tube morphogenesis in vitro by geometric constraints. Nature 599, 268–272 (2021). https://doi.org/10.1038/s41586-021-04026-9
Received:

Accepted:

Published:

Issue Date:

DOI: https://doi.org/10.1038/s41586-021-04026-9
Comments
By submitting a comment you agree to abide by our Terms and Community Guidelines. If you find something abusive or that does not comply with our terms or guidelines please flag it as inappropriate.