Abstract
Three major pillars of hippocampal function are spatial navigation1, Hebbian synaptic plasticity2 and spatial selectivity3. The hippocampus is also implicated in episodic memory4, but the precise link between these four functions is missing. Here we report the multiplexed selectivity of dorsal CA1 neurons while rats performed a virtual navigation task using only distal visual cues5, similar to the standard water maze test of spatial memory1. Neural responses primarily encoded path distance from the start point and the head angle of rats, with a weak allocentric spatial component similar to that in primates but substantially weaker than in rodents in the real world. Often, the same cells multiplexed and encoded path distance, angle and allocentric position in a sequence, thus encoding a journey-specific episode. The strength of neural activity and tuning strongly correlated with performance, with a temporal relationship indicating neural responses influencing behaviour and vice versa. Consistent with computational models of associative and causal Hebbian learning6,7, neural responses showed increasing clustering8 and became better predictors of behaviourally relevant variables, with the average neurometric curves exceeding and converging to psychometric curves. Thus, hippocampal neurons multiplex and exhibit highly plastic, task- and experience-dependent tuning to path-centric and allocentric variables to form episodic sequences supporting navigation.
Relevant articles
Open Access articles citing this article.
Guillaume Etter

,

Suzanne van der Veldt

…

Sylvain Williams

Nature Communications Open Access 25 January 2023

Christine Grienberger

&

Jeffrey C. Magee

Nature Open Access 02 November 2022
Access options
Subscribe to Nature+
Get immediate online access to Nature and 55 other Nature journal
Subscribe to Journal
Get full journal access for 1 year
$199.00
only $3.90 per issue
All prices are NET prices.
VAT will be added later in the checkout.
Tax calculation will be finalised during checkout.
Buy article
Get time limited or full article access on ReadCube.
$32.00
All prices are NET prices.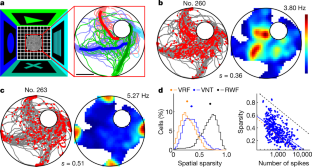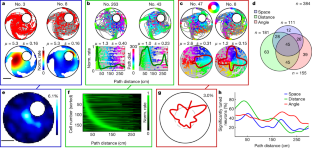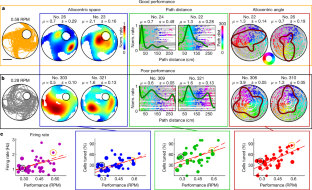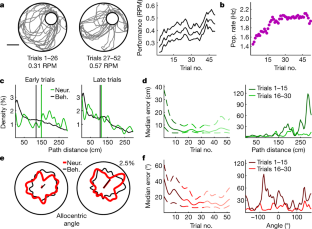 Data availability
The data that support the findings of this study are available from the corresponding authors upon reasonable request.
Code availability
All analyses were performed using custom-written code in MATLAB version 9.5 (R2018b). Codes necessary to reproduce the figures in this study are available from the corresponding authors upon reasonable request.
References
Morris, R. G. M. Synaptic plasticity and learning: selective impairment of learning in rats and blockade of long-term potentiation in vivo by the N-methyl-d-aspartate receptor antagonist AP5. J. Neurosci. 9, 3040–3057 (1989).

Bliss, T. V. P. & Lømo, T. Long-lasting potentiation of synaptic transmission in the dentate area of the anesthetized rabbit following stimulation of the perforant path. J. Physiol. 232, 331–356 (1973).

O'Keefe, J. & Dostrovsky, J. The hippocampus as a spatial map. Preliminary evidence from unit activity in the freely-moving rat. Brain Res. 34, 171–175 (1971).

Scoville, W. B. & Milner, B. Loss of recent memory after bilateral hippocampal lesions. J. Neurol. Neurosurg. Psychiatry 20, 11–21 (1957).

Cushman, J. D. et al. Multisensory control of multimodal behavior: do the legs know what the tongue is doing? PLoS ONE 8, e80465 (2013).

Blum, K. I. & Abbott, L. F. A model of spatial map formation in the hippocampus of the rat. Neural Comp. 8, 85–93 (1996).

Mehta, M. R., Quirk, M. C. & Wilson, M. A. Experience-dependent asymmetric shape of hippocampal receptive fields. Neuron 25, 707–715 (2000).

Tsodyks, M. & Sejnowski, T. Associative memory and hippocampal place cells. Int. J. Neural Syst. 6, 81–86 (1995).

McNaughton, B. L. et al. Deciphering the hippocampal polyglot: the hippocampus as a path integration system. J. Exp. Biol. 199, 173–185 (1996).

Buzsáki, G. & Moser, E. I. Memory, navigation and theta rhythm in the hippocampal–entorhinal system. Nat. Neurosci. 16, 130–138 (2013).

Hollup, S. A., Molden, S., Donnett, J. G., Moser, M. B. & Moser, E. I. Accumulation of hippocampal place fields at the goal location in an annular watermaze task. J. Neurosci. 21, 1635–1644 (2001).

Pfeiffer, B. E. & Foster, D. J. Hippocampal place-cell sequences depict future paths to remembered goals. Nature 497, 74–79 (2013).

Xu, H., Baracskay, P., O'Neill, J. & Csicsvari, J. Assembly responses of hippocampal CA1 place cells predict learned behavior in goal-directed spatial tasks on the radial eight-arm maze. Neuron 101, 119–132 (2019).

Mehta, M. R., Barnes, C. A. & McNaughton, B. L. Experience-dependent, asymmetric expansion of hippocampal place fields. Proc. Natl Acad. Sci. USA 94, 8918–8921 (1997).

Mehta, M. R. & McNaughton, B. L. Expansion and shift of hippocampal place fields: evidence for synaptic potentiation during behavior. Comput. Neurosci. Trends Res. 741–745 (1997).

Mehta, M. R. From synaptic plasticity to spatial maps and sequence learning. Hippocampus 25, 756–762 (2015).

Tulving, E. Episodic memory: from mind to brain. Annu. Rev. Psychol. 53, 1–25 (2002).

Baraduc, P. & Wirth, S. Schema cells in the macaque hippocampus. Science 363, 635–639 (2019).

Pastalkova, E., Itskov, V., Amarasingham, A. & Buzsáki, G. Internally generated cell assembly sequences in the rat hippocampus. Science 321, 1322–1327 (2008).

Ravassard, P. et al. Multisensory control of hippocampal spatiotemporal selectivity. Science 340, 1342–1346 (2013).

Aghajan, Z. M. et al. Impaired spatial selectivity and intact phase precession in two-dimensional virtual reality. Nat. Neurosci. 18, 121–128 (2015).

Villette, V., Malvache, A., Tressard, T., Dupuy, N. & Cossart, R. Internally recurring hippocampal sequences as a population template of spatiotemporal information. Neuron 88, 357–366 (2015).

Sarel, A., Finkelstein, A., Las, L. & Ulanovsky, N. Vectorial representation of spatial goals in the hippocampus of bats. Science 355, 176–180 (2017).

Markram, H., Lübke, J. & Frotscher, M. Regulation of synaptic efficacy by coincidence of postsynaptic APs and EPSPs. Science 275, 213–215 (1997).

Bi, G. & Poo, M. Synaptic modifications in cultured hippocampal neurons: dependence on spike timing, synaptic strength, and postsynaptic cell type. J. Neurosci. 18, 10464–10472 (1998).

Mehta, M. R. & Wilson, M. A. From hippocampus to V1: effect of LTP on spatio-temporal dynamics of receptive fields. Neurocomputing 32–33, 905–911 (2000).

Kentros, C. et al. Abolition of long-term stability of new hippocampal place cell maps by NMDA receptor blockade. Science 280, 2121–2126 (1998).

Ekstrom, A. D., Meltzer, J., McNaughton, B. L. & Barnes, C. A. NMDA receptor antagonism blocks experience-dependent expansion of hippocampal 'place fields'. Neuron 31, 631–638 (2001).

Sato, M. et al. Hippocampus-dependent goal localization by head-fixed mice in virtual reality. eNeuro 4, ENEURO.0369-16.2017 (2017).

Rowland, L. H. et al. Selective cognitive impairments associated with NMDA receptor blockade in humans. Neuropsychopharmacology 30, 633–639 (2005).

Dupret, D., O'Neill, J., Pleydell-Bouverie, B. & Csicsvari, J. The reorganization and reactivation of hippocampal maps predict spatial memory performance. Nat. Neurosci. 13, 995–1002 (2010).

Gothard, K. M., Skaggs, W. E. & McNaughton, B. L. Dynamics of mismatch correction in the hippocampal ensemble code for space: interaction between path integration and environmental cues. J. Neurosci. 16, 8027–8040 (1996).

Acharya, L., Aghajan, Z. M., Vuong, C., Moore, J. J. & Mehta, M. R. Causal influence of visual cues on hippocampal directional selectivity. Cell 164, 197–207 (2016).

Ziv, Y. et al. Long-term dynamics of CA1 hippocampal place codes. Nat. Neurosci. 16, 264–266 (2013).

Howard, L. R. et al. The hippocampus and entorhinal cortex encode the path and euclidean distances to goals during navigation. Curr. Biol. 24, 1331–1340 (2014).

MacDonald, C. J., Lepage, K. Q., Eden, U. T. & Eichenbaum, H. Hippocampal 'time cells' bridge the gap in memory for discontiguous events. Neuron 71, 737–749 (2011).

Gauthier, J. L. & Tank, D. W. A dedicated population for reward coding in the hippocampus. Neuron 99, 179–193 (2018).

Leutgeb, S. et al. Independent codes for spatial and episodic memory in hippocampal neuronal ensembles. Science 309, 619–623 (2005).

Rolls, E. T., Treves, A., Robertson, R. G., Georges-François, P. & Panzeri, S. Information about spatial view in an ensemble of primate hippocampal cells. J. Neurophysiol. 79, 1797–1813 (1998).

Miller, J. F. et al. Neural activity in human hippocampal formation reveals the spatial context of retrieved memories. Science 342, 1111–1114 (2013).

Jacobs, J., Kahana, M. J., Ekstrom, A. D., Mollison, M. V. & Fried, I. A sense of direction in human entorhinal cortex. Proc. Natl Acad. Sci. USA 107, 6487–6492 (2010).

Aronov, D. & Tank, D. W. Engagement of neural circuits underlying 2D spatial navigation in a rodent virtual reality system. Neuron 84, 442–456 (2014).

Chen, G., King, J. A., Lu, Y., Cacucci, F. & Burgess, N. Spatial cell firing during virtual navigation of open arenas by head-restrained mice. eLife 7, e34789 (2018).

Resnik, E., McFarland, J. M., Sprengel, R., Sakmann, B. & Mehta, M. R. The effects of GluA1 deletion on the hippocampal population code for position. J. Neurosci. 32, 8952–8968 (2012).

Tse, D. et al. Schemas and memory consolidation. Science 316, 76–82 (2007).

Rubin, A., Yartsev, M. M. & Ulanovsky, N. Encoding of head direction by hippocampal place cells in bats. J. Neurosci. 34, 1067–1080 (2014).

Shahi, M. et al. A generalized linear model approach to dissociate object-centric and allocentric directional responses in hippocampal place cells. Soc. Neurosci. Abstr. 1, (2017).

Jercog, P. E. et al. Heading direction with respect to a reference point modulates place-cell activity. Nat. Commun. 10, 2333 (2019).

Cabral, H. O., Fouquet, C., Rondi-Reig, L., Pennartz, C. M. A. & Battaglia, F. P. Single-trial properties of place cells in control and CA1 NMDA receptor subunit 1-KO mice. J. Neurosci. 34, 15861–15869 (2014).

Mehta, M. R. Neuronal dynamics of predictive coding. Neurosci. 7, 490–495 (2001).

Harvey, C. D., Collman, F., Dombeck, D. A. & Tank, D. W. Intracellular dynamics of hippocampal place cells during virtual navigation. Nature 461, 941–946 (2009).

Safaryan, K. & Mehta, M. Enhanced hippocampal theta rhythmicity and emergence of eta oscillation in virtual reality. Nat. Neurosci. 24, 1065–1070 (2021).

Kumar, A. & Mehta, M. R. Frequency-dependent changes in NMDAR-dependent synaptic plasticity. Front. Comput. Neurosci. 5, 38 (2011).

Wang, S. H. & Morris, R. G. M. Hippocampal-neocortical interactions in memory formation, consolidation, and reconsolidation. Annu. Rev. Psychol. 61, 49–79 (2010).

Mehta, M. R. Cortico-hippocampal interaction during up-down states and memory consolidation. Nat. Neurosci. 10, 13–15 (2007).

Brun, V. H. et al. Place cells and place recognition maintained by direct entorhinal–hippocampal circuitry. Science 296, 2243–2246 (2002).

Ahmed, O. J. & Mehta, M. R. The hippocampal rate code: anatomy, physiology and theory. Trends Neurosci. 32, 329–338 (2009).

Mehta, M. R. Contribution of Ih to LTP, place cells, and grid cells. Cell 147, 968–970 (2011).

Moore, J. J. et al. Dynamics of cortical dendritic membrane potential and spikes in freely behaving rats. Science 355, eaaj1497 (2017).

Mehta, M. R. Cooperative LTP can map memory sequences on dendritic branches. Trends Neurosci. 27, 69–72 (2004).

Wolbers, T., Wiener, J. M., Mallot, H. A. & Büchel, C. Differential recruitment of the hippocampus, medial prefrontal cortex, and the human motion complex during path integration in humans. J. Neurosci. 27, 9408–9416 (2007).

Hahn, T. T. G., McFarland, J. M., Berberich, S., Sakmann, B. & Mehta, M. R. Spontaneous persistent activity in entorhinal cortex modulates cortico-hippocampal interaction in vivo. Nat. Neurosci. 15, 1531–1538 (2012).

Wang, C. et al. Egocentric coding of external items in the lateral entorhinal cortex. Science 362, 945–949 (2018).

Friedman, J., Hastie, T. & Tibshirani, R. Regularized paths for generalized linear models via coordinate descent. J. Stat. Softw. 33, 1–22 (2008).

Boyd, J. P. Chebyshev and Fourier Spectral Methods. 2nd revised edn (Dover Publications, 2000).
Acknowledgements
We thank C. Vuong, D. Aharon and B. Willers for help with initial development of the experimental paradigm and early data collection; N. Agarwal and F. Quezada for help with training and behaviour; A. Kees and P. Ravassard for surgical assistance; and K. Choudhary for data management support. This work was supported by grants to M.R.M. from the W.M. Keck Foundation, AT&T, NSF 1550678 and NIH 1U01MH115746 to M.R.M. Some results presented in this manuscript were presented in abstract form at the annual Society for Neuroscience conference in 2015 (632.16), 2016 (263.03), 2017 (523.11), 2018 (508.06) and 2019 (083.85).
Ethics declarations
Competing interests
The authors declare no competing interests.
Additional information
Peer review information Nature thanks the anonymous reviewers for their contribution to the peer review of this work.
Publisher's note Springer Nature remains neutral with regard to jurisdictional claims in published maps and institutional affiliations.
Extended data figures and tables
Supplementary information
This file contains Supplementary Figs. 1–6 and Supplementary Methods.
About this article
Cite this article
Moore, J.J., Cushman, J.D., Acharya, L. et al. Linking hippocampal multiplexed tuning, Hebbian plasticity and navigation. Nature 599, 442–448 (2021). https://doi.org/10.1038/s41586-021-03989-z
Received:

Accepted:

Published:

Issue Date:

DOI: https://doi.org/10.1038/s41586-021-03989-z
This article is cited by
Guillaume Etter
Suzanne van der Veldt
Sylvain Williams

Nature Communications (2023)

Christine Grienberger
Jeffrey C. Magee

Nature (2022)

Chinmay S. Purandare
Shonali Dhingra
Mayank R. Mehta

Nature (2022)
Comments
By submitting a comment you agree to abide by our Terms and Community Guidelines. If you find something abusive or that does not comply with our terms or guidelines please flag it as inappropriate.