Abstract
The systematic tuning of crystal lattice parameters to achieve improved kinematic compatibility between different phases is a broadly effective strategy for improving the reversibility, and lowering the hysteresis, of solid–solid phase transformations1,2,3,4,5,6,7,8,9,10,11. (Kinematic compatibility refers to the fitting together of the phases.) Here we present an apparently paradoxical example in which tuning to near perfect kinematic compatibility results in an unusually high degree of irreversibility. Specifically, when cooling the kinematically compatible ceramic (Zr/Hf)O2(YNb)O4 through its tetragonal-to-monoclinic phase transformation, the polycrystal slowly and steadily falls apart at its grain boundaries (a process we term weeping) or even explosively disintegrates. If instead we tune the lattice parameters to satisfy a stronger 'equidistance' condition (which additionally takes into account sample shape), the resulting material exhibits reversible behaviour with low hysteresis. These results show that a diversity of behaviours—from reversible at one extreme to explosive at the other—is possible in a chemically homogeneous ceramic system by manipulating conditions of compatibility in unexpected ways. These concepts could prove critical in the current search for a shape-memory oxide ceramic9,10,11,12.
Access options
Subscribe to Nature+
Get immediate online access to Nature and 55 other Nature journal
Subscribe to Journal
Get full journal access for 1 year
$199.00
only $3.90 per issue
All prices are NET prices.
VAT will be added later in the checkout.
Tax calculation will be finalised during checkout.
Buy article
Get time limited or full article access on ReadCube.
$32.00
All prices are NET prices.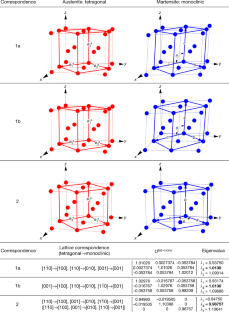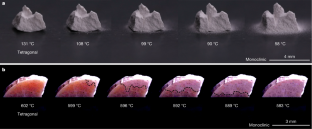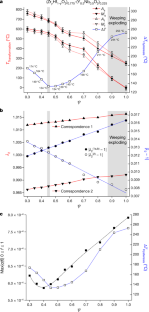 References
Chen, X., Srivastava, V., Dabade, V. & James, R. D. Study of the cofactor conditions: conditions of supercompatibility between phases. J. Mech. Phys. Solids 61, 2566–2587 (2013).

Chluba, C. et al. Ultralow-fatigue shape memory alloy films. Science 348, 1004–1007 (2015).

Delville, R. et al. Transmission electron microscopy study of phase compatibility in low hysteresis shape memory alloys. Philos. Mag. 90, 177–195 (2010).

Della Porta, F. On the cofactor conditions and further conditions of supercompatibility between phases. J. Mech. Phys. Solids 122, 27–53 (2019).

Niitsu, K., Kimura, Y., Omori, T. & Kainuma, R. Cryogenic superelasticity with large elastocaloric effect. NPG Asia Mater. 10, e457 (2018).

Zarnetta, R. et al. Identification of quaternary shape memory alloys with near-zero thermal hysteresis and unprecedented functional stability. Adv. Funct. Mater. 20, 1917–1923 (2010).

Gu, H., Bumke, L., Chluba, C., Quandt, E. & James, R. D. Phase engineering and supercompatibility of shape memory alloys. Mater. Today 21, 265–277 (2018).

Jetter, J. et al. Tuning crystallographic compatibility to enhance shape memory in ceramics. Phys. Rev. Mater. 3, 93603 (2019).

Wegner, M., Gu, H., James, R. D. & Quandt, E. Correlation between phase compatibility and efficient energy conversion in Zr-doped barium titanate. Sci. Rep. 10, 3496 (2020).

Liang, Y. G. et al. Tuning the hysteresis of a metal-insulator transition via lattice compatibility. Nat. Commun. 11, 3539 (2020).

Pang, E. L., McCandler, C. A. & Schuh, C. A. Reduced cracking in polycrystalline ZrO2-CeO2 shape-memory ceramics by meeting the cofactor conditions. Acta Mater. 177, 230–239 (2019).

Lai, A., Du, Z., Gan, C. L. & Schuh, C. A. Shape memory and superelastic ceramics at small scales. Science 341, 1505–1508 (2013).

Kohn, R. V. & Müller, S. Branching of twins near an austenite—twinned-martensite interface. Philos. Mag. A 66, 697–715 (1992).

Burkart, M. W. & Read, T. A. Diffusionless phase change in the indium-thallium system. Trans. Am. Inst. Min. Metall. Eng. 197, 1516–1524 (1953).

Ball, J. M. & James, R. D. in Analysis and Continuum Mechanics: a Collection of Papers Dedicated to J. Serrin on His Sixtieth Birthday 647–686 (Springer, 1989).

Yang, S. et al. A jumping shape memory alloy under heat. Sci. Rep. 6, 21754 (2016).

Yadava, K. et al. Extraordinary anisotropic thermal expansion in photosalient crystals. IUCrJ 7, 83–89 (2020).

Naumov, P., Chizhik, S., Panda, M. K., Nath, N. K. & Boldyreva, E. Mechanically responsive molecular crystals. Chem. Rev. 115, 12440–12490 (2015).

Tong, F. et al. Photomechanical molecular crystals and nanowire assemblies based on the [2+2] photodimerization of a phenylbutadiene derivative. J. Mater. Chem. C 8, 5036–5044 (2020).

Chandrasekar, S. & Chaudhri, M. M. The explosive disintegration of Prince Rupert's drops. Philos. Mag. B 70, 1195–1218 (1994).

Gibbs, J.W. On the equilibrium of heterogeneous substances Vol. 1 (Longmans Green and Co., 1879)

Chen, X. et al. Direct observation of chemical short-range order in a medium-entropy alloy. Nature 592, 712–716 (2021).

Hayakawa, M., Kuntani, N. & Oka, M. Structural study on the tetragonal to monoclinic transformation in arc-melted ZrO2-2mol.%Y2O3—I. Experimental observations. Acta Metall. 37, 2223–2228 (1989).

Hayakawa, M. & Oka, M. Structural study on the tetragonal to monoclinic transformation in arc-melted ZrO2-2mol.%Y2O3—II. Quantitative analysis. Acta Metall. 37, 2229–2235 (1989).

Chen, X. & Song, Y. Structural Phase Transformation Web Tools (StrucTrans, 2014); http://www.structrans.org

Ball, J. M. & James, R. D. A characterization of plane strain. Proc. Math. Phys. Sci. 432, 93–99 (1991).
Acknowledgements
R.D.J. and H.G. were supported by the NSF (DMREF-1629026), the MURI programme (FA9550-18-1-0095 and FA9550-16-1-0566) and a Vannevar Bush Faculty Fellowship. R.D.J. also acknowledges a Mercator Fellowship for the support of this German–US collaboration. E.Q., J.R. and J.J. acknowledge funding by the Deutsche Forschungsgemeinschaft (DFG) through a Reinhart Koselleck Project (313454214), and the project "Search for compatible zirconium oxide-based shape memory ceramics" (453203767). We thank N. Wolff for preliminary TEM measurements, and A. Mill for her assistance in the preparation of specimens for TEM investigation.
Ethics declarations
Competing interests
The authors declare no competing interests.
Additional information
Peer review information Nature thanks Jian Luo and the other, anonymous, reviewer(s) for their contribution to the peer review of this work.
Publisher's note Springer Nature remains neutral with regard to jurisdictional claims in published maps and institutional affiliations.
Extended data figures and tables
Supplementary information
About this article
Cite this article
Gu, H., Rohmer, J., Jetter, J. et al. Exploding and weeping ceramics. Nature 599, 416–420 (2021). https://doi.org/10.1038/s41586-021-03975-5
Received:

Accepted:

Published:

Issue Date:

DOI: https://doi.org/10.1038/s41586-021-03975-5
This article is cited by
Edward L. Pang
Gregory B. Olson
Christopher A. Schuh

Nature (2022)

Huilong Hou
Suxin Qian
Ichiro Takeuchi

Nature Reviews Materials (2022)
Comments
By submitting a comment you agree to abide by our Terms and Community Guidelines. If you find something abusive or that does not comply with our terms or guidelines please flag it as inappropriate.