Abstract
Mounting evidence shows that dopamine in the striatum is critically involved in reward-based reinforcement learning1,2. However, it remains unclear how dopamine reward signals influence the entorhinal–hippocampal circuit, another brain network that is crucial for learning and memory3,4,5. Here, using cell-type-specific electrophysiological recording6, we show that dopamine signals from the ventral tegmental area and substantia nigra control the encoding of cue–reward association rules in layer 2a fan cells of the lateral entorhinal cortex (LEC). When mice learned novel olfactory cue–reward associations using a pre-learned association rule, spike representations of LEC fan cells grouped newly learned rewarded cues with a pre-learned rewarded cue, but separated them from a pre-learned unrewarded cue. Optogenetic inhibition of fan cells impaired the learning of new associations while sparing the retrieval of pre-learned memory. Using fibre photometry, we found that dopamine sends novelty-induced reward expectation signals to the LEC. Inhibition of LEC dopamine signals disrupted the associative encoding of fan cells and impaired learning performance. These results suggest that LEC fan cells represent a cognitive map of abstract task rules, and that LEC dopamine facilitates the incorporation of new memories into this map.
Relevant articles
Open Access articles citing this article.
Shogo Soma

,

Shinya Ohara

…

Yoshikazu Isomura

Communications Biology Open Access 31 May 2023

Susumu Setogawa

,

Ryota Kanda

…

Noriaki Ohkawa

Molecular Brain Open Access 03 May 2023
Access options
Access Nature and 54 other Nature Portfolio journals
Get Nature+, our best-value online-access subscription
$29.99 / 30 days
cancel any time
Subscribe to this journal
Receive 51 print issues and online access
$199.00 per year
only $3.90 per issue
Rent or buy this article
Get just this article for as long as you need it
$39.95
Prices may be subject to local taxes which are calculated during checkout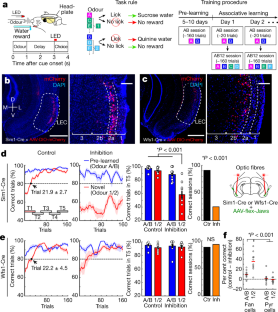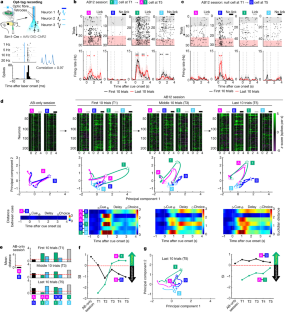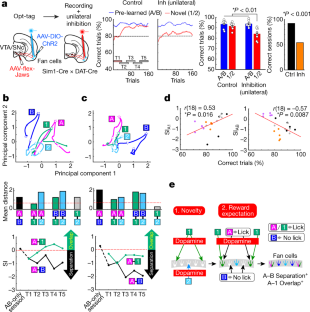 Data availability
Neurophysiological data generated in this study are available upon request, and will be deposited with a subsequent protocol paper.
References
Schultz, W., Dayan, P. & Montague, P. R. A neural substrate of prediction and reward. Science 275, 1593–1599 (1997).

Watabe-Uchida, M., Eshel, N. & Uchida, N. Neural circuitry of reward prediction error. Annu. Rev. Neurosci. 40, 373–394 (2017).

Scoville, W. B. & Milner, B. Loss of recent memory after bilateral hippocampal lesions. J. Neurol. Neurosurg. Psychiatry 20, 11–21 (1957).

Squire, L. R. Memory and the hippocampus: a synthesis from findings with rats, monkeys, and humans. Psychol. Rev. 99, 195–231 (1992).

Buzsaki, G. & Moser, E. I. Memory, navigation and theta rhythm in the hippocampal-entorhinal system. Nat. Neurosci. 16, 130–138 (2013).

Cohen, J. Y., Haesler, S., Vong, L., Lowell, B. B. & Uchida, N. Neuron-type-specific signals for reward and punishment in the ventral tegmental area. Nature 482, 85–88 (2012).

Witter, M. P. & Amaral, D. G. in The Rat Nervous System 3rd edn (ed. Paxinos, G.) Ch. 21 (Elsevier, 2004).

Moser, E. I. et al. Grid cells and cortical representation. Nat. Rev. Neurosci. 15, 466–481 (2014).

Igarashi, K. M., Lu, L., Colgin, L. L., Moser, M. B. & Moser, E. I. Coordination of entorhinal–hippocampal ensemble activity during associative learning. Nature 510, 143–147 (2014).

Kitamura, T. et al. Island cells control temporal association memory. Science 343, 896–901 (2014).

Surmeli, G. et al. Molecularly defined circuitry reveals input–output segregation in deep layers of the medial entorhinal cortex. Neuron 88, 1040–1053 (2015).

Vandrey, B. et al. Fan cells in layer 2 of the lateral entorhinal cortex are critical for episodic-like memory. Curr. Biol. 30, 169–175 (2020).

Leitner, F. C. et al. Spatially segregated feedforward and feedback neurons support differential odor processing in the lateral entorhinal cortex. Nat. Neurosci. 19, 935–944 (2016).

Ohara, S. et al. Entorhinal layer II calbindin-expressing neurons originate widespread telencephalic and intrinsic projections. Front. Syst. Neurosci. 13, 54 (2019).

Chuong, A. S. et al. Noninvasive optical inhibition with a red-shifted microbial rhodopsin. Nat. Neurosci. 17, 1123–1129 (2014).

Hokfelt, T., Ljungdahl, A., Fuxe, K. & Johansson, O. Dopamine nerve terminals in the rat limbic cortex: aspects of the dopamine hypothesis of schizophrenia. Science 184, 177–179 (1974).

Fallon, J. H., Koziell, D. A. & Moore, R. Y. Catecholamine innervation of the basal forebrain. II. Amygdala, suprarhinal cortex and entorhinal cortex. J. Comp. Neurol. 180, 509–532 (1978).

Swanson, L. W., Köhler, C. & Björklund, A. in Handbook of Chemical Neuroanatomy Vol. 5, Part I (eds Björklund, A., Hökfelt, T. & Swanson, L. W.) 125–227 (Elsevier, 1987).

Kudo, Y. et al. A single optical fiber fluorometric device for measurement of intracellular Ca2+ concentration: its application to hippocampal neurons in vitro and in vivo. Neuroscience 50, 619–625 (1992).

Menegas, W., Babayan, B. M., Uchida, N. & Watabe-Uchida, M. Opposite initialization to novel cues in dopamine signaling in ventral and posterior striatum in mice. Elife 6, e21886 (2017).

Igarashi, K. M. et al. Parallel mitral and tufted cell pathways route distinct odor information to different targets in the olfactory cortex. J. Neurosci. 32, 7970–7985 (2012).

Nilssen, E. S. et al. Inhibitory connectivity dominates the fan cell network in layer II of lateral entorhinal cortex. J. Neurosci. 38, 9712–9727 (2018).

Yagishita, S. et al. A critical time window for dopamine actions on the structural plasticity of dendritic spines. Science 345, 1616–1620 (2014).

Tse, D. et al. Schemas and memory consolidation. Science 316, 76–82 (2007).

Tolman, E. C. Cognitive maps in rats and men. Psychol. Rev. 55, 189–208 (1948).

Behrens, T. E. J. et al. What is a cognitive map? organizing knowledge for flexible behavior. Neuron 100, 490–509 (2018).

McNaughton, B. L., Battaglia, F. P., Jensen, O., Moser, E. I. & Moser, M. B. Path integration and the neural basis of the 'cognitive map'. Nat. Rev. Neurosci. 7, 663–678 (2006).

Kakade, S. & Dayan, P. Dopamine: generalization and bonuses. Neural Netw. 15, 549–559 (2002).

Lisman, J. E. & Grace, A. A. The hippocampal–VTA loop: controlling the entry of information into long-term memory. Neuron 46, 703–713 (2005).

Takeuchi, T. et al. Locus coeruleus and dopaminergic consolidation of everyday memory. Nature 537, 357–362 (2016).

Mori, K., Takahashi, Y. K., Igarashi, K. M. & Yamaguchi, M. Maps of odorant molecular features in the mammalian olfactory bulb. Physiol. Rev. 86, 409–433 (2006).

Uchida, N. & Mainen, Z. F. Speed and accuracy of olfactory discrimination in the rat. Nat. Neurosci. 6, 1224–1229 (2003).

Li, Y. et al. (2017). A distinct entorhinal cortex to hippocampal CA1 direct circuit for olfactory associative learning. Nat. Neurosci. 20, 559–570.

Kvitsiani, D. et al. Distinct behavioural and network correlates of two interneuron types in prefrontal cortex. Nature 20, 363–366 (2013).

Cunningham, J. P. & Byron, M. Y. Dimensionality reduction for large-scale neural recordings. Nat. Neurosci. 17, 1500–1509 (2014).

Russo, A. A. et al. Neural trajectories in the supplementary motor area and motor cortex exhibit distinct geometries, compatible with different classes of computation. Neuron 107, 745–758 (2020).

Sano, H. et al. (2003). Conditional ablation of striatal neuronal types containing dopamine D2 receptor disturbs coordination of basal ganglia function. J. Neurosci. 23, 9078–9088.
Acknowledgements
We thank N. Uchida and M. Watabe-Uchida for their mentorship, including support in setting up optogenetic recording and photometry experiments and providing discussions throughout the course of this project; R. Amo and H. Matsumoto in the Uchida laboratory for their help with setting up the behaviour and photometry experiments; T. Viaclovsky, A. Bramian and M. Savadkohighodjanaki in the Igarashi laboratory for technical assistance; and M. P. Witter, A. Treves, H. T. Ito, B. McNaughton, C. Gall and G. Lynch for providing comments on the work. The work was supported by NIH R01 grants (R01MH121736, R01AG063864, R01AG066806), a PRESTO grant from Japan Science and Technology Agency (JPMJPR1681), a Brain Research Foundation Fay-Frank Seed Grant (BRFSG-2017-04), a Whitehall Foundation Research Grant (2017-08-01), a BrightFocus Foundation Research grant (A2019380S), an Alzheimer's Association Research Grant (AARG-17-532932) and a New Vision Research Investigator Award (CCAD201902) to K.M.I. H.J. was supported by the University of California, Irvine Medical Scientist Training Program (MSTP) (T32GM008620) and an NIH F31 grant (1F31AG069500).
Ethics declarations
Competing interests
The authors declare no competing interests.
Additional information
Peer review information Nature thanks the anonymous reviewers for their contribution to the peer review of this work.
Publisher's note Springer Nature remains neutral with regard to jurisdictional claims in published maps and institutional affiliations.
Extended data figures and tables
Supplementary information
This file contains Supplementary Tables 1–4.
About this article
Cite this article
Lee, J.Y., Jun, H., Soma, S. et al. Dopamine facilitates associative memory encoding in the entorhinal cortex. Nature 598, 321–326 (2021). https://doi.org/10.1038/s41586-021-03948-8
Received:

Accepted:

Published:

Issue Date:

DOI: https://doi.org/10.1038/s41586-021-03948-8
Comments
By submitting a comment you agree to abide by our Terms and Community Guidelines. If you find something abusive or that does not comply with our terms or guidelines please flag it as inappropriate.