Abstract
Haematopoiesis in the bone marrow (BM) maintains blood and immune cell production throughout postnatal life. Haematopoiesis first emerges in human BM at 11–12 weeks after conception1,2, yet almost nothing is known about how fetal BM (FBM) evolves to meet the highly specialized needs of the fetus and newborn. Here we detail the development of FBM, including stroma, using multi-omic assessment of mRNA and multiplexed protein epitope expression. We find that the full blood and immune cell repertoire is established in FBM in a short time window of 6–7 weeks early in the second trimester. FBM promotes rapid and extensive diversification of myeloid cells, with granulocytes, eosinophils and dendritic cell subsets emerging for the first time. The substantial expansion of B lymphocytes in FBM contrasts with fetal liver at the same gestational age. Haematopoietic progenitors from fetal liver, FBM and cord blood exhibit transcriptional and functional differences that contribute to tissue-specific identity and cellular diversification. Endothelial cell types form distinct vascular structures that we show are regionally compartmentalized within FBM. Finally, we reveal selective disruption of B lymphocyte, erythroid and myeloid development owing to a cell-intrinsic differentiation bias as well as extrinsic regulation through an altered microenvironment in Down syndrome (trisomy 21).
Relevant articles
Open Access articles citing this article.
Luz Garcia-Alonso

,

Valentina Lorenzi

…

Roser Vento-Tormo

Nature Open Access 06 July 2022

Eleonora Khabirova

,

Laura Jardine

…

Sam Behjati

Nature Medicine Open Access 14 March 2022
Access options
Subscribe to Nature+
Get immediate online access to the entire Nature family of 50+ journals
Subscribe to Journal
Get full journal access for 1 year
$199.00
only $3.90 per issue
All prices are NET prices.
VAT will be added later in the checkout.
Tax calculation will be finalised during checkout.
Buy article
Get time limited or full article access on ReadCube.
$32.00
All prices are NET prices.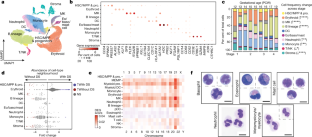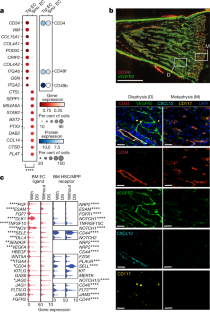 Data availability
There are no restrictions on data availability for new data presented in this study. FASTQ and raw count matrices for droplet-based scRNA-seq data for FBM from fetuses with Down syndrome and fetuses without Down syndrome have been deposited at EMBL-EBI ArrayExpress and at the European Nucleotide Archive (ENA), with accession codes as follows: E-MTAB-9389 (FBM from fetuses with Down syndrome and FBM from fetuses without Down syndrome), E-MTAB-10042 (FBM from fetuses with Down syndrome) and ERP125305 (FBM from fetuses without Down syndrome). FASTQ and raw count matrices for all other new data in this study have been deposited at EMBL-EBI ArrayExpress and at the Gene Expression Omnibus (GEO) with accession codes E-MTAB-9801 (FBM Smart-seq2 scRNA-seq); E-MTAB-9389 (BCR- or TCR-enriched VDJ FBM scRNA-seq; FASTQs only); GSE166895 (CD34+ FBM, fetal liver and cord blood CITE-seq) and GSE166895 (FBM total CITE-seq). The following data are also available to download as Scanpy h5ad objects with transformed counts through our interactive webportal: https://fbm.cellatlas.io/: (i) FBM scRNA-seq (fetuses with Down syndrome); (ii) FBM scRNA-seq (fetuses without Down syndrome); (iii) CD34+ FBM, fetal liver and cord blood CITE-seq; and (iv) FBM total CITE-seq. All source data are available in the accompanying source data file, unless manuscript or figure legend refers to a Supplementary Table. External datasets incorporated into this study include: (i) human fetal liver and yolk sac scRNA-seq data4 (E-MTAB-7407); (ii) human blood monocyte–DC scRNA-seq data10 (GSE94820); (iii) mouse BM scRNA-seq data19 (GSE122467); (iv) fetal and paediatric thymus scRNA-seq data3 (E-MTAB-8581); and (v) adult BM and cord blood scRNA-seq data from the Human Cell Atlas Data Coordination Portal 'Census of Immune Cells' project (https://data.humancellatlas.org/explore/projects/cc95ff89-2e68-4a08-a234-480eca21ce79). At the time of submission, there are no known accessibility restrictions on these external datasets. Source data are provided with this paper.
Code availability
Single-cell sequencing data were processed and analysed using publicly available software packages. Python and R code and notebooks for reproducing single-cell analyses are available at https://github.com/haniffalab/FCA_bone_marrow.
References
O'Byrne, S. et al. Discovery of a CD10-negative B-progenitor in human fetal life identifies unique ontogeny-related developmental programs. Blood 134, 1059–1071 (2019).

Charbord, P., Tavian, M., Humeau, L. & Péault, B. Early ontogeny of the human marrow from long bones: an immunohistochemical study of hematopoiesis and its microenvironment. Blood 87, 4109–4119 (1996).

Park, J.-E. et al. A cell atlas of human thymic development defines T cell repertoire formation. Science 367, eaay3224 (2020).

Popescu, D.-M. et al. Decoding human fetal liver haematopoiesis. Nature 574, 365–371 (2019).

Wiemels, J. L. et al. Prenatal origin of acute lymphoblastic leukaemia in children. Lancet 354, 1499–1503 (1999).

Muntean, A. G., Ge, Y., Taub, J. W. & Crispino, J. D. Transcription factor GATA-1 and Down syndrome leukemogenesis. Leuk. Lymphoma 47, 986–997 (2006).

Roy, A. et al. Perturbation of fetal liver hematopoietic stem and progenitor cell development by trisomy 21. Proc. Natl Acad. Sci. USA 109, 17579–17584 (2012).

Olsson, A. et al. Single-cell analysis of mixed-lineage states leading to a binary cell fate choice. Exp. Hematol. 44, S24 (2016).

Dahl, R. et al. Regulation of macrophage and neutrophil cell fates by the PU.1:C/EBPα ratio and granulocyte colony-stimulating factor. Nat. Immunol. 4, 1029–1036 (2003).

Villani, A.-C. et al. Single-cell RNA-seq reveals new types of human blood dendritic cells, monocytes, and progenitors. Science 356, eaah4573 (2017).

Mullighan, C. G. et al. Genome-wide analysis of genetic alterations in acute lymphoblastic leukaemia. Nature 446, 758–764 (2007).

Summers, Y. J., Heyworth, C. M., de Wynter, E. A., Chang, J. & Testa, N. G. Cord blood G0 CD34+ cells have a thousand-fold higher capacity for generating progenitors in vitro than G1 CD34+ cells. Stem Cells 19, 505–513 (2001).

Pimanda, J. E. et al. Gata2, Fli1, and Scl form a recursively wired gene-regulatory circuit during early hematopoietic development. Proc. Natl Acad. Sci. USA 104, 17692–17697 (2007).

Iwasaki, H. et al. Distinctive and indispensable roles of PU.1 in maintenance of hematopoietic stem cells and their differentiation. Blood 106, 1590–1600 (2005).

Palii, C. G. et al. Single-cell proteomics reveal that quantitative changes in co-expressed lineage-specific transcription factors determine cell fate. Cell Stem Cell 24, 812–820 (2019).

Muskens, I. S. et al. The genome-wide impact of trisomy 21 on DNA methylation and its implications for hematopoiesis. Nat. Commun. 12, 821 (2021).

Yu, S. et al. GABP controls a critical transcription regulatory module that is essential for maintenance and differentiation of hematopoietic stem/progenitor cells. Blood 117, 2166–2178 (2011).

Sullivan, K. D. et al. Trisomy 21 causes changes in the circulating proteome indicative of chronic autoinflammation. Sci. Rep. 7, 14818 (2017).

Baccin, C. et al. Combined single-cell and spatial transcriptomics reveal the molecular, cellular and spatial bone marrow niche organization. Nat. Cell Biol. 22, 38–48 (2020).

Suchting, S. et al. The Notch ligand Delta-like 4 negatively regulates endothelial tip cell formation and vessel branching. Proc. Natl Acad. Sci. USA 104, 3225–3230 (2007).

Kusumbe, A. P., Ramasamy, S. K. & Adams, R. H. Coupling of angiogenesis and osteogenesis by a specific vessel subtype in bone. Nature 507, 323–328 (2014).

Itkin, T. et al. Distinct bone marrow blood vessels differentially regulate haematopoiesis. Nature 532, 323–328 (2016).

Long, M. W., Briddell, R., Walter, A. W., Bruno, E. & Hoffman, R. Human hematopoietic stem cell adherence to cytokines and matrix molecules. J. Clin. Invest. 90, 251–255 (1992).

Lane, W. J. et al. Stromal-derived factor 1–induced megakaryocyte migration and platelet production is dependent on matrix metalloproteinases. Blood 96, 4152–4159 (2000).

Schulz-Knappe, P. et al. HCC-1, a novel chemokine from human plasma. J. Exp. Med. 183, 295–299 (1996).

Butko, E., Pouget, C. & Traver, D. Complex regulation of HSC emergence by the Notch signaling pathway. Dev. Biol. 409, 129–138 (2016).

Mulè, M. P., Martins, A. J. & Tsang, J. S. Normalizing and denoising protein expression data from droplet-based single cell profiling. Preprint at https://doi.org/10.1101/2020.02.24.96360 (2021).
Acknowledgements
We acknowledge funding from the Wellcome Human Cell Atlas Strategic Science Support (WT211276/Z/18/Z), MRC Human Cell Atlas award and Wellcome Human Developmental Biology Initiative. M.H. is funded by Wellcome (WT107931/Z/15/Z), The Lister Institute for Preventive Medicine and NIHR and Newcastle Biomedical Research Centre; S.A.T. is funded by Wellcome (WT206194), the ERC Consolidator Grant ThDEFINE and EU FET-OPEN MRG-GRAMMAR awards; relevant research in the B.G. group was funded by Wellcome (206328/Z/17/Z) and the MRC (MR/M008975/1 and MR/S036113/1); I.R. is funded by Blood Cancer UK and by the NIHR Oxford Biomedical Centre Research Fund; A.R. is funded by a Wellcome Trust Clinical Research Career Development Fellowship (216632/Z/19/Z) and supported by the NIHR Oxford Biomedical Centre Research Fund; L.J. is funded by an NIHR Academic Clinical Lectureship; S.W. is funded by a Barbour Foundation PhD studentship; M.M. is funded by an Action Medical Research Clinical Fellowship (GN2779); and E.L. is funded by a Sir Henry Dale fellowship from Wellcome and the Royal Society (107630/Z/15/Z), BBSRC (BB/P002293/1) and core support grants to Wellcome and MRC to the Wellcome–MRC Cambridge Stem Cell Institute (203151/Z/16/Z). This research was funded in part by the Wellcome Trust (see above for grant numbers). We thank the Newcastle University Flow Cytometry Core Facility, Bioimaging Core Facility, NovoPath, Genomics Facility and NUIT for technical assistance, the School of Computing for access to the High-Performance Computing Cluster, CellGenIT and A. Farnworth for clinical liaison. We thank the CRUK Cambridge Institute Genomics core for processing all Cambridge libraries amd sequencing, and K. Nazor, B. Yeung and T. S. Huang (BioLegend) for discussions to optimize the TotalSeq panel and protocol. The human embryonic and fetal material was provided by the joint MRC–Wellcome (MR/R006237/1) HDBR (https://www.hdbr.org/). This publication is part of the Human Cell Atlas (https://www.humancellatlas.org/publications/).
Ethics declarations
Competing interests
S.O. is now an employee of Becton, Dickinson and Company (BD); the contributions of this author to the work were made before the commencement of employment at BD. O.R.-R. is an employee of Genentech. O.R.-R. is a co-inventor on patent applications filed at the Broad Institute related to single-cell genomics. All other authors declare no competing interests.
Additional information
Peer review information Nature thanks Ana Cumano, James Palis and the other, anonymous, reviewer(s) for their contribution to the peer review of this work. Peer reviewer reports are available.
Publisher's note Springer Nature remains neutral with regard to jurisdictional claims in published maps and institutional affiliations.
Extended data figures and tables
Supplementary information
About this article
Cite this article
Jardine, L., Webb, S., Goh, I. et al. Blood and immune development in human fetal bone marrow and Down syndrome. Nature 598, 327–331 (2021). https://doi.org/10.1038/s41586-021-03929-x
Received:

Accepted:

Published:

Issue Date:

DOI: https://doi.org/10.1038/s41586-021-03929-x
Comments
By submitting a comment you agree to abide by our Terms and Community Guidelines. If you find something abusive or that does not comply with our terms or guidelines please flag it as inappropriate.