Abstract
Although solid-state lithium (Li)-metal batteries promise both high energy density and safety, existing solid ion conductors fail to satisfy the rigorous requirements of battery operations. Inorganic ion conductors allow fast ion transport, but their rigid and brittle nature prevents good interfacial contact with electrodes. Conversely, polymer ion conductors that are Li-metal-stable usually provide better interfacial compatibility and mechanical tolerance, but typically suffer from inferior ionic conductivity owing to the coupling of the ion transport with the motion of the polymer chains1,2,3. Here we report a general strategy for achieving high-performance solid polymer ion conductors by engineering of molecular channels. Through the coordination of copper ions (Cu2+) with one-dimensional cellulose nanofibrils, we show that the opening of molecular channels within the normally ion-insulating cellulose enables rapid transport of Li+ ions along the polymer chains. In addition to high Li+ conductivity (1.5 × 10−3 siemens per centimetre at room temperature along the molecular chain direction), the Cu2+-coordinated cellulose ion conductor also exhibits a high transference number (0.78, compared with 0.2–0.5 in other polymers2) and a wide window of electrochemical stability (0–4.5 volts) that can accommodate both the Li-metal anode and high-voltage cathodes. This one-dimensional ion conductor also allows ion percolation in thick LiFePO4 solid-state cathodes for application in batteries with a high energy density. Furthermore, we have verified the universality of this molecular-channel engineering approach with other polymers and cations, achieving similarly high conductivities, with implications that could go beyond safe, high-performance solid-state batteries.
Relevant articles
Open Access articles citing this article.
Bin Chen

,

Jiansong Feng

…

Taihong Wang

npj Flexible Electronics Open Access 06 September 2022

Changyuan Yan

,

Yangyang Wang

…

Yonghang Xu

Nano-Micro Letters Open Access 08 April 2022

S. J. Eichhorn

,

A. Etale

…

B. Frka-Petesic

Journal of Materials Science Open Access 03 March 2022
Access options
Subscribe to Nature+
Get immediate online access to Nature and 55 other Nature journal
Subscribe to Journal
Get full journal access for 1 year
$199.00
only $3.90 per issue
All prices are NET prices.
VAT will be added later in the checkout.
Tax calculation will be finalised during checkout.
Buy article
Get time limited or full article access on ReadCube.
$32.00
All prices are NET prices.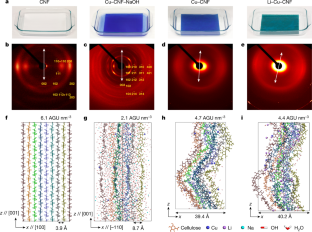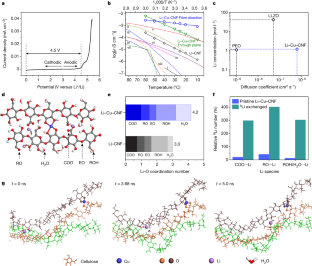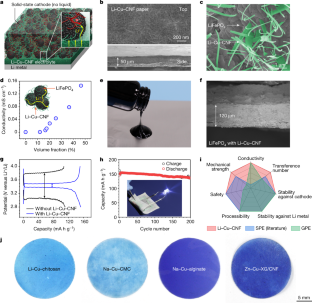 Data availability
The data that support the findings of this study are available within this article and its Supplementary Information. Additional data are available from the corresponding authors upon reasonable request. Source data are provided with this paper.
References
Xu, K. Nonaqueous liquid electrolytes for lithium-based rechargeable batteries. Chem. Rev. 104, 4303–4418 (2004).

Long, L., Wang, S., Xiao, M. & Meng, Y. Polymer electrolytes for lithium polymer batteries. J. Mater. Chem. A 4, 10038–10069 (2016).

Gadjourova, Z., Andreev, Y. G., Tunstall, D. P. & Bruce, P. G. Ionic conductivity in crystalline polymer electrolytes. Nature 412, 520–523 (2001).

Croce, F., Appetecchi, G. B., Persi, L. & Scrosati, B. Nanocomposite polymer electrolytes for lithium batteries. Nature 394, 456–458 (1998).

Manthiram, A., Yu, X. & Wang, S. Lithium battery chemistries enabled by solid-state electrolytes. Nat. Rev. Mater. 2, 16103 (2017).

Lopez, J., Mackanic, D. G., Cui, Y. & Bao, Z. Designing polymers for advanced battery chemistries. Nat. Rev. Mater. 4, 312–330 (2019).

Zhao, W., Yi, J., He, P. & Zhou, H. Solid-state electrolytes for lithium-ion batteries: fundamentals, challenges and perspectives. Electrochem. Energ. Rev. 2, 574–605 (2019).

Diederichsen, K. M., McShane, E. J. & McCloskey, B. D. Promising routes to a high Li+ transference number electrolyte for lithium ion batteries. ACS Energy Lett. 2, 2563–2575 (2017).

Xue, Z., He, D. & Xie, X. Poly(ethylene oxide)-based electrolytes for lithium-ion batteries. J. Mater. Chem. A 3, 19218–19253 (2015).

Khurana, R., Schaefer, J. L., Archer, L. A. & Coates, G. W. Suppression of lithium dendrite growth using cross-linked polyethylene/poly(ethylene oxide) electrolytes: a new approach for practical lithium-metal polymer batteries. J. Am. Chem. Soc. 136, 7395–7402 (2014).

Mackanic, D. G. et al. Crosslinked poly(tetrahydrofuran) as a loosely coordinating polymer electrolyte. Adv. Energy Mater. 8, 1800703 (2018).

Pan, Q., Smith, D. M., Qi, H., Wang, S. & Li, C. Y. Hybrid electrolytes with controlled network structures for lithium metal batteries. Adv. Mater. 27, 5995–6001 (2015).

Bouchet, R. et al. Single-ion BAB triblock copolymers as highly efficient electrolytes for lithium-metal batteries. Nat. Mater. 12, 452–457 (2013).

Ma, Q. et al. Single lithium-ion conducting polymer electrolytes based on a super-delocalized polyanion. Angew. Chem. Int. Edn 55, 2521–2525 (2016).

Croce, F., Persi, L., Ronci, F. & Scrosati, B. Nanocomposite polymer electrolytes and their impact on the lithium battery technology. Solid State Ion. 135, 47–52 (2000).

Liu, W., Lin, D., Sun, J., Zhou, G. & Cui, Y. Improved lithium ionic conductivity in composite polymer electrolytes with oxide-ion conducting nanowires. ACS Nano 10, 11407–11413 (2016).

Wan, J. et al. Ultrathin, flexible, solid polymer composite electrolyte enabled with aligned nanoporous host for lithium batteries. Nat. Nanotechnol. 14, 705–711 (2019).

Xu, H. et al. High-performance all-solid-state batteries enabled by salt bonding to perovskite in poly(ethylene oxide). Proc. Natl Acad. Sci. USA 116, 18815–18821 (2019).

Lv, D. et al. Pure cellulose lithium-ion battery separator with tunable pore size and improved working stability by cellulose nanofibrils. Carbohydr. Polym. 251, 116975 (2021).

Zhao, D. et al. Cellulose-based flexible functional materials for emerging intelligent electronics. Adv. Mater. 33, 2000619 (2020).

Dahlström, C. et al. Ion conductivity through TEMPO-mediated oxidated and periodate oxidated cellulose membranes. Carbohydr. Polym. 233, 115829 (2020).

Zugenmaier, P. Crystalline Cellulose and Derivatives 1st edn (Springer-Verlag, 2008).

Ogawa, Y. et al. Formation and stability of cellulose–copper–NaOH crystalline complex. Cellulose 21, 999–1006 (2014).

Alava, M. & Niskanen, K. The physics of paper. Rep. Prog. Phys. 69, 669–723 (2006).

Xie, J., Liang, Z. & Lu, Y.-C. Molecular crowding electrolytes for high-voltage aqueous batteries. Nat. Mater. 19, 1006–1011 (2020).

Kimura, K., Motomatsu, J. & Tominaga, Y. Correlation between solvation structure and ion-conductive behavior of concentrated poly(ethylene carbonate)-based electrolytes. J. Phys. Chem. C 120, 12385–12391 (2016).

Nair, J. R., Imholt, L., Brunklaus, G. & Winter, M. Lithium metal polymer electrolyte batteries: opportunities and challenges. Electrochem. Soc. Interface 28, 55–61 (2019).

Shi, S., Qi, Y., Li, H. & Hector, L. G. Defect thermodynamics and diffusion mechanisms in Li2CO3 and implications for the solid electrolyte interphase in Li-ion batteries. J. Phys. Chem. C 117, 8579–8593 (2013).

Zheng, J., Tang, M. & Hu, Y.-Y. Lithium ion pathway within Li7La3Zr2O12-polyethylene oxide composite electrolytes. Angew. Chem. Int. Edn 55, 12538–12542 (2016).

He, X., Zhu, Y., Epstein, A. & Mo, Y. Statistical variances of diffusional properties from ab initio molecular dynamics simulations. NPJ Comput. Mater. 4, 18 (2018).

Kim, B., Lee, J. & Yu, I. Electrical properties of single-wall carbon nanotube and epoxy composites. J. Appl. Phys. 94, 6724–6728 (2003).

Zeng, X.-X. et al. Reshaping lithium plating/stripping behavior via bifunctional polymer electrolyte for room-temperature solid Li metal batteries. J. Am. Chem. Soc. 138, 15825–15828 (2016).

Qiu, J. et al. Enabling stable cycling of 4.2 V high-voltage all-solid-state batteries with PEO-based solid electrolyte. Adv. Funct. Mater. 30, 1909392 (2020).

Saito, T., Kimura, S., Nishiyama, Y. & Isogai, A. Cellulose nanofibers prepared by TEMPO-mediated oxidation of native cellulose. Biomacromolecules 8, 2485–2491 (2007).

Ravel, B. & Newville, M. ATHENA, ARTEMIS, HEPHAESTUS: data analysis for X-ray absorption spectroscopy using IFEFFIT. J. Synchrotron Radiat. 12, 537–541 (2005).

Wan, C. et al. Multinuclear NMR study of the solid electrolyte interface formed in lithium metal batteries. ACS Appl. Mater. Interfaces 9, 14741–14748 (2017).

Zou, J., He, H., Dong, J. & Long, Y. A guest/host material of LiCl/H-STI (stilbite) zeolite assembly: preparation, characterization and humidity-sensitive properties. J. Mater. Chem. 14, 2405–2411 (2004).

Zhou, X., Zhao, F., Guo, Y., Rosenberger, B. & Yu, G. Architecting highly hydratable polymer networks to tune the water state for solar water purification. Sci. Adv. 5, eaaw5484 (2019).

Evans, J., Vincent, C. A. & Bruce, P. G. Electrochemical measurement of transference numbers in polymer electrolytes. Polymer 28, 2324–2328 (1987).

Frisch, M. J. et al. Gaussian 16 Rev. AVX2 (Gaussian Inc., Wallingford, CT, 2016).

Adamo, C. & Barone, V. Toward reliable density functional methods without adjustable parameters: The PBE0 model. J. Chem. Phys. 110, 6158–6170 (1999).

Grimme, S., Ehrlich, S. & Goerigk, L. Effect of the damping function in dispersion corrected density functional theory. J. Comput. Chem. 32, 1456–1465 (2011).

BIOVIA. Materials Studio 7.0 (Dassault Systèmes, San Diego, CA, 2013).

Sun, H. et al. COMPASS II: extended coverage for polymer and drug-like molecule databases. J. Mol. Model. 22, 47 (2016).

Nosé, S. A molecular dynamics method for simulations in the canonical ensemble. Mol. Phys. 52, 255–268 (1984).

Berendsen, H. J. C., Postma, J. P. M., Gunsteren, W. F. V., DiNola, A. & Haak, J. R. Molecular dynamics with coupling to an external bath. J. Chem. Phys. 81, 3684–3690 (1984).

Joly, Y. X-ray absorption near-edge structure calculations beyond the muffin-tin approximation. Phys. Rev. B Condens. Matter Mater. Phys. 63, 125120 (2001).

Persson, I. et al. EXAFS study on the coordination chemistry of the solvated copper(II) ion in a series of oxygen donor solvents. Inorg. Chem. 59, 9538–9550 (2020).

Schmidt, D. A. & Miki, K. Structural correlations in liquid water: a new interpretation of IR spectroscopy. J. Phys. Chem. A 111, 10119–10122 (2007).

Wallace, V. M., Dhumal, N. R., Zehentbauer, F. M., Kim, H. J. & Kiefer, J. Revisiting the aqueous solutions of dimethyl sulfoxide by spectroscopy in the mid- and near-infrared: experiments and Car–Parrinello simulations. J. Phys. Chem. B 119, 14780–14789 (2015).

Torres, J. et al. A neutron scattering and electron microscopy study of the structure, wetting, and freezing behavior of water near hydrophilic CuO-nanostructured surfaces. J. Appl. Phys. 125, 025302 (2019).
Acknowledgements
L.H. and C.Y. acknowledge support from the University of Maryland A. James Clark School of Engineering. Q.W. and Y.Q. acknowledge support from the National Science Foundation (NSF) under grant DMR-2054438. Y.-Y.H. acknowledges support from the NSF under grant DMR-1847038. Solid-state NMR experiments were carried out at the National High Magnetic Field Laboratory, which is supported by the NSF through NSF/DMR-1644779 and the State of Florida. The NMR diffusion work at Hunter College was supported in part by the US Office of Naval Research, grant N00014-20-1-2186. This research used resources at the 8-ID Beamline of the National Synchrotron Light Source II, a US Department of Energy Office of Science User Facility operated by Brookhaven National Laboratory under contract no. DE-SC0012704. Access to the High Flux Backscattering Spectrometer was provided by the Center for High Resolution Neutron Scattering, a partnership between the National Institute of Standards and Technology (NIST) and the NSF under agreement DMR-1508249. Certain commercial equipment, instruments and materials are identified in this paper in order to specify the experimental procedure adequately. Such identification is not intended to imply recommendation or endorsement by the NIST. K.X. acknowledges support from the Joint Centre for Energy Security Research (JCESR), an energy hub funded by the US Department of Energy, Office of Science, Basic Energy Science under IAA SN2020957. We thank F. Lin, D. Hou and Z. Yang from Virginia Tech for providing the NMC811 cathode material.
Ethics declarations
Competing interests
The authors declare no competing interests.
Additional information
Peer review information Nature thanks Lynden Archer and the other, anonymous, reviewer(s) for their contribution to the peer review of this work.
Publisher's note Springer Nature remains neutral with regard to jurisdictional claims in published maps and institutional affiliations.
Extended data figures and tables
Supplementary information
This file contains Supplementary Discussion, including Supplementary Figs. 1–21 and Supplementary Tables 1–8, and additional references.
About this article
Cite this article
Yang, C., Wu, Q., Xie, W. et al. Copper-coordinated cellulose ion conductors for solid-state batteries. Nature 598, 590–596 (2021). https://doi.org/10.1038/s41586-021-03885-6
Received:

Accepted:

Published:

Issue Date:

DOI: https://doi.org/10.1038/s41586-021-03885-6
Comments
By submitting a comment you agree to abide by our Terms and Community Guidelines. If you find something abusive or that does not comply with our terms or guidelines please flag it as inappropriate.