Abstract
Transient neuromodulation can have long-lasting effects on neural circuits and motivational states1,2,3,4. Here we examine the dopaminergic mechanisms that underlie mating drive and its persistence in male mice. Brief investigation of females primes a male's interest to mate for tens of minutes, whereas a single successful mating triggers satiety that gradually recovers over days5. We found that both processes are controlled by specialized anteroventral and preoptic periventricular (AVPV/PVpo) dopamine neurons in the hypothalamus. During the investigation of females, dopamine is transiently released in the medial preoptic area (MPOA)—an area that is critical for mating behaviours. Optogenetic stimulation of AVPV/PVpo dopamine axons in the MPOA recapitulates the priming effect of exposure to a female. Using optical and molecular methods for tracking and manipulating intracellular signalling, we show that this priming effect emerges from the accumulation of mating-related dopamine signals in the MPOA through the accrual of cyclic adenosine monophosphate levels and protein kinase A activity. Dopamine transients in the MPOA are abolished after a successful mating, which is likely to ensure abstinence. Consistent with this idea, the inhibition of AVPV/PVpo dopamine neurons selectively demotivates mating, whereas stimulating these neurons restores the motivation to mate after sexual satiety. We therefore conclude that the accumulation or suppression of signals from specialized dopamine neurons regulates mating behaviours across minutes and days.
Access options
Subscribe to Journal
Get full journal access for 1 year
$199.00
only $3.90 per issue
All prices are NET prices.
VAT will be added later in the checkout.
Tax calculation will be finalised during checkout.
Rent or Buy article
Get time limited or full article access on ReadCube.
from$8.99
All prices are NET prices.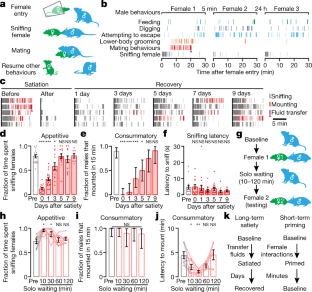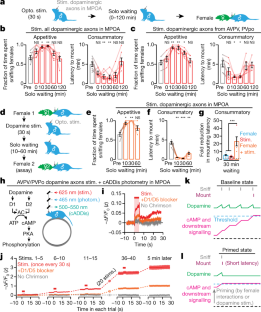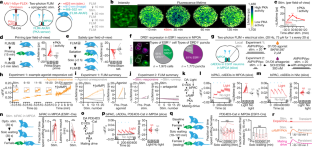 Data availability
Plasmids and sequences related to biPAC and PDE4D3-Cat have been deposited to Addgene under accession numbers 169127 for biPAC and 169128 for PDE4D3-Cat. The data that support the findings in this study are available from the corresponding author upon request.
References
1.

Chen, Y. et al. Sustained NPY signaling enables AgRP neurons to drive feeding. eLife 8, e46348 (2019).

2.

Lahiri, A. K. & Bevan, M. D. Dopaminergic transmission rapidly and persistently enhances excitability of D1 receptor-expressing striatal projection neurons Neuron 106, 277–290 (2020).

3.

Cohn, R., Morantte, I. & Ruta, V. Coordinated and compartmentalized neuromodulation shapes sensory processing in Drosophila. Cell 163, 1742–1755 (2015).

4.

Marlin, B. J., Mitre, M., James, A. D., Chao, M. V. & Froemke, R. C. Oxytocin enables maternal behaviour by balancing cortical inhibition. Nature 520, 499–504 (2015).

5.

McGill, T. E. Sexual behavior of the mouse after long-term and short-term postejaculatory recovery periods. J. Genet. Psychol. 103, 53–57 (1963).

6.

Bowers, M. B., Van Woert, M. & Davis, L. Sexual behavior during l-DOPA treatment for Parkinsonism. Am. J. Psychiatry 127, 1691–1693 (1971).

7.

Bitran, D. & Hull, E. M. Pharmacological analysis of male rat sexual behavior. Neurosci. Biobehav. Rev. 11, 365–389 (1987).

8.

Hull, E. M. et al. Dopaminergic control of male sex behavior in rats: effects of an intracerebrally-infused agonist. Brain Res. 370, 73–81 (1986).

9.

McHenry, J. A., Bell, G. A., Parrish, B. P. & Hull, E. M. Dopamine D1 receptor signaling in the medial preoptic area facilitates experience-induced enhancement of mating behavior in male rats. Behav. Neurosci. 126, 523–529 (2012).

10.

Zhang, S. X., Rogulja, D. & Crickmore, M. A. Dopaminergic circuitry underlying mating drive. Neuron 91, 168–181 (2016).

11.

Beach, F. A. & Jordan, L. Sexual exhaustion and recovery in the male rat. Q. J. Exp. Psychol. 8, 121–133 (1956).

12.

McGill, T. E. & Blight, W. C. Effects of genotype on the recovery of sex drive in the male mouse. J. Comp. Physiol. Psychol. 56, 887–888 (1963).

13.

Patriarchi, T. et al. Ultrafast neuronal imaging of dopamine dynamics with designed genetically encoded sensors. Science 360, eaat4422 (2018).

14.

Howe, M. W., Tierney, P. L., Sandberg, S. G., Phillips, P. E. M. & Graybiel, A. M. Prolonged dopamine signalling in striatum signals proximity and value of distant rewards. Nature 500, 575–579 (2013).

15.

Yeung, M. Y. et al. A mesoscale connectome of the mouse brain. Nature 15, 942–953 (2016).

16.

Gunaydin, L. A. et al. Natural neural projection dynamics underlying social behavior. Cell 157, 1535–1551 (2014).

17.

Menegas, W., Babayan, B. M., Uchida, N. & Watabe-Uchida, M. Opposite initialization to novel cues in dopamine signaling in ventral and posterior striatum in mice. eLife 6, e21886 (2017).

18.

Sheng, M. & Greenberg, M. E. The regulation and function of c-fos and other immediate early genes in the nervous system. Neuron 4, 477–485 (1990).

19.

Klapoetke, N. C. et al. Independent optical excitation of distinct neural populations. Nat. Methods 11, 338–346 (2014).

20.

Wei, D., Talwar, V. & Lin, D. Neural circuits of social behaviors: innate yet flexible. Neuron 109, 1600–1620 (2021).

21.

Xu, X. et al. Modular genetic control of sexually dimorphic behaviors. Cell 148, 596–607 (2012).

22.

Armbruster, B. N., Li, X., Pausch, M. H., Herlitze, S. & Roth, B. L. Evolving the lock to fit the key to create a family of G protein-coupled receptors potently activated by an inert ligand. Proc. Natl Acad. Sci. USA 104, 5163–5168 (2007).

23.

Thompson, K. J. et al. DREADD agonist 21 Is an effective agonist for muscarinic-based DREADDs in vitro and in vivo. ACS Pharmacol. Transl. Sci. 72, 61–72 (2018).

24.

Beaulieu, J.-M. & Gainetdinov, R. R. The physiology, signaling, and pharmacology of dopamine receptors. Pharmacol. Rev. 63, 182–217 (2011).

25.

Tewson, P. H., Martinka, S., Shaner, N. C., Hughes, T. E. & Quinn, A. M. New DAG and cAMP sensors optimized for live-cell assays in automated laboratories. J. Biomol. Screen. 21, 298–305 (2016).

26.

Chen, Y., Saulnier, J. L., Yellen, G. & Sabatini, B. L. A PKA activity sensor for quantitative analysis of endogenous GPCR signaling via 2-photon FRET-FLIM imaging. Front. Pharmacol. 5, 56 (2014).

27.

McHenry, J. A. et al. Hormonal gain control of a medial preoptic area social reward circuit. Nat. Neurosci. 20, 449–458 (2017).

28.

Wei, Y.-C. et al. Medial preoptic area in mice is capable of mediating sexually dimorphic behaviors regardless of gender. Nat. Commun. 9, 279 (2018).

29.

Karigo, T. et al. Distinct hypothalamic control of same- and opposite-sex mounting behaviour in mice. Nature 589, 258–263 (2020).

30.

Goto, A. et al. Circuit-dependent striatal PKA and ERK signaling underlies rapid behavioral shift in mating reaction of male mice. Proc. Natl. Acad. Sci. USA 112, 6718–6723 (2015).

31.

Lee, S. J. et al. Cell-type-specific asynchronous modulation of PKA by dopamine in learning. Nature 590, 451–456 (2021).

32.

Yagishita, S. et al. A critical time window for dopamine actions on the structural plasticity of dendritic spines. Science 345, 1616–1620 (2014).

33.

Sar, M. Estradiol is concentrated in tyrosine hydroxylase-containing neurons of the hypothalamus. Science 223, 938–940 (1984).

34.

Simerly, R. B., Zee, M. C., Pendleton, J. W., Lubahn, D. B. & Korach, K. S. Estrogen receptor-dependent sexual differentiation of dopaminergic neurons in the preoptic region of the mouse. Neurobiology 94, 14077–14082 (1997).

35.

Scott, N., Prigge, M., Yizhar, O. & Kimchi, T. A sexually dimorphic hypothalamic circuit controls maternal care and oxytocin secretion. Nature 525, 519–522 (2015).

36.

Montejo, A. L., Montejo, L. & Navarro-Cremades, F. Sexual side-effects of antidepressant and antipsychotic drugs. Curr. Opin. Psychiatry 28, 418–423 (2015).

37.

Bala, A., Nguyen, H. M. T. & Hellstrom, W. J. G. Post-SSRI sexual dysfunction: a literature review. Sex. Med. Rev. 6, 29–34 (2018).

38.

Moffitt, J. R. et al. Molecular, spatial, and functional single-cell profiling of the hypothalamic preoptic region. Science 362, eaau5324 (2018).

39.

Lin, D. et al. Functional identification of an aggression locus in the mouse hypothalamus. Nature 470, 221–226 (2011).

40.

Krashes, M. J. et al. Rapid, reversible activation of AgRP neurons drives feeding behavior in mice. J. Clin. Invest. 121, 1424–1428 (2011).

41.

Lutas, A. et al. State-specific gating of salient cues by midbrain dopaminergic input to basal amygdala. Nat. Neurosci. 22, 1820–1833 (2019).

42.

Bayless, D. W. et al. Limbic neurons shape sex recognition and social behavior in sexually naive males. Cell 176, 1190–1205 (2019).

43.

Inoue, S. et al. Periodic remodeling in a neural circuit governs timing of female sexual behavior. Cell 179, 1393-1408.e16 (2019).

44.

Chen, J. et al. Flexible scaling and persistence of social vocal communication. Nature 593, 108–113 (2021).

45.

Lein, E. S. et al. Genome-wide atlas of gene expression in the adult mouse brain. Nature 445, 168–176 (2007).

46.

Remedios, R. et al. Social behaviour shapes hypothalamic neural ensemble representations of conspecific sex. Nature 550, 388–392 (2017).

47.

Swaney, W. T., Dubose, B. N., Curley, J. P. & Champagne, F. A. Sexual experience affects reproductive behavior and preoptic androgen receptors in male mice. Horm. Behav. 61, 472–478 (2012).

48.

Li, Y. et al. Neuronal representation of social information in the medial amygdala of awake behaving mice. Cell 171, 1176–1190 (2017).

49.

Valente, S., Marques, T. & Lima, S. Q. No evidence for prolactin's involvement in the post-ejaculatory refractory period. Commun. Biol. 4, 10 (2021).

50.

Boyden, E. S., Zhang, F., Bamberg, E., Nagel, G. & Deisseroth, K. Millisecond-timescale, genetically targeted optical control of neural activity. Nat. Neurosci. 8, 1263–1268 (2005).

51.

Tan, C. L. & Knight, Z. A. Regulation of body temperature by the nervous system. Neuron 98, 31–48 (2018).

52.

Burgess, C. R. et al. Hunger-dependent enhancement of food cue responses in mouse postrhinal cortex and lateral amygdala. Neuron 91, 1154–1169 (2016).

53.

Garfield, A. S. et al. Dynamic GABAergic afferent modulation of AgRP neurons. Nat. Neurosci. 19, 1628–1635 (2016).

54.

Diaz-Carcia, C. M. et al. Quantitative in vivo imaging of neuronal glucose concentrations with a genetically encoded fluorescence lifetime sensor. J. Neurosci. Res. 97, 946–960 (2019).

55.

Ball, G. F. & Balthazart, J. How useful is the appetitive and consummatory distinction for our understanding of the neuroendocrine control of sexual behavior? Horm. Behav. 53, 307–318 (2008).

56.

Petreanu, L. et al. Activity in motor-sensory projections reveals distributed coding in somatosensation. Nature 489, 299–303 (2012).

57.

Mathis, A. et al. DeepLabCut: markerless pose estimation of user-defined body parts with deep learning. Nat. Neurosci. 21, 1281–1289 (2018).

58.

Liang, L. et al. A fine-scale functional logic to convergence from retina to thalamus. Cell 173, 1343–1355.e24 (2018).

59.

Bonin, V., Histed, M. H., Yurgenson, S. & Reid, R. C. Local diversity and fine-scale organization of receptive fields in mouse visual cortex. J. Neurosci. 31, 18506–18521 (2011).

60.

Mukamel, E. A., Nimmerjahn, A. & Schnitzer, M. J. Automated analysis of cellular signals from large-scale calcium imaging data. Neuron 63, 747–760 (2009).

61.

Sun, F. et al. Next-generation GRAB sensors for monitoring dopaminergic activity in vivo. Nat. Methods 17, 1156–1166 (2020).

62.

Franklin, K. B. J. & Paxinos, G. The mouse brain in stereotaxic coordinates. (2007).

63.

Stierl, M. et al. Light modulation of cellular cAMP by a small bacterial photoactivated adenylyl cyclase, bPAC, of the soil bacterium Beggiatoa. J. Biol. Chem. 286, 1181–1188 (2011).

64.

Lim, J., Pahlke, G. & Conti, M. Activation of the cAMP-specific phosphodiesterase PDE4D3 by phosphorylation: Identification and function of an inhibitory domain. J. Biol. Chem. 274, 19677–19685 (1999).
Acknowledgements
We thank M. Baum, B. Lowell, M. Crickmore, D. Rogulja, Y. Livneh, Y. Chen, O. Yizhar, V. Ruta, R. Froemke, L. Stowers, D. Lin, M. Frank, O. Amsalem, D. Tingley and members of the Andermann laboratory for feedback. H. Lauterwasser, C. McHugh, D. Fleharty, H. Kaul and K. Fernando assisted with animal care, behavioural experiments and histology. J. Madara and B. Lowell assisted with brain-slice imaging and A. Verstegen shared Esr1-Cre mice. B. Lowell and G. Yellen provided the hybrid PMT and time-correlated single photon counting board, respectively. S. Thornquist informed us of the lifetime properties of cADDis. S. Gupta, M. Lehtinen, Boston Children's Hospital Viral Core, BIDMC Histology Core and HMS Research Instrumentation Core provided technical services. Authors were supported by a Lefler Fellowship (S.X.Z.), an NIH F32 DK112589 and a Davis Family Foundation Award (A.L.), a Bertarelli Fellowship (H.F.), NIH R01 DK109930, DP1 AT010971, DP1 AT010971-02S1, the McKnight Foundation, the Klarman Family Foundation, and the Harvard Brain Science Initiative Bipolar Disorder Seed Grant, supported by Kent and Liz Dauten (M.L.A), and by the Deutsche Forschungsgemeinschaft Projektnummer 374031971 TRR 240/A04 and Projektnummer 417451587 (G.N.).
Ethics declarations
Competing interests
The authors declare no competing interests.
Additional information
Peer review information Nature thanks Zachary Knight, Garret Stuber and Ofer Yizhar for their contribution to the peer review of this work. Peer reviewer reports are available.
Publisher's note Springer Nature remains neutral with regard to jurisdictional claims in published maps and institutional affiliations.
Extended data figures and tables
Supplementary information
About this article
Cite this article
Zhang, S.X., Lutas, A., Yang, S. et al. Hypothalamic dopamine neurons motivate mating through persistent cAMP signalling. Nature 597, 245–249 (2021). https://doi.org/10.1038/s41586-021-03845-0
Received:

Accepted:

Published:

Issue Date:
Comments
By submitting a comment you agree to abide by our Terms and Community Guidelines. If you find something abusive or that does not comply with our terms or guidelines please flag it as inappropriate.