Abstract
Studies based on single cells have revealed vast cellular heterogeneity in stem cell and progenitor compartments, suggesting continuous differentiation trajectories with intermixing of cells at various states of lineage commitment and notable degrees of plasticity during organogenesis1,2,3,4,5. The hepato-pancreato-biliary organ system relies on a small endoderm progenitor compartment that gives rise to a variety of different adult tissues, including the liver, pancreas, gall bladder and extra-hepatic bile ducts6,7. Experimental manipulation of various developmental signals in the mouse embryo has underscored important cellular plasticity in this embryonic territory6. This is reflected in the existence of human genetic syndromes as well as congenital malformations featuring multi-organ phenotypes in liver, pancreas and gall bladder6. Nevertheless, the precise lineage hierarchy and succession of events leading to the segregation of an endoderm progenitor compartment into hepatic, biliary and pancreatic structures have not yet been established. Here we combine computational modelling approaches with genetic lineage tracing to accurately reconstruct the hepato-pancreato-biliary lineage tree. We show that a multipotent progenitor subpopulation persists in the pancreato-biliary organ rudiment, contributing cells not only to the pancreas and gall bladder but also to the liver. Moreover, using single-cell RNA sequencing and functional experiments we define a specialized niche that supports this subpopulation in a multipotent state for an extended time during development. Together these findings indicate sustained plasticity underlying hepato-pancreato-biliary development that might also explain the rapid expansion of the liver while attenuating pancreato-biliary growth.
Relevant articles
Open Access articles citing this article.
Yan Fung Wong

,

Yatendra Kumar

…

Joshua M. Brickman

Nature Cell Biology Open Access 23 January 2023

Xiaochan Xu

,

Philip Allan Seymour

…

Palle Serup

Nature Communications Open Access 21 January 2023

Cheng Chen

,

Yuanxin Liao

&

Guangdun Peng

Protein & Cell Open Access 19 April 2022
Access options
Access Nature and 54 other Nature Portfolio journals
Get Nature+, our best-value online-access subscription
$29.99 / 30 days
cancel any time
Subscribe to this journal
Receive 51 print issues and online access
$199.00 per year
only $3.90 per issue
Rent or buy this article
Get just this article for as long as you need it
$39.95
Prices may be subject to local taxes which are calculated during checkout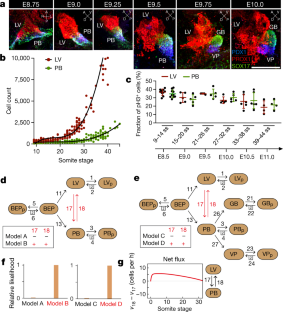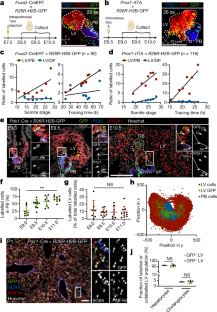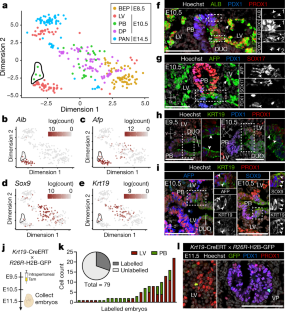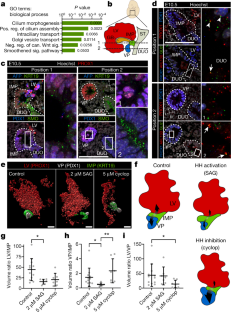 Data availability
The single-cell RNA-sequencing data in this study have been deposited in the Gene Expression Omnibus under accession code GSE144103. Source data are provided with this paper.
References
Etzrodt, M., Endele, M. & Schroeder, T. Quantitative single-cell approaches to stem cell research. Cell Stem Cell 15, 546–558 (2014).

Fischer, D. S. et al. Inferring population dynamics from single-cell RNA-sequencing time series data. Nat. Biotechnol. 37, 461–468 (2019).

Haas, S., Trumpp, A. & Milsom, M. D. Causes and consequences of hematopoietic stem cell heterogeneity. Cell Stem Cell 22, 627–638 (2018).

Laurenti, E. & Göttgens, B. From haematopoietic stem cells to complex differentiation landscapes. Nature 553, 418–426 (2018).

Nowotschin, S. et al. The emergent landscape of the mouse gut endoderm at single-cell resolution. Nature 569, 361–367 (2019).

Zaret, K. S. & Grompe, M. Generation and regeneration of cells of the liver and pancreas. Science 322, 1490–1494 (2008).

Zorn, A. M. & Wells, J. M. Vertebrate endoderm development and organ formation. Annu. Rev. Cell Dev. Biol. 25, 221–251 (2009).

Slack, J. M. W. Origin of stem cells in organogenesis. Science 322, 1498–1501 (2008).

Larsen, H. L. et al. Stochastic priming and spatial cues orchestrate heterogeneous clonal contribution to mouse pancreas organogenesis. Nat. Commun. 8, 605 (2017).

Treutlein, B. et al. Reconstructing lineage hierarchies of the distal lung epithelium using single-cell RNA-seq. Nature 509, 371–375 (2014).

Baron, C. S. & van Oudenaarden, A. Unravelling cellular relationships during development and regeneration using genetic lineage tracing. Nat. Rev. Mol. Cell Biol. 20, 753–765 (2019).

Pei, W. et al. Polylox barcoding reveals haematopoietic stem cell fates realized in vivo. Nature 548, 456–460 (2017).

Rulands, S. & Simons, B. D. Tracing cellular dynamics in tissue development, maintenance and disease. Curr. Opin. Cell Biol. 43, 38–45 (2016).

Prior, N. et al. Lgr5+ stem and progenitor cells reside at the apex of a heterogeneous embryonic hepatoblast pool. Development 146, dev174557 (2019).

Tremblay, K. D. & Zaret, K. S. Distinct populations of endoderm cells converge to generate the embryonic liver bud and ventral foregut tissues. Dev. Biol. 280, 87–99 (2005).

Li, L.-C. et al. Single-cell transcriptomic analyses reveal distinct dorsal/ventral pancreatic programs. EMBO Rep. 19, e46148 (2018).

Spence, J. R. et al. Sox17 regulates organ lineage segregation of ventral foregut progenitor cells. Dev. Cell 17, 62–74 (2009).

Zhou, Q. et al. A multipotent progenitor domain guides pancreatic organogenesis. Dev. Cell 13, 103–114 (2007).

Sosa-Pineda, B., Wigle, J. T. & Oliver, G. Hepatocyte migration during liver development requires Prox1. Nat. Genet. 25, 254–255 (2000).

Raue, A. et al. Lessons learned from quantitative dynamical modeling in systems biology. PLoS ONE 8, e74335 (2013).

Rodríguez-Seguel, E. et al. Mutually exclusive signaling signatures define the hepatic and pancreatic progenitor cell lineage divergence. Genes Dev. 27, 1932–1946 (2013).

Ober, E. A. & Lemaigre, F. P. Development of the liver: Insights into organ and tissue morphogenesis. J. Hepatol. 68, 1049–1062 (2018).

Liu, J. et al. Non-parallel recombination limits Cre-LoxP-based reporters as precise indicators of conditional genetic manipulation. Genesis 51, 436–442 (2013).

Danielian, P. S., Muccino, D., Rowitch, D. H., Michael, S. K. & McMahon, A. P. Modification of gene activity in mouse embryos in utero by a tamoxifen-inducible form of Cre recombinase. Curr. Biol. 8, 1323–1326 (1998).

Lotto, J. et al. Single-cell transcriptomics reveals early emergence of liver parenchymal and non-parenchymal cell lineages. Cell 183, 702–716.e14 (2020).

Hebrok, M. Hedgehog signaling in pancreas development. Mech. Dev. 120, 45–57 (2003).

Bangs, F. & Anderson, K. V. Primary cilia and mammalian hedgehog signaling. Cold Spring Harb. Perspect. Biol. 9, a028175 (2017).

Dessaud, E., McMahon, A. P. & Briscoe, J. Pattern formation in the vertebrate neural tube: a sonic hedgehog morphogen-regulated transcriptional network. Development 135, 2489–2503 (2008).

Martínez-Frías, M. L. et al. Tracheoesophageal fistula, gastrointestinal abnormalities, hypospadias, and prenatal growth deficiency. Am. J. Med. Genet. 44, 352–355 (1992).

Mitchell, J. et al. Neonatal diabetes, with hypoplastic pancreas, intestinal atresia and gall bladder hypoplasia: search for the aetiology of a new autosomal recessive syndrome. Diabetologia 47, 2160–2167 (2004).

Heij, H. A. & Niessen, G. J. Annular pancreas associated with congenital absence of the gallbladder. J. Pediatr. Surg. 22, 1033 (1987).

Park, E. J. et al. System for tamoxifen-inducible expression of cre-recombinase from the Foxa2 locus in mice. Dev. Dyn. 237, 447–453 (2008).

Hingorani, S. R. et al. Preinvasive and invasive ductal pancreatic cancer and its early detection in the mouse. Cancer Cell 4, 437–450 (2003).

Perl, A.-K. T., Wert, S. E., Nagy, A., Lobe, C. G. & Whitsett, J. A. Early restriction of peripheral and proximal cell lineages during formation of the lung. Proc. Natl Acad. Sci. USA 99, 10482–10487 (2002).

Snippert, H. J. et al. Intestinal crypt homeostasis results from neutral competition between symmetrically dividing Lgr5 stem cells. Cell 143, 134–144 (2010).

Abe, T. et al. Establishment of conditional reporter mouse lines at ROSA26 locus for live cell imaging. Genesis 49, 579–590 (2011).

Gong, S. et al. A gene expression atlas of the central nervous system based on bacterial artificial chromosomes. Nature 425, 917–925 (2003).

Means, A. L., Xu, Y., Zhao, A., Ray, K. C. & Gu, G. A CK19(CreERT) knockin mouse line allows for conditional DNA recombination in epithelial cells in multiple endodermal organs. Genesis 46, 318–323 (2008).

Gu, G., Dubauskaite, J. & Melton, D. A. Direct evidence for the pancreatic lineage: NGN3+ cells are islet progenitors and are distinct from duct progenitors. Development 129, 2447–2457 (2002).

Madisen, L. et al. A robust and high-throughput Cre reporting and characterization system for the whole mouse brain. Nat. Neurosci. 13, 133–140 (2010).

Gong, S., Yang, X. W., Li, C. & Heintz, N. Highly efficient modification of bacterial artificial chromosomes (BACs) using novel shuttle vectors containing the R6Kgamma origin of replication. Genome Res. 12, 1992–1998 (2002).

Petzold, K. M. & Spagnoli, F. M. A system for ex vivo culturing of embryonic pancreas. J. Vis. Exp. (66), e3979 (2012). https://doi.org/10.3791/3979.

Preibisch, S., Saalfeld, S. & Tomancak, P. Globally optimal stitching of tiled 3D microscopic image acquisitions. Bioinformatics 25, 1463–1465 (2009).

Dewitz, C. et al. Nuclear organization in the spinal cord depends on motor neuron lamination orchestrated by catenin and afadin function. Cell Rep. 22, 1681–1694 (2018).

Husson, F., Josse, J. & Pagès, J. Principal component methods-hierarchical clustering-partitional clustering: why would we need to choose for visualizing data? Applied Mathematics Department, 1–10 (2010).

Charrad, M., Ghazzali, N., Boiteau, V. & Niknafs, A. NbClust: An R package for determining the relevant number of clusters in a data set. J. Stat. Softw. 61, 1–36 (2014).

Raue, A. et al. Data2Dynamics: a modeling environment tailored to parameter estimation in dynamical systems. Bioinformatics 31, 3558–3560 (2015).

Picelli, S. et al. Smart-seq2 for sensitive full-length transcriptome profiling in single cells. Nat. Methods 10, 1096–1098 (2013).

Lun, A. T. L., McCarthy, D. J. & Marioni, J. C. A step-by-step workflow for low-level analysis of single-cell RNA-seq data with Bioconductor. F1000Res 5, 2122 (2016).

McCarthy, D. J., Campbell, K. R., Lun, A. T. L. & Wills, Q. F. Scater: pre-processing, quality control, normalization and visualization of single-cell RNA-seq data in R. Bioinformatics 33, 1179–1186 (2017).

Lun, A. T., Bach, K. & Marioni, J. C. Pooling across cells to normalize single-cell RNA sequencing data with many zero counts. Genome Biol. 17, 75 (2016).

Amezquita, R. A. et al. Orchestrating single-cell analysis with Bioconductor. Nat. Methods 17, 137–145 (2020).

Trapnell, C. et al. The dynamics and regulators of cell fate decisions are revealed by pseudotemporal ordering of single cells. Nat. Biotechnol. 32, 381–386 (2014).

Escot, S., Willnow, D., Naumann, H., Di Francescantonio, S. & Spagnoli, F. M. Robo signalling controls pancreatic progenitor identity by regulating Tead transcription factors. Nat. Commun. 9, 5082 (2018).

Palaria, A., Angelo, J. R., Guertin, T. M., Mager, J. & Tremblay, K. D. Patterning of the hepato-pancreatobiliary boundary by BMP reveals heterogeneity within the murine liver bud. Hepatology 68, 274–288 (2018).

Sanders, E. J., Varedi, M. & French, A. S. Cell proliferation in the gastrulating chick embryo: a study using BrdU incorporation and PCNA localization. Development 118, 389–399 (1993).

van den Berg, G. et al. A caudal proliferating growth center contributes to both poles of the forming heart tube. Circ. Res. 104, 179–188 (2009).

Clevers, H. & Watt, F. M. Defining adult stem cells by function, not by phenotype. Annu. Rev. Biochem. 87, 1015–1027 (2018).
Acknowledgements
We thank all the members of the Spagnoli laboratory for their useful comments and suggestions on the study; H. Naumann for technical help; G. Pazour for IFT57 antibody; A. Christ and T. Willnow for the GLI2 and SMO antibodies; the MDC Transgenic Unit for technical help in generating the Prox1-rtTA mouse strain; and C. Beisel of the Genomics Facility of D-BSSE for NGS RNA sequencing. Maintenance of the two-photon microscopy setup was supported by the staff of the Advanced Light Microscopy technology platform via funding from the MDC in the Helmholtz Association. This research was supported by funds from the Helmholtz Association (FMS, JW), European Union's Horizon 2020 Research and Innovation Programme (Pan3DP Grant agreement no. 800981) (FMS, DW); D.W. was a recipient of a BIH (Tr. PhD) fellowship. U.B. was a recipient of an EMBO Short-Term Fellowship (7853).
Ethics declarations
Competing interests
The authors declare no competing interests.
Additional information
Peer review information Nature thanks Dominic Grun, Meritxell Huch and the other, anonymous, reviewer(s) for their contribution to the peer review of this work.
Publisher's note Springer Nature remains neutral with regard to jurisdictional claims in published maps and institutional affiliations.
Extended data figures and tables
Supplementary information
About this article
Cite this article
Willnow, D., Benary, U., Margineanu, A. et al. Quantitative lineage analysis identifies a hepato-pancreato-biliary progenitor niche. Nature 597, 87–91 (2021). https://doi.org/10.1038/s41586-021-03844-1
Received:

Accepted:

Published:

Issue Date:

DOI: https://doi.org/10.1038/s41586-021-03844-1
Comments
By submitting a comment you agree to abide by our Terms and Community Guidelines. If you find something abusive or that does not comply with our terms or guidelines please flag it as inappropriate.