Abstract
Somatic mutations that accumulate in normal tissues are associated with ageing and disease1,2. Here we performed a comprehensive genomic analysis of 1,737 morphologically normal tissue biopsies of 9 organs from 5 donors. We found that somatic mutation accumulations and clonal expansions were widespread, although to variable extents, in morphologically normal human tissues. Somatic copy number alterations were rarely detected, except for in tissues from the oesophagus and cardia. Endogenous mutational processes with the SBS1 and SBS5 mutational signatures are ubiquitous among normal tissues, although they exhibit different relative activities. Exogenous mutational processes operate in multiple tissues from the same donor. We reconstructed the spatial somatic clonal architecture with sub-millimetre resolution. In the oesophagus and cardia, macroscopic somatic clones that expanded to hundreds of micrometres were frequently seen, whereas in tissues such as the colon, rectum and duodenum, somatic clones were microscopic in size and evolved independently, possibly restricted by local tissue microstructures. Our study depicts a body map of somatic mutations and clonal expansions from the same individual.
Relevant articles
Open Access articles citing this article.
Claudia Buhigas

,

Anne Y. Warren

…

Daniel S. Brewer

Molecular Cancer Open Access 22 September 2022

Jonathan C. M. Wan

,

Dennis Stephens

…

Luis A. Diaz

Nature Communications Open Access 23 August 2022

Maxwell A. Sherman

,

Adam U. Yaari

…

Bonnie Berger

Nature Biotechnology Open Access 20 June 2022
Access options
Subscribe to Nature+
Get immediate online access to the entire Nature family of 50+ journals
Subscribe to Journal
Get full journal access for 1 year
$199.00
only $3.90 per issue
All prices are NET prices.
VAT will be added later in the checkout.
Tax calculation will be finalised during checkout.
Buy article
Get time limited or full article access on ReadCube.
$32.00
All prices are NET prices.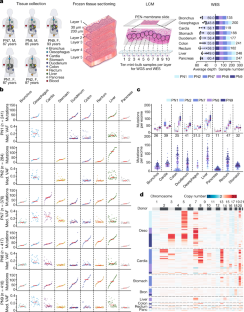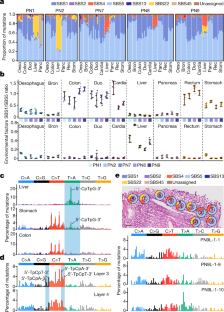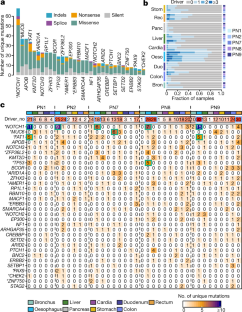 References
Martincorena, I. & Campbell, P. J. Somatic mutation in cancer and normal cells. Science 349, 1483–1489 (2015).

Risques, R. A. & Kennedy, S. R. Aging and the rise of somatic cancer-associated mutations in normal tissues. PLoS Genet. 14, e1007108 (2018).

Martincorena, I. et al. Tumor evolution. High burden and pervasive positive selection of somatic mutations in normal human skin. Science 348, 880–886 (2015).

Tang, J. et al. The genomic landscapes of individual melanocytes from human skin. Nature 586, 600–605 (2020).

Martincorena, I. et al. Somatic mutant clones colonize the human esophagus with age. Science 362, 911–917 (2018).

Yokoyama, A. et al. Age-related remodelling of oesophageal epithelia by mutated cancer drivers. Nature 565, 312–317 (2019).

Lee-Six, H. et al. The landscape of somatic mutation in normal colorectal epithelial cells. Nature 574, 532–537 (2019).

Brunner, S. F. et al. Somatic mutations and clonal dynamics in healthy and cirrhotic human liver. Nature 574, 538–542 (2019).

Moore, L. et al. The mutational landscape of normal human endometrial epithelium. Nature 580, 640–646 (2020).

Yoshida, K. et al. Tobacco smoking and somatic mutations in human bronchial epithelium. Nature 578, 266–272 (2020).

Lodato, M. A. et al. Aging and neurodegeneration are associated with increased mutations in single human neurons. Science 359, 555–559 (2018).

Bae, T. et al. Different mutational rates and mechanisms in human cells at pregastrulation and neurogenesis. Science 359, 550–555 (2018).

Ju, Y. S. et al. Somatic mutations reveal asymmetric cellular dynamics in the early human embryo. Nature 543, 714–718 (2017).

Lawson, A. R. J. et al. Extensive heterogeneity in somatic mutation and selection in the human bladder. Science 370, 75–82 (2020).

Li, R. et al. Macroscopic somatic clonal expansion in morphologically normal human urothelium. Science 370, 82–89 (2020).

Lee-Six, H. et al. Population dynamics of normal human blood inferred from somatic mutations. Nature 561, 473–478 (2018).

Watson, C. J. et al. The evolutionary dynamics and fitness landscape of clonal hematopoiesis. Science 367, 1449–1454 (2020).

Yizhak, K. et al. RNA sequence analysis reveals macroscopic somatic clonal expansion across normal tissues. Science 364, eaaw0726 (2019).  

Garcia-Nieto, P. E., Morrison, A. J. & Fraser, H. B. The somatic mutation landscape of the human body. Genome Biol. 20, 298 (2019).

Alexandrov, L. B. et al. Signatures of mutational processes in human cancer. Nature 500, 415–421 (2013).

Alexandrov, L. B. et al. The repertoire of mutational signatures in human cancer. Nature 578, 94–101 (2020).

Alexandrov, L. B. et al. Clock-like mutational processes in human somatic cells. Nat. Genet. 47, 1402–1407 (2015).

Nik-Zainal, S. et al. Mutational processes molding the genomes of 21 breast cancers. Cell 149, 979–993 (2012).

Poon, S. L. et al. Mutation signatures implicate aristolochic acid in bladder cancer development. Genome Med. 7, 38 (2015).

Ng, A. W. T. et al. Aristolochic acids and their derivatives are widely implicated in liver cancers in Taiwan and throughout Asia. Sci. Transl. Med. 9, eaan6446 (2017).

Du, Y. et al. Mutagenic factors and complex clonal relationship of multifocal urothelial cell carcinoma. Eur. Urol. 71, 841–843 (2017).

Chen, C. H. et al. Aristolochic acid-induced upper tract urothelial carcinoma in Taiwan: clinical characteristics and outcomes. Int. J. Cancer 133, 14–20 (2013).

Martincorena, I. et al. Universal patterns of selection in cancer and somatic tissues. Cell 171, 1029–1041 (2017).

The Cancer Genome Atlas Research Network. Comprehensive molecular characterization of gastric adenocarcinoma. Nature 513, 202–209 (2014).

Bailey, M. H. et al. Comprehensive characterization of cancer driver genes and mutations. Cell 174, 1034–1035 (2018).

Moore, L. et al. The mutational landscape of human somatic and germline cells. Nature, https://doi.org/10.1038/s41586-021-03822-7 (2021).

Blokzijl, F. et al. Tissue-specific mutation accumulation in human adult stem cells during life. Nature 538, 260–264 (2016).

Abascal, F. et al. Somatic mutation landscapes at single-molecule resolution. Nature 593, 405–410 (2021).

Martin, M. Cutadapt removes adapter sequences from high-throughput sequencing reads. EMBnet. J. 17, 10–12 (2011).

Langmead, B. & Salzberg, S. L. Fast gapped-read alignment with Bowtie 2. Nat. Methods 9, 357–359 (2012).

Li, H. & Durbin, R. Fast and accurate short read alignment with Burrows–Wheeler transform. Bioinformatics 25, 1754–1760 (2009).

Li, H. et al. The Sequence Alignment/Map format and SAMtools. Bioinformatics 25, 2078–2079 (2009).

McKenna, A. et al. The Genome Analysis Toolkit: a MapReduce framework for analyzing next-generation DNA sequencing data. Genome Res. 20, 1297–1303 (2010).

Cibulskis, K. et al. Sensitive detection of somatic point mutations in impure and heterogeneous cancer samples. Nat. Biotechnol. 31, 213–219 (2013).

Cingolani, P. et al. A program for annotating and predicting the effects of single nucleotide polymorphisms, SnpEff. Fly 6, 80–92 (2012).

Coorens, T. H. H. et al. Inherent mosaicism and extensive mutation of human placentas. Nature 592, 80–85 (2021).

Olafsson, S. et al. Somatic evolution in non-neoplastic IBD-affected colon. Cell 182, 672–684 (2020).

The GTEx Consortium. The GTEx Consortium atlas of genetic regulatory effects across human tissues. Science 369, 1318–1330 (2020).

Roberts, N. D. Patterns of Somatic Genome Rearrangement In Human Cancer. PhD thesis, Univ. Cambridge (2018).

Rosenthal, R., McGranahan, N., Herrero, J., Taylor, B. S. & Swanton, C. DeconstructSigs: delineating mutational processes in single tumors distinguishes DNA repair deficiencies and patterns of carcinoma evolution. Genome Biol. 17, 31 (2016).

O'Leary, N. A. et al. Reference sequence (RefSeq) database at NCBI: current status, taxonomic expansion, and functional annotation. Nucleic Acids Res. 44, D733–745 (2016).

Cancer Genome Atlas Research, N. Comprehensive molecular profiling of lung adenocarcinoma. Nature 511, 543–550 (2014).

The Cancer Genome Atlas Research Network. Integrated genomic characterization of oesophageal carcinoma. Nature 541, 169–175 (2017).

The Cancer Genome Atlas Research Network. Comprehensive molecular characterization of human colon and rectal cancer. Nature 487, 330–337 (2012).

The Cancer Genome Atlas Research Network. Comprehensive and integrative genomic characterization of hepatocellular carcinoma. Cell 169, 1327–1341 (2017).

Wu, G., Feng, X. & Stein, L. A human functional protein interaction network and its application to cancer data analysis. Genome Biol. 11, R53 (2010).

Papastamoulis, P. label. switching: an R package for dealing with the label switching problem in MCMC outputs. J. Stat. Softw. 69, Code Snippet 1 (2016).

Kumar, S., Stecher, G., Li, M., Knyaz, C. & Tamura, K. MEGA X: molecular evolutionary genetics analysis across computing platforms. Mol. Biol. Evol. 35, 1547–1549 (2018).
Acknowledgements
We thank all the donors and their families for their consent and participation in this study. This project was jointly supported by the National Natural Science Foundation of China (81725015 to C.W., 81988101 to D.L. and C.W., 22050004 to J.W. and 22050002 to Y.H.); Beijing Outstanding Young Scientist Program (BJJWZYJH01201910023027 to C.W.); the Medical and Health Technology Innovation Project of the Chinese Academy of Medical Sciences (2019-I2M-2-001 to D.L. and C.W.); the National Key R&D Program of China (2019YFC1315702, 2018ZX10302205 to F.B. and 2018YFA0108100 to Y.H.); Guangdong Province Key Research and Development Program (2019B020226002 to F.B.); Beijing Municipal Science and Technology Commission (Z201100005320016 to Y.H.); Beijing Advanced Innovation Center for Genomics; and Shenzhen Bay Laboratory.
Ethics declarations
Competing interests
The authors declare no competing interests.
Additional information
Peer review information Nature thanks Ziyue Gao and the other, anonymous, reviewer(s) for their contribution to the peer review of this work.
Publisher's note Springer Nature remains neutral with regard to jurisdictional claims in published maps and institutional affiliations.
Extended data figures and tables
Supplementary information
About this article
Cite this article
Li, R., Di, L., Li, J. et al. A body map of somatic mutagenesis in morphologically normal human tissues. Nature 597, 398–403 (2021). https://doi.org/10.1038/s41586-021-03836-1
Received:

Accepted:

Published:

Issue Date:

DOI: https://doi.org/10.1038/s41586-021-03836-1
Comments
By submitting a comment you agree to abide by our Terms and Community Guidelines. If you find something abusive or that does not comply with our terms or guidelines please flag it as inappropriate.