Abstract
Fructose consumption is linked to the rising incidence of obesity and cancer, which are two of the leading causes of morbidity and mortality globally1,2. Dietary fructose metabolism begins at the epithelium of the small intestine, where fructose is transported by glucose transporter type 5 (GLUT5; encoded by SLC2A5) and phosphorylated by ketohexokinase to form fructose 1-phosphate, which accumulates to high levels in the cell3,4. Although this pathway has been implicated in obesity and tumour promotion, the exact mechanism that drives these pathologies in the intestine remains unclear. Here we show that dietary fructose improves the survival of intestinal cells and increases intestinal villus length in several mouse models. The increase in villus length expands the surface area of the gut and increases nutrient absorption and adiposity in mice that are fed a high-fat diet. In hypoxic intestinal cells, fructose 1-phosphate inhibits the M2 isoform of pyruvate kinase to promote cell survival5,6,7. Genetic ablation of ketohexokinase or stimulation of pyruvate kinase prevents villus elongation and abolishes the nutrient absorption and tumour growth that are induced by feeding mice with high-fructose corn syrup. The ability of fructose to promote cell survival through an allosteric metabolite thus provides additional insights into the excess adiposity generated by a Western diet, and a compelling explanation for the promotion of tumour growth by high-fructose corn syrup.
Access options
Access Nature and 54 other Nature Portfolio journals
Get Nature+, our best-value online-access subscription
$29.99 / 30 days
cancel any time
Subscribe to this journal
Receive 51 print issues and online access
$199.00 per year
only $3.90 per issue
Rent or buy this article
Prices vary by article type
from$1.95
to$39.95
Prices may be subject to local taxes which are calculated during checkout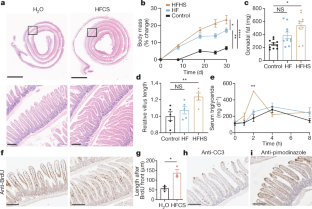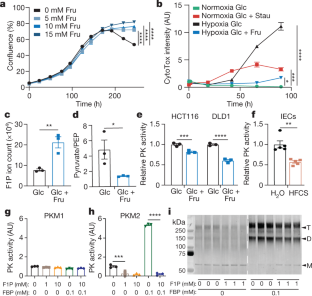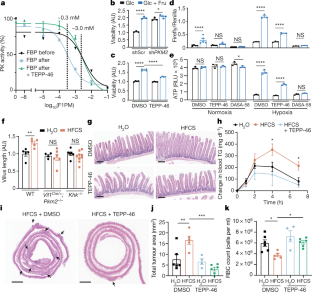 Similar content being viewed by others
Data availability
Additional data that support the findings of this study are available from the corresponding author upon reasonable request. Source data are provided with this paper.
References
Bray, G. A., Nielsen, S. J. & Popkin, B. M. Consumption of high-fructose corn syrup in beverages may play a role in the epidemic of obesity. Am. J. Clin. Nutr. 79, 537–543 (2004).

Joh, H.-K. et al. Simple sugar and sugar-sweetened beverage intake during adolescence and risk of colorectal cancer precursors. Gastroenterology 161, 128–142 (2021).

Miller. M., Craig, J. W., Drucker, W. R. & Woodward, H. Jr. The metabolism of fructose in man. Yale J. Biol. Med. 29, 335–360 (1956).

Jang, C. et al. The small intestine converts dietary fructose into glucose and organic acids. Cell Metab. 27, 351–361 (2018).

Anastasiou, D. et al. Inhibition of pyruvate kinase M2 by reactive oxygen species contributes to cellular antioxidant responses. Science 334, 1278–1283 (2011).

Nguyen, A. et al. PKLR promotes colorectal cancer liver colonization through induction of glutathione synthesis. J. Clin. Invest. 126, 681–694 (2016).

Anastasiou, D. et al. Pyruvate kinase M2 activators promote tetramer formation and suppress tumorigenesis. Nat. Chem. Biol. 8, 839–847 (2012).

Port, A. M., Ruth, M. R. & Istfan, N. W. Fructose consumption and cancer: is there a connection? Curr. Opin. Endocrinol. Diabetes Obes. 19, 367–374 (2012).

Parikh, N. I. et al. Increasing trends in incidence of overweight and obesity over 5 decades. Am. J. Med. 120, 242–250 (2007).

Liu, P. H. et al. Association of obesity with risk of early-onset colorectal cancer among women. JAMA Oncol. 5, 37–44 (2019).

Siegel, R. L. et al. Colorectal cancer incidence patterns in the United States, 1974–2013. J. Natl. Cancer Inst. 109, djw322 (2017).

Tasevska, N. et al. Sugars in diet and risk of cancer in the NIH-AARP Diet and Health Study. Int. J. Cancer 130, 159–169 (2012).

Bostick, R. M. et al. Sugar, meat, and fat intake, and non-dietary risk factors for colon cancer incidence in Iowa women (United States). Cancer Causes Control 5, 38–52 (1994).

Meyerhardt, J. A. et al. Dietary glycemic load and cancer recurrence and survival in patients with stage III colon cancer: findings from CALGB 89803. J. Natl. Cancer Inst. 104, 1702–1711 (2012).

Goncalves, M. D. et al. High-fructose corn syrup enhances intestinal tumor growth in mice. Science 363, 1345–1349 (2019).

Bu, P. et al. Aldolase B-mediated fructose metabolism drives metabolic reprogramming of colon cancer liver metastasis. Cell Metab. 27, 1249–1262 (2018).

Hall, P. A., Coates, P. J., Ansari, B. & Hopwood, D. Regulation of cell number in the mammalian gastrointestinal tract: the importance of apoptosis. J. Cell Sci. 107, 3569–3577 (1994).

Israelsen, W. J. & Vander Heiden, M. G. Pyruvate kinase: Function, regulation and role in cancer. Semin. Cell Dev. Biol. 43, 43–51 (2015).

Yang, H., Wang, X., Xiong, X. & Yin, Y. Energy metabolism in intestinal epithelial cells during maturation along the crypt-villus axis. Sci. Rep. 6, 31917 (2016).

Christofk, H. R., Vander Heiden, M. G., Wu, N., Asara, J. M. & Cantley, L. C. Pyruvate kinase M2 is a phosphotyrosine-binding protein. Nature 452, 181–186 (2008).

Luo, W. et al. Pyruvate kinase M2 is a PHD3-stimulated coactivator for hypoxia-inducible factor 1. Cell 145, 732–744 (2011).

Schwitalla, S. et al. Intestinal tumorigenesis initiated by dedifferentiation and acquisition of stem-cell-like properties. Cell 152, 25–38 (2013).

Schatoff, E. M. et al. Distinct colorectal cancer–associated APC mutations dictate response to tankyrase inhibition. Cancer Discov. 9, 1358–1371 (2019).

Kucharzewska, P., Christianson, H. C. & Belting, M. Global profiling of metabolic adaptation to hypoxic stress in human glioblastoma cells. PLoS ONE 10, e0116740 (2015).

Armitage, E. G. et al. Metabolic profiling reveals potential metabolic markers associated with hypoxia inducible factor-mediated signalling in hypoxic cancer cells. Sci. Rep. 5, 15649 (2015).

Mirtschink, P. et al. HIF-driven SF3B1 induces KHK-C to enforce fructolysis and heart disease. Nature 522, 444–449 (2015).

Park, T. J. et al. Fructose-driven glycolysis supports anoxia resistance in the naked mole-rat. Science 356, 307–311 (2017).

Goran, M. I., Martin, A. A., Alderete, T. L., Fujiwara, H. & Fields, D. A. Fructose in breast milk is positively associated with infant body composition at 6 months of age. Nutrients 9, 146 (2017).

Denyes, A. & Carter, J. D. Utilization of acetate-1-C-14 by hepatic tissue from cold-exposed and hibernating hamsters. Am. J. Physiol. 200, 1043–1046 (1961).

Diggle, C. P. et al. Ketohexokinase: expression and localization of the principal fructose-metabolizing enzyme. J. Histochem. Cytochem. 57, 763–774 (2009).

Macenko, M. et al. A method for normalizing histology slides for quantitative analysis. In 2009 IEEE International Symposium on Biomedical Imaging: From Nano to Macro 1107–1110 (IEEE, 2009).

MATLAB v.9.7.0.1190202 (R2019b) (The MathWorks Inc., 2018).

Mystkowski, P. et al. Validation of whole-body magnetic resonance spectroscopy as a tool to assess murine body composition. Int. J. Obes. 24, 719–724 (2000).

Millar, J. S., Cromley, D. A., McCoy, M. G., Rader, D. J. & Billheimer, J. T. Determining hepatic triglyceride production in mice: comparison of poloxamer 407 with Triton WR-1339. J. Lipid Res. 46, 2023–2028 (2005).

Krisko, T. I. et al. Dissociation of adaptive thermogenesis from glucose homeostasis in microbiome-deficient mice. Cell Metab. 31, 592–604 (2020).

Weir, J. B. New methods for calculating metabolic rate with special reference to protein metabolism. J. Physiol. 109, 1–9 (1949).

Staffas, A. et al. Nutritional support from the intestinal microbiota improves hematopoietic reconstitution after bone marrow transplantation in mice. Cell Host Microbe 23, 447–457 (2018).

Nalapareddy, K. et al. Canonical Wnt signaling ameliorates aging of intestinal stem cells. Cell Rep. 18, 2608–2621 (2017).

Raleigh, J. A. & Koch, C. J. Importance of thiols in the reductive binding of 2-nitroimidazoles to macromolecules. Biochem. Pharmacol. 40, 2457–2464 (1990).

O'Rourke, K. P., Dow, L. E. & Lowe, S. W. Immunofluorescent staining of mouse intestinal stem cells. Bio Protoc. 6, e1732 (2016).

White, R., Yaeger, D. & Stavrianeas, S. Determination of blood lactate concentration: reliability and validity of a lactate oxidase-based method. Int. J. Exerc. Sci. 2, 2 (2009).

Ashizawa, K., McPhie, P., Lin, K.-H. & Cheng, S.-Y. An in vitro novel mechanism of regulating the activity of pyruvate kinase M2 by thyroid hormone and fructose 1, 6-bisphosphate. Biochemistry 30, 7105–7111 (1991).

Adelman, R. C., Ballard, F. J. & Weinhouse, S. Purification and properties of rat liver fructokinase. J. Biol. Chem. 242, 3360–3365 (1967).

Al-Ani, A. et al. Oxygenation in cell culture: Critical parameters for reproducibility are routinely not reported. PLoS ONE 13, e0204269 (2018).

Sullivan, M. R. et al. Quantification of microenvironmental metabolites in murine cancers reveals determinants of tumor nutrient availability. eLife 8, e44235 (2019).

Smith, C. A., Want, E. J., O'Maille, G., Abagyan, R. & Siuzdak, G. XCMS: processing mass spectrometry data for metabolite profiling using nonlinear peak alignment, matching, and identification. Anal. Chem. 78, 779–787 (2006).

Huang, X. et al. X13CMS: global tracking of isotopic labels in untargeted metabolomics. Anal. Chem. 86, 1632–1639 (2014).

Fernandez-Martinez, J., Lacava, J. & Rout, M. P. Density gradient ultracentrifugation to isolate endogenous protein complexes after affinity capture. Cold Spring Harb. Protoc. https://doi.org/10.1101/pdb.prot087957 (2016).
Acknowledgements
We acknowledge C. Gurbatri for her assistance in figure preparation, M. Lyashenko for his technical assistance with experiment replication and Y.-T. Chen for his pathological review of the primary human CRC tissue. We thank J. Yun for her discussions, which informed the early development of this work. Khk−/− mice were provided by D. T. Bonthron and R. J. Johnson. Glut5−/− mice were provided by R.P. Ferraris and St. Jude's Children's Research Hospital. S.R.T. and E.M.S. were supported by a Medical Scientist Training Program grant from the National Institute of General Medical Sciences of the National Institutes of Health under award number T32GM007739 to the Weill Cornell–Rockefeller–Sloan Kettering Tri-Institutional MD–PhD Program. This work was supported by NIH R35 CA197588 (L.C.C.), SU2C-AACR-DT22-17 (L.C.C.), NIH K08 CA230318 (M.D.G.), R25 AI140472 (K.Y.R.), a grant from the Lung Cancer Research Foundation and institutional funds from Weill Cornell Medicine.
Ethics declarations
Competing interests
L.C.C. is a founder, shareholder and member of the scientific advisory board of Agios Pharmaceuticals and a founder and former member of the scientific advisory board of Ravenna Pharmaceuticals (previously Petra Pharmaceuticals). These companies are developing therapies for cancer. L.C.C. has received research funding from Ravenna Pharmaceuticals. L.C.C. and M.D.G. are co-founders and shareholders of Faeth Therapeutics, which is developing therapies for cancer. M.D.G. has received speaking and/or consulting fees from Pfizer, Novartis, Petra Pharmaceuticals, Faeth Therapeutics and TruMacro Nutrition. The laboratory of M.D.G. has received financial support from Pfizer. All other authors report no competing interests.
Additional information
Peer review information Nature thanks Dimitrios Anastasiou, M. Mahmood Hussain and the other, anonymous, reviewer(s) for their contribution to the peer review of this work.
Publisher's note Springer Nature remains neutral with regard to jurisdictional claims in published maps and institutional affiliations.
Extended data figures and tables
Supplementary information
This file contains Supplementary Figures 1-4 and Supplementary Table 1.
About this article
Cite this article
Taylor, S.R., Ramsamooj, S., Liang, R.J. et al. Dietary fructose improves intestinal cell survival and nutrient absorption. Nature 597, 263–267 (2021). https://doi.org/10.1038/s41586-021-03827-2
Received:

Accepted:

Published:

Issue Date:

DOI: https://doi.org/10.1038/s41586-021-03827-2
Comments
By submitting a comment you agree to abide by our Terms and Community Guidelines. If you find something abusive or that does not comply with our terms or guidelines please flag it as inappropriate.