Abstract
The hippocampus has previously been implicated in both cognitive and endocrine functions1,2,3,4,5,6,7,8,9,10,11,12,13,14,15. We simultaneously measured electrophysiological activity from the hippocampus and interstitial glucose concentrations in the body of freely behaving rats to identify an activity pattern that may link these disparate functions of the hippocampus. Here we report that clusters of sharp wave-ripples recorded from the hippocampus reliably predicted a decrease in peripheral glucose concentrations within about 10 min. This correlation was not dependent on circadian, ultradian or meal-triggered fluctuations, could be mimicked with optogenetically induced ripples in the hippocampus (but not in the parietal cortex) and was attenuated to chance levels by pharmacogenetically suppressing activity of the lateral septum, which is the major conduit between the hippocampus and the hypothalamus. Our findings demonstrate that a function of the sharp wave-ripple is to modulate peripheral glucose homeostasis, and offer a mechanism for the link between sleep disruption and blood glucose dysregulation in type 2 diabetes16,17,18.
Your institute does not have access to this article
Relevant articles
Open Access articles citing this article.
Jie Shao

,

Da-Shuang Gao

…

Fan Yang

Molecular Psychiatry Open Access 22 March 2022
Access options
Subscribe to Nature+
Get immediate online access to the entire Nature family of 50+ journals
Subscribe to Journal
Get full journal access for 1 year
$199.00
only $3.90 per issue
All prices are NET prices.
VAT will be added later in the checkout.
Tax calculation will be finalised during checkout.
Buy article
Get time limited or full article access on ReadCube.
$32.00
All prices are NET prices.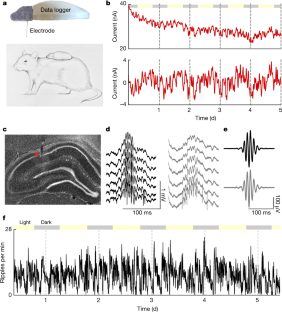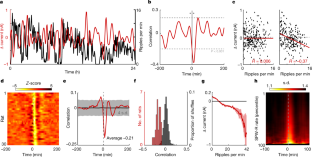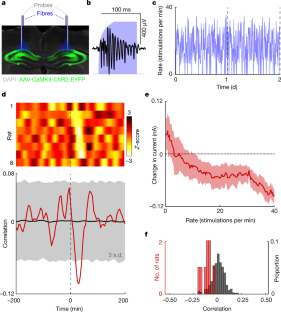 References
Kanoski, S. E. & Grill, H. J. Hippocampus contributions to food intake control: mnemonic, neuroanatomical, and endocrine mechanisms. Biol. Psychiatry 81, 748–756 (2017).

Lavenex, P. & Amaral, D. G. Hippocampal–neocortical interaction: a hierarchy of associativity. Hippocampus 10, 420–430 (2000).

Seto, K., Saito, H., Otsuka, K. & Kawakami, M. Influence of electrical stimulation of the limbic structure on insulin level in rabbit's plasma. Exp. Clin. Endocrinol. 81, 347–349 (1983).

Endroczi, E., Lissak, K., Bohus, B. & Kovacs, S. The inhibitory influence of archicortical structures on pituitary-adrenal function. Acta Physiol. Acad. Sci. Hung. 16, 17–22 (1959).

Rubin, R. T., Mandell, A. J. & Crandall, P. H. Corticosteroid responses to limbic stimulation in man: localization of stimulus sites. Science 153, 767–768 (1966).

McGaugh, J. L. & Gold, P. E. Hormonal Modulation of Memory. Psychoendocrinology (Academic, 1989).

Gold, P. E. & van Buskirk, R. Effects of posttrial hormone injections on memory processes. Horm. Behav. 7, 509–517 (1976).

McEwen, B. S., Weiss, J. M. & Schwartz, L. S. Uptake of corticosterone by rat brain and its concentration by certain limbic structures. Brain Res. 16, 227–241 (1969).

Lathe, R. Hormones and the hippocampus. J. Endocrinol. 169, 205–231 (2001).

Scoville, W. B. & Milner, B. Loss of recent memory after bilateral hippocampal lesions. J. Neurol. Neurosurg. Psychiatry 20, 11–21 (1957).

Bohus, B. in The Hippocampus: Volume 1: Structure and Development (eds Isaacson, R. L. & Pribram, K. H.) 323–353 (Springer, 1975).

Jacobson, L. & Sapolsky, R. The role of the hippocampus in feedback regulation of the hypothalamic-pituitary-adrenocortical axis. Endocr. Rev. 12, 118–134 (1991).

Hsu, T. M. et al. Hippocampus ghrelin signaling mediates appetite through lateral hypothalamic orexin pathways. eLife 4, e11190 (2015).

Saphier, D. & Feldman, S. Effects of septal and hippocampal stimuli on paraventricular nucleus neurons. Neuroscience 20, 749–755 (1987).

Prutskova, N. P. & Petrov, Yu. A. Electrophysiological investigation of the hippocampal projections to the neurosecretory cells of the supraoptic nucleus of the rat hypothalamus. Neurosci. Behav. Physiol. 20, 194–200 (1990).

Tasali, E., Leproult, R., Ehrmann, D. A. & Van Cauter, E. Slow-wave sleep and the risk of type 2 diabetes in humans. Proc. Natl Acad. Sci. USA 105, 1044–1049 (2008).

Cappuccio, F. P., D'Elia, L., Strazzullo, P. & Miller, M. A. Quantity and quality of sleep and incidence of type 2 diabetes: a systematic review and meta-analysis. Diabetes Care 33, 414–420 (2010).

Spiegel, K., Leproult, R. & Van Cauter, E. Impact of sleep debt on metabolic and endocrine function. Lancet 354, 1435–1439 (1999).

Amaral, D. G. & Lavenex, P. in The Hippocampus Book (eds. Anderson, P. et al.) 45–66 (Oxford Univ. Press, 2006).

Cenquizca, L. A. & Swanson, L. W. Analysis of direct hippocampal cortical field CA1 axonal projections to diencephalon in the rat. J. Comp. Neurol. 497, 101–114 (2006).

Shimazu, T. Neuronal regulation of hepatic glucose metabolism in mammals. Diabetes Metab. Rev. 3, 185–206 (1987).

Buzsáki, G. Hippocampal sharp wave-ripple: a cognitive biomarker for episodic memory and planning. Hippocampus 25, 1073–1188 (2015).

Hansen, K. Oscillations in the blood sugar in fasting normal persons. Acta Med. Scand. 57, 27–32 (1923).

Risold, P. Y. & Swanson, L. W. Connections of the rat lateral septal complex. Brain Res. Brain Res. Rev. 24, 115–195 (1997).

Sosa, M., Joo, H. R. & Frank, L. M. Dorsal and ventral hippocampal sharp-wave ripples activate distinct nucleus accumbens networks. Neuron 105, 725–741 (2020).

Tingley, D. & Buzsáki, G. Routing of hippocampal ripples to subcortical structures via the lateral septum. Neuron 105, 138–149 (2020).

Niijima, A. Neural control of blood glucose level. Jpn. J. Physiol. 36, 827–841 (1986).

Britton, S. W. Studies on the conditions of activity in endocrine glands: XVII. The nervous control of insulin secretion. Am. J. Physiol. 74, 291–308 (1925).

Corkill, A. B., Marks, H. P. & White, W. E. Relation of the pituitary gland to the action of insulin and adrenaline. J. Physiol. 612, 193–205 (1933).

Kuo, T., McQueen, A., Chen, T.-C. & Wang, J.-C. Regulation of glucose homeostasis by glucocorticoids. Adv. Exp. Med. Biol. 872, 99–126 (2015).

Kim, S. H. & Park, M.-J. Effects of growth hormone on glucose metabolism and insulin resistance in human. Ann. Pediatr. Endocrinol. Metab. 22, 145–152 (2017).

Güemes, A. & Georgiou, P. Review of the role of the nervous system in glucose homoeostasis and future perspectives towards the management of diabetes. Bioelectron. Med. 4, 9 (2018).

Banks, W. A. & Kastin, A. J. Differential permeability of the blood-brain barrier to two pancreatic peptides: insulin and amylin. Peptides 19, 883–889 (1998).

Schulingkamp, R. J., Pagano, T. C., Hung, D. & Raffa, R. B. Insulin receptors and insulin action in the brain: review and clinical implications. Neurosci. Biobehav. Rev. 24, 855–872 (2000).

O'Malley, D., Shanley, L. J. & Harvey, J. Insulin inhibits rat hippocampal neurones via activation of ATP-sensitive K+ and large conductance Ca2+-activated K+ channels. Neuropharmacology 44, 855–863 (2003).

Harasta, A. E. et al. Septal glucagon-like peptide 1 receptor expression determines suppression of cocaine-induced behavior. Neuropsychopharmacology 40, 1969–1978 (2015).

Somers, V. K., Dyken, M. E., Mark, A. L. & Abboud, F. M. Sympathetic-nerve activity during sleep in normal subjects. N. Engl. J. Med. 328, 303–307 (1993).

Alford, F. P. et al. Temporal patterns of integrated plasma hormone levels during sleep and wakefulness. I. Thyroid-stimulating hormone, growth hormone and cortisol. J. Clin. Endocrinol. Metab. 37, 841–847 (1973).

Logothetis, N. K. et al. Hippocampal–cortical interaction during periods of subcortical silence. Nature 491, 547–553 (2012).

Swanson, R. A., Levenstein, D., McClain, K., Tingley, D. & Buzsáki, G. Variable specificity of memory trace reactivation during hippocampal sharp wave ripples. Curr. Opin. Behav. Sci. 32, 126–135 (2020).

Csicsvari, J., Hirase, H., Czurkó, A., Mamiya, A. & Buzsáki, G. Fast network oscillations in the hippocampal CA1 region of the behaving rat. J. Neurosci. 19, RC20 (1999).

Schomburg, E. W. et al. Theta phase segregation of input-specific gamma patterns in entorhinal–hippocampal networks. Neuron 84, 470–485 (2014).

Watson, B. O., Levenstein, D., Greene, J. P., Gelinas, J. N. & Buzsáki, G. Network homeostasis and state dynamics of neocortical sleep. Neuron 90, 839–852 (2016).

Levenstein, D., Watson, B. O., Rinzel, J. & Buzsáki, G. Sleep regulation of the distribution of cortical firing rates. Curr. Opin. Neurobiol. 44, 34–42 (2017).

Chen, C. et al. Recent advances in electrochemical glucose biosensors: a review. RSC Advances 3, 4473–4491 (2013).

Basu, A. et al. Time lag of glucose from intravascular to interstitial compartment in humans. Diabetes 62, 4083–4087 (2013).

Kovatchev, B. P., Shields, D. & Breton, M. Graphical and numerical evaluation of continuous glucose sensing time lag. Diabetes Technol. Ther. 11, 139–143 (2009).

Baker, D. A. & Gough, D. A. Dynamic delay and maximal dynamic error in continuous biosensors. Anal. Chem. 68, 1292–1297 (1996).

Davey, R. J., Low, C., Jones, T. W. & Fournier, P. A. Contribution of an intrinsic lag of continuous glucose monitoring systems to differences in measured and actual glucose concentrations changing at variable rates in vitro. J. Diabetes Sci. Technol. 4, 1393–1399 (2010).

Keenan, D. B., Mastrototaro, J. J., Voskanyan, G. & Steil, G. M. Delays in minimally invasive continuous glucose monitoring devices: a review of current technology. J. Diabetes Sci. Technol. 3, 1207–1214 (2009).

Donoghue, T. et al. Parameterizing neural power spectra into periodic and aperiodic components. Nat. Neurosci. 23, 1655–1665 (2020).

Tingley, D. & Buzsáki, G. Transformation of a spatial map across the hippocampal–lateral septal circuit. Neuron 98, 1229–1242 (2018).

Stark, E. et al. Pyramidal cell–interneuron interactions underlie hippocampal ripple oscillations. Neuron 83, 467–480 (2014).

Fernández-Ruiz, A. et al. Long-duration hippocampal sharp wave ripples improve memory. Science 364, 1082–1086 (2019).
Acknowledgements
We thank M. Elmaleh, D. Nitz, A. Fernandez-Ruiz and A. Maurer for feedback on an early version of the manuscript. Funding was from NIH MH122391, U19 NS104590 and U19NS107616.
Ethics declarations
Competing interests
The authors declare no competing interests.
Additional information
Peer review information Nature thanks H. Freyja Olafsdottir and the other, anonymous, reviewer(s) for their contribution to the peer review of this work. Peer reviewer reports are available.
Publisher's note Springer Nature remains neutral with regard to jurisdictional claims in published maps and institutional affiliations.
Extended data figures and tables
Supplementary information
This file contains Supplementary Table 1, the Supplementary Discussion and Supplementary References.
About this article
Cite this article
Tingley, D., McClain, K., Kaya, E. et al. A metabolic function of the hippocampal sharp wave-ripple. Nature 597, 82–86 (2021). https://doi.org/10.1038/s41586-021-03811-w
Received:

Accepted:

Published:

Issue Date:

DOI: https://doi.org/10.1038/s41586-021-03811-w
Further reading
Jie Shao
Da-Shuang Gao
Fan Yang

Molecular Psychiatry (2022)

Manfred Hallschmid
Jan Born

Nature (2021)
Comments
By submitting a comment you agree to abide by our Terms and Community Guidelines. If you find something abusive or that does not comply with our terms or guidelines please flag it as inappropriate.