Abstract
Infection-induced aversion against enteropathogens is a conserved sickness behaviour that can promote host survival1,2. The aetiology of this behaviour remains poorly understood, but studies in Drosophila have linked olfactory and gustatory perception to avoidance behaviours against toxic microorganisms3,4,5. Whether and how enteric infections directly influence sensory perception to induce or modulate such behaviours remains unknown. Here we show that enteropathogen infection in Drosophila can modulate olfaction through metabolic reprogramming of ensheathing glia of the antennal lobe. Infection-induced unpaired cytokine expression in the intestine activates JAK–STAT signalling in ensheathing glia, inducing the expression of glial monocarboxylate transporters and the apolipoprotein glial lazarillo (GLaz), and affecting metabolic coupling of glia and neurons at the antennal lobe. This modulates olfactory discrimination, promotes the avoidance of bacteria-laced food and increases fly survival. Although transient in young flies, gut-induced metabolic reprogramming of ensheathing glia becomes constitutive in old flies owing to age-related intestinal inflammation, which contributes to an age-related decline in olfactory discrimination. Our findings identify adaptive glial metabolic reprogramming by gut-derived cytokines as a mechanism that causes lasting changes in a sensory system in ageing flies.
Relevant articles
Open Access articles citing this article.
Wei Liu

,

Kah-Leong Lim

&

Eng-King Tan

Translational Neurodegeneration Open Access 17 October 2022
Access options
Access Nature and 54 other Nature Portfolio journals
Get Nature+, our best-value online-access subscription
$29.99 per month
cancel any time
Subscribe to this journal
Receive 51 print issues and online access
$199.00 per year
only $3.90 per issue
Rent or buy this article
Get just this article for as long as you need it
$39.95
Prices may be subject to local taxes which are calculated during checkout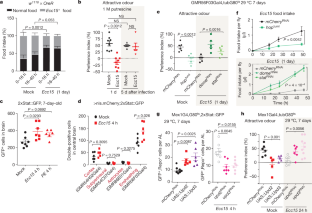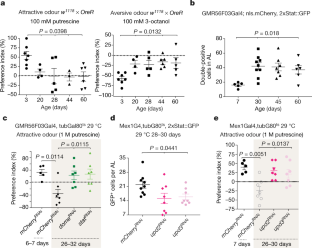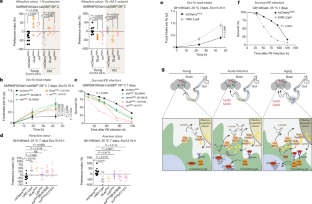 Data availability
The authors declare that the data supporting the findings of this study are available within the Article and its Supplementary Information. Raw sequencing reads and pre-processed sequence data for bulk RNA-seq files have been deposited in the Gene Expression Omnibus (GEO) under accession code GSE168530. Raw scRNA-seq reads and preprocessed sequence data have been deposited in the GEO under accession code GSE168572. Source data are provided with this paper.
References
Wang, A. et al. Opposing effects of fasting metabolism on tissue tolerance in bacterial and viral inflammation. Cell 166, 1512–1525 (2016).

Ayres, J. S. & Schneider, D. S. The role of anorexia in resistance and tolerance to infections in Drosophila. PLoS Biol. 7, e1000150 (2009).

Kobler, J. M., Rodriguez Jimenez, F. J., Petcu, I. & Grunwald Kadow, I. C. Immune receptor signaling and the mushroom body mediate post-ingestion pathogen avoidance. Curr. Biol. 30, 4693–4709.e3 (2020).

Stensmyr, M. C. et al. A conserved dedicated olfactory circuit for detecting harmful microbes in Drosophila. Cell 151, 1345–1357 (2012).

Charroux, B., Daian, F. & Royet, J. Drosophila aversive behavior toward erwinia carotovora carotovora is mediated by bitter neurons and leukokinin. iScience 23, 101152 (2020).

Soria-Gomez, E., Bellocchio, L. & Marsicano, G. New insights on food intake control by olfactory processes: the emerging role of the endocannabinoid system. Mol. Cell. Endocrinol. 397, 59–66 (2014).

Soria-Gómez, E. et al. The endocannabinoid system controls food intake via olfactory processes. Nat. Neurosci. 17, 407–415 (2014).

Liang, L. & Luo, L. The olfactory circuit of the fruit fly Drosophila melanogaster. Sci. China Life Sci. 53, 472–484 (2010).

Liu, H. et al. Astrocyte-like glial cells physiologically regulate olfactory processing through the modification of ORN-PN synaptic strength in Drosophila. Eur. J. Neurosci. 40, 2744–2754 (2014).

Wu, B., Li, J., Chou, Y. H., Luginbuhl, D. & Luo, L. Fibroblast growth factor signaling instructs ensheathing glia wrapping of Drosophila olfactory glomeruli. Proc. Natl Acad. Sci. USA 114, 7505–7512 (2017).

Hussain, A. et al. Inhibition of oxidative stress in cholinergic projection neurons fully rescues aging-associated olfactory circuit degeneration in Drosophila. eLife 7, e32018 (2018).

Wu, S. C., Cao, Z. S., Chang, K. M. & Juang, J. L. Intestinal microbial dysbiosis aggravates the progression of Alzheimer's disease in Drosophila. Nat. Commun. 8, 24 (2017).

Keshavarzian, A., Engen, P., Bonvegna, S. & Cilia, R. The gut microbiome in Parkinson's disease: a culprit or a bystander? Prog. Brain Res. 252, 357–450 (2020).

Jiang, H. et al. Cytokine/Jak/Stat signaling mediates regeneration and homeostasis in the Drosophila midgut. Cell 137, 1343–1355 (2009).

Tracy Cai, X. et al. AWD regulates timed activation of BMP signaling in intestinal stem cells to maintain tissue homeostasis. Nat. Commun. 10, 2988 (2019).

Bach, E. A. et al. GFP reporters detect the activation of the Drosophila JAK/STAT pathway in vivo. Gene Expr. Patterns 7, 323–331 (2007).

Freeman, M. R. Drosophila central nervous system glia. Cold Spring Harb. Perspect. Biol. 7, a020552 (2015).

Chakrabarti, S. et al. Remote control of intestinal stem cell activity by haemocytes in Drosophila. PLoS Genet. 12, e1006089 (2016).

Rajan, A. & Perrimon, N. Drosophila cytokine unpaired 2 regulates physiological homeostasis by remotely controlling insulin secretion. Cell 151, 123–137 (2012).

Doty, R. L. & Kamath, V. The influences of age on olfaction: a review. Front. Psychol. 5, 20 (2014).

Li, H., Qi, Y. & Jasper, H. Preventing age-related decline of gut compartmentalization limits microbiota dysbiosis and extends lifespan. Cell Host Microbe 19, 240–253 (2016).

Davie, K. et al. A single-cell transcriptome atlas of the aging Drosophila brain. Cell 174, 982–998.e20 (2018).

Liu, L., MacKenzie, K. R., Putluri, N., Maletić-Savatić, M. & Bellen, H. J. The glia-neuron lactate shuttle and elevated ROS promote lipid synthesis in neurons and lipid droplet accumulation in glia via APOE/D. Cell Metab. 26, 719–737.e6 (2017).

Fauny, J. D., Silber, J. & Zider, A. Drosophila Lipid Storage Droplet 2 gene (Lsd-2) is expressed and controls lipid storage in wing imaginal discs. Dev. Dyn. 232, 725–732 (2005).

Men, T. T., Binh, T. D., Yamaguchi, M., Huy, N. T. & Kamei, K. Function of Lipid storage droplet 1 (Lsd1) in wing development of Drosophila melanogaster. Int. J. Mol. Sci. 17, E648 (2016).

Kühnlein, R. P. Thematic review series: Lipid droplet synthesis and metabolism: from yeast to man. Lipid droplet-based storage fat metabolism in Drosophila. J. Lipid Res. 53, 1430–1436 (2012).

Soni, K. G. et al. Coatomer-dependent protein delivery to lipid droplets. J. Cell Sci. 122, 1834–1841 (2009).

Ioannou, M. S. et al. Neuron-astrocyte metabolic coupling protects against activity-induced fatty acid toxicity. Cell 177, 1522–1535 (2019).

Liu, L. et al. Glial lipid droplets and ROS induced by mitochondrial defects promote neurodegeneration. Cell 160, 177–190 (2015).

Rosca, M. G. et al. Oxidation of fatty acids is the source of increased mitochondrial reactive oxygen species production in kidney cortical tubules in early diabetes. Diabetes 61, 2074–2083 (2012).

Brann, D. H. et al. Non-neuronal expression of SARS-CoV-2 entry genes in the olfactory system suggests mechanisms underlying COVID-19-associated anosmia. Sci. Adv. 6, eabc5801 (2020).

Salmon Ceron, D. et al. Self-reported loss of smell without nasal obstruction to identify COVID-19. The multicenter Coranosmia cohort study. J. Infect. 81, 614–620 (2020).

Hakim-Mishnaevski, K., Flint-Brodsly, N., Shklyar, B., Levy-Adam, F. & Kurant, E. Glial phagocytic receptors promote neuronal loss in adult drosophila brain. Cell Rep. 29, 1438–1448.e3 (2019).

Albrecht, S. C., Barata, A. G., Grosshans, J., Teleman, A. A. & Dick, T. P. In vivo mapping of hydrogen peroxide and oxidized glutathione reveals chemical and regional specificity of redox homeostasis. Cell Metab. 14, 819–829 (2011).

Li, H. et al. Classifying drosophila olfactory projection neuron subtypes by single-cell RNA sequencing. Cell 171, 1206–1220.e22 (2017).

Anders, S. & Huber, W. Differential expression analysis for sequence count data. Genome Biol. 11, R106 (2010).

Picelli, S. et al. Full-length RNA-seq from single cells using Smart-seq2. Nat. Protocols 9, 171–181 (2014).

Dobin, A. et al. STAR: ultrafast universal RNA-seq aligner. Bioinformatics 29, 15–21 (2013).

Anders, S., Pyl, P. T. & Huber, W. HTSeq—a Python framework to work with high-throughput sequencing data. Bioinformatics 31, 166–169 (2015).

Ja, W. W. et al. Prandiology of Drosophila and the CAFE assay. Proc. Natl Acad. Sci. USA 104, 8253–8256 (2007).
Acknowledgements
We thank E. Bach, D. Bilder, S. Hou, M. Zeidler, N. Buchon, D. Ferrandon, L. O'Brien, M. A. Welte, M. Miura, C. S. Thummel and T. Dick for flies; M. Sagolla for the training in Yokogawa CSU-W1/Zeiss 3i Marianas spinning disk confocal microscope; the Genentech NGS technology core lab for the support with bulk RNA-seq; and I. C. Grunwald Kadow for the tips in olfactory T-maze assay. We acknowledge funding from the following grants: National Institutes of Health (NIH) R01AG057353 and Genentech, Inc (H.J.) NIH R00AG062746 (H.L.), NIH K99AG056680 (M.B.J.), NIH R56AG057304 (P.H.), NIH R01DC005982 (L.L.), Howard Hughes Medical Institute (L.L.), C. Zuckerberg Biohub (S.R.Q.) Cancer Prevention & Research Institute of Texas (H.L.). The funders had no role in study design, data collection and interpretation, or the decision to submit the work for publication.
Ethics declarations
Competing interests
X.T.C. is an employee of Genentech Inc., a Roche subsidiary. H.J., J.B. and Y.L. are employees and shareholders of Genentech Inc., a Roche subsidiary. M.B.J. is employee and shareholder of Gordian Biotechnology.
Additional information
Peer review information Nature thanks Matthew Moulton, Scott Pletcher and the other, anonymous, reviewer(s) for their contribution to the peer review of this work. Peer review reports are available.
Publisher's note Springer Nature remains neutral with regard to jurisdictional claims in published maps and institutional affiliations.
Extended data figures and tables
Supplementary information
About this article
Cite this article
Cai, X.T., Li, H., Borch Jensen, M. et al. Gut cytokines modulate olfaction through metabolic reprogramming of glia. Nature 596, 97–102 (2021). https://doi.org/10.1038/s41586-021-03756-0
Received:

Accepted:

Published:

Issue Date:

DOI: https://doi.org/10.1038/s41586-021-03756-0
This article is cited by
Wei Liu
Kah-Leong Lim
Eng-King Tan

Translational Neurodegeneration (2022)

Samuel Liegeois
Dominique Ferrandon

Immunogenetics (2022)
Comments
By submitting a comment you agree to abide by our Terms and Community Guidelines. If you find something abusive or that does not comply with our terms or guidelines please flag it as inappropriate.