Abstract
T follicular helper (TFH) cells are crucial for B cell-mediated humoral immunity1. Although transcription factors such as BCL6 drive the differentiation of TFH cells2,3, it is unclear whether and how post-transcriptional and metabolic programs enforce TFH cell programming. Here we show that the cytidine diphosphate (CDP)–ethanolamine pathway co-ordinates the expression and localization of CXCR5 with the responses of TFH cells and humoral immunity. Using in vivo CRISPR–Cas9 screening and functional validation in mice, we identify ETNK1, PCYT2, and SELENOI—enzymes in the CDP–ethanolamine pathway for de novo synthesis of phosphatidylethanolamine (PE)—as selective post-transcriptional regulators of TFH cell differentiation that act by promoting the surface expression and functional effects of CXCR5. TFH cells exhibit unique lipid metabolic programs and PE is distributed to the outer layer of the plasma membrane, where it colocalizes with CXCR5. De novo synthesis of PE through the CDP–ethanolamine pathway co-ordinates these events to prevent the internalization and degradation of CXCR5. Genetic deletion of Pcyt2, but not of Pcyt1a (which mediates the CDP–choline pathway), in activated T cells impairs the differentiation of TFH cells, and this is associated with reduced humoral immune responses. Surface levels of PE and CXCR5 expression on B cells also depend on Pcyt2. Our results reveal that phospholipid metabolism orchestrates post-transcriptional mechanisms for TFH cell differentiation and humoral immunity, highlighting the metabolic control of context-dependent immune signalling and effector programs.
Relevant articles
Open Access articles citing this article.
Bonnie Huang

,

James D. Phelan

…

Pamela L. Schwartzberg

Nature Communications Open Access 10 February 2022

Vinee Purohit

,

Allon Wagner

…

Vijay K. Kuchroo

Cellular & Molecular Immunology Open Access 04 February 2022
Access options
Subscribe to Nature+
Get immediate online access to Nature and 55 other Nature journal
Subscribe to Journal
Get full journal access for 1 year
$199.00
only $3.90 per issue
All prices are NET prices.
VAT will be added later in the checkout.
Tax calculation will be finalised during checkout.
Buy article
Get time limited or full article access on ReadCube.
$32.00
All prices are NET prices.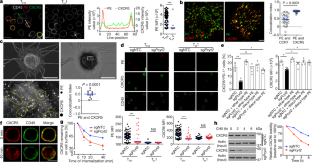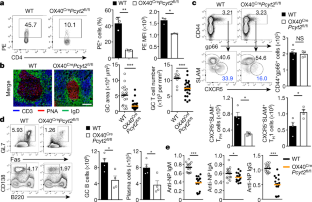 Data availability
The authors declare that the data supporting the findings of this study are available within the paper and its Supplementary Information files. Microarray data of wild-type and Pcyt2-deficient cells at day 3 after LCMV infection have been deposited in the NCBI Gene Expression Omnibus (GEO) database and are accessible through the GEO SuperSeries accession number: GSE147190. For GSEA using manually curated gene signatures from public datasets, the datasets GSE21380 (ref. 9), GSE72188 (ref. 17) and GSE74854 (ref. 37) from the NCBI GEO database were used to generate the relevant gene signatures (<5% FDR). Source data are provided with this paper.
Code availability
The code used for the colocalization index analysis of TIRF–STORM or other co-ordinate-based data has been applied successfully42 and the accessible link of the code is https://rdrr.io/cran/colocalization/.
References
Crotty, S. T follicular helper cell biology: a decade of discovery and diseases. Immunity 50, 1132–1148 (2019).

Johnston, R. J. et al. Bcl6 and Blimp-1 are reciprocal and antagonistic regulators of T follicular helper cell differentiation. Science 325, 1006–1010 (2009).

Nurieva, R. I. et al. Bcl6 mediates the development of T follicular helper cells. Science 325, 1001–1005 (2009).

Zeng, H. et al. mTORC1 and mTORC2 kinase signaling and glucose metabolism drive follicular helper T cell differentiation. Immunity 45, 540–554 (2016).

Chapman, N. M., Boothby, M. R. & Chi, H. Metabolic coordination of T cell quiescence and activation. Nat. Rev. Immunol. 20, 55–70 (2020).

Wei, J. et al. Targeting REGNASE-1 programs long-lived effector T cells for cancer therapy. Nature 576, 471–476 (2019).

Huang, H. et al. In vivo CRISPR screening reveals nutrient signaling processes underpinning CD8+ T cell fate decisions. Cell 184, 1245–1261 (2021).

Xu, L. et al. The transcription factor TCF-1 initiates the differentiation of TFH cells during acute viral infection. Nat. Immunol. 16, 991–999 (2015).

Choi, Y. S. et al. LEF-1 and TCF-1 orchestrate TFH differentiation by regulating differentiation circuits upstream of the transcriptional repressor Bcl6. Nat. Immunol. 16, 980–990 (2015).

Boularan, C. et al. B lymphocyte-specific loss of Ric-8A results in a Gα protein deficit and severe humoral immunodeficiency. J. Immunol. 195, 2090–2102 (2015).

Preite, S. et al. Hyperactivated PI3Kδ promotes self and commensal reactivity at the expense of optimal humoral immunity. Nat. Immunol. 19, 986–1000 (2018).

Lemonnier, F. et al. Recurrent TET2 mutations in peripheral T-cell lymphomas correlate with TFH-like features and adverse clinical parameters. Blood 120, 1466–1469 (2012).

Johnston, R. J., Choi, Y. S., Diamond, J. A., Yang, J. A. & Crotty, S. STAT5 is a potent negative regulator of TFH cell differentiation. J. Exp. Med. 209, 243–250 (2012).

Calzada, E., Onguka, O. & Claypool, S. M. Phosphatidylethanolamine metabolism in health and disease. Int. Rev. Cell Mol. Biol. 321, 29–88 (2016).

Haynes, N. M. et al. Role of CXCR5 and CCR7 in follicular Th cell positioning and appearance of a programmed cell death gene-1high germinal center-associated subpopulation. J. Immunol. 179, 5099–5108 (2007).

Wang, L., Magdaleno, S., Tabas, I. & Jackowski, S. Early embryonic lethality in mice with targeted deletion of the CTP:phosphocholine cytidylyltransferase alpha gene (Pcyt1a). Mol. Cell. Biol. 25, 3357–3363 (2005).

Liu, X. et al. Genome-wide analysis identifies Bcl6-controlled regulatory networks during T follicular helper cell differentiation. Cell Rep. 14, 1735–1747 (2016).

Shi, J. et al. PD-1 controls follicular T helper cell positioning and function. Immunity 49, 264–274 (2018).

Zhao, M. Lantibiotics as probes for phosphatidylethanolamine. Amino Acids 41, 1071–1079 (2011).

Irie, A., Yamamoto, K., Miki, Y. & Murakami, M. Phosphatidylethanolamine dynamics are required for osteoclast fusion. Sci. Rep. 7, 46715 (2017).

Burr, M. L. et al. CMTM6 maintains the expression of PD-L1 and regulates anti-tumour immunity. Nature 549, 101–105 (2017).

Zeng, H. et al. Discrete roles and bifurcation of PTEN signaling and mTORC1-mediated anabolic metabolism underlie IL-7-driven B lymphopoiesis. Sci. Adv. 4, eaar5701 (2018).

Platt, R. J. et al. CRISPR–Cas9 knockin mice for genome editing and cancer modeling. Cell 159, 440–455 (2014).

Oxenius, A., Bachmann, M. F., Zinkernagel, R. M. H. & Hengartner, H. Virus-specific MHC-class II-restricted TCR-transgenic mice: effects on humoral and cellular immune responses after viral infection. Eur. J. Immunol. 28, 390–400 (1998).

Leonardi, R., Frank, M. W., Jackson, P. D., Rock, C. O. & Jackowski, S. Elimination of the CDP-ethanolamine pathway disrupts hepatic lipid homeostasis. J. Biol. Chem. 284, 27077–27089 (2009).

Zhang, D. et al. Macrophages deficient in CTP:phosphocholine cytidylyltransferase-α are viable under normal culture conditions but are highly susceptible to free cholesterol-induced death. J. Biol. Chem. 275, 35368–35376 (2000).

Bettini, M. L., Bettini, M., Nakayama, M., Guy, C. S. & Vignali, D. A. Generation of T cell receptor-retrogenic mice: improved retroviral-mediated stem cell gene transfer. Nat. Protocols 8, 1837–1840 (2013).

Locci, M. et al. Human circulating PD-1+CXCR3−CXCR5+ memory Tfh cells are highly functional and correlate with broadly neutralizing HIV antibody responses. Immunity 39, 758–769 (2013).

Chen, R. et al. In vivo RNA interference screens identify regulators of antiviral CD4+ and CD8+ T cell differentiation. Immunity 41, 325–338 (2014).

Birsoy, K. et al. An essential role of the mitochondrial electron transport chain in cell proliferation is to enable aspartate synthesis. Cell 162, 540–551 (2015).

Sanson, K. R. et al. Optimized libraries for CRISPR–Cas9 genetic screens with multiple modalities. Nat. Commun. 9, 5416 (2018).

Hanayama, R. et al. Autoimmune disease and impaired uptake of apoptotic cells in MFG-E8-deficient mice. Science 304, 1147–1150 (2004).

Todo, T. et al. Anti-CD3ε induces splenic B220lo B-cell expansion following anti-CD20 treatment in a mouse model of allosensitization. Int. Immunol. 24, 529–538 (2012).

Zeng, H. et al. mTORC1 couples immune signals and metabolic programming to establish Treg-cell function. Nature 499, 485–490 (2013).

Shrestha, S. et al. Treg cells require the phosphatase PTEN to restrain TH1 and TFH cell responses. Nat. Immunol. 16, 178–187 (2015).

Yu., D. et al. The transcriptional repressor Bcl-6 directs T follicular helper cell lineage commitment. Immunity 31, 457–468 (2009).

Shaw, L. A. et al. Id2 reinforces TH1 differentiation and inhibits E2A to repress TFH differentiation. Nat. Immunol. 17, 834–843 (2016).

Li, W. et al. Chimeric antigen receptor designed to prevent ubiquitination and downregulation showed durable antitumor efficacy. Immunity 53, 456–470 (2020).

Bates, M., Huang, B., Dempsey, G. T. & Zhuang, X. Multicolor super-resolution imaging with photo-switchable fluorescent probes. Science 317, 1749–1753 (2007).

Guy, C. S. et al. Distinct TCR signaling pathways drive proliferation and cytokine production in T cells. Nat. Immunol. 14, 262–270 (2013).

Liedmann, S. et al. Viral suppressors of the RIG-I-mediated interferon response are pre-packaged in influenza virions. Nat. Commun. 5, 5645 (2014).

Samir, P. et al. DDX3X acts as a live-or-die checkpoint in stressed cells by regulating NLRP3 inflammasome. Nature 573, 590–594 (2019).

Malkusch, S. et al. Coordinate-based colocalization analysis of single-molecule localization microscopy data. Histochem. Cell Biol. 137, 1–10 (2012).

Azuma, T. & Kei, T. Super-resolution spinning-disk confocal microscopy using optical photon reassignment. Opt. Express 23, 15003–15011 (2015).

Guagliardi, L. E. et al. Co-localization of molecules involved in antigen processing and presentation in an early endocytic compartment. Nature 343, 133–139 (1990).

Folch, J., Lees, M. & Sloane Stanley, G. H. A simple method for the isolation and purification of total lipids from animal tissues. J. Biol. Chem. 226, 497–509 (1957).

Pasternak, C. A. & Bergeron, J. J. M. Turnover of mammalian phospholipids. Biochem. J. 119, 473–480 (1970).

Keckesova, Z. et al. LACTB is a tumour suppressor that modulates lipid metabolism and cell state. Nature 543, 681–686 (2017).
Acknowledgements
The authors acknowledge J. Saravia for human samples; Y. Wang and J. Raynor for editing of the manuscript; M. Hendren for animal colony management; the St. Jude Immunology FACS core facility for cell sorting; the Center for Advanced Genome Engineering (CAGE) for testing sgRNA deletion efficiency; and the Tetramer Facility of the NIH for gp66. Electron microscopy support was provided by the Cell and Tissue Imaging Center at St. Jude Children's Research Hospital and by NCI P30 CA021765. This work was supported by NIH AI105887, AI131703, AI140761, AI150241, AI150514 and CA221290, by the Lupus Research Alliance, and by ALSAC. The content is solely the responsibility of the authors and does not necessarily represent the official views of the NIH.
Ethics declarations
Competing interests
H. Chi is a consultant for Kumquat Biosciences. The remaining authors declare no competing interests.
Additional information
Peer review information Nature thanks Michael Dustin, Alessio Lanna and the other, anonymous, reviewer(s) for their contribution to the peer review of this work.
Publisher's note Springer Nature remains neutral with regard to jurisdictional claims in published maps and institutional affiliations.
Extended data figures and tables
Supplementary information
About this article
Cite this article
Fu, G., Guy, C.S., Chapman, N.M. et al. Metabolic control of TFH cells and humoral immunity by phosphatidylethanolamine. Nature 595, 724–729 (2021). https://doi.org/10.1038/s41586-021-03692-z
Received:

Accepted:

Published:

Issue Date:

DOI: https://doi.org/10.1038/s41586-021-03692-z
Comments
By submitting a comment you agree to abide by our Terms and Community Guidelines. If you find something abusive or that does not comply with our terms or guidelines please flag it as inappropriate.