Abstract
The majority of gene transcripts generated by RNA polymerase II in mammalian genomes initiate at CpG island (CGI) promoters1,2, yet our understanding of their regulation remains limited. This is in part due to the incomplete information that we have on transcription factors, their DNA-binding motifs and which genomic binding sites are functional in any given cell type3,4,5. In addition, there are orphan motifs without known binders, such as the CGCG element, which is associated with highly expressed genes across human tissues and enriched near the transcription start site of a subset of CGI promoters6,7,8. Here we combine single-molecule footprinting with interaction proteomics to identify BTG3-associated nuclear protein (BANP) as the transcription factor that binds this element in the mouse and human genome. We show that BANP is a strong CGI activator that controls essential metabolic genes in pluripotent stem and terminally differentiated neuronal cells. BANP binding is repelled by DNA methylation of its motif in vitro and in vivo, which epigenetically restricts most binding to CGIs and accounts for differential binding at aberrantly methylated CGI promoters in cancer cells. Upon binding to an unmethylated motif, BANP opens chromatin and phases nucleosomes. These findings establish BANP as a critical activator of a set of essential genes and suggest a model in which the activity of CGI promoters relies on methylation-sensitive transcription factors that are capable of chromatin opening.
Relevant articles
Open Access articles citing this article.
William A. Pastor

&

Sin Young Kwon

Cellular and Molecular Life Sciences Open Access 26 October 2022

Razan Sheta

,

Maxime Teixeira

…

Abid Oueslati

Scientific Reports Open Access 13 October 2022

Biswajyoti Sahu

,

Tuomo Hartonen

…

Jussi Taipale

Nature Genetics Open Access 21 February 2022
Access options
Subscribe to Nature+
Get immediate online access to Nature and 55 other Nature journal
Subscribe to Journal
Get full journal access for 1 year
$199.00
only $3.90 per issue
All prices are NET prices.
VAT will be added later in the checkout.
Tax calculation will be finalised during checkout.
Buy article
Get time limited or full article access on ReadCube.
$32.00
All prices are NET prices.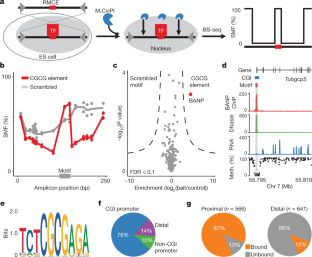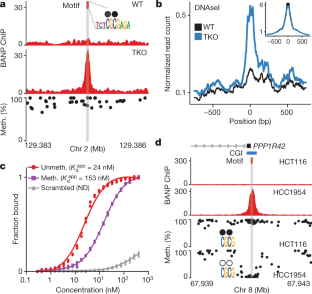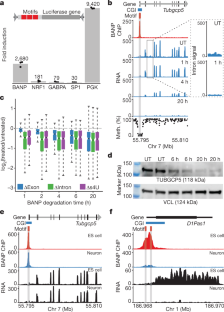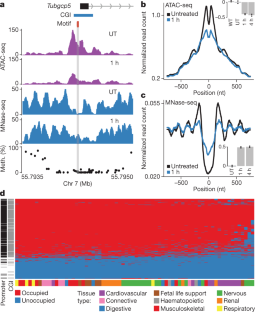 References
Mohn, F. & Schübeler, D. Genetics and epigenetics: stability and plasticity during cellular differentiation. Trends Genet. 25, 129–136 (2009).

Deaton, A. M. & Bird, A. CpG islands and the regulation of transcription. Genes Dev. 25, 1010–1022 (2011).

Lambert, S. A. et al. The human transcription factors. Cell 172, 650–665 (2018).

Vaquerizas, J. M., Kummerfeld, S. K., Teichmann, S. A. & Luscombe, N. M. A census of human transcription factors: function, expression and evolution. Nat. Rev. Genet. 10, 252–263 (2009).

Slattery, M. et al. Absence of a simple code: how transcription factors read the genome. Trends Biochem. Sci. 39, 381–399 (2014).

Ernst, J. et al. Genome-scale high-resolution mapping of activating and repressive nucleotides in regulatory regions. Nat. Biotechnol. 34, 1180–1190 (2016).

FitzGerald. P. C., Shlyakhtenko, A., Mir, A. A. & Vinson, C. Clustering of DNA sequences in human promoters. Genome Res. 14, 1562–1574 (2004).

Pique-Regi, R. et al. Accurate inference of transcription factor binding from DNA sequence and chromatin accessibility data. Genome Res. 21, 447–455 (2011).

Yang, J. G., Madrid, T. S., Sevastopoulos, E. & Narlikar, G. J. The chromatin-remodeling enzyme ACF is an ATP-dependent DNA length sensor that regulates nucleosome spacing. Nat. Struct. Mol. Biol. 13, 1078–1083 (2006).

Lienert, F. et al. Identification of genetic elements that autonomously determine DNA methylation states. Nat. Genet. 43, 1091–1097 (2011).

Pardo, C. E., Darst, R. P., Nabilsi, N. H., Delmas, A. L. & Kladde, M. P. Simultaneous single-molecule mapping of protein–DNA interactions and DNA methylation by MAPit. Curr. Protoc. Mol. Biol. 95, 21.22.1–21.22.18 (2011).

Sönmezer, C. et al. Molecular co-occupancy identifies transcription factor binding cooperativity in vivo. Mol. Cell 81, 255–267 (2021).

Makowski, M. M. et al. Global profiling of protein–DNA and protein-nucleosome binding affinities using quantitative mass spectrometry. Nat. Commun. 9, 1653 (2018).

Saksouk, N. et al. Redundant mechanisms to form silent chromatin at pericentromeric regions rely on BEND3 and DNA methylation. Mol. Cell 56, 580–594 (2014).

Dai, Q. et al. The BEN domain is a novel sequence-specific DNA-binding domain conserved in neural transcriptional repressors. Genes Dev. 27, 602–614 (2013).

Dai, Q. et al. Common and distinct DNA-binding and regulatory activities of the BEN-solo transcription factor family. Genes Dev. 29, 48–62 (2015).

Khan, A. & Prasanth, S. G. BEND3 mediates transcriptional repression and heterochromatin organization. Transcription 6, 102–105 (2015).

Sathyan, K. M., Shen, Z., Tripathi, V., Prasanth, K. V. & Prasanth, S. G. A BEN-domain-containing protein associates with heterochromatin and represses transcription. J. Cell Sci. 124, 3149–3163 (2011).

Rampalli, S., Pavithra, L., Bhatt, A., Kundu, T. K. & Chattopadhyay, S. Tumor suppressor SMAR1 mediates cyclin D1 repression by recruitment of the SIN3/histone deacetylase 1 complex. Mol. Cell. Biol. 25, 8415–8429 (2005).

Sreenath, K. et al. Nuclear matrix protein SMAR1 represses HIV-1 LTR mediated transcription through chromatin remodeling. Virology 400, 76–85 (2010).

Domcke, S. et al. Competition between DNA methylation and transcription factors determines binding of NRF1. Nature 528, 575–579 (2015).

Baylin, S. B. & Jones, P. A. Epigenetic determinants of cancer. Cold Spring Harb. Perspect. Biol. 8, a019505 (2016).

Berman, B. P. et al. Regions of focal DNA hypermethylation and long-range hypomethylation in colorectal cancer coincide with nuclear lamina-associated domains. Nat. Genet. 44, 40–46 (2011).

Mahpour, A., Scruggs, B. S., Smiraglia, D., Ouchi, T. & Gelman, I. H. A methyl-sensitive element induces bidirectional transcription in TATA-less CpG island-associated promoters. PLoS ONE 13, e0205608 (2018).

Wang, T. et al. Identification and characterization of essential genes in the human genome. Science 350, 1096–1101 (2015).

McDonald, E. R., III et al. Project DRIVE: a compendium of cancer dependencies and synthetic lethal relationships uncovered by large-scale, deep RNAi screening. Cell 170, 577–592 (2017).

Nabet, B. et al. The dTAG system for immediate and target-specific protein degradation. Nat. Chem. Biol. 14, 431–441 (2018).

Muhar, M. et al. SLAM-seq defines direct gene-regulatory functions of the BRD4–MYC axis. Science 360, 800–805 (2018).

Gaidatzis, D., Burger, L., Florescu, M. & Stadler, M. B. Analysis of intronic and exonic reads in RNA-seq data characterizes transcriptional and post-transcriptional regulation. Nat. Biotechnol. 33, 722–729 (2015).

Dahlet, T. et al. Genome-wide analysis in the mouse embryo reveals the importance of DNA methylation for transcription integrity. Nat. Commun. 11, 3153 (2020).

Thoma, E. C. et al. Ectopic expression of neurogenin 2 alone is sufficient to induce differentiation of embryonic stem cells into mature neurons. PLoS ONE 7, e38651 (2012).

Buenrostro, J. D., Wu, B., Chang, H. Y. & Greenleaf, W. J. ATAC-seq: a method for assaying chromatin accessibility genome-wide. Curr. Protoc. Mol. Biol. 109, 21.29.1–21.29.9 (2015).

Fu, Y., Sinha, M., Peterson, C. L. & Weng, Z. The insulator binding protein CTCF positions 20 nucleosomes around its binding sites across the human genome. PLoS Genet. 4, e1000138 (2008).

Vierstra, J. et al. Global reference mapping of human transcription factor footprints. Nature 583, 729–736 (2020).

Wilson, B. C. et al. Intellectual disability-associated factor Zbtb11 cooperates with NRF-2/GABP to control mitochondrial function. Nat. Commun. 11, 5469 (2020).

Stielow, B. et al. The SAM domain-containing protein 1 (SAMD1) acts as a repressive chromatin regulator at unmethylated CpG islands. Sci. Adv. 7, eabf2229 (2021).

Weber, M. et al. Distribution, silencing potential and evolutionary impact of promoter DNA methylation in the human genome. Nat. Genet. 39, 457–466 (2007).

Iurlaro, M. et al. Mammalian SWI/SNF continuously restores local accessibility to chromatin. Nat. Genet. 53, 279–287 (2021).

Schick, S. et al. Acute BAF perturbation causes immediate changes in chromatin accessibility. Nat. Genet. 53, 269–278 (2021).

Hartl, D. et al. CG dinucleotides enhance promoter activity independent of DNA methylation. Genome Res. 29, 554–563 (2019).

Mohn, F. et al. Lineage-specific polycomb targets and de novo DNA methylation define restriction and potential of neuronal progenitors. Mol. Cell 30, 755–766 (2008).

Zhang, Y. et al. Rapid single-step induction of functional neurons from human pluripotent stem cells. Neuron 78, 785–798 (2013).

Lowary, P. T. & Widom, J. New DNA sequence rules for high affinity binding to histone octamer and sequence-directed nucleosome positioning. J. Mol. Biol. 276, 19–42 (1998).

Khan, A. et al. JASPAR 2018: update of the open-access database of transcription factor binding profiles and its web framework. Nucleic Acids Res. 46, D260–D266 (2018).

Feng, Y. Q. et al. Site-specific chromosomal integration in mammalian cells: highly efficient CRE recombinase-mediated cassette exchange. J. Mol. Biol. 292, 779–785 (1999).

Gaidatzis, D., Lerch, A., Hahne, F. & Stadler, M. B. QuasR: quantification and annotation of short reads in R. Bioinformatics 31, 1130–1132 (2015).

Ostapcuk, V. et al. Activity-dependent neuroprotective protein recruits HP1 and CHD4 to control lineage-specifying genes. Nature 557, 739–743 (2018).

Cox, J. et al. Andromeda: a peptide search engine integrated into the MaxQuant environment. J. Proteome Res. 10, 1794–1805 (2011).

Cox, J. et al. Accurate proteome-wide label-free quantification by delayed normalization and maximal peptide ratio extraction, termed MaxLFQ. Mol. Cell. Proteomics 13, 2513–2526 (2014).

Hubner, N. C. et al. Quantitative proteomics combined with BAC TransgeneOmics reveals in vivo protein interactions. J. Cell Biol. 189, 739–754 (2010).

Tyanova, S. et al. The Perseus computational platform for comprehensive analysis of (prote)omics data. Nat. Methods 13, 731–740 (2016).

Tusher, V. G., Tibshirani, R. & Chu, G. Significance analysis of microarrays applied to the ionizing radiation response. Proc. Natl Acad. Sci. USA 98, 5116–5121 (2001).

Wang, Y. et al. Reversed-phase chromatography with multiple fraction concatenation strategy for proteome profiling of human MCF10A cells. Proteomics 11, 2019–2026 (2011).

Perez-Riverol, Y. et al. The PRIDE database and related tools and resources in 2019: improving support for quantification data. Nucleic Acids Res. 47, D442–D450 (2019).

Gräwe, C., Makowski, M. M. & Vermeulen, M. PAQMAN: protein-nucleic acid affinity quantification by mass spectrometry in nuclear extracts. Methods 184, 70–77 (2020).

Corces, M. R. et al. An improved ATAC-seq protocol reduces background and enables interrogation of frozen tissues. Nat. Methods 14, 959–962 (2017).

Cui, K. & Zhao, K. Genome-wide approaches to determining nucleosome occupancy in metazoans using MNase-seq. Methods Mol. Biol. 833, 413–419 (2012).

Gaidatzis, D. et al. DNA sequence explains seemingly disordered methylation levels in partially methylated domains of mammalian genomes. PLoS Genet. 10, e1004143 (2014).

Barisic, D., Stadler, M. B., Iurlaro, M. & Schübeler, D. Mammalian ISWI and SWI/SNF selectively mediate binding of distinct transcription factors. Nature 569, 136–140 (2019).

Abdulrahman, W. et al. A set of baculovirus transfer vectors for screening of affinity tags and parallel expression strategies. Anal. Biochem. 385, 383–385 (2009).

Huber, W. et al. Orchestrating high-throughput genomic analysis with Bioconductor. Nat. Methods 12, 115–121 (2015).

Lawrence, M., Gentleman, R. & Carey, V. rtracklayer: an R package for interfacing with genome browsers. Bioinformatics 25, 1841–1842 (2009).

Ginno, P. A. et al. A genome-scale map of DNA methylation turnover identifies site-specific dependencies of DNMT and TET activity. Nat. Commun. 11, 2680 (2020).

Langmead, B., Trapnell, C., Pop, M. & Salzberg, S. L. Ultrafast and memory-efficient alignment of short DNA sequences to the human genome. Genome Biol. 10, R25 (2009).

Zhang, Y. et al. Model-based analysis of ChIP–seq (MACS). Genome Biol. 9, R137 (2008).

Heinz, S. et al. Simple combinations of lineage-determining transcription factors prime cis-regulatory elements required for macrophage and B cell identities. Mol. Cell 38, 576–589 (2010).

Héberlé, É. & Bardet, A. F. Sensitivity of transcription factors to DNA methylation. Essays Biochem. 63, 727–741 (2019).

Buck-Koehntop, B. A. et al. Molecular basis for recognition of methylated and specific DNA sequences by the zinc finger protein Kaiso. Proc. Natl Acad. Sci. USA 109, 15229–15234 (2012).

Ritchie, M. E. et al. limma powers differential expression analyses for RNA-sequencing and microarray studies. Nucleic Acids Res. 43, e47 (2015).

Arnold, P. et al. Modeling of epigenome dynamics identifies transcription factors that mediate Polycomb targeting. Genome Res. 23, 60–73 (2013).

Kim, D., Paggi, J. M., Park, C., Bennett, C. & Salzberg, S. L. Graph-based genome alignment and genotyping with HISAT2 and HISAT-genotype. Nat. Biotechnol. 37, 907–915 (2019).

Neumann, T. et al. Quantification of experimentally induced nucleotide conversions in high-throughput sequencing datasets. BMC Bioinformatics 20, 258 (2019).

Danecek, P. et al. The variant call format and VCFtools. Bioinformatics 27, 2156–2158 (2011).

Martin, M. Cutadapt removes adapter sequences from high-throughput sequencing reads. EMBnet. J. 17, 10 (2011).

Stadler, M. B. et al. DNA-binding factors shape the mouse methylome at distal regulatory regions. Nature 480, 490–495 (2011).

Blattler, A. et al. Global loss of DNA methylation uncovers intronic enhancers in genes showing expression changes. Genome Biol. 15, 469 (2014).

Xuan Lin, Q. X. et al. MethMotif: an integrative cell specific database of transcription factor binding motifs coupled with DNA methylation profiles. Nucleic Acids Res. 47, D145–D154 (2019).

Hon, G. C. et al. Global DNA hypomethylation coupled to repressive chromatin domain formation and gene silencing in breast cancer. Genome Res. 22, 246–258 (2012).

The ENCODE Project Consortium. An integrated encyclopedia of DNA elements in the human genome. Nature 489, 57–74 (2012).

Venables, W. N. & Ripley, B. D. Modern Applied Statistics with S 4th edn (Springer, 2002).

Hahne, F. & Ivanek, R. Visualizing genomic data using Gviz and Bioconductor. Methods Mol Biol. 1418, 335–351 (2016).

Alexa, A., Rahnenführer, J. & Lengauer, T. Improved scoring of functional groups from gene expression data by decorrelating GO graph structure. Bioinformatics 22, 1600–1607 (2006).

Lawrence, M. et al. Software for computing and annotating genomic ranges. PLoS Comput. Biol. 9, e1003118 (2013).

Fenouil, R. et al. CpG islands and GC content dictate nucleosome depletion in a transcription-independent manner at mammalian promoters. Genome Res. 22, 2399–2408 (2012).
Acknowledgements
We thank P. Papasaikas for help with the SLAM-seq analysis; M. Frederiksen and N. Leroy from the Novartis Institutes of Biomedical Research for providing the dTAG13 compound; and M. Lorincz and members of the D.S. laboratory for critical feedback on the manuscript. D.S. and N.T. acknowledge support from the Novartis Research Foundation, the Swiss National Science Foundation (310030B_176394 to D.S. and 31003A_179541 to N.T.) and the European Research Council under the European Union's (EU) Horizon 2020 research and innovation programme grant agreements (ReadMe-667951 and DNAaccess-884664 to D.S. and CsnCRL-666068 and NucEM-884331 to N.T.). M.V. is part of the Oncode Institute, which is partly funded by the Dutch Cancer Society. R.S.G., A.K.M. and S.D. acknowledge EMBO Long-Term Fellowships. R.S.G and L.I. acknowledge the EU Horizon 2020 Research and Innovation Program under the Marie Sklodowska-Curie grant (705354 to R.S.G. and 748760 to L.I.). A.K.M. acknowledges the Human Frontier Science Program. L.I. acknowledges the National Health and Medical Research Council CJ Martin Fellowship APP1148380. A.R.K. acknowledges support from the European Molecular Biology Laboratory, Deutsche Forschungsgemeinschaft (KR 5247/1-1) and a Swiss National Fund Ambizione grant (PZOOP3_161493).
Ethics declarations
Competing interests
The authors declare no competing interests.
Additional information
Peer review information Nature thanks Eric Mendenhall and the other, anonymous, reviewer(s) for their contribution to the peer review of this work. Peer reviewer reports are available.
Publisher's note Springer Nature remains neutral with regard to jurisdictional claims in published maps and institutional affiliations.
Extended data figures and tables
Supplementary information
This file contains Supplementary Tables 1-6. Supplementary Table 1: Antibodies and dilutions used in this study. Supplementary Table 2: Motif sequences used for RMCE insertion and footprinting. A footprintable GpC was added to both ends of each motif to maximize the ability to detect a footprint (red). Supplementary Table 3: Oligonucleotide sequences used for affinity purification. Supplementary Table 4: Oligonucleotides used for PAQMAN assay. Supplementary Table 5: Motif sequences used for RMCE insertion and luciferase assays. Supplementary Table 6: BANP degradation time and s4U incorporation time for the SLAM-seq time course.
About this article
Cite this article
Grand, R.S., Burger, L., Gräwe, C. et al. BANP opens chromatin and activates CpG-island-regulated genes. Nature 596, 133–137 (2021). https://doi.org/10.1038/s41586-021-03689-8
Received:

Accepted:

Published:

Issue Date:

DOI: https://doi.org/10.1038/s41586-021-03689-8
Comments
By submitting a comment you agree to abide by our Terms and Community Guidelines. If you find something abusive or that does not comply with our terms or guidelines please flag it as inappropriate.