Abstract
Key to our understanding of how electrons behave in crystalline solids is the band structure that connects the energy of electron waves to their wavenumber. Even in phases of matter with only short-range order (liquid or amorphous solid), the coherent part of electron waves still has a band structure. Theoretical models for the band structure of liquid metals were formulated more than five decades ago1,2,3,4,5,6,7,8,9,10,11,12,13,14,15, but, so far, band-structure renormalization and the pseudogap induced by resonance scattering have remained unobserved. Here we report the observation of the unusual band structure at the interface of a crystalline insulator (black phosphorus) and disordered dopants (alkali metals). We find that a conventional parabolic band structure of free electrons bends back towards zero wavenumber with a pseudogap of 30–240 millielectronvolts from the Fermi level. This is wavenumber renormalization caused by resonance scattering, leading to the formation of quasi-bound states in the scattering potential of alkali-metal ions. The depth of this potential tuned by different kinds of disordered alkali metal (sodium, potassium, rubidium and caesium) allows the classification of the pseudogap of p-wave and d-wave resonance. Our results may provide a clue to the puzzling spectrum of various crystalline insulators doped by disordered dopants16,17,18,19,20, such as the waterfall dispersion observed in copper oxides.
Access options
Access Nature and 54 other Nature Portfolio journals
Get Nature+, our best-value online-access subscription
$29.99 / 30 days
cancel any time
Subscribe to this journal
Receive 51 print issues and online access
$199.00 per year
only $3.90 per issue
Rent or buy this article
Get just this article for as long as you need it
$39.95
Prices may be subject to local taxes which are calculated during checkout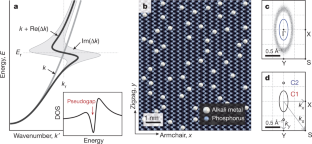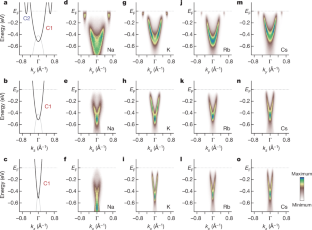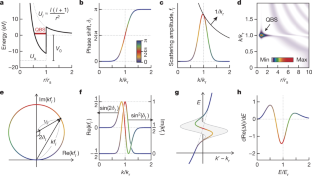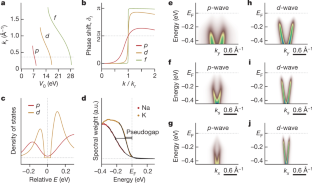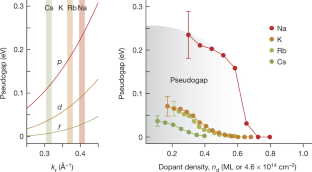 Data availability
The data that support the findings of this study are available within the paper and from the corresponding author upon reasonable request. Source data are provided with this paper.
References
Edwards, S. F. The electronic structure of disordered systems. Phil. Mag. 6, 617–638 (1961).

Edwards, S. F. The electronic structure of liquid metals. Proc. R. Soc. Lond. A 267, 518–540 (1962).

Ziman, J. M. A theory of the electrical properties of liquid metals. I: The monovalent metals. Phil. Mag. 6, 1013–1034 (1961).

Ziman, J. M. The T matrix, the K matrix, d bands and l-dependent pseudo-potentials in the theory of metals. Proc. Phys. Soc. 86, 337–353 (1965).

Anderson, P. W. & McMillan, W. L. Multiple-scattering theory and resonances in transition metals. In Proc. International School of Physics "Enrico Fermi" Course 37 (ed. Marshall, W.) 50–86 (Academic, 1967).

Morgan, G. J. Electron transport in liquid metals II. A model for the wave functions in liquid transition metals. J. Phys. C 2, 1454–1464 (1969).

Gyorffy, B. L. Electronic states in liquid metals: a generalization of the coherent-potential approximation for a system with short-range order. Phys. Rev. B 1, 3290–3299 (1970).

Schwartz, L. & Ehrenreich, H. Single-site approximations in the electronic theory of liquid metals. Ann. Phys. 64, 100–148 (1971).

Faber, T. E. An Introduction to the Theory of Liquid Metals (Cambridge Univ. Press, 1972).

Olson, J. J. Anderson–McMillan prescription for the density of states of liquid iron. Phys. Rev. B 12, 2908–2916 (1975).

Chang, K. S., Sher, A., Petzinger, K. G. & Weisz, G. Density of states of liquid Cu. Phys. Rev. B 12, 5506–5513 (1975).

Oglesby, J. & Lloyd, P. Some single-site structure-independent approximations in condensed materials. J. Phys. C 9, 2879–2886 (1976).

Mott, N. F. Metal–insulator transition. Rev. Mod. Phys. 40, 677–683 (1968).

Mott, N. F. Conduction in non-crystalline materials: III. Localized states in a pseudogap and near extremities of conduction and valence bands. Phil. Mag. 19, 835–852 (1968).

Anderson, P. W. Absence of diffusion in certain random lattices. Phys. Rev. 109, 1492–1505 (1958).

Lu, D. et al. Angle-resolved photoemission studies of quantum materials. Annu. Rev. Condens. Matter Phys. 3, 129–167 (2012).

Graf, J. et al. Universal high energy anomaly in the angle-resolved photoemission spectra of high temperature superconductors: possible evidence of spinon and holon branches. Phys. Rev. Lett. 98, 067004 (2007).

Inosov, D. S. et al. Momentum and energy dependence of the anomalous high-energy dispersion in the electronic structure of high temperature superconductors. Phys. Rev. Lett. 99, 237002 (2007).

Kim, Y. K., Sung, N. H., Denlinger, J. D. & Kim, B. J. Observation of a d-wave gap in electron-doped Sr2IrO4. Nat. Phys. 12, 37–41 (2016).

Uchida, M. et al. Pseudogap of metallic layered nickelate R2−xSrxNiO4 (R = Nd, Eu) crystals measured using angle-resolved photoemission spectroscopy. Phys. Rev. Lett. 106, 027001 (2011).

Baumberger, F., Auwärter, W., Greber, T. & Osterwalder, J. Electron coherence in a melting lead monolayer. Science 306, 2221–2224 (2004).

Kim, K. S. & Yeom, H. W. Radial band structure of electrons in liquid metals. Phys. Rev. Lett. 107, 136402 (2011).

Kim, J. et al. Observation of tunable band gap and anisotropic Dirac semimetal state in black phosphorus. Science 349, 723–726 (2015).

Baik, S. S., Kim, K. S., Yi, Y. & Choi, H. J. Emergence of two-dimensional massless Dirac fermions, chiral pseudospins, and Berry's phase in potassium doped few-layer black phosphorus. Nano Lett. 15, 7788–7793 (2015).

Kiraly, B. et al. Anisotropic two-dimensional screening at the surface of black phosphorus. Phys. Rev. Lett. 123, 216403 (2019).

Tian, Z. et al. Isotropic charge screening of anisotropic black phosphorus revealed by potassium adatoms. Phys. Rev. B 100, 085440 (2019).

Negulyaev, N. N. et al. Melting of two-dimensional adatom superlattices stabilized by long-range electronic interactions. Phys. Rev. Lett. 102, 246102 (2009).

Hirata, A. et al. Direct observation of local atomic order in a metallic glass. Nat. Mater. 10, 28–33 (2011).

Sakurai, J. J. & Napolitano, J. Modern Quantum Mechanics (Cambridge Univ. Press, 2017).

Meyer, A., Nestor, C. W. Jr & Young, W. H. Pseudo-atom phase shifts of liquid metals and alloys. Adv. Phys. 16, 581–590 (1967).

Kang, M. et al. Evolution of charge order topology across a magnetic phase transition in cuprate superconductors. Nat. Phys. 15, 335–340 (2019); correction 15, 721 (2019).

Voit, J. et al. Electronic structure of solids with competing periodic potentials. Science 290, 501–503 (2000).

Park, S. R. et al. Electronic structure of electron-doped Sm1.86Ce0.14CuO4: strong pseudogap effects, nodeless gap, and signatures of short-range order. Phys. Rev. B 75, 060501 (2007).

Lee, W. S. et al. Abrupt onset of a second energy gap at the superconducting transition of underdoped Bi2212. Nature 450, 81–84 (2007).

Presland, M. R., Tallon, J. L., Buckley, R. G., Liu, R. S. & Flower, N. E. General trends in oxygen stoichiometry effects on Tc in Bi and Tl superconductors. Physica C 176, 95–105 (1991).

Fischer, Ø., Kugler, M., Maggio-Aprile, I., Berthod, C. & Renner, C. Scanning tunneling spectroscopy of high-temperature superconductors. Rev. Mod. Phys. 79, 353–419 (2007).

Jung, S. W. et al. Black phosphorus as a bipolar pseudospin semiconductor. Nat. Mater. 19, 277–281 (2020).

March, N. H. Liquid Metals (Cambridge Univ. Press, 1990).
Acknowledgements
We thank S.-S. Baik, Y.-W. Son and E.-G. Moon for helpful discussions; and D. Song and C. Kim for providing samples. This work was supported by National Research Foundation (NRF) of Korea (grant numbers NRF-2020R1A2C2102469, NRF-2017R1A5A1014862, NRF-2020K1A3A7A09080364 and NRF-2021R1A3B1077156), and the Yonsei Signature Research Cluster Program of 2021 (2021-22-0004). This research used resources of the Advanced Light Source, which is a DOE Office of Science User Facility under contract number DE-AC02-05CH11231. The part of this work on copper oxides was carried out with the support of the Diamond Light Source (beamline I05).
Ethics declarations
Competing interests
The authors declare no competing interests.
Additional information
Peer review information Nature thanks Andrés Santander and the other, anonymous, reviewer(s) for their contribution to the peer review of this work.
Publisher's note Springer Nature remains neutral with regard to jurisdictional claims in published maps and institutional affiliations.
Extended data figures and tables
About this article
Cite this article
Ryu, S.H., Huh, M., Park, D.Y. et al. Pseudogap in a crystalline insulator doped by disordered metals. Nature 596, 68–73 (2021). https://doi.org/10.1038/s41586-021-03683-0
Received:

Accepted:

Published:

Issue Date:

DOI: https://doi.org/10.1038/s41586-021-03683-0
This article is cited by
Paul Corbae
Samuel Ciocys
Frances Hellman

Nature Materials (2023)

Hongyun Zhang
Tommaso Pincelli
Shuyun Zhou

Nature Reviews Methods Primers (2022)

Frontiers of Physics (2022)
Comments
By submitting a comment you agree to abide by our Terms and Community Guidelines. If you find something abusive or that does not comply with our terms or guidelines please flag it as inappropriate.