Abstract
The mammalian cerebral cortex has an unparalleled diversity of cell types, which are generated during development through a series of temporally orchestrated events that are under tight evolutionary constraint and are critical for proper cortical assembly and function1,2. However, the molecular logic that governs the establishment and organization of cortical cell types remains unknown, largely due to the large number of cell classes that undergo dynamic cell-state transitions over extended developmental timelines. Here we generate a comprehensive atlas of the developing mouse neocortex, using single-cell RNA sequencing and single-cell assay for transposase-accessible chromatin using sequencing. We sampled the neocortex every day throughout embryonic corticogenesis and at early postnatal ages, and complemented the sequencing data with a spatial transcriptomics time course. We computationally reconstruct developmental trajectories across the diversity of cortical cell classes, and infer their spatial organization and the gene regulatory programs that accompany their lineage bifurcation decisions and differentiation trajectories. Finally, we demonstrate how this developmental map pinpoints the origin of lineage-specific developmental abnormalities that are linked to aberrant corticogenesis in mutant mice. The data provide a global picture of the regulatory mechanisms that govern cellular diversification in the neocortex.
Relevant articles
Open Access articles citing this article.
Konstantin Khodosevich

&

Carl M. Sellgren

Molecular Psychiatry Open Access 25 November 2022

Jia-Ru Wei

,

Zhao-Zhe Hao

…

Sheng Liu

Nature Communications Open Access 12 November 2022

Abhijit Chakraborty

,

Jeffrey G. Wang

&

Ferhat Ay

Nature Communications Open Access 11 November 2022
Access options
Subscribe to Nature+
Get immediate online access to Nature and 55 other Nature journal
Subscribe to Journal
Get full journal access for 1 year
$199.00
only $3.90 per issue
All prices are NET prices.
VAT will be added later in the checkout.
Tax calculation will be finalised during checkout.
Buy article
Get time limited or full article access on ReadCube.
$32.00
All prices are NET prices.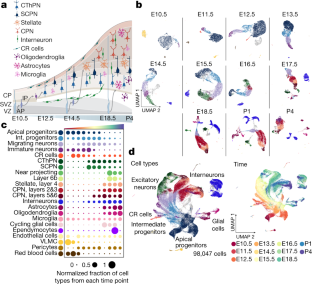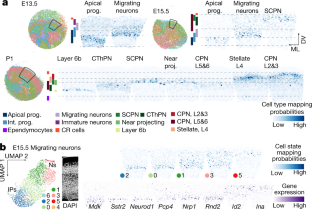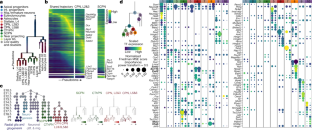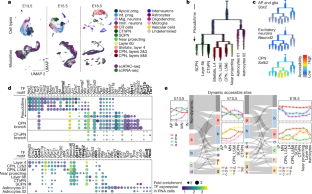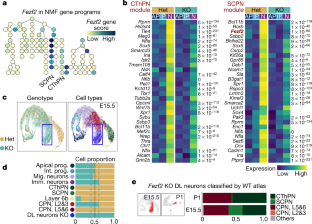 References
Lodato, S. & Arlotta, P. Generating neuronal diversity in the mammalian cerebral cortex. Annu. Rev. Cell Dev. Biol. 31, 699–720 (2015).

Greig, L. C., Woodworth, M. B., Galazo, M. J., Padmanabhan, H. & Macklis, J. D. Molecular logic of neocortical projection neuron specification, development and diversity. Nat. Rev. Neurosci. 14, 755–769 (2013).

Yuzwa, S. A. et al. Developmental emergence of adult neural stem cells as revealed by single-cell transcriptional profiling. Cell Rep. 21, 3970–3986 (2017).

Frazer, S. et al. Transcriptomic and anatomic parcellation of 5-HT3AR expressing cortical interneuron subtypes revealed by single-cell RNA sequencing. Nat. Commun. 8, 14219 (2017).

Mayer, C. et al. Developmental diversification of cortical inhibitory interneurons. Nature 555, 457–462 (2018).

Bielle, F. et al. Multiple origins of Cajal–Retzius cells at the borders of the developing pallium. Nat. Neurosci. 8, 1002–1012 (2005).

Stickels, R. R. et al. Highly sensitive spatial transcriptomics at near-cellular resolution with Slide-seqV2. Nat. Biotechnol. 39, 313–319 (2021).

Biancalani, T. et al. Deep learning and alignment of spatially-resolved whole transcriptomes of single cells in the mouse brain with Tangram. Preprint at https://doi.org/10.1101/2020.08.29.272831 (2020).

Kim, E. J., Juavinett, A. L., Kyubwa, E. M., Jacobs, M. W. & Callaway, E. M. Three types of cortical layer 5 neurons that differ in brain-wide connectivity and function. Neuron 88, 1253–1267 (2015).

Tasic, B. et al. Shared and distinct transcriptomic cell types across neocortical areas. Nature 563, 72–78 (2018).

Allen Cell Types Database. http://celltypes.brain-map.org/rnaseq/mouse_ctx-hip_smart-seq (Allen Institute for Brain Science, 2015).

Farrell, J. A. et al. Single-cell reconstruction of developmental trajectories during zebrafish embryogenesis. Science 360, eaar3131 (2018).

Arlotta, P. et al. Neuronal subtype-specific genes that control corticospinal motor neuron development in vivo. Neuron 45, 207–221 (2005).

Florio, M. & Huttner, W. B. Neural progenitors, neurogenesis and the evolution of the neocortex. Development 141, 2182–2194 (2014).

Jhas, S. et al. Hes6 inhibits astrocyte differentiation and promotes neurogenesis through different mechanisms. J. Neurosci. 26, 11061–11071 (2006).

Malatesta, P. & Götz, M. Radial glia – from boring cables to stem cell stars. Development 140, 483–486 (2013).

Telley, L. et al. Temporal patterning of apical progenitors and their daughter neurons in the developing neocortex. Science 364, eaav2522 (2019).

Llorca, A. et al. A stochastic framework of neurogenesis underlies the assembly of neocortical cytoarchitecture. eLife 8, e51381 (2019).

Guo, C. et al. Fezf2 expression identifies a multipotent progenitor for neocortical projection neurons, astrocytes, and oligodendrocytes. Neuron 80, 1167–1174 (2013).

Gao, P. et al. Deterministic progenitor behavior and unitary production of neurons in the neocortex. Cell 159, 775–788 (2014).

Franco, S. J. et al. Fate-restricted neural progenitors in the mammalian cerebral cortex. Science 337, 746–749 (2012).

Zahr, S. K. et al. A translational repression complex in developing mammalian neural stem cells that regulates neuronal specification. Neuron 97, 520–537.e6 (2018).

Thompson, C. L. et al. A high-resolution spatiotemporal atlas of gene expression of the developing mouse brain. Neuron 83, 309–323 (2014).

Molyneaux, B. J. et al. DeCoN: genome-wide analysis of in vivo transcriptional dynamics during pyramidal neuron fate selection in neocortex. Neuron 85, 275–288 (2015).

Dixit, A. et al. Perturb-seq: dissecting molecular circuits with scalable single-cell RNA profiling of pooled genetic screens. Cell 167, 1853–1866 (2016).

Preissl, S. et al. Single-nucleus analysis of accessible chromatin in developing mouse forebrain reveals cell-type-specific transcriptional regulation. Nat. Neurosci. 21, 432–439 (2018).

Ma, S. et al. Chromatin potential identified by shared single-cell profiling of RNA and chromatin. Cell 183, 1103–1116 (2020).

Urquhart, J. E. et al. DMRTA2 (DMRT5) is mutated in a novel cortical brain malformation. Clin. Genet. 89, 724–727 (2016).

Cubelos, B. et al. Cux1 and Cux2 regulate dendritic branching, spine morphology, and synapses of the upper layer neurons of the cortex. Neuron 66, 523–535 (2010).

Lodato, S. et al. Excitatory projection neuron subtypes control the distribution of local inhibitory interneurons in the cerebral cortex. Neuron 69, 763–779 (2011).

Molyneaux, B. J., Arlotta, P., Hirata, T., Hibi, M. & Macklis, J. D. Fezl is required for the birth and specification of corticospinal motor neurons. Neuron 47, 817–831 (2005).

Chen, B., Schaevitz, L. R. & McConnell, S. K. Fezl regulates the differentiation and axon targeting of layer 5 subcortical projection neurons in cerebral cortex. Proc. Natl Acad. Sci. USA 102, 17184–17189 (2005).

Lodato, S. et al. Gene co-regulation by Fezf2 selects neurotransmitter identity and connectivity of corticospinal neurons. Nat. Neurosci. 17, 1046–1054 (2014).

Hirata, T. et al. Zinc finger gene fez-like functions in the formation of subplate neurons and thalamocortical axons. Dev. Dyn. 230, 546–556 (2004).

Loo, L. et al. Single-cell transcriptomic analysis of mouse neocortical development. Nat. Commun. 10, 134 (2019).

10x Genomics. Nuclei Isolation for Single Cell ATAC Sequencing. Demonstrated Protocol CG000169 (10x Genomics, 2019).

Fleming, S. J., Marioni, J. C. & Babadi, M. CellBender remove-background: a deep generative model for unsupervised removal of background noise from scRNA-seq datasets. Preprint at https://doi.org/10.1101/791699 (2019).

Stuart, T. et al. Comprehensive integration of single-cell data. Cell 177, 1888–1902 (2019).

Kowalczyk, M. S. et al. Single-cell RNA-seq reveals changes in cell cycle and differentiation programs upon aging of hematopoietic stem cells. Genome Res. 25, 1860–1872 (2015).

Blondel, V. D., Guillaume, J.-L., Lambiotte, R., Lefebvre, E. Fast unfolding of communities in large networks. J. Stat. Mech. P10008 (2008).

McGinnis, C. S., Murrow, L. M. & Gartner, Z. J. DoubletFinder: doublet detection in single-cell RNA sequencing data using artificial nearest neighbors. Cell Syst. 8, 329–337 (2019).

Wolock, S. L., Lopez, R. & Klein, A. M. Scrublet: computational identification of cell doublets in single-cell transcriptomic data. Cell Syst. 8, 281–291 (2019).

Dobin, A. et al. STAR: ultrafast universal RNA-seq aligner. Bioinformatics 29, 15–21 (2013).

Angerer, P. et al. destiny: diffusion maps for large-scale single-cell data in R. Bioinformatics 32, 1241–1243 (2016).

Bergen, V., Lange, M., Peidli, S., Wolf, F. A. & Theis, F. J. Generalizing RNA velocity to transient cell states through dynamical modeling. Nat. Biotechnol. 38, 1408–1414 (2020).

Haghverdi, L., Büttner, M., Wolf, F. A., Buettner, F. & Theis, F. J. Diffusion pseudotime robustly reconstructs lineage branching. Nat. Methods 13, 845–848 (2016).

Cao, J. et al. The single-cell transcriptional landscape of mammalian organogenesis. Nature 566, 496–502 (2019).

Stuart, T., Srivastava, A., Lareau, C. & Satija, R. Multimodal single-cell chromatin analysis with Signac. Preprint at https://doi.org/10.1101/2020.11.09.373613 (2020).

Dong, M. et al. SCDC: bulk gene expression deconvolution by multiple single-cell RNA sequencing references. Brief. Bioinform. 22, 416–427 (2021).

Tan, Y. & Cahan, P. SingleCellNet: a computational tool to classify single cell RNA-seq data across platforms and across species. Cell Syst. 9, 207–213 (2019).

Yu, G., Wang, L. G., Han, Y. & He, Q. Y. clusterProfiler: an R package for comparing biological themes among gene clusters. OMICS 16, 284–287 (2012).

DeCoN. http://decon.fas.harvard.edu/pyramidal/ (2014).

Allen Developing Mouse Brain Atlas. http://developingmouse.brain-map.org/ (Allen Institute for Brain Science, 2008).
Acknowledgements
We thank former and present members of the Arlotta and Regev laboratories for discussions and editing of the manuscript. This work was supported by grants from the Stanley Center for Psychiatric Research, the Broad Institute of MIT and Harvard  to P.A., grants from the National Institutes of Health (P50MH094271, U19MH114821 and R01NS103758 to P.A., and DP5OD024583 to F.C.), and grants from The Klarman Cell Observatory, HHMI and NHGRI Center for Cell Circuits CEGS to A.R. D.J.D. was supported by the Pew Latin American Postdoctoral Fellowship.
Ethics declarations
Competing interests
P.A. is a scientific advisory board member for System 1 Biosciences and Foresite Labs and is a co-founder of Serqet Therapeutics. A.R. is a co-founder of and an equity holder in Celsius Therapeutics, an equity holder in Immunitas, and until 31 July 2020 was a scientific advisory board member of Thermo Fisher Scientific, Syros Pharmaceuticals, Asimov and Neogene Therapeutics. Since 1 August 2020, A.R. has been an employee of Genentech/Roche. Since 1 February 2021, T.B. has been an employee of Genentech. Since 1 January 2021, G.S. has been an employee of Roche.
Additional information
Peer review information Nature thanks Debra Silver, Fabian Theis and the other, anonymous, reviewer(s) for their contribution to the peer review of this work.
Publisher's note Springer Nature remains neutral with regard to jurisdictional claims in published maps and institutional affiliations.
Extended data figures and tables
Supplementary information
About this article
Cite this article
Di Bella, D.J., Habibi, E., Stickels, R.R. et al. Molecular logic of cellular diversification in the mouse cerebral cortex. Nature 595, 554–559 (2021). https://doi.org/10.1038/s41586-021-03670-5
Received:

Accepted:

Published:

Issue Date:

DOI: https://doi.org/10.1038/s41586-021-03670-5
Comments
By submitting a comment you agree to abide by our Terms and Community Guidelines. If you find something abusive or that does not comply with our terms or guidelines please flag it as inappropriate.