Abstract
Hippocampal neurons encode physical variables1,2,3,4,5,6,7 such as space1 or auditory frequency6 in cognitive maps8. In addition, functional magnetic resonance imaging studies in humans have shown that the hippocampus can also encode more abstract, learned variables9,10,11. However, their integration into existing neural representations of physical variables12,13 is unknown. Here, using two-photon calcium imaging, we show that individual neurons in the dorsal hippocampus jointly encode accumulated evidence with spatial position in mice performing a decision-making task in virtual reality14,15,16. Nonlinear dimensionality reduction13 showed that population activity was well-described by approximately four to six latent variables, which suggests that neural activity is constrained to a low-dimensional manifold. Within this low-dimensional space, both physical and abstract variables were jointly mapped in an orderly manner, creating a geometric representation that we show is similar across mice. The existence of conjoined cognitive maps suggests that the hippocampus performs a general computation—the creation of task-specific low-dimensional manifolds that contain a geometric representation of learned knowledge.
Relevant articles
Open Access articles citing this article.
Huanqiu Zhang

,

P. Dylan Rich

…

Tatyana O. Sharpee

Nature Neuroscience Open Access 29 December 2022

Rufus Mitchell-Heggs

,

Seigfred Prado

…

Simon R. Schultz

Journal of Computational Neuroscience Open Access 16 December 2022

Veronika Samborska

,

James L. Butler

…

Thomas Akam

Nature Neuroscience Open Access 28 September 2022
Access options
Subscribe to Nature+
Get immediate online access to Nature and 55 other Nature journal
Subscribe to Journal
Get full journal access for 1 year
$199.00
only $3.90 per issue
All prices are NET prices.
VAT will be added later in the checkout.
Tax calculation will be finalised during checkout.
Buy article
Get time limited or full article access on ReadCube.
$32.00
All prices are NET prices.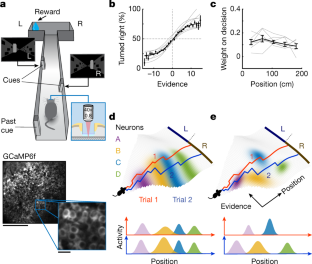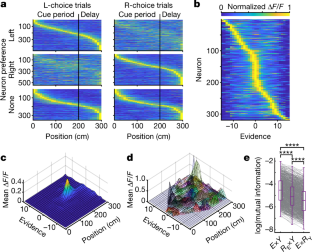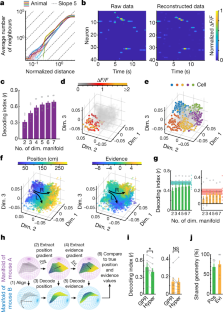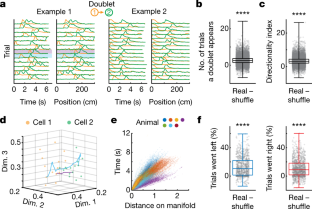 Data availability
The datasets generated in this study are available from the corresponding authors on reasonable request. Source data are provided with this paper.
References
O'Keefe, J. & Dostrovsky, J. The hippocampus as a spatial map. Preliminary evidence from unit activity in the freely-moving rat. Brain Res. 34, 171–175 (1971).

Frank, L. M., Brown, E. N. & Wilson, M. Trajectory encoding in the hippocampus and entorhinal cortex. Neuron 27, 169–178 (2000).

Wood, E. R., Dudchenko, P. A., Robitsek, R. J. & Eichenbaum, H. Hippocampal neurons encode information about different types of memory episodes occurring in the same location. Neuron 27, 623–633 (2000).

Eichenbaum, H., Kuperstein, M., Fagan, A. & Nagode, J. Cue-sampling and goal-approach correlates of hippocampal unit activity in rats performing an odor-discrimination task. J. Neurosci. 7, 716–732 (1987).

Herzog, L. E. et al. Interaction of taste and place coding in the hippocampus. J. Neurosci. 39, 3057–3069 (2019).

Aronov, D., Nevers, R. & Tank, D. W. Mapping of a non-spatial dimension by the hippocampal–entorhinal circuit. Nature 543, 719–722 (2017).

Taxidis, J. et al. Differential emergence and stability of sensory and temporal representations in context-specific hippocampal sequences. Neuron 108, 984–998.e9 (2020).

O'Keefe, J. & Nadel, L. The Hippocampus as a Cognitive Map (Clarendon, 1978).

Schuck, N. W. & Niv, Y. Sequential replay of nonspatial task states in the human hippocampus. Science 364, eaaw5181 (2019).

Tavares, R. M. et al. A map for social navigation in the human brain. Neuron 87, 231–243 (2015).

Park, S. A., Miller, D. S., Nili, H., Ranganath, C. & Boorman, E. D. Map making: constructing, combining, and inferring on abstract cognitive maps. Neuron 107, 1226–1238.e8 (2020).

Rubin, A. et al. Revealing neural correlates of behavior without behavioral measurements. Nat. Commun. 10, 4745 (2019).

Low, R. J., Lewallen, S., Aronov, D., Nevers, R. & Tank, D. W. Probing variability in a cognitive map using manifold inference from neural dynamics. Preprint at https://doi.org/10.1101/418939 (2018).

Pinto, L. et al. An accumulation-of-evidence task using visual pulses for mice navigating in virtual reality. Front. Behav. Neurosci. 12, 36 (2018).

Koay, S. A., Thiberge, S., Brody, C. D. & Tank, D. W. Amplitude modulations of cortical sensory responses in pulsatile evidence accumulation. eLife 9, e60628 (2020).

Engelhard, B. et al. Specialized coding of sensory, motor and cognitive variables in VTA dopamine neurons. Nature 570, 509–513 (2019).

MacDonald, C. J., Lepage, K. Q., Eden, U. T. & Eichenbaum, H. Hippocampal "time cells" bridge the gap in memory for discontiguous events. Neuron 71, 737–749 (2011).

Pastalkova, E., Itskov, V., Amarasingham, A. & Buzsáki, G. Internally generated cell assembly sequences in the rat hippocampus. Science 321, 1322–1327 (2008).

Tolman, E. C. Cognitive maps in rats and men. Psychol. Rev. 55, 189–208 (1948).

Bellmund, J. L. S., Gärdenfors, P., Moser, E. I. & Doeller, C. F. Navigating cognition: spatial codes for human thinking. Science 362, eaat6766 (2018).

Eichenbaum, H. in Behavioral Neuroscience of Learning and Memory (eds Clark, R. E. & Martin, S. J.) 101–117 (Springer, 2018).

Constantinescu, A. O., O'Reilly, J. X. & Behrens, T. E. J. Organizing conceptual knowledge in humans with a gridlike code. Science 352, 1464–1468 (2016).

Gallego, J. A., Perich, M. G., Miller, L. E. & Solla, S. A. Neural manifolds for the control of movement. Neuron 94, 978–984 (2017).

Russo, A. A. et al. Motor cortex embeds muscle-like commands in an untangled population response. Neuron 97, 953–966.e8 (2018).

Chaudhuri, R., Gerçek, B., Pandey, B., Peyrache, A. & Fiete, I. The intrinsic attractor manifold and population dynamics of a canonical cognitive circuit across waking and sleep. Nat. Neurosci. 22, 1512–1520 (2019).

Eichenbaum, H. & Cohen, N. J. Can we reconcile the declarative memory and spatial navigation views on hippocampal function? Neuron 83, 764–770 (2014).

Recanatesi, S. et al. Predictive learning as a network mechanism for extracting low-dimensional latent space representations. Nat. Commun. 12, 1417 (2021).

Aronov, D. & Tank, D. W. Engagement of neural circuits underlying 2D spatial navigation in a rodent virtual reality system. Neuron 84, 442–456 (2014).

Dombeck, D. A., Harvey, C. D., Tian, L., Looger, L. L. & Tank, D. W. Functional imaging of hippocampal place cells at cellular resolution during virtual navigation. Nat. Neurosci. 13, 1433–1440 (2010).

Harvey, C. D., Coen, P. & Tank, D. W. Choice-specific sequences in parietal cortex during a virtual-navigation decision task. Nature 484, 62–68 (2012).

Brunton, B. W., Botvinick, M. M. & Brody, C. D. Rats and humans can optimally accumulate evidence for decision-making. Science 340, 95–98 (2013).

Gold, J. I. & Shadlen, M. N. The neural basis of decision making. Annu. Rev. Neurosci. 30, 535–574 (2007).

Gill, P. R., Mizumori, S. J. Y. & Smith, D. M. Hippocampal episode fields develop with learning. Hippocampus 21, 1240–1249 (2011).

McKenzie, S. et al. Hippocampal representation of related and opposing memories develop within distinct, hierarchically organized neural schemas. Neuron 83, 202–215 (2014).

Howard, M. W., Luzardo, A. & Tiganj, Z. Evidence accumulation in a Laplace domain decision space. Comput. Brain Behav. 1, 237–251 (2018).

Pnevmatikakis, E. A. et al. Simultaneous denoising, deconvolution, and demixing of calcium imaging data. Neuron 89, 285–299 (2016).

Pnevmatikakis, E. A. & Giovannucci, A. NoRMCorre: an online algorithm for piecewise rigid motion correction of calcium imaging data. J. Neurosci. Methods 291, 83–94 (2017).

Skaggs, W. E., McNaughton, B. L. & Gothard, K. M. An information-theoretic approach to deciphering the hippocampal code. In Advances in Neural Information Processing Systems 5 (eds Hanson, S. J. et al.) 1030–1037 (Morgan-Kaufmann, 1993).

Grassberger, P. & Procaccia, I. Measuring the strangeness of strange attractors. Physica D 9, 189–208 (1983).

Stachenfeld, K. L., Botvinick, M. M. & Gershman, S. J. The hippocampus as a predictive map. Nat. Neurosci. 20, 1643–1653 (2017).

Gauthier, J. L. & Tank, D. W. A dedicated population for reward coding in the hippocampus. Neuron 99, 179–193.e7 (2018).

Pinto, L. et al. Task-dependent changes in the large-scale dynamics and necessity of cortical regions. Neuron 104, 810–824.e9 (2019).

Domnisoru, C., Kinkhabwala, A. A. & Tank, D. W. Membrane potential dynamics of grid cells. Nature 495, 199–204 (2013).

Rich, P. D., Liaw, H.-P. & Lee, A. K. Large environments reveal the statistical structure governing hippocampal representations. Science 345, 814–817 (2014).

Tenenbaum, J. B., de Silva, V. & Langford, J. C. A global geometric framework for nonlinear dimensionality reduction. Science 290, 2319–2323 (2000).

Yu, B. M. et al. Gaussian-process factor analysis for low-dimensional single-trial analysis of neural population activity. J. Neurophysiol. 102, 614–635 (2009).
Acknowledgements
We thank A. Song and S. Thiberge for assistance with two-photon imaging, S. Stein and S. Baptista for technical support with animal training, M. L. Ioffe for providing code and E. M. Diamanti and B. Engelhard for discussions. This work was supported by NIH grants U01NS090541, U19NS104648 and F32MH119749, as well as the Simons Collaboration on the Global Brain.
Ethics declarations
Competing interests
The authors declare no competing interests.
Additional information
Peer review information Nature thanks the anonymous reviewers for their contribution to the peer review of this work.
Publisher's note Springer Nature remains neutral with regard to jurisdictional claims in published maps and institutional affiliations.
Extended data figures and tables
Supplementary information
About this article
Cite this article
Nieh, E.H., Schottdorf, M., Freeman, N.W. et al. Geometry of abstract learned knowledge in the hippocampus. Nature 595, 80–84 (2021). https://doi.org/10.1038/s41586-021-03652-7
Received:

Accepted:

Published:

Issue Date:

DOI: https://doi.org/10.1038/s41586-021-03652-7
Comments
By submitting a comment you agree to abide by our Terms and Community Guidelines. If you find something abusive or that does not comply with our terms or guidelines please flag it as inappropriate.