Abstract
In higher eukaryotes, many genes are regulated by enhancers that are 104–106 base pairs (bp) away from the promoter. Enhancers contain transcription-factor-binding sites (which are typically around 7–22 bp), and physical contact between the promoters and enhancers is thought to be required to modulate gene expression. Although chromatin architecture has been mapped extensively at resolutions of 1 kilobase and above; it has not been possible to define physical contacts at the scale of the proteins that determine gene expression. Here we define these interactions in detail using a chromosome conformation capture method (Micro-Capture-C) that enables the physical contacts between different classes of regulatory elements to be determined at base-pair resolution. We find that highly punctate contacts occur between enhancers, promoters and CCCTC-binding factor (CTCF) sites and we show that transcription factors have an important role in the maintenance of the contacts between enhancers and promoters. Our data show that interactions between CTCF sites are increased when active promoters and enhancers are located within the intervening chromatin. This supports a model in which chromatin loop extrusion1 is dependent on cohesin loading at active promoters and enhancers, which explains the formation of tissue-specific chromatin domains without changes in CTCF binding.
This is a preview of subscription content
Access options
Subscribe to Nature+
Get immediate online access to the entire Nature family of 50+ journals
Subscribe to Journal
Get full journal access for 1 year
$199.00
only $3.90 per issue
All prices are NET prices.
VAT will be added later in the checkout.
Tax calculation will be finalised during checkout.
Buy article
Get time limited or full article access on ReadCube.
$32.00
All prices are NET prices.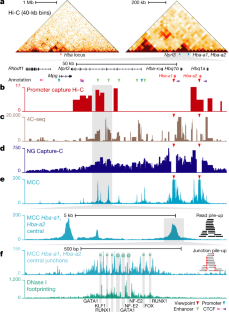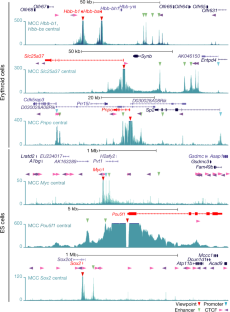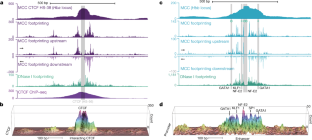 Data availability
Sequencing data have been submitted to the NCBI Gene Expression Omnibus (GSE144336 and GSE153256). Previously published data are available under the following accession codes: GSE679598, GSE9787114, GSE4428618, GSE2792137, GSE3020338, GSE5133439. DNase I hypersensitivity data are available for erythroid cells from ref. 40 and for ES cells from UW ENCODE41. Source data are provided with this paper.
References
Sanborn, A. L. et al. Chromatin extrusion explains key features of loop and domain formation in wild-type and engineered genomes. Proc. Natl Acad. Sci. USA 112, E6456–E6465 (2015).

Lieberman-Aiden, E. et al. Comprehensive mapping of long-range interactions reveals folding principles of the human genome. Science 326, 289–293 (2009).

Hsieh, T. S., Fudenberg, G., Goloborodko, A. & Rando, O. J. Micro-C XL: assaying chromosome conformation from the nucleosome to the entire genome. Nat. Methods 13, 1009–1011 (2016).

Krietenstein, N. et al. Ultrastructural details of mammalian chromosome architecture. Mol. Cell 78, 554–565.e7 (2020).

Hsieh, T. S. et al. Resolving the 3D landscape of transcription-linked mammalian chromatin folding. Mol. Cell 78, 539–553.e8 (2020).

Schoenfelder, S. et al. The pluripotent regulatory circuitry connecting promoters to their long-range interacting elements. Genome Res. 25, 582–597 (2015).

van de Werken, H. J. et al. Robust 4C-seq data analysis to screen for regulatory DNA interactions. Nat. Methods 9, 969–972 (2012).

Davies, J. O. et al. Multiplexed analysis of chromosome conformation at vastly improved sensitivity. Nat. Methods 13, 74–80 (2016).

Davies, J. O., Oudelaar, A. M., Higgs, D. R. & Hughes, J. R. How best to identify chromosomal interactions: a comparison of approaches. Nat. Methods 14, 125–134 (2017).

Kornberg, R. D. Chromatin structure: a repeating unit of histones and DNA. Science 184, 868–871 (1974).

Neph, S. et al. An expansive human regulatory lexicon encoded in transcription factor footprints. Nature 489, 83–90 (2012).

Hughes, J. R. et al. Analysis of hundreds of cis-regulatory landscapes at high resolution in a single, high-throughput experiment. Nat. Genet. 46, 205–212 (2014).

Tan-Wong, S. M. et al. Gene loops enhance transcriptional directionality. Science 338, 671–675 (2012).

Hanssen, L. L. P. et al. Tissue-specific CTCF–cohesin-mediated chromatin architecture delimits enhancer interactions and function in vivo. Nat. Cell Biol. 19, 952–961 (2017).

.Hentges, L. D., Sergeant, M. J., Downes, D. J., Hughes, J. R. & Taylor, S. LanceOtron: a deep learning peak caller for ATAC-seq, ChIP-seq, and DNase-seq. Preprint at https://doi.org/10.1101/2021.01.25.428108 (2021).

He, Q., Johnston, J. & Zeitlinger, J. ChIP-nexus enables improved detection of in vivo transcription factor binding footprints. Nat. Biotechnol. 33, 395–401 (2015).

Oudelaar, A. M. et al. Single-allele chromatin interactions identify regulatory hubs in dynamic compartmentalized domains. Nat. Genet. 50, 1744–1751 (2018).

Whyte, W. A. et al. Master transcription factors and mediator establish super-enhancers at key cell identity genes. Cell 153, 307–319 (2013).

Hay, D. et al. Genetic dissection of the α-globin super-enhancer in vivo. Nat. Genet. 48, 895–903 (2016).

Canver, M. C. et al. BCL11A enhancer dissection by Cas9-mediated in situ saturating mutagenesis. Nature 527, 192–197 (2015).

Ran, F. A. et al. Genome engineering using the CRISPR–Cas9 system. Nat. Protocols 8, 2281–2308 (2013).

Trakarnsanga, K. et al. An immortalized adult human erythroid line facilitates sustainable and scalable generation of functional red cells. Nat. Commun. 8, 14750 (2017).

Mettananda, S. et al. Editing an α-globin enhancer in primary human hematopoietic stem cells as a treatment for β-thalassemia. Nat. Commun. 8, 424 (2017).

Bak, R. O., Dever, D. P. & Porteus, M. H. CRISPR/Cas9 genome editing in human hematopoietic stem cells. Nat. Protocols 13, 358–376 (2018).

Scott, C. et al. Recapitulation of erythropoiesis in congenital dyserythropoietic anaemia type I (CDA-I) identifies defects in differentiation and nucleolar abnormalities. Haematologica https://doi.org/10.3324/haematol.2020.260158 (2020).

Magoč, T. & Salzberg, S. L. FLASH: fast length adjustment of short reads to improve genome assemblies. Bioinformatics 27, 2957–2963 (2011).

Kent, W. J. BLAT—the BLAST-like alignment tool. Genome Res. 12, 656–664 (2002).

Langmead, B. & Salzberg, S. L. Fast gapped-read alignment with Bowtie 2. Nat. Methods 9, 357–359 (2012).

Fornes, O. et al. JASPAR 2020: update of the open-access database of transcription factor binding profiles. Nucleic Acids Res. 48, D87–D92 (2020).

Khan, A. et al. JASPAR 2018: update of the open-access database of transcription factor binding profiles and its web framework. Nucleic Acids Res. 46, D260–D266 (2018).

Telenius, J. & Hughes, J. R. NGseqBasic - a single-command UNIX tool for ATAC-seq, DNaseI-seq, Cut-and-Run, and ChIP-seq data mapping, high-resolution visualisation, and quality control. Preprint at https://doi.org/10.1101/393413 (2018).

Feng, J., Liu, T., Qin, B., Zhang, Y. & Liu, X. S. Identifying ChIP-seq enrichment using MACS. Nat. Protocols 7, 1728–1740 (2012).

Zacher, B. et al. Accurate promoter and enhancer identification in 127 ENCODE and Roadmap Epigenomics cell types and tissues by GenoSTAN. PLoS ONE 12, e0169249 (2017).

Fisher, R. A. Statistical Methods for Research Workers 5th edn (Oliver and Boyd, 1932).

Kent, W. J. et al. The human genome browser at UCSC. Genome Res. 12, 996–1006 (2002).

Quinlan, A. R. & Hall, I. M. BEDTools: a flexible suite of utilities for comparing genomic features. Bioinformatics 26, 841–842 (2010).

Kowalczyk, M. S. et al. Intragenic enhancers act as alternative promoters. Mol. Cell 45, 447–458 (2012).

Stadler, M. B. et al. DNA-binding factors shape the mouse methylome at distal regulatory regions. Nature 480, 490–495 (2011).

Pope, B. D. et al. Topologically associating domains are stable units of replication-timing regulation. Nature 515, 402–405 (2014).

Hosseini, M. et al. Causes and consequences of chromatin variation between inbred mice. PLoS Genet. 9, e1003570 (2013).

The ENCODE Project Consortium. An integrated encyclopedia of DNA elements in the human genome. Nature 489, 57–74 (2012).
Acknowledgements
J.O.J.D. and P.H. are funded by an MRC Clinician Scientist Award (MRC Clinician Scientist Fellowship MR/R008108) to J.O.J.D. This work was also supported by a Medical Research Council Discovery Award led by D.R.H. (MC_PC_15069). L.D.H., J.R.H. and S.T. developed LanceOtron with support from the National Institutes of Health (USA) grant number R24DK106766. J.R.H. is supported by the MRC Molecular Haematology Unit (MC_UU_00016/14). M.B. is supported by an MRC Clinical Research Training Fellowship (MR/P019633/1). R. Kurita and Y. Nakamura from the RIKEN Tsukuba Branch provided HUDEP-2 cells. We thank V. Iotchkova for advice on the statistical analysis.
Ethics declarations
Competing interests
J.O.J.D., D.M.J. and J.R.H. are co-founders of Nucleome Therapeutics. J.O.J.D., J.R.H., D.J.D. and R.S. provide consultancy to the company and D.M.J. is an employee. J.O.J.D. and J.R.H. have filed a provisional patent application on this work (PCT/GB2020/050253).
Additional information
Peer review information Nature thanks Ralph Stadhouders and the other, anonymous, reviewer(s) for their contribution to the peer review of this work.
Publisher's note Springer Nature remains neutral with regard to jurisdictional claims in published maps and institutional affiliations.
Extended data figures and tables
Supplementary information
About this article
Cite this article
Hua, P., Badat, M., Hanssen, L.L.P. et al. Defining genome architecture at base-pair resolution. Nature 595, 125–129 (2021). https://doi.org/10.1038/s41586-021-03639-4
Received:

Accepted:

Published:

Issue Date:

DOI: https://doi.org/10.1038/s41586-021-03639-4
Comments
By submitting a comment you agree to abide by our Terms and Community Guidelines. If you find something abusive or that does not comply with our terms or guidelines please flag it as inappropriate.