Abstract
The mammalian body plan is established shortly after the embryo implants into the maternal uterus, and our understanding of post-implantation developmental processes remains limited. Although pre- and peri-implantation mouse embryos are routinely cultured in vitro1,2, approaches for the robust culture of post-implantation embryos from egg cylinder stages until advanced organogenesis remain to be established. Here we present highly effective platforms for the ex utero culture of post-implantation mouse embryos, which enable the appropriate development of embryos from before gastrulation (embryonic day (E) 5.5) until the hindlimb formation stage (E11). Late gastrulating embryos (E7.5) are grown in three-dimensional rotating bottles, whereas extended culture from pre-gastrulation stages (E5.5 or E6.5) requires a combination of static and rotating bottle culture platforms. Histological, molecular and single-cell RNA sequencing analyses confirm that the ex utero cultured embryos recapitulate in utero development precisely. This culture system is amenable to the introduction of a variety of embryonic perturbations and micro-manipulations, the results of which can be followed ex utero for up to six days. The establishment of a system for robustly growing normal mouse embryos ex utero from pre-gastrulation to advanced organogenesis represents a valuable tool for investigating embryogenesis, as it eliminates the uterine barrier and allows researchers to mechanistically interrogate post-implantation morphogenesis and artificial embryogenesis in mammals.
Access options
Access Nature and 54 other Nature Portfolio journals
Get Nature+, our best-value online-access subscription
$29.99 / 30 days
cancel any time
Subscribe to this journal
Receive 51 print issues and online access
$199.00 per year
only $3.90 per issue
Rent or buy this article
Prices vary by article type
from$1.95
to$39.95
Prices may be subject to local taxes which are calculated during checkout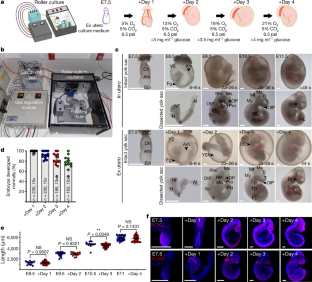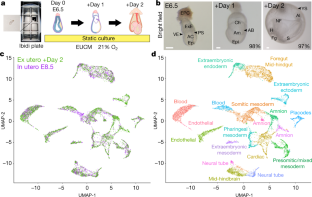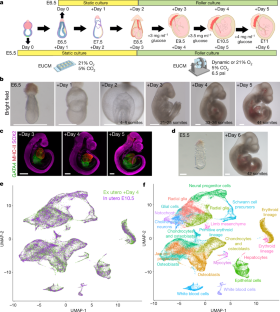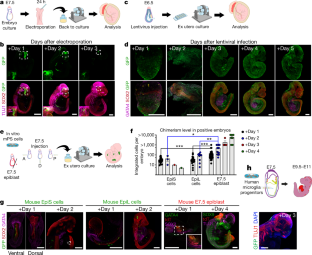 Similar content being viewed by others
Data availability
Bulk and single-cell RNA-seq data have been deposited in the Gene Expression Omnibus (GEO) database under accession number GSE149372. Source data are provided with this paper.
References
Bedzhov, I. & Zernicka-Goetz, M. Self-organizing properties of mouse pluripotent cells initiate morphogenesis upon implantation. Cell 156, 1032–1044 (2014).

White, M. D. et al. Long-lived binding of Sox2 to DNA predicts cell fate in the four-cell mouse embryo. Cell 165, 75–87 (2016).

New, D. A. T. Whole-embryo culture and the study of mammalian embryos during organogenesis. Biol. Rev. Camb. Philos. Soc. 53, 81–122 (1978).

Huang, Q. et al. Intravital imaging of mouse embryos. Science 368, 181–186 (2020).

Nicholas, J. S. & Rudnick, D. The development of rat embryos in tissue culture. Proc. Natl Acad. Sci. USA 20, 656–658 (1934).

New, D. A. T. & Stein, K. F. Cultivation of mouse embryos in vitro. Nature 199, 297–299 (1963).

New, D. A. T., Coppola, P. T. & Terry, S. Culture of explanted rat embryos in rotating tubes. J. Reprod. Fertil. 35, 135–138 (1973).

New, D. A. T. Development of explanted rat embryos in circulating medium. Development 17, 513–525 (1967).

Beddington, R. S. Induction of a second neural axis by the mouse node. Development 120, 613–620 (1994).

Parameswaran, M. & Tam, P. P. L. Regionalisation of cell fate and morphogenetic movement of the mesoderm during mouse gastrulation. Dev. Genet. 17, 16–28 (1995).

Tam, P. P. Postimplantation mouse development: whole embryo culture and micro-manipulation. Int. J. Dev. Biol. 42, 895–902 (1998).

Cantor, J. R. et al. Physiologic medium rewires cellular metabolism and reveals uric acid as an endogenous inhibitor of UMP synthase. Cell 169, 258–272 (2017).

Nagamatsu, G., Shimamoto, S., Hamazaki, N., Nishimura, Y. & Hayashi, K. Mechanical stress accompanied with nuclear rotation is involved in the dormant state of mouse oocytes. Sci. Adv. 5, eaav9960 (2019).

Ueda, Y. et al. Intrauterine pressures adjusted by Reichert's membrane are crucial for early mouse morphogenesis. Cell Rep. 31, 107637 (2020).

Downs, K. M. & Davies, T. Staging of gastrulating mouse embryos by morphological landmarks in the dissecting microscope. Development 118, 1255–1266 (1993).

van Maele-Fabry, G., Delhaise, F. & Picard, J. J. Evolution of the developmental scores of sixteen morphological features in mouse embryos displaying 0 to 30 somites. Int. J. Dev. Biol. 36, 161–167 (1992).

Stelzer, Y. et al. Parent-of-origin DNA methylation dynamics during mouse development. Cell Rep. 16, 3167–3180 (2016).

McDole, K. et al. In toto imaging and reconstruction of post-implantation mouse development at the single-cell level. Cell 175, 859–876 (2018).

Ibarra-Soria, X. et al. Defining murine organogenesis at single-cell resolution reveals a role for the leukotriene pathway in regulating blood progenitor formation. Nat. Cell Biol. 20, 127–134 (2018).

Pijuan-Sala, B. et al. A single-cell molecular map of mouse gastrulation and early organogenesis. Nature 566, 490–495 (2019).

Cao, J. et al. The single-cell transcriptional landscape of mammalian organogenesis. Nature 566, 496–502 (2019).

Saito, T. & Nakatsuji, N. Efficient gene transfer into the embryonic mouse brain using in vivo electroporation. Dev. Biol. 240, 237–246 (2001).

Beronja, S., Livshits, G., Williams, S. & Fuchs, E. Rapid functional dissection of genetic networks via tissue-specific transduction and RNAi in mouse embryos. Nat. Med. 16, 821–827 (2010).

Morgani, S., Nichols, J. & Hadjantonakis, A. K. The many faces of pluripotency: in vitro adaptations of a continuum of in vivo states. BMC Dev. Biol. 17, 7 (2017).

Kojima, Y. et al. The transcriptional and functional properties of mouse epiblast stem cells resemble the anterior primitive streak. Cell Stem Cell 14, 107–120 (2014).

Wu, J. et al. An alternative pluripotent state confers interspecies chimaeric competency. Nature 521, 316–321 (2015).

Huang, Y., Osorno, R., Tsakiridis, A. & Wilson, V. In vivo differentiation potential of epiblast stem cells revealed by chimeric embryo formation. Cell Rep. 2, 1571–1578 (2012).

van Wilgenburg, B., Browne, C., Vowles, J. & Cowley, S. A. Efficient, long term production of monocyte-derived macrophages from human pluripotent stem cells under partly-defined and fully-defined conditions. PLoS One 8, e71098 (2013).

Gafni, O. et al. Derivation of novel human ground state naive pluripotent stem cells. Nature 504, 282–286 (2013).

Harrison, S. E., Sozen, B., Christodoulou, N., Kyprianou, C. & Zernicka-Goetz, M. Assembly of embryonic and extraembryonic stem cells to mimic embryogenesis in vitro. Science 356, eaal1810 (2017).

Aguilera-Castrejon, A. & Hanna, J. H. Highly conducive ex utero mouse embryogenesis from pre-gastrulation to late organogenesis. Protoc. Exch. https://doi.org/10.21203/rs.3.pex-1372/v1 (2021).

Renier, N. et al. iDISCO: a simple, rapid method to immunolabel large tissue samples for volume imaging. Cell 159, 896–910 (2014).

Stuart, T. et al. Comprehensive integration of single-cell data. Cell 177, 1888–1902 (2019).

Butler, A., Hoffman, P., Smibert, P., Papalexi, E. & Satija, R. Integrating single-cell transcriptomic data across different conditions, technologies, and species. Nat. Biotechnol. 36, 411–420 (2018).

Aibar, S. et al. SCENIC: single-cell regulatory network inference and clustering. Nat. Methods 14, 1083–1086 (2017).

Ritchie, M. E. et al. limma powers differential expression analyses for RNA-sequencing and microarray studies. Nucleic Acids Res. 43, e47 (2015).
Acknowledgements
This work was funded by Pascal and Ilana Mantoux; the European Research Council (ERC-CoG-2016 726497-Cellnaivety); the Flight Attendant Medical Research Council (FAMRI); an Israel Cancer Research Fund (ICRF) professorship; BSF; the Helen and Martin Kimmel Institute for Stem Cell Research; the Helen and Martin Kimmel Award for Innovative Investigation; the Israel Science Foundation (ISF); Minerva; the Sherman Institute for Medicinal Chemistry; the Nella and Leon Benoziyo Center for Neurological Diseases; the David and Fela Shapell Family Center for Genetic Disorders Research; the Weizmann–U. Michigan program; the Kekst Family Institute for Medical Genetics; the Dr. Beth Rom-Rymer Stem Cell Research Fund; the Edmond de Rothschild Foundations; the Zantker Charitable Foundation; and the Estate of Zvia Zeroni. We thank O. Reiner and T. Sapir for help with mouse embryo electroporations; the Crown Genomics institute of the Nancy and Stephen Grand Israel National Center for Personalized Medicine at the Weizmann Institute for support with scRNA-seq; and the Weizmann Institute management and board for providing critical financial and infrastructural support. We dedicate this paper to the memories of R. Massarwa and H. Garty.
Ethics declarations
Competing interests
J.H.H is an advisor to Biological Industries Ltd, and submitted a patent application that covers the roller and static culture conditions described herein (filed by J.H.H. and the Weizmann Institute of Science). R.S. is CEO of Arad Technologies Ltd. All other authors declare no competing interests.
Additional information
Peer review information Nature thanks Hiromitsu Nakauchi, Magdalena Zernicka-Goetz and the other, anonymous, reviewer(s) for their contribution to the peer review of this work.
Publisher's note Springer Nature remains neutral with regard to jurisdictional claims in published maps and institutional affiliations.
Extended data figures and tables
Supplementary information
About this article
Cite this article
Aguilera-Castrejon, A., Oldak, B., Shani, T. et al. Ex utero mouse embryogenesis from pre-gastrulation to late organogenesis. Nature 593, 119–124 (2021). https://doi.org/10.1038/s41586-021-03416-3
Received:

Accepted:

Published:

Issue Date:

DOI: https://doi.org/10.1038/s41586-021-03416-3
Comments
By submitting a comment you agree to abide by our Terms and Community Guidelines. If you find something abusive or that does not comply with our terms or guidelines please flag it as inappropriate.