Abstract
Biological invasions are responsible for substantial biodiversity declines as well as high economic losses to society and monetary expenditures associated with the management of these invasions1,2. The InvaCost database has enabled the generation of a reliable, comprehensive, standardized and easily updatable synthesis of the monetary costs of biological invasions worldwide3. Here we found that the total reported costs of invasions reached a minimum of US$1.288 trillion (2017 US dollars) over the past few decades (1970–2017), with an annual mean cost of US$26.8 billion. Moreover, we estimate that the annual mean cost could reach US$162.7 billion in 2017. These costs remain strongly underestimated and do not show any sign of slowing down, exhibiting a consistent threefold increase per decade. We show that the documented costs are widely distributed and have strong gaps at regional and taxonomic scales, with damage costs being an order of magnitude higher than management expenditures. Research approaches that document the costs of biological invasions need to be further improved. Nonetheless, our findings call for the implementation of consistent management actions and international policy agreements that aim to reduce the burden of invasive alien species.
Access options
Subscribe to Journal
Get full journal access for 1 year
$199.00
only $3.90 per issue
All prices are NET prices.
VAT will be added later in the checkout.
Tax calculation will be finalised during checkout.
Rent or Buy article
Get time limited or full article access on ReadCube.
from$8.99
All prices are NET prices.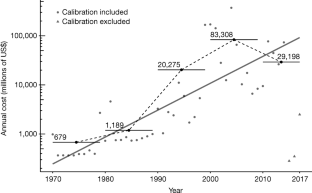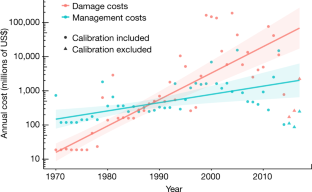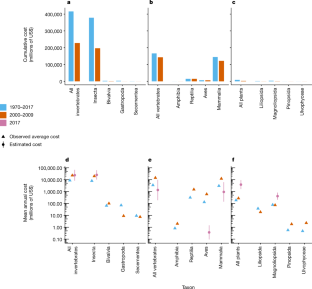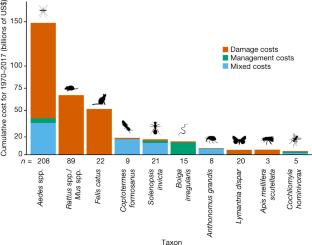 References
1.

Born, W., Rauschmayer, F. & Bräuer, I. Economic evaluation of biological invasions—a survey. Ecol. Econ. 55, 321–336 (2005).

2.

Jackson, T. Addressing the economic costs of invasive alien species: some methodological and empirical issues. Int. J. Sustain. Soc. 7, 221–240 (2015).

3.

Diagne, C. et al. InvaCost, a public database of the economic costs of biological invasions worldwide. Sci. Data 7, 277 (2020).

4.

Bellard, C., Cassey, P. & Blackburn, T. M. Alien species as a driver of recent extinctions. Biol. Lett. 12, 20150623 (2016).

5.

Kumschick, S. et al. Ecological impacts of alien species: quantification, scope, caveats, and recommendations. Bioscience 65, 55–63 (2015).

6.

Ogden, N. H. et al. Emerging infectious diseases and biological invasions: a call for a One Health collaboration in science and management. R. Soc. Open Sci. 6, 181577 (2019).

7.

Jones, B. A. Invasive species impacts on human well-being using the life satisfaction index. Ecol. Econ. 134, 250–257 (2017).

8.

Bradshaw, C. J. A. et al. Massive yet grossly underestimated global costs of invasive insects. Nat. Commun. 7, 12986 (2016).

9.

Seebens, H. et al. Projecting the continental accumulation of alien species through to 2050. Glob. Change Biol. 27, 970–982 (2020).

10.

Essl, F. et al. Drivers of future alien species impacts: an expert-based assessment. Glob. Change Biol. 26, 4880–4893 (2020).

11.

Courchamp, F. et al. Invasion biology: specific problems and possible solutions. Trends Ecol. Evol. 32, 13–22 (2017).

12.

Lenzner, B. et al. A framework for global twenty-first century scenarios and models of biological invasions. Bioscience 69, 697–710 (2019).

13.

Heger, T. et al. Conceptual frameworks and methods for advancing invasion ecology. Ambio 42, 527–540 (2013).

14.

Larson, D. L. et al. A framework for sustainable invasive species management: environmental, social, and economic objectives. J. Environ. Manage. 92, 14–22 (2011).

15.

Hoffmann, B. D. & Broadhurst, L. M. The economic cost of managing invasive species in Australia. NeoBiota 31, 1–18 (2016).

16.

Pimentel, D. et al. Economic and environmental threats of alien plant, animal, and microbe invasions. Agric. Ecosyst. Environ. 84, 1–20 (2001).

17.

Paini, D. R. et al. Global threat to agriculture from invasive species. Proc. Natl Acad. Sci. USA 113, 7575–7579 (2016).

18.

Latombe, G. et al. A vision for global monitoring of biological invasions. Biol. Conserv. 213, 295–308 (2017).

19.

Diagne, C., Catford, J. A., Essl, F., Nuñez, M. A. & Courchamp, F. What are the economic costs of biological invasions? A complex topic requiring international and interdisciplinary expertise. NeoBiota 63, 25–37 (2020).

20.

Seebens, H. et al. No saturation in the accumulation of alien species worldwide. Nat. Commun. 8, 14435 (2017).

21.

Bishop, M. J. et al. Effects of ocean sprawl on ecological connectivity: impacts and solutions. J. Exp. Mar. Biol. Ecol. 492, 7–30 (2017).

22.

Bacher, S. et al. Socio‐Economic Impact Classification of Alien Taxa (SEICAT). Methods Ecol. Evol. 9, 159–168 (2018).

23.

Angulo, E. et al. Non-English languages enrich scientific knowledge: the example of economic costs of biological invasions. Sci. Total Environ. https://doi.org/10.1016/j.scitotenv.2020.144441 (2021).

24.

Colautti, R. I. & MacIsaac, H. J. A neutral terminology to define 'invasive' species. Divers. Distrib. 10, 135–141 (2004).

25.

Dana, E. D., Jeschke, J. M. & García-de-Lomas, J. Decision tools for managing biological invasions: existing biases and future needs. Oryx 48, 56–63 (2014).

26.

Jeschke, J. M., Keesing, F. & Ostfeld, R. S. Novel organisms: comparing invasive species, GMOs, and emerging pathogens. Ambio 42, 541–548 (2013).

27.

Jones, B. A. Tree shade, temperature, and human health: evidence from invasive species-induced deforestation. Ecol. Econ. 156, 12–23 (2019).

28.

Jones, B. A. & McDermott, S. M. Health impacts of invasive species through an altered natural environment: assessing air pollution sinks as a causal pathway. Environ. Resour. Econ. 71, 23–43 (2018).

29.

Pyšek, P. et al. Geographical and taxonomic biases in invasion ecology. Trends Ecol. Evol. 23, 237–244 (2008).

30.

Clout, M. N. & Russell, J. C. The invasion ecology of mammals: a global perspective. Wildl. Res. 35, 180–184 (2008).

31.

Early, R. et al. Global threats from invasive alien species in the twenty-first century and national response capacities. Nat. Commun. 7, 12485 (2016).

32.

Jarić, I. et al. Crypticity in biological invasions. Trends Ecol. Evol. 34, 291–302 (2019).

33.

Pascual, U. et al. in The Economics of Ecosystems and Biodiversity: Ecological and Economic Foundations (ed. Kumar, P.) 183–256 (Earthscan, 2010).

34.

Spangenberg, J. H. & Settele, J. Precisely incorrect? Monetising the value of ecosystem services. Ecol. Complex. 7, 327–337 (2010).

35.

Kallis, G., Gómez-Baggethun, E. & Zografos, C. To value or not to value? That is not the question. Ecol. Econ. 94, 97–105 (2013).

36.

Meinard, Y., Dereniowska, M. & Gharbi, J.-S. The ethical stakes in monetary valuation methods for conservation purposes. Biol. Conserv. 199, 67–74 (2016).

37.

Faulkner, K. T., Robertson, M. P. & Wilson, J. R. U. Stronger regional biosecurity is essential to prevent hundreds of harmful biological invasions. Glob. Change Biol. 26, 2449–2462 (2020).

38.

Pagad, S., Genovesi, P., Carnevali, L., Schigel, D. & McGeoch, M. A. Introducing the Global Register of Introduced and Invasive Species. Sci. Data 5, 170202 (2018).

39.

Holden, M. H., Nyrop, J. P. & Ellner, S. P. The economic benefit of time‐varying surveillance effort for invasive species management. J. Appl. Ecol. 53, 712–721 (2016).

40.

Hulme, P. E. et al. Integrating invasive species policies across ornamental horticulture supply chains to prevent plant invasions. J. Appl. Ecol. 55, 92–98 (2018).

41.

Chaffin, B. C. et al. Biological invasions, ecological resilience and adaptive governance. J. Environ. Manage. 183, 399–407 (2016).

42.

Sardain, A., Sardain, E. & Leung, B. Global forecasts of shipping traffic and biological invasions to 2050. Nat. Sustain. 2, 274–282 (2019).

43.

Seebens, H. Invasion ecology: expanding trade and the dispersal of alien species. Curr. Biol. 29, R120–R122 (2019).

44.

Leroy, B. et al. Analysing global economic costs of invasive alien species with the invacost R package. Preprint at https://doi.org/10.1101/2020.12.10.419432 (2020).
Acknowledgements
We acknowledge the French National Research Agency (ANR-14-CE02-0021) and the BNP-Paribas Foundation for providing supporting funds to the InvaCost project, and the Biodiversa Eranet for the AlienScenario programme and AXA Research Fund for the Invasion Biology Chair. A.-C.V., B.L., D.R., F.C., J.-M.S. and R.E.G. were mainly funded by their salaries as French agents affiliated with public institutions. Work by I.J. was supported by the J. E. Purkyně Fellowship of the Czech Academy of Sciences. We thank L. Nuninger and C. Assailly for their work in the initial project; S. Pagad and F. Simard for their assistance and advice during all of this work; S. Milborrow, N. Dubos and A. A. Kramer for their statistical recommendations; E. Angulo, C. Bellard, L. Ballesteros-Mejia, E. Bonnaud, H. Dole, M. Perron and A. Turbelin for their constructive feedback on our work; and T. Kneib, S. McDermott and M. Springborn for comments that improved our initial manuscript.
Ethics declarations
Competing interests
The authors declare no competing interests.
Additional information
Peer review information Nature thanks Thomas Kneib, Shana McDermott, Michael Springborn and the other, anonymous, reviewer(s) for their contribution to the peer review of this work. Peer reviewer reports are available.
Publisher's note Springer Nature remains neutral with regard to jurisdictional claims in published maps and institutional affiliations.
Extended data figures and tables
Supplementary information
About this article
Cite this article
Diagne, C., Leroy, B., Vaissière, AC. et al. High and rising economic costs of biological invasions worldwide. Nature (2021). https://doi.org/10.1038/s41586-021-03405-6
Received:

Accepted:

Published:
Further reading
Elena Angulo

,

Christophe Diagne

,

Liliana Ballesteros-Mejia

,

Tasnime Adamjy

,

Danish A. Ahmed

,

Evgeny Akulov

,

Achyut K. Banerjee

,

César Capinha

,

Cheikh A.K.M. Dia

,

Gauthier Dobigny

,

Virginia G. Duboscq-Carra

,

Marina Golivets

,

Phillip J. Haubrock

,

Gustavo Heringer

,

Natalia Kirichenko

,

Melina Kourantidou

,

Chunlong Liu

,

Martin A. Nuñez

,

David Renault

,

David Roiz

,

Ahmed Taheri

,

Laura N.H. Verbrugge

,

Yuya Watari

,

Wen Xiong

&

Franck Courchamp

Science of The Total Environment (2021)
Comments
By submitting a comment you agree to abide by our Terms and Community Guidelines. If you find something abusive or that does not comply with our terms or guidelines please flag it as inappropriate.