Abstract
Cognitive control guides behaviour by controlling what, when, and how information is represented in the brain1. For example, attention controls sensory processing; top-down signals from prefrontal and parietal cortex strengthen the representation of task-relevant stimuli2,3,4. A similar 'selection' mechanism is thought to control the representations held 'in mind'—in working memory5,6,7,8,9,10. Here we show that shared neural mechanisms underlie the selection of items from working memory and attention to sensory stimuli. We trained rhesus monkeys to switch between two tasks, either selecting one item from a set of items held in working memory or attending to one stimulus from a set of visual stimuli. Neural recordings showed that similar representations in prefrontal cortex encoded the control of both selection and attention, suggesting that prefrontal cortex acts as a domain-general controller. By contrast, both attention and selection were represented independently in parietal and visual cortex. Both selection and attention facilitated behaviour by enhancing and transforming the representation of the selected memory or attended stimulus. Specifically, during the selection task, memory items were initially represented in independent subspaces of neural activity in prefrontal cortex. Selecting an item caused its representation to transform from its own subspace to a new subspace used to guide behaviour. A similar transformation occurred for attention. Our results suggest that prefrontal cortex controls cognition by dynamically transforming representations to control what and when cognitive computations are engaged.
Access options
Subscribe to Journal
Get full journal access for 1 year
$199.00
only $3.90 per issue
All prices are NET prices.
VAT will be added later in the checkout.
Tax calculation will be finalised during checkout.
Rent or Buy article
Get time limited or full article access on ReadCube.
from$8.99
All prices are NET prices.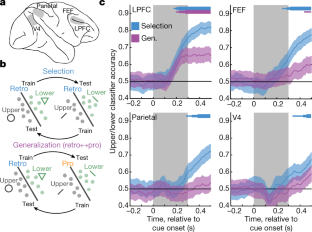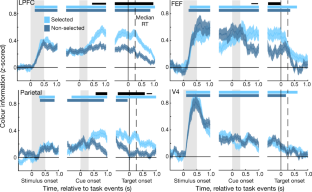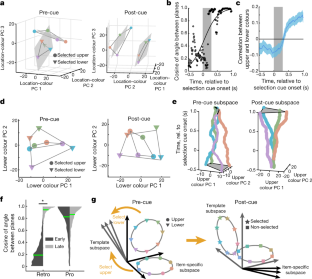 Data availability
Data supporting all figures are included with the manuscript. Raw electrophysiological and behavioural data are available from the corresponding author upon reasonable request. Source data are provided with this paper.
Code availability
Behavioural code and custom Matlab analysis functions are publicly available at https://github.com/buschman-lab/. All other code is available from the authors upon reasonable request.
References
1.

Miller, E. K. & Cohen, J. D. An integrative theory of prefrontal cortex function. Annu. Rev. Neurosci. 24, 167–202 (2001).

2.

Buschman, T. J. & Kastner, S. From behavior to neural dynamics: an integrated theory of attention. Neuron 88, 127–144 (2015).

3.

Buschman, T. J. & Miller, E. K. Top-down versus bottom-up control of attention in the prefrontal and posterior parietal cortices. Science 315, 1860–1862 (2007).

4.

Moore, T. & Armstrong, K. M. Selective gating of visual signals by microstimulation of frontal cortex. Nature 421, 370–373 (2003).

5.

Gazzaley, A. & Nobre, A. C. Top-down modulation: bridging selective attention and working memory. Trends Cogn. Sci. 16, 129–135 (2012).

6.

Sprague, T. C., Ester, E. F. & Serences, J. T. Restoring latent visual working memory representations in human cortex. Neuron 91, 694–707 (2016).

7.

Myers, N. E., Stokes, M. G. & Nobre, A. C. Prioritizing information during working memory: beyond sustained internal attention. Trends Cogn. Sci. 21, 449–461 (2017).

8.

Ester, E. F., Nouri, A. & Rodriguez, L. Retrospective cues mitigate information loss in human cortex during working memory storage. J. Neurosci. 38, 8538–8548 (2018).

9.

Nobre, A. C. et al. Orienting attention to locations in perceptual versus mental representations. J. Cogn. Neurosci. 16, 363–373 (2004).

10.

Murray, A. M., Nobre, A. C., Clark, I. A., Cravo, A. M. & Stokes, M. G. Attention restores discrete items to visual short-term memory. Psychol. Sci. 24, 550–556 (2013).

11.

Wilken, P. & Ma, W. J. A detection theory account of change detection. J. Vis. 4, 1120–1135 (2004).

12.

Zhang, W. & Luck, S. J. Discrete fixed-resolution representations in visual working memory. Nature 453, 233–235 (2008).

13.

Bays, P. M., Catalao, R. F. G. & Husain, M. The precision of visual working memory is set by allocation of a shared resource. J. Vis. 9, 7 (2009).

14.

Buschman, T. J., Siegel, M., Roy, J. E. & Miller, E. K. Neural substrates of cognitive capacity limitations. Proc. Natl Acad. Sci. USA 108, 11252–11255 (2011).

15.

Sprague, T. C., Ester, E. F. & Serences, J. T. Reconstructions of information in visual spatial working memory degrade with memory load. Curr. Biol. 24, 2174–2180 (2014).

16.

Bays, P. M. Spikes not slots: noise in neural populations limits working memory. Trends Cogn. Sci. 19, 431–438 (2015).

17.

Bouchacourt, F. & Buschman, T. J. A flexible model of working memory. Neuron 103, 147–160.e8 (2019).

18.

Pertzov, Y., Bays, P. M., Joseph, S. & Husain, M. Rapid forgetting prevented by retrospective attention cues. J. Exp. Psychol. Hum. Percept. Perform. 39, 1224–1231 (2013).

19.

Bays, P. M. & Taylor, R. A neural model of retrospective attention in visual working memory. Cognit. Psychol. 100, 43–52 (2018).

20.

Desimone, R. & Duncan, J. Neural mechanisms of selective visual attention. Annu. Rev. Neurosci. 18, 193–222 (1995).

21.

Treue, S. & Maunsell, J. H. Attentional modulation of visual motion processing in cortical areas MT and MST. Nature 382, 539–541 (1996).

22.

Everling, S., Tinsley, C. J., Gaffan, D. & Duncan, J. Filtering of neural signals by focused attention in the monkey prefrontal cortex. Nat. Neurosci. 5, 671–676 (2002).

23.

Schneegans, S. & Bays, P. M. Restoration of fMRI decodability does not imply latent working memory states. J. Cogn. Neurosci. 29, 1977–1994 (2017).

24.

Nee, D. E. & Jonides, J. Common and distinct neural correlates of perceptual and memorial selection. Neuroimage 45, 963–975 (2009).

25.

Quentin, R. et al. Differential brain mechanisms of selection and maintenance of information during working memory. J. Neurosci. 39, 3728–3740 (2019).

26.

Bernardi, S. et al. The geometry of abstraction in the hippocampus and prefrontal cortex. Cell 183, 954–967.e21 (2020).

27.

Rigotti, M. et al. The importance of mixed selectivity in complex cognitive tasks. Nature 497, 585–590 (2013).

28.

Reynolds, J. H., Chelazzi, L. & Desimone, R. Competitive mechanisms subserve attention in macaque areas V2 and V4. J. Neurosci. 19, 1736–1753 (1999).

29.

Reynolds, J. H. & Heeger, D. J. The normalization model of attention. Neuron 61, 168–185 (2009).

30.

Panichello, M. F., DePasquale, B., Pillow, J. W. & Buschman, T. J. Error-correcting dynamics in visual working memory. Nat. Commun. 10, 3366 (2019).

31.

Bruce, C. J. & Goldberg, M. E. Primate frontal eye fields. I. Single neurons discharging before saccades. J. Neurophysiol. 53, 603–635 (1985).

32.

Rolston, J. D., Gross, R. E. & Potter, S. M. Common median referencing for improved action potential detection with multielectrode arrays. Annu. Int. Conf. IEEE Eng. Med. Biol. Soc. 2009, 1604–1607 (2009).

33.

Wessberg, J. et al. Real-time prediction of hand trajectory by ensembles of cortical neurons in primates. Nature 408, 361–365 (2000).

34.

Tort, A. B. L., Komorowski, R., Eichenbaum, H. & Kopell, N. Measuring phase-amplitude coupling between neuronal oscillations of different frequencies. J. Neurophysiol. 104, 1195–1210 (2010).

35.

Maris, E. & Oostenveld, R. Nonparametric statistical testing of EEG- and MEG-data. J. Neurosci. Methods 164, 177–190 (2007).

36.

Murray, J. D. et al. Stable population coding for working memory coexists with heterogeneous neural dynamics in prefrontal cortex. Proc. Natl Acad. Sci. USA 114, 394–399 (2017).
Acknowledgements
We thank B. Morea and H. Weinberg-Wolf for assistance with monkeys; S. Tafazoli for assistance with microstimulation; F. Bouchacourt, C. Jahn, A. Libby, C. MacDowell, S. Tafazoli, M. Uchimura, and S. Henrickson for feedback; and the Princeton Laboratory Animal Resources staff for support. This work was supported by NIMH R01MH115042 (T.J.B.) and an NDSEG Fellowship (M.F.P.).
Ethics declarations
Competing interests
The authors declare no competing interests.
Additional information
Peer review information Nature thanks Tirin Moore and the other, anonymous, reviewer(s) for their contribution to the peer review of this work. Peer reviewer reports are available.
Publisher's note Springer Nature remains neutral with regard to jurisdictional claims in published maps and institutional affiliations.
Extended data figures and tables
Supplementary information
This file contains Supplementary Table 1 and Supplementary Discussions 1-4. Supplementary Table 1 contains statistics of neural recordings. Supplementary Discussion 1 discusses balancing generalized and task-specific representations. Supplementary Discussion 2 discusses distributed memory representations. Supplementary Discussion 3 discusses transformation of selected and unselected items. Supplementary Discussion 4 discusses cognitive control through dynamic transformation of representations.
About this article
Cite this article
Panichello, M.F., Buschman, T.J. Shared mechanisms underlie the control of working memory and attention. Nature 592, 601–605 (2021). https://doi.org/10.1038/s41586-021-03390-w
Received:

Accepted:

Published:

Issue Date:
Comments
By submitting a comment you agree to abide by our Terms and Community Guidelines. If you find something abusive or that does not comply with our terms or guidelines please flag it as inappropriate.