Abstract
The RNA modification N6-methyladenosine (m6A) has critical roles in many biological processes1,2. However, the function of m6A in the early phase of mammalian development remains poorly understood. Here we show that the m6A reader YT521-B homology-domain-containing protein 1 (YTHDC1) is required for the maintenance of mouse embryonic stem (ES) cells in an m6A-dependent manner, and that its deletion initiates cellular reprogramming to a 2C-like state. Mechanistically, YTHDC1 binds to the transcripts of retrotransposons (such as intracisternal A particles, ERVK and LINE1) in mouse ES cells and its depletion results in the reactivation of these silenced retrotransposons, accompanied by a global decrease in SETDB1-mediated trimethylation at lysine 9 of histone H3 (H3K9me3). We further demonstrate that YTHDC1 and its target m6A RNAs act upstream of SETDB1 to repress retrotransposons and Dux, the master inducer of the two-cell stage (2C)-like program. This study reveals an essential role for m6A RNA and YTHDC1 in chromatin modification and retrotransposon repression.
Relevant articles
Open Access articles citing this article.
Huan Yao

,

Chun-Chun Gao

…

Yun-Gui Yang

Nature Communications Open Access 19 January 2023

Bin Shi

,

Wei-Wei Liu

…

Hao Wang

Molecular Cancer Open Access 16 August 2022

Zhen Fang

,

Wentong Mei

…

Fei Li

Experimental Hematology & Oncology Open Access 09 August 2022
Access options
Subscribe to Nature+
Get immediate online access to Nature and 55 other Nature journal
Subscribe to Journal
Get full journal access for 1 year
$199.00
only $3.90 per issue
All prices are NET prices.
VAT will be added later in the checkout.
Tax calculation will be finalised during checkout.
Buy article
Get time limited or full article access on ReadCube.
$32.00
All prices are NET prices.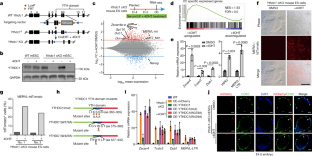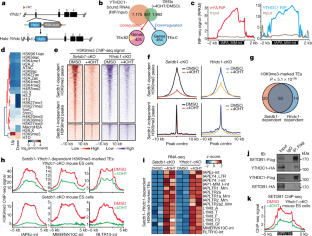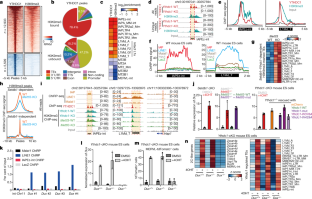 Data availability
The data supporting the conclusions of this Article, including H3K9me3–YTHDC1 ChIP–seq, m6A–YTHDC1 RIP-seq, ChIRP-seq, 4sUDRB-seq and RNA-seq data are available at GEO under accession GSE146467. The m6A RIP-seq data were from GSE5266219, GSE619988, GSE14531520 and GSE13359914. The H3K9me3 ChIP-seq data of Setdb1-KO mouse ES cells was obtained from the BioProject accession PRJNA54454018. The raw uncropped data for gels are appended in Supplementary Fig. 1, and high-resolution images for whole-mount fluorescence imaging are available at Supplementary Fig. 2. qPCR primers, ChIRP probes and antibodies used in this study are listed in the supplementary tables.
References
Fu, Y., Dominissini, D., Rechavi, G. & He, C. Gene expression regulation mediated through reversible m6A RNA methylation. Nat. Rev. Genet. 15, 293–306 (2014).

Zaccara, S., Ries, R. J. & Jaffrey, S. R. Reading, writing and erasing mRNA methylation. Nat. Rev. Mol. Cell Biol. 20, 608–624 (2019).

Yang, Y., Hsu, P. J., Chen, Y. S. & Yang, Y. G. Dynamic transcriptomic m6A decoration: writers, erasers, readers and functions in RNA metabolism. Cell Res. 28, 616–624 (2018).

Liu, J. et al. YTHDF2/3 are required for somatic reprogramming through different RNA deadenylation pathways. Cell Rep. 32, 108120 (2020).

Luo, S. & Tong, L. Molecular basis for the recognition of methylated adenines in RNA by the eukaryotic YTH domain. Proc. Natl Acad. Sci. USA 111, 13834–13839 (2014).

Xu, C. et al. Structural basis for selective binding of m6A RNA by the YTHDC1 YTH domain. Nat. Chem. Biol. 10, 927–929 (2014).

Kasowitz, S. D. et al. Nuclear m6A reader YTHDC1 regulates alternative polyadenylation and splicing during mouse oocyte development. PLoS Genet. 14, e1007412 (2018).

Geula, S. et al. Stem cells. m6A mRNA methylation facilitates resolution of naïve pluripotency toward differentiation. Science 347, 1002–1006 (2015).

Shi, H. et al. m6A facilitates hippocampus-dependent learning and memory through YTHDF1. Nature 563, 249–253 (2018).

Ivanova, I. et al. The RNA m6A reader YTHDF2 is essential for the post-transcriptional regulation of the maternal transcriptome and oocyte competence. Mol. Cell 67, 1059–1067 (2017).

Hsu, P. J. et al. Ythdc2 is an N6-methyladenosine binding protein that regulates mammalian spermatogenesis. Cell Res. 27, 1115–1127 (2017).

Zhang, Y. et al. RNA-binding protein YTHDF3 suppresses interferon-dependent antiviral responses by promoting FOXO3 translation. Proc. Natl Acad. Sci. USA 116, 976–981 (2019).

Wu, Y. et al. Nuclear exosome targeting complex core factor Zcchc8 regulates the degradation of LINE1 RNA in early embryos and embryonic stem cells. Cell Rep. 29, 2461–2472 (2019).

Liu, J. et al. N6-methyladenosine of chromosome-associated regulatory RNA regulates chromatin state and transcription. Science 367, 580–586 (2020).

Macfarlan, T. S. et al. Embryonic stem cell potency fluctuates with endogenous retrovirus activity. Nature 487, 57–63 (2012).

Hendrickson, P. G. et al. Conserved roles of mouse DUX and human DUX4 in activating cleavage-stage genes and MERVL/HERVL retrotransposons. Nat. Genet. 49, 925–934 (2017).

Genet, M. & Torres-Padilla, M. E. The molecular and cellular features of 2-cell-like cells: a reference guide. Development 147, dev189688 (2020).

Wu, K. et al. SETDB1-mediated cell fate transition between 2C-like and pluripotent states. Cell Rep. 30, 25–36 (2020).

Batista, P. J. et al. m6A RNA modification controls cell fate transition in mammalian embryonic stem cells. Cell Stem Cell 15, 707–719 (2014).

Chelmicki, T. et al. m6A RNA methylation regulates the fate of endogenous retroviruses. Nature https://doi.org/10.1038/s41586-020-03135-1 (2021).

Patil, D. P. et al. m6A RNA methylation promotes XIST-mediated transcriptional repression. Nature 537, 369–373 (2016).

Jachowicz, J. W. et al. LINE-1 activation after fertilization regulates global chromatin accessibility in the early mouse embryo. Nat. Genet. 49, 1502–1510 (2017).

Percharde, M. et al. A LINE1-nucleolin partnership regulates early development and ESC identity. Cell 174, 391–405 (2018).

Matsui, T. et al. Proviral silencing in embryonic stem cells requires the histone methyltransferase ESET. Nature 464, 927–931 (2010).

Li, X. et al. GRID-seq reveals the global RNA-chromatin interactome. Nat. Biotechnol. 35, 940–950 (2017).

Iturbide, A. & Torres-Padilla, M. E. A cell in hand is worth two in the embryo: recent advances in 2-cell like cell reprogramming. Curr. Opin. Genet. Dev. 64, 26–30 (2020).

Chen, J. et al. H3K9 methylation is a barrier during somatic cell reprogramming into iPSCs. Nat. Genet. 45, 34–42 (2013).

Moazed, D. Small RNAs in transcriptional gene silencing and genome defence. Nature 457, 413–420 (2009).

Zofall, M. et al. RNA elimination machinery targeting meiotic mRNAs promotes facultative heterochromatin formation. Science 335, 96–100 (2012).

Wang, C. et al. A novel RNA-binding mode of the YTH domain reveals the mechanism for recognition of determinant of selective removal by Mmi1. Nucleic Acids Res. 44, 969–982 (2016).

Chen, Z. & Zhang, Y. Loss of DUX causes minor defects in zygotic genome activation and is compatible with mouse development. Nat. Genet. 51, 947–951 (2019).

Summers, M. C., McGinnis, L. K., Lawitts, J. A., Raffin, M. & Biggers, J. D. IVF of mouse ova in a simplex optimized medium supplemented with amino acids. Hum. Reprod. 15, 1791–1801 (2000).

Wu, G. et al. Establishment of totipotency does not depend on Oct4A. Nat. Cell Biol. 15, 1089–1097 (2013).

He, J. et al. Transposable elements are regulated by context-specific patterns of chromatin marks in mouse embryonic stem cells. Nat. Commun. 10, 34 (2019).

Li, B. & Dewey, C. N. RSEM: accurate transcript quantification from RNA-Seq data with or without a reference genome. BMC Bioinformatics 12, 323 (2011).

Langmead, B. & Salzberg, S. L. Fast gapped-read alignment with Bowtie 2. Nat. Methods 9, 357–359 (2012).

Dobin, A. et al. STAR: ultrafast universal RNA-seq aligner. Bioinformatics 29, 15–21 (2013).

Jin, Y., Tam, O. H., Paniagua, E. & Hammell, M. TEtranscripts: a package for including transposable elements in differential expression analysis of RNA-seq datasets. Bioinformatics 31, 3593–3599 (2015).

Love, M. I., Huber, W. & Anders, S. Moderated estimation of fold change and dispersion for RNA-seq data with DESeq2. Genome Biol. 15, 550 (2014).

Hasson, D. et al. The octamer is the major form of CENP-A nucleosomes at human centromeres. Nat. Struct. Mol. Biol. 20, 687–695 (2013).

Gu, J. et al. GoldCLIP: Gel-omitted Ligation-dependent CLIP. Genomics Proteomics Bioinformatics 16, 136–143 (2018).

Chu, C., Qu, K., Zhong, F. L., Artandi, S. E. & Chang, H. Y. Genomic maps of long noncoding RNA occupancy reveal principles of RNA–chromatin interactions. Mol. Cell 44, 667–678 (2011).

Fuchs, G. et al. 4sUDRB-seq: measuring genomewide transcriptional elongation rates and initiation frequencies within cells. Genome Biol. 15, R69 (2014).

Feng, J., Liu, T., Qin, B., Zhang, Y. & Liu, X. S. Identifying ChIP-seq enrichment using MACS. Nat. Protocols 7, 1728–1740 (2012).

Heinz, S. et al. Simple combinations of lineage-determining transcription factors prime cis-regulatory elements required for macrophage and B cell identities. Mol. Cell 38, 576–589 (2010).

Li, H. et al. The Sequence Alignment/Map format and SAMtools. Bioinformatics 25, 2078–2079 (2009).

Ramírez, F. et al. deepTools2: a next generation web server for deep-sequencing data analysis. Nucleic Acids Res. 44 (W1), W160–W165 (2016).

Robinson, J. T. et al. Integrative genomics viewer. Nat. Biotechnol. 29, 24–26 (2011).

Kim, D., Paggi, J. M., Park, C., Bennett, C. & Salzberg, S. L. Graph-based genome alignment and genotyping with HISAT2 and HISAT-genotype. Nat. Biotechnol. 37, 907–915 (2019).

Dominissini, D. et al. Topology of the human and mouse m6A RNA methylomes revealed by m6A-seq. Nature 485, 201–206 (2012).

Kumar, V. et al. Uniform, optimal signal processing of mapped deep-sequencing data. Nat. Biotechnol. 31, 615–622 (2013).

Ng, R. K. et al. Epigenetic restriction of embryonic cell lineage fate by methylation of Elf5. Nat. Cell Biol. 10, 1280–1290 (2008).

Latos, P. A. & Hemberger, M. From the stem of the placental tree: trophoblast stem cells and their progeny. Development 143, 3650–3660 (2016).
Acknowledgements
We thank X. Quan, Z. Zhang, J.-Y. Ji, Y. Liu, S. Shu, W. Pang and S. Xu for experimental assistance; Y. Shi and H. Shen for valuable suggestions and for sharing unpublished results; H. Chen, C.-H. Hsu, M. Min, L. Shen, J. Wang and Y. Yu for discussion and constructive suggestions; and the Guangzhou Branch of the Supercomputing Center of Chinese Academy of Sciences, and the Cloud Computing Center of Chinese Academy of Sciences for their support. This work was supported by the National Key R&D Program of China (2019YFA0110200, 2017YFA0504100 and 2016YFA0100400), Key Research & Development Program of Guangzhou Regenerative Medicine and Health Guangdong Laboratory (2018GZR110104003), Frontier Science Research Program of the CAS (ZDBS-LY-SM007), the Science and Technology Program of Guangzhou (201804020052), National Natural Science Foundation of China (31771424, 32070794, 32000501, 32000503), and Science and Technology Planning Project of Guangdong Province (2020B1212060052).
Ethics declarations
Competing interests
The authors declare no competing interests.
Additional information
Peer review information Nature thanks Miguel Branco and the other, anonymous, reviewer(s) for their contribution to the peer review of this work.
Publisher's note Springer Nature remains neutral with regard to jurisdictional claims in published maps and institutional affiliations.
Extended data figures and tables
Supplementary information
This file contains Supplementary Figure 1: Uncropped images of Western blot and PCR based genotyping gels; and Supplementary Figure 2: high-resolution images for whole-mount fluorescence imaging related to Extended Data Fig. 2f.
Q-PCR primers, ChIRP probes and antibodies used in this study.
About this article
Cite this article
Liu, J., Gao, M., He, J. et al. The RNA m6A reader YTHDC1 silences retrotransposons and guards ES cell identity. Nature 591, 322–326 (2021). https://doi.org/10.1038/s41586-021-03313-9
Received:

Accepted:

Published:

Issue Date:

DOI: https://doi.org/10.1038/s41586-021-03313-9
Comments
By submitting a comment you agree to abide by our Terms and Community Guidelines. If you find something abusive or that does not comply with our terms or guidelines please flag it as inappropriate.