Abstract
Ammocoetes—the filter-feeding larvae of modern lampreys—have long influenced hypotheses of vertebrate ancestry1,2,3,4,5,6,7. The life history of modern lampreys, which develop from a superficially amphioxus-like ammocoete to a specialized predatory adult, appears to recapitulate widely accepted scenarios of vertebrate origin. However, no direct evidence has validated the evolutionary antiquity of ammocoetes, and their status as models of primitive vertebrate anatomy is uncertain. Here we report larval and juvenile forms of four stem lampreys from the Palaeozoic era (Hardistiella, Mayomyzon, Pipiscius, and Priscomyzon), including a hatchling-to-adult growth series of the genus Priscomyzon from Late Devonian Gondwana. Larvae of all four genera lack the defining traits of ammocoetes. They instead display features that are otherwise unique to adult modern lampreys, including prominent eyes, a cusped feeding apparatus, and posteriorly united branchial baskets. Notably, phylogenetic analyses find that these non-ammocoete larvae occur in at least three independent lineages of stem lamprey. This distribution strongly implies that ammocoetes are specializations of modern-lamprey life history rather than relics of vertebrate ancestry. These phylogenetic insights also suggest that the last common ancestor of hagfishes and lampreys was a macrophagous predator that did not have a filter-feeding larval phase. Thus, the armoured 'ostracoderms' that populate the cyclostome and gnathostome stems might serve as better proxies than living cyclostomes for the last common ancestor of all living vertebrates.
Relevant articles
Open Access articles citing this article.
Humberto G. Ferrón

&

Philip C. J. Donoghue

Communications Biology Open Access 24 August 2022

Wataru Takagi

,

Fumiaki Sugahara

…

Shigeru Kuratani

BMC Biology Open Access 01 April 2022

A. Barany

,

C. A. Shaughnessy

…

S. D. McCormick

Scientific Reports Open Access 22 November 2021
Access options
Access Nature and 54 other Nature Portfolio journals
Get Nature+, our best-value online-access subscription
$29.99 per month
cancel any time
Subscribe to this journal
Receive 51 print issues and online access
$199.00 per year
only $3.90 per issue
Rent or buy this article
Get just this article for as long as you need it
$39.95
Prices may be subject to local taxes which are calculated during checkout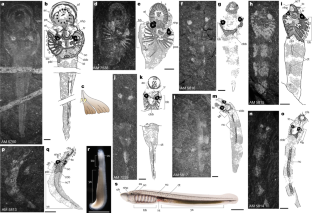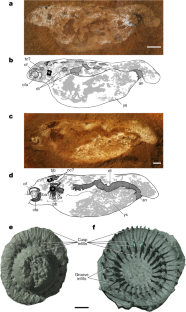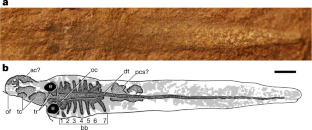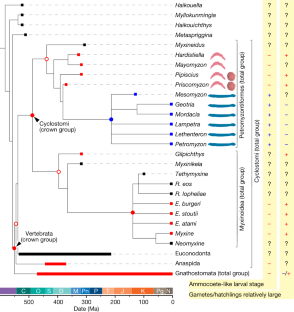 References
Haeckel, E. The Evolution of Man: A Popular Exposition of the Principal Points of Human Ontogeny and Phylogeny 3rd edn (Werner, 1876).

Gaskell, W. H. On the Origin of Vertebrates (Longmans, Green and Co., 1908).

Goodrich, E. S. Studies on the Structure and Development of Vertebrates (Dover, 1930).

De Beer, G. The Development of the Vertebrate Skull (Clarendon, 1937).

Romer, A. S. & Parsons, T. S. The Vertebrate Body 5th edn (Saunders, 1977).

Gee, H. Before the Backbone: Views on the Origin of the Vertebrates (Springer, 1996).

Janvier, P. Early Vertebrates (Clarendons, 1996).

Janvier, P. in Major Transitions in Vertebrate Evolution (eds. Anderson, J. S. & Sues, H.-D.) 57–121 (Indiana Univ. Press, 2007).

Delsuc, F., Brinkmann, H., Chourrout, D. & Philippe, H. Tunicates and not cephalochordates are the closest living relatives of vertebrates. Nature 439, 965–968 (2006).

Miyashita, T. et al. Hagfish from the Cretaceous Tethys Sea and a reconciliation of the morphological–molecular conflict in early vertebrate phylogeny. Proc. Natl Acad. Sci. USA 116, 2146–2151 (2019).

Oisi, Y., Ota, K. G., Kuraku, S., Fujimoto, S. & Kuratani, S. Craniofacial development of hagfishes and the evolution of vertebrates. Nature 493, 175–180 (2013).

Janvier, P. Facts and fancies about early fossil chordates and vertebrates. Nature 520, 483–489 (2015).

Evans, T. M., Janvier, P. & Docker, M. F. The evolution of lamprey (Petromyzontida) life history and the origin of metamorphosis. Rev. Fish Biol. Fish. 28, 825–838 (2018).

Gans, C. in The Skull. Volume 2. Patterns of Structural and Systematic Diversity (eds. Hanken, J. & Hall, B. K.) 1–35 (The Univ. of Chicago Press, 1993).

Mallatt, J. Ventilation and the origin of jawed vertebrates: a new mouth. Zool. J. Linn. Soc. 117, 329–404 (1996).

Northcutt, R. G. The new head hypothesis revisited. J. Exp. Zool. B Mol. Dev. Evol. 304B, 274–297 (2005).

Cattell, M., Lai, S., Cerny, R. & Medeiros, D. M. A new mechanistic scenario for the origin and evolution of vertebrate cartilage. PLoS ONE 6, e22474 (2011).

Jandzik, D. et al. Evolution of the new vertebrate head by co-option of an ancient chordate skeletal tissue. Nature 518, 534–537 (2015).

Chang, M. M., Wu, F., Miao, D. & Zhang, J. Discovery of fossil lamprey larva from the Lower Cretaceous reveals its three-phased life cycle. Proc. Natl Acad. Sci. USA 111, 15486–15490 (2014).

Sansom, R. S., Gabbott, S. E. & Purnell, M. A. Atlas of vertebrate decay: a visual and taphonomic guide to fossil interpretation. Palaeontology 56, 457–474 (2013).

Gess, R. W., Coates, M. I. & Rubidge, B. S. A lamprey from the Devonian period of South Africa. Nature 443, 981–984 (2006).

Sansom, R. S., Freedman, K., Gabbott, S. E., Aldridge, R. J. & Purnell, M. A. Taphonomy and affinity of an enigmatic Silurian vertebrate, Jamoytius kerwoodi White. Palaeontology 53, 1393–1409 (2010).

Hardisty, M. W. in The Biology of Lampreys Vol. 3 (eds. Hardisty, M. W. & Potter, I. C.) 118–124 (Academic, 1981).

Renaud, C. B. Lampreys of the World. An annotated and Illustrated Catalogue of Lamprey Species Known to Date (Food and Agriculture Organization of the United Nations, 2011).

Bardack, D. & Richardson, E. S. New agnathous fishes from the Pennsylvanian of Illinois. Fieldiana Geol. 33, 489–510 (1977).

Janvier, P. Early jawless vertebrates and cyclostome origins. Zoolog. Sci. 25, 1045–1056 (2008).

Gabbott, S. E. et al. Pigmented anatomy in Carboniferous cyclostomes and the evolution of the vertebrate eye. Proc. R. Soc. Lond. B 283, 20161151 (2016).

Bardack, D. & Zangerl, R. in The Biology of Lampreys Vol. 1 (eds. Hardisty, M. W. & Potter, I. C.) 1–65 (Academic, 1971).

Bardack, D. & Zangerl, R. First fossil lamprey: a record from the Pennsylvanian of Illinois. Science 162, 1265–1267 (1968).

Hardisty, M. W. Biology of the Cyclostomes (Springer, 1979).

Lund, R. & Janvier, P. A second lamprey from the Lower Carboniferous (Namurian) of Bear Gulch, Montana (U.S.A.). Geobios 19, 647–652 (1986).

Janvier, P. & Lund, R. Hardistiella montanensis n. gen. et sp. (Petromyzontida) from the Lower Carboniferous of Montana, with remarks on the affinities of the lampreys. J. Vertebr. Paleontol. 2, 407–413 (1983).

Janvier, P., Lund, R. & Grogan, E. D. Further consideration of the earliest known lamprey, Hardistiella montanensis Janvier and Lund, 1983, from the Carboniferous of Bear Gulch, Montana, U.S.A. J. Vertebr. Paleontol. 24, 742–743 (2004).

Lund, R. Chondrichthyan life history styles as revealed by the 320 million years old Mississippian of Montana. Environ. Biol. Fishes 27, 1–19 (1990).

Grogan, E. D. & Lund, R. Soft tissue pigments of the Upper Mississippian chondrenchelyid, Harpagofututor volsellorhinus (Chondrichthyes, Holocephali) from the Bear Gulch Limestone, Montana, USA. J. Paleontol. 71, 337–342 (1997).

Lund, R., Greenfest-Allen, E. & Grogan, E. D. Habitat and diversity of the Bear Gulch fish: life in a 318 million year old marine Mississippian bay. Palaeogeogr. Palaeoclimatol. Palaeoecol. 342–343, 1–16 (2012).

Sallan, L. C. & Coates, M. I. The long-rostrumed elasmobranch Bandringa Zangerl, 1969, and taphonomy within a Carboniferous shark nursery. J. Vertebr. Paleontol. 34, 22–33 (2014).

Gess, R. W. & Whitfield, A. K. Estuarine fish and tetrapod evolution: insights from a Late Devonian (Famennian) Gondwanan estuarine lake and a southern African Holocene equivalent. Biol. Rev. 95, 865–888 (2020).

Hardisty, M. W. in The Biology of Lampreys Vol. 4b (eds. Hardisty, M. W. & Potter, I. C.) 165–259 (Academic, 1982).

Youson, J. H. & Sower, S. A. Theory on the evolutionary history of lamprey metamorphosis: role of reproductive and thyroid axes. Comp. Biochem. Physiol. B Biochem. Mol. Biol. 129, 337–345 (2001).

Ogasawara, M., Di Lauro, R. & Satoh, N. Ascidian homologs of mammalian thyroid peroxidase genes are expressed in the thyroid-equivalent region of the endostyle. J. Exp. Zool. 285, 158–169 (1999).

Ogasawara, M., Shigetani, Y., Suzuki, S., Kuratani, S. & Satoh, N. Expression of Thyroid transcription factor-1 (TTF-1) gene in the ventral forebrain and endostyle of the agnathan vertebrate, Lampetra japonica. Genesis 30, 51–58 (2001).

Gess, R. W. High Latitude Gondwanan Famennian Biodiversity Patterns: Evidence from the South African Witpoort Formation (Cape Supergroup, Witteberg Group) (Univ. of Witwatersrand, 2011).

Sansom, R. S., Gabbott, S. E. & Purnell, M. A. Decay of vertebrate characters in hagfish and lamprey (Cyclostomata) and the implications for the vertebrate fossil record. Proc. R. Soc. Lond. B 278, 1150–1157 (2011).

Sansom, R. S., Gabbott, S. E. & Purnell, M. A. Non-random decay of chordate characters causes bias in fossil interpretation. Nature 463, 797–800 (2010).

Purnell, M. A. et al. Experimental analysis of soft-tissue fossilization: opening the black box. Palaeontology 61, 317–323 (2018).

Swofford, D. L. PAUP*. (Sinauer, 2017).

State of New York Conservation Department. A Biological Survey of the Oswego River System. Supplemental to Seventeenth Annual Report. (J. B. Lyon, 1928).
Acknowledgements
We thank J.-B. Caron, J. Hanken, J. Hurum, P. Janvier, G. Clement, Z. Johanson, O. Matton, K. Moore, T. Mörss, M. Purnell, S. Gabbott, T. Schossleitner, K. Seymour, W. Simpson, and S. Walsh for collections access; M. Bronner, A. Chinsammy-Turan, S. Gess, S. Green, D. Hockman, K. Miyashita, H. Parker, and R. Prevec for logistical support; J. Pardo for reporting UMPC 10210; K. Seymour and D. Evans for reporting ROM 78122; and R. Plotnick for the access to the D. Bardack slide collections. Funding was provided by Chicago Fellows Program, Vanier Canada Graduate Scholarship, I. W. Killam Memorial Scholarship, Commonwealth Science Conference Follow-on Grant (T.M.); NSF DEB-1541491 (M.I.C.); Millennium Trust, South African DSI-NRF Centre of Excellence in Palaeosciences, National Research Foundation, and the South African Natural Science Collections Facility (R.W.G.).
Ethics declarations
Competing interests
The authors declare no competing interests.
Additional information
Peer review information Nature thanks Philippe Janvier, Shigeru Kuratani and the other, anonymous, reviewer(s) for their contribution to the peer review of this work.
Publisher's note Springer Nature remains neutral with regard to jurisdictional claims in published maps and institutional affiliations.
Extended data figures and tables
Supplementary information
This file contains supplementary text (Part A. Additional Descriptions and Comparison; Part B. Phylogenetic Analysis) and Tables S1–S5.
Data matrix: This file contains a taxon and character matrix used for phylogenetic analysis presented in Extended Data Figure 10.
About this article
Cite this article
Miyashita, T., Gess, R.W., Tietjen, K. et al. Non-ammocoete larvae of Palaeozoic stem lampreys. Nature 591, 408–412 (2021). https://doi.org/10.1038/s41586-021-03305-9
Received:

Accepted:

Published:

Issue Date:

DOI: https://doi.org/10.1038/s41586-021-03305-9
Comments
By submitting a comment you agree to abide by our Terms and Community Guidelines. If you find something abusive or that does not comply with our terms or guidelines please flag it as inappropriate.