Abstract
Antibody affinity maturation depends on positive selection in germinal centres (GCs) of rare B cell clones that acquire higher-affinity B cell receptors via somatic hypermutation, present more antigen to follicular helper T (TFH) cells and, consequently, receive more contact-dependent T cell help1. As these GC B cells and TFH cells do not maintain long-lasting contacts in the chaotic GC environment2,3,4, it is unclear how sufficient T cell help is cumulatively focused onto those rare clones. Here we show that, upon stimulation of CD40, GC B cells upregulate the chemokine CCL22 and to a lesser extent CCL17. By engaging the chemokine receptor CCR4 on TFH cells, CCL22 and CCL17 can attract multiple helper cells from a distance, thus increasing the chance of productive help. During a GC response, B cells that acquire higher antigen-binding affinities express higher levels of CCL22, which in turn 'highlight' these high-affinity GC B cells. Acute increase or blockade of TFH cells helps to rapidly increase or decrease CCL22 expression by GC B cells, respectively. Therefore, a chemokine-based intercellular reaction circuit links the amount of T cell help that individual B cells have received recently to their subsequent ability to attract more help. When CCL22 and CCL17 are ablated in B cells, GCs form but B cells are not affinity-matured efficiently. When competing with wild-type B cells in the same reaction, B cells lacking CCL22 and CCL17 receive less T cell help to maintain GC participation or develop into bone-marrow plasma cells. By uncovering a chemokine-mediated mechanism that highlights affinity-improved B cells for preferential help from TFH cells, our study reveals a principle of spatiotemporal orchestration of GC positive selection.
Access options
Subscribe to Journal
Get full journal access for 1 year
$199.00
only $3.90 per issue
All prices are NET prices.
VAT will be added later in the checkout.
Rent or Buy article
Get time limited or full article access on ReadCube.
from$8.99
All prices are NET prices.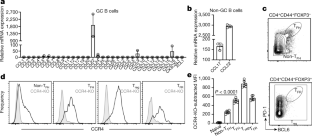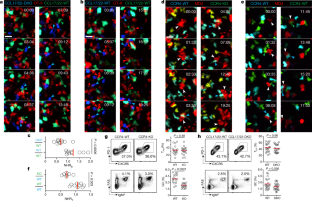 Data availability
All data generated during and/or analysed during the current study are available from the corresponding author upon reasonable request. scRNA-seq data of human tonsillar GCs has been deposited in the Genome Sequence Archive for Human under the accession number HRA000540. Source data are provided with this paper.
References
1.

Victora, G. D. & Nussenzweig, M. C. Germinal centers. Annu. Rev. Immunol. 30, 429–457 (2012).

2.

Allen, C. D., Okada, T., Tang, H. L. & Cyster, J. G. Imaging of germinal center selection events during affinity maturation. Science 315, 528–531 (2007).

3.

Shulman, Z. et al. Dynamic signaling by T follicular helper cells during germinal center B cell selection. Science 345, 1058–1062 (2014).

4.

Liu, D. et al. T–B-cell entanglement and ICOSL-driven feed-forward regulation of germinal centre reaction. Nature 517, 214–218 (2015).

5.

Victora, G. D. et al. Germinal center dynamics revealed by multiphoton microscopy with a photoactivatable fluorescent reporter. Cell 143, 592–605 (2010).

6.

Gitlin, A. D. et al. T cell help controls the speed of the cell cycle in germinal center B cells. Science 349, 643–646 (2015).

7.

Mayer, C. T. et al. The microanatomic segregation of selection by apoptosis in the germinal center. Science 358, eaao2602 (2017).

8.

Griffith, J. W., Sokol, C. L. & Luster, A. D. Chemokines and chemokine receptors: positioning cells for host defense and immunity. Annu. Rev. Immunol. 32, 659–702 (2014).

9.

Tang, H. L. & Cyster, J. G. Chemokine up-regulation and activated T cell attraction by maturing dendritic cells. Science 284, 819–822 (1999).

10.

Iellem, A. et al. Unique chemotactic response profile and specific expression of chemokine receptors CCR4 and CCR8 by CD4+CD25+ regulatory T cells. J. Exp. Med. 194, 847–853 (2001).

11.

Sather, B. D. et al. Altering the distribution of Foxp3+ regulatory T cells results in tissue-specific inflammatory disease. J. Exp. Med. 204, 1335–1347 (2007).

12.

Shinnakasu, R. et al. Regulated selection of germinal-center cells into the memory B cell compartment. Nat. Immunol. 17, 861–869 (2016).

13.

Rapp, M. et al. CCL22 controls immunity by promoting regulatory T cell communication with dendritic cells in lymph nodes. J. Exp. Med. 216, 1170–1181 (2019).

14.

Rodriguez, E. A. et al. The growing and glowing toolbox of fluorescent and photoactive proteins. Trends Biochem. Sci. 42, 111–129 (2017).

15.

Holmes, A. B. et al. Single-cell analysis of germinal-center B cells informs on lymphoma cell of origin and outcome. J. Exp. Med. 217, e20200483 (2020).

16.

Shih, T. A., Roederer, M. & Nussenzweig, M. C. Role of antigen receptor affinity in T cell-independent antibody responses in vivo. Nat. Immunol. 3, 399–406 (2002).

17.

Wang, Y. et al. Germinal-center development of memory B cells driven by IL-9 from follicular helper T cells. Nat. Immunol. 18, 921–930 (2017).

18.

Shi, J. et al. PD-1 controls follicular T helper cell positioning and function. Immunity 49, 264–274 (2018).

19.

Butler, A., Hoffman, P., Smibert, P., Papalexi, E. & Satija, R. Integrating single-cell transcriptomic data across different conditions, technologies, and species. Nat. Biotechnol. 36, 411–420 (2018).
Acknowledgements
We thank M. Nussenzweig for providing the B1-8hi mice. The work was funded in part by the National Key R&D Program of China (Ministry of Science and Technology, 2018YFE0200300 to H.Q.), National Natural Science Foundation of China (grant 81621002, 31830023, 81761128019 to H.Q.), the Tsinghua-Peking Center for Life Sciences, the Beijing Municipal Science & Technology Commission, and the Beijing Frontier Research Center for Biological Structure.
Ethics declarations
Competing interests
The authors declare no competing interests.
Additional information
Peer review information Nature thanks Charles Mackay, Carola Vinuesa and the other, anonymous, reviewer(s) for their contribution to the peer review of this work.
Publisher's note Springer Nature remains neutral with regard to jurisdictional claims in published maps and institutional affiliations.
Extended data figures and tables
Supplementary information
About this article
Cite this article
Liu, B., Lin, Y., Yan, J. et al. Affinity-coupled CCL22 promotes positive selection in germinal centres. Nature (2021). https://doi.org/10.1038/s41586-021-03239-2
Received:

Accepted:

Published:
Comments
By submitting a comment you agree to abide by our Terms and Community Guidelines. If you find something abusive or that does not comply with our terms or guidelines please flag it as inappropriate.