Abstract
Linker histone H1 proteins bind to nucleosomes and facilitate chromatin compaction1, although their biological functions are poorly understood. Mutations in the genes that encode H1 isoforms B–E (H1B, H1C, H1D and H1E; also known as H1-5, H1-2, H1-3 and H1-4, respectively) are highly recurrent in B cell lymphomas, but the pathogenic relevance of these mutations to cancer and the mechanisms that are involved are unknown. Here we show that lymphoma-associated H1 alleles are genetic driver mutations in lymphomas. Disruption of H1 function results in a profound architectural remodelling of the genome, which is characterized by large-scale yet focal shifts of chromatin from a compacted to a relaxed state. This decompaction drives distinct changes in epigenetic states, primarily owing to a gain of histone H3 dimethylation at lysine 36 (H3K36me2) and/or loss of repressive H3 trimethylation at lysine 27 (H3K27me3). These changes unlock the expression of stem cell genes that are normally silenced during early development. In mice, loss of H1c and H1e (also known as H1f2 and H1f4, respectively) conferred germinal centre B cells with enhanced fitness and self-renewal properties, ultimately leading to aggressive lymphomas with an increased repopulating potential. Collectively, our data indicate that H1 proteins are normally required to sequester early developmental genes into architecturally inaccessible genomic compartments. We also establish H1 as a bona fide tumour suppressor and show that mutations in H1 drive malignant transformation primarily through three-dimensional genome reorganization, which leads to epigenetic reprogramming and derepression of developmentally silenced genes.
Relevant articles
Open Access articles citing this article.
Rina Hirano

,

Haruhiko Ehara

…

Hitoshi Kurumizaka

Nature Communications Open Access 26 November 2022

Bing He

,

Iris Zhu

…

David Landsman

Epigenetics & Chromatin Open Access 27 June 2022

Chang-Song Wu

,

Zi-You Ma

…

Yong-An Zhang

BMC Genomics Open Access 07 April 2022
Access options
Access Nature and 54 other Nature Portfolio journals
Get Nature+, our best-value online-access subscription
$29.99 per month
cancel any time
Subscribe to this journal
Receive 51 print issues and online access
$199.00 per year
only $3.90 per issue
Rent or buy this article
Get just this article for as long as you need it
$39.95
Prices may be subject to local taxes which are calculated during checkout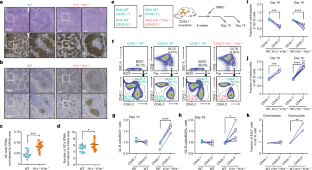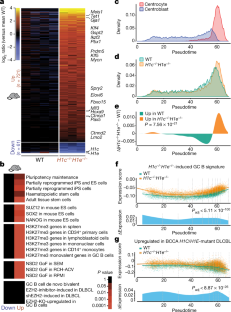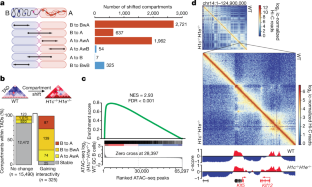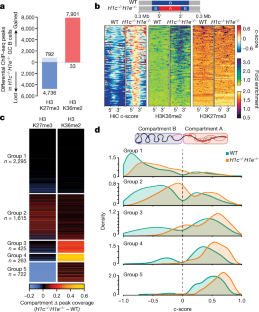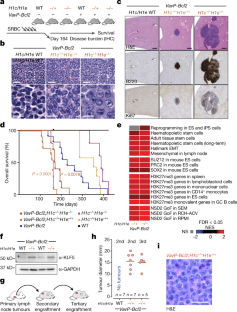 Data availability
All sequencing data that support the findings of this study have been deposited in the NCBU Gene Expression Omnibus (GEO) with accession number GSE143293. All other data that support the findings of this study are available from the corresponding authors upon request. Source data are provided with this paper.
References
Fyodorov, D. V., Zhou, B. R., Skoultchi, A. I. & Bai, Y. Emerging roles of linker histones in regulating chromatin structure and function. Nat. Rev. Mol. Cell Biol. 19, 192–206 (2018).

Fan, Y. et al. Histone H1 depletion in mammals alters global chromatin structure but causes specific changes in gene regulation. Cell 123, 1199–1212 (2005).

Cao, K. et al. High-resolution mapping of H1 linker histone variants in embryonic stem cells. PLoS Genet. 9, e1003417 (2013).

Zhang, Y. et al. Histone H1 depletion impairs embryonic stem cell differentiation. PLoS Genet. 8, e1002691 (2012).

Nacev, B. A. et al. The expanding landscape of 'oncohistone' mutations in human cancers. Nature 567, 473–478 (2019).

Bennett, R. L. et al. A mutation in histone H2B represents a new class of oncogenic driver. Cancer Discov. 9, 1438–1451 (2019).

Okosun, J. et al. Integrated genomic analysis identifies recurrent mutations and evolution patterns driving the initiation and progression of follicular lymphoma. Nat. Genet. 46, 176–181 (2014).

Li, H. et al. Mutations in linker histone genes HIST1H1 B, C, D, and E; OCT2 (POU2F2); IRF8; and ARID1A underlying the pathogenesis of follicular lymphoma. Blood 123, 1487–1498 (2014).

Reichel, J. et al. Flow sorting and exome sequencing reveal the oncogenome of primary Hodgkin and Reed-Sternberg cells. Blood 125, 1061–1072 (2015).

Mesin, L., Ersching, J. & Victora, G. D. Germinal center B Cell dynamics. Immunity 45, 471–482 (2016).

Chapuy, B. et al. Molecular subtypes of diffuse large B cell lymphoma are associated with distinct pathogenic mechanisms and outcomes. Nat. Med. 24, 679–690 (2018).

Fan, Y. et al. H1 linker histones are essential for mouse development and affect nucleosome spacing in vivo. Mol. Cell. Biol. 23, 4559–4572 (2003).

Wright, G. W. et al. A probabilistic classification tool for genetic subtypes of diffuse large B cell lymphoma with therapeutic implications. Cancer Cell 37, 551–568 (2020).

Zhou, B. R. et al. Structural mechanisms of nucleosome recognition by linker histones. Mol. Cell 59, 628–638 (2015).

Lu, C. et al. Histone H3K36 mutations promote sarcomagenesis through altered histone methylation landscape. Science 352, 844–849 (2016).

Swaroop, A. et al. An activating mutation of the NSD2 histone methyltransferase drives oncogenic reprogramming in acute lymphocytic leukemia. Oncogene 38, 671–686 (2019).

Béguelin, W. et al. EZH2 is required for germinal center formation and somatic EZH2 mutations promote lymphoid transformation. Cancer Cell 23, 677–692 (2013).

Ortega-Molina, A. et al. The histone lysine methyltransferase KMT2D sustains a gene expression program that represses B cell lymphoma development. Nat. Med. 21, 1199–1208 (2015).

Eagen, K. P. Principles of chromosome architecture revealed by Hi-C. Trends Biochem. Sci. 43, 469–478 (2018).

Rao, S. S. et al. A 3D map of the human genome at kilobase resolution reveals principles of chromatin looping. Cell 159, 1665–1680 (2014).

Izzo, A. et al. The genomic landscape of the somatic linker histone subtypes H1.1 to H1.5 in human cells. Cell Rep. 3, 2142–2154 (2013).

Bascom, G. D., Myers, C. G. & Schlick, T. Mesoscale modeling reveals formation of an epigenetically driven HOXC gene hub. Proc. Natl Acad. Sci. USA 116, 4955–4962 (2019).

Kim, J. M. et al. Linker histone H1.2 establishes chromatin compaction and gene silencing through recognition of H3K27me3. Sci. Rep. 5, 16714 (2015).

Lhoumaud, P. et al. NSD2 overexpression drives clustered chromatin and transcriptional changes in a subset of insulated domains. Nat. Commun. 10, 4843 (2019).

Ezponda, T. et al. The histone methyltransferase MMSET/WHSC1 activates TWIST1 to promote an epithelial–mesenchymal transition and invasive properties of prostate cancer. Oncogene 32, 2882–2890 (2013).

Mulder, T. A., Wahlin, B. E., Österborg, A. & Palma, M. Targeting the immune microenvironment in lymphomas of B cell origin: from biology to clinical application. Cancers 11, 915 (2019).

Yang, S. M., Kim, B. J., Norwood Toro, L. & Skoultchi, A. I. H1 linker histone promotes epigenetic silencing by regulating both DNA methylation and histone H3 methylation. Proc. Natl Acad. Sci. USA 110, 1708–1713 (2013).

Geeven, G. et al. Local compartment changes and regulatory landscape alterations in histone H1-depleted cells. Genome Biol. 16, 289 (2015).

Wilcockson, M. et al. H1 histones control the epigenetic landscape by local chromatin compaction. Nature https://doi.org/10.1038/s41586-020-3032-z (2020).

Eminli, S. et al. Differentiation stage determines potential of hematopoietic cells for reprogramming into induced pluripotent stem cells. Nat. Genet. 41, 968–976 (2009).

Wong, D. J. et al. Module map of stem cell genes guides creation of epithelial cancer stem cells. Cell Stem Cell 2, 333–344 (2008).

Stadhouders, R. et al. Transcription factors orchestrate dynamic interplay between genome topology and gene regulation during cell reprogramming. Nat. Genet. 50, 238–249 (2018).
Acknowledgements
E.C., A.M.M. and C.D.A. are funded through NIH/NCI R01 CA234561 and STARR I9-A9-062. A.M.M. and A.T. are funded by NIH/NCI P01 CA229086. Research in the C.D.A. laboratory is also supported by the NCI P01 CA196539 Leukemia and Lymphoma Society (LLS-SCOR 7006-13), The Rockefeller University and St Jude Children's Research Hospital Collaborative on Chromatin Regulation in Pediatric Cancer and Robertson Therapeutic Development Fund. A.M.M. is also funded by NIH/NCI R35 CA220499, LLS TRP 6572, LLS SCOR 7012, the Follicular Lymphoma Consortium, the Samuel Waxman Cancer Research Foundation and the Chemotherapy Foundation. J.D.L., A.M.M. and C.D.A. are funded by LLS SCOR 17403-19 and J.D.L. is funded by R01 CA195732 and The Samuel Waxman Cancer Research Foundation. N.Y. is funded by the Congressionally Directed Medical Research Program (CA181397). Research in EpiCypher is supported by R44 DE029633 and R44 GM116584. A.A.S. was funded by the Damon Runyon Cancer Research Foundation (DRG-2185-14). A.I.S. is funded through GM116143. Histone proteomics work was performed at Northwestern Proteomics, which was supported by NCI CCSG P30 CA060553 awarded to the Robert H Lurie Comprehensive Cancer Center, an instrumentation award (S10OD025194) from the NIH Office of Director, and the National Resource for Translational and Developmental Proteomics supported by P41 GM108569. The in silico modelling work was supported by award R35-GM122562 to T.S. The authors thank the Laboratory of Comparative Pathology, Epigenomics Core, Flow Cytometry Core Facility and Optical Microscopy Core at Weill Cornell Medicine; the Genomics Resource Center and Bio-Imaging Resource Center at The Rockefeller University; and Langone Health's Genome Technology Center at New York University.
Ethics declarations
Competing interests
A.M.M. has research funding from Janssen Pharmaceuticals, Sanofi and Daiichi Sankyo, has consulted for Epizyme and Constellation and is on the advisory board for KDAC Pharma. A.M.M. has also been on advisory boards for BMS and ExoTherapeutics. N.L.K. is a consultant for Thermo Fisher Scientific. C.D.A is a co-founder of Chroma Therapeutics and Constellation Pharmaceuticals, and a Scientific Advisory Board member of EpiCypher. EpiCypher is a commercial developer of the CUTANA CUT&RUN platform. M.I. has received consultancy fees from Novartis Venture Fund outside of the scope of the work. The remaining authors declare no competing interests.
Additional information
Peer review information Nature thanks Iannis Aifantis, Ralph Stadhouders and the other, anonymous, reviewer(s) for their contribution to the peer review of this work.
Publisher's note Springer Nature remains neutral with regard to jurisdictional claims in published maps and institutional affiliations.
Extended data figures and tables
Supplementary information
This file contains Supplementary Figure 1: Uncropped gel blots and Supplementary Figure 2: Flow cytometry and sorting gating strategies.
This file contains Supplementary Methods, which includes Supplementary Tables and Figures.
About this article
Cite this article
Yusufova, N., Kloetgen, A., Teater, M. et al. Histone H1 loss drives lymphoma by disrupting 3D chromatin architecture. Nature 589, 299–305 (2021). https://doi.org/10.1038/s41586-020-3017-y
Received:

Accepted:

Published:

Issue Date:

DOI: https://doi.org/10.1038/s41586-020-3017-y
Comments
By submitting a comment you agree to abide by our Terms and Community Guidelines. If you find something abusive or that does not comply with our terms or guidelines please flag it as inappropriate.