Abstract
The hypothesis that destructive mass extinctions enable creative evolutionary radiations (creative destruction) is central to classic concepts of macroevolution1,2. However, the relative impacts of extinction and radiation on the co-occurrence of species have not been directly quantitatively compared across the Phanerozoic eon. Here we apply machine learning to generate a spatial embedding (multidimensional ordination) of the temporal co-occurrence structure of the Phanerozoic fossil record, covering 1,273,254 occurrences in the Paleobiology Database for 171,231 embedded species. This facilitates the simultaneous comparison of macroevolutionary disruptions, using measures independent of secular diversity trends. Among the 5% most significant periods of disruption, we identify the 'big five' mass extinction events2, seven additional mass extinctions, two combined mass extinction–radiation events and 15 mass radiations. In contrast to narratives that emphasize post-extinction radiations1,3, we find that the proportionally most comparable mass radiations and extinctions (such as the Cambrian explosion and the end-Permian mass extinction) are typically decoupled in time, refuting any direct causal relationship between them. Moreover, in addition to extinctions4, evolutionary radiations themselves cause evolutionary decay (modelled co-occurrence probability and shared fraction of species between times approaching zero), a concept that we describe as destructive creation. A direct test of the time to over-threshold macroevolutionary decay4 (shared fraction of species between two times ≤ 0.1), counted by the decay clock, reveals saw-toothed fluctuations around a Phanerozoic mean of 18.6 million years. As the Quaternary period began at a below-average decay-clock time of 11 million years, modern extinctions further increase life's decay-clock debt.
Relevant articles
Open Access articles citing this article.
Corentin Jouault

,

André Nel

…

Fabien L. Condamine

Nature Communications Open Access 06 December 2022

Dorien de Vries

,

Steven Heritage

…

Erik R. Seiffert

Communications Biology Open Access 07 October 2021
Access options
Subscribe to Nature+
Get immediate online access to Nature and 55 other Nature journal
Subscribe to Journal
Get full journal access for 1 year
$199.00
only $3.90 per issue
All prices are NET prices.
VAT will be added later in the checkout.
Tax calculation will be finalised during checkout.
Buy article
Get time limited or full article access on ReadCube.
$32.00
All prices are NET prices.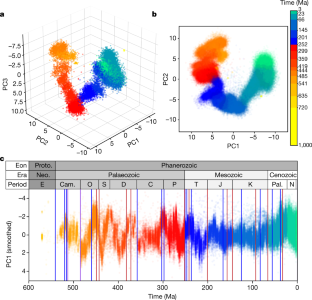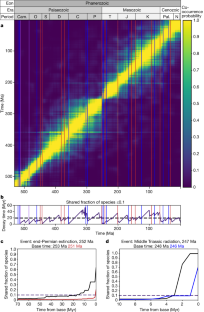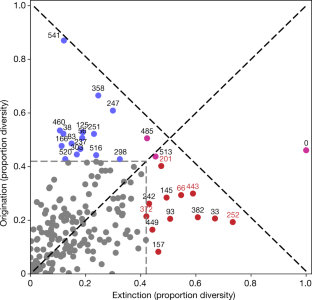 References
Simpson, G. G. Tempo and Mode in Evolution (Columbia Univ. Press, 1944).

Raup, D. M. The role of extinction in evolution. Proc. Natl Acad. Sci. USA 91, 6758–6763 (1994).

Hull, P. M., Darroch, S. A. F. & Erwin, D. H. Rarity in mass extinctions and the future of ecosystems. Nature 528, 345–351 (2015).

Van Valen, L. A new evolutionary law. Evol. Theory 1, 1–30 (1973).

Jablonski, D. Extinctions: a paleontological perspective. Science 253, 754–757 (1991).

Jablonski, D. Lessons from the past: evolutionary impacts of mass extinctions. Proc. Natl Acad. Sci. USA 98, 5393–5398 (2001).

Budd, G. E. & Mann, R. P. History is written by the victors: the effect of the push of the past on the fossil record. Evolution 72, 2276–2291 (2018).

Lehman, J. & Miikkulainen, R. Extinction events can accelerate evolution. PLoS One 10, e0132886 (2015).

Sepkoski, J. J. A kinetic model of Phanerozoic taxonomic diversity. III. Post-Paleozoic families and mass extinctions. Paleobiology 10, 246–267 (1984).

Stroud, J. T. & Losos, J. B. Ecological opportunity and adaptive radiation. Annu. Rev. Ecol. Evol. Syst. 47, 507–532 (2016).

Field, D. J., Benito, J., Chen, A., Jagt, J. W. M. & Ksepka, D. T. Late Cretaceous neornithine from Europe illuminates the origins of crown birds. Nature 579, 397–401 (2020).

Wood, R. et al. Integrated records of environmental change and evolution challenge the Cambrian Explosion. Nat. Ecol. Evol. 3, 528–538 (2019).

Fan, J. X. et al. A high-resolution summary of Cambrian to Early Triassic marine invertebrate biodiversity. Science 367, 272–277 (2020).

Muscente, A. D. et al. Quantifying ecological impacts of mass extinctions with network analysis of fossil communities. Proc. Natl Acad. Sci. USA 115, 5217–5222 (2018).

Alroy, J. Are Sepkoski's evolutionary faunas dynamically coherent? Evol. Ecol. Res. 6, 1–32 (2004).

Brett, C. E., Ivany, L. C. & Schopf, K. M. Coordinated stasis: an overview. Palaeogeogr. Palaeoclimatol. Palaeoecol. 127, 1–20 (1996).

Blanchet, F. G., Cazelles, K. & Gravel, D. Co-occurrence is not evidence of ecological interactions. Ecol. Lett. 23, 1050–1063 (2020).

Sepkoski, J. J., Jr. Rates of speciation in the fossil record. Phil. Trans. R. Soc. Lond. B 353, 315–326 (1998).

Sadler, P. M. Quantitative biostratigraphy—achieving finer resolution in global correlation. Annu. Rev. Earth Planet. Sci. 32, 187–213 (2004).

Alroy, J. et al. Phanerozoic trends in the global diversity of marine invertebrates. Science 321, 97–100 (2008).

Na, L. & Kiessling, W. Diversity partitioning during the Cambrian radiation. Proc. Natl Acad. Sci. USA 112, 4702–4706 (2015).

Kearsey, T. I. et al. The terrestrial landscapes of tetrapod evolution in earliest Carboniferous seasonal wetlands of SE Scotland. Palaeogeogr. Palaeoclimatol. Palaeoecol. 457, 52–69 (2016).

Van Valen, L. Adaptive zones and the orders of mammals. Evolution 25, 420–428 (1971).

Benton, M. J. The Red Queen and the Court Jester: species diversity and the role of biotic and abiotic factors through time. Science 323, 728–732 (2009).

Newman, M. E. J. & Eble, G. J. Decline in extinction rates and scale invariance in the fossil record. Paleobiology 25, 434–439 (1999).

Fischer, A. G. & Arthur, M. A.  in Deep Water Carbonate Environments (eds Cook, H. E. & Enos, P. E.) 10–50 (Society of Economic Paleontologists and Mineralogists, 1977).

Raup, D. M. & Sepkoski, J. J. Jr. Periodicity of extinctions in the geologic past. Proc. Natl Acad. Sci. USA 81, 801–805 (1984).

Gilinsky, N. L. Volatility and the Phanerozoic decline of background extinction intensity. Paleobiology 20, 445–458 (1994).

Pimiento, C. et al. The Pliocene marine megafauna extinction and its impact on functional diversity. Nat. Ecol. Evol. 1, 1100–1106 (2017).

Gradstein, F. M., Ogg, J. G. & Smith, A. G. A Geologic Time Scale 2004 (Cambridge Univ. Press, 2004).

Ross, R. J., Adler, F. J., Amsden, T. W., Bergstrom, D. & Bergström, S. M. The Ordovician System in the United States: Correlation Chart and Explanatory Note (International Union of Geological Scientists, 1982).

Walker, J. D., Geissman, J. W., Bowring, S. A. & Babcock, L. E. The Geological Society of America geologic time scale. Geol. Soc. Am. Bull. 125, 259–272 (2013).

Gilinsky, N. L. & Bambach, R. K. Asymmetrical patterns of origination and extinction in higher taxa. Paleobiology 13, 427–445 (1987).

Peters, S. E. & McClennen, M. The Paleobiology Database application programming interface. Paleobiology 42, 1–7 (2016).

Caswell, B. A. & Frid, C. L. J. Learning from the past: functional ecology of marine benthos during eight million years of aperiodic hypoxia, lessons from the Late Jurassic. Oikos 122, 1687–1699 (2013).

van der Maaten, L. & Hinton, G. Visualizing data using t-SNE. J. Mach. Learn. Res. 9, 2579–2605 (2008).

Mikolov, T., Chen, K., Corrado, G. S. & Dean, J. A. Efficient estimation of word representations in vector space.. Preprint at https://arxiv.org/abs/1301.3781 (2013).

Schroff, F., Kalenichenko, D. & Philbin, J. in Proceedings of the IEEE Conference on Computer Vision and Pattern Recognition 815–823 (Institute of Electrical and Electronics, 2015).

Hoyal Cuthill, J. F., Guttenberg, N., Ledger, S., Crowther, R. & Huertas, B. Deep learning on butterfly phenotypes tests evolution's oldest mathematical model. Sci. Adv. 5, eaaw4967 (2019).

Ruder, S. An overview of gradient descent optimization algorithms. Preprint at https://arxiv.org/abs/1609.04747 (2017).

Dietterich, T. Overfitting and undercomputing in machine learning. ACM Comput. Surv. 27, 326–327 (1995).

Goldberg, Y. & Levy, O. word2vec explained: deriving Mikolov et al.'s negative-sampling word-embedding method. Preprint at https://arxiv.org/abs/1402.3722 (2014).

Heim, N. A. & Peters, S. E. Covariation in macrostratigraphic and macroevolutionary patterns in the marine record of North America. Geol. Soc. Am. Bull. 123, 620–630 (2011).

Bacaro, G. & Ricotta, C. A spatially explicit measure of beta diversity. Community Ecol. 8, 41–46 (2007).
Acknowledgements
This research was supported by funding from an IADS Research Fellowship (J.F.H.C.), EON Research Fellowship (J.F.H.C.) at the Tokyo Institute of Technology (supported by a grant from the John Templeton Foundation), Earth–Life Science Institute Research Interactions Committee Visitor Fund (N.G. and J.F.H.C.) and Swedish Research Council (VR grant no. 2015-04726, G.E.B.). We thank S. Newman and L. Schalkwyk for computing time and support, S. Conway Morris and E. Mitchell for highly constructive comments on the manuscript.
Ethics declarations
Competing interests
The authors declare no competing interests.
Additional information
Peer review information Nature thanks Emily Mitchell and the other, anonymous, reviewer(s) for their contribution to the peer review of this work.
Publisher's note Springer Nature remains neutral with regard to jurisdictional claims in published maps and institutional affiliations.
Extended data figures and tables
Supplementary information
This zip folder contains Supplementary Computer Code 1-6, with Python program files supplied in py or ipynb file format and in pdf format. Descriptions of each code are included in an accompanying text file.
About this article
Cite this article
Hoyal Cuthill, J.F., Guttenberg, N. & Budd, G.E. Impacts of speciation and extinction measured by an evolutionary decay clock. Nature 588, 636–641 (2020). https://doi.org/10.1038/s41586-020-3003-4
Received:

Accepted:

Published:

Issue Date:

DOI: https://doi.org/10.1038/s41586-020-3003-4
This article is cited by
Andrej Spiridonov
Shaun Lovejoy

Nature (2022)

Corentin Jouault
André Nel
Fabien L. Condamine

Nature Communications (2022)

Dorien de Vries
Steven Heritage
Erik R. Seiffert

Communications Biology (2021)
Comments
By submitting a comment you agree to abide by our Terms and Community Guidelines. If you find something abusive or that does not comply with our terms or guidelines please flag it as inappropriate.