Abstract
The role of gene expression during learning and in short-term memories has been studied extensively1,2,3, but less is known about remote memories, which can persist for a lifetime4. Here we used long-term contextual fear memory as a paradigm to probe the single-cell gene expression landscape that underlies remote memory storage in the medial prefrontal cortex. We found persistent activity-specific transcriptional alterations in diverse populations of neurons that lasted for weeks after fear learning. Out of a vast plasticity-coding space, we identified genes associated with membrane fusion that could have important roles in the maintenance of remote memory. Unexpectedly, astrocytes and microglia also acquired persistent gene expression signatures that were associated with remote memory, suggesting that they actively contribute to memory circuits. The discovery of gene expression programmes associated with remote memory engrams adds an important dimension of activity-dependent cellular states to existing brain taxonomy atlases and sheds light on the elusive mechanisms of remote memory storage.
Access options
Subscribe to Journal
Get full journal access for 1 year
$199.00
only $3.90 per issue
All prices are NET prices.
VAT will be added later in the checkout.
Rent or Buy article
Get time limited or full article access on ReadCube.
from$8.99
All prices are NET prices.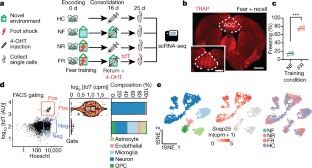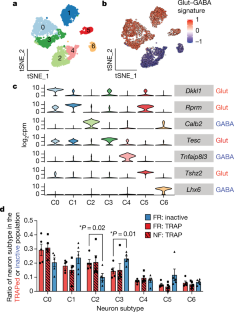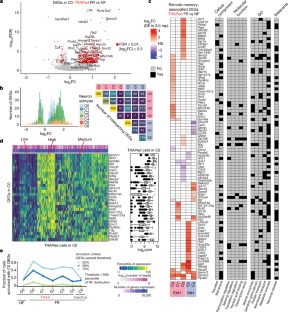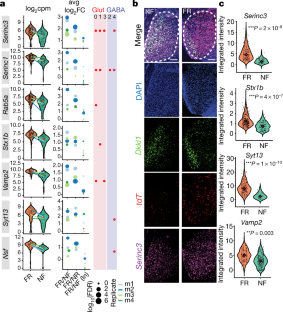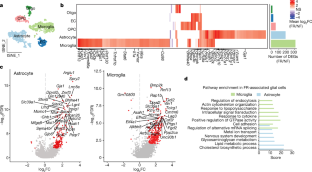 Data availability
The accession number for the single-cell RNA sequencing data reported in this paper is GSE152632.
References
1.

Kandel, E. R. The molecular biology of memory storage: a dialogue between genes and synapses. Science 294, 1030–1038 (2001).

2.

Flexner, L. B. & Flexner, J. B. Effect of acetoxycycloheximide and of an acetoxycycloheximide–puromycin mixture on cerebral protein synthesis and memory in mice. Proc. Natl Acad. Sci. USA 55, 369–374 (1966).

3.

Alberini, C. M. & Kandel, E. R. The regulation of transcription in memory consolidation. Cold Spring Harb. Perspect. Biol. 7, a021741 (2014).

4.

Squire, L. R. Mechanisms of memory. Science 232, 1612–1619 (1986).

5.

Kitamura, T. et al. Engrams and circuits crucial for systems consolidation of a memory. Science 356, 73–78 (2017).

6.

DeNardo, L. & Luo, L. Genetic strategies to access activated neurons. Curr. Opin. Neurobiol. 45, 121–129 (2017).

7.

DeNardo, L. A. et al. Temporal evolution of cortical ensembles promoting remote memory retrieval. Nat. Neurosci. 22, 460–469 (2019).

8.

McKenzie, S. & Eichenbaum, H. Consolidation and reconsolidation: two lives of memories? Neuron 71, 224–233 (2011).

9.

Guenthner, C. J., Miyamichi, K., Yang, H. H., Heller, H. C. & Luo, L. Permanent genetic access to transiently active neurons via TRAP: targeted recombination in active populations. Neuron 78, 773–784 (2013).

10.

Zeisel, A. et al. Cell types in the mouse cortex and hippocampus revealed by single-cell RNA-seq. Science 347, 1138–1142 (2015).

11.

O'Sullivan, C. N., Sheridan, G. & Murphy, K. in Transcription Factors CREB and NF-κB: Involvement in Synaptic Plasticity and Memory Formation 43–65 (Bentham Science, 2012).

12.

Suzuki, A. et al. Upregulation of CREB-mediated transcription enhances both short- and long-term memory. J. Neurosci. 31, 8786–8802 (2011).

13.

Kida, S. et al. CREB required for the stability of new and reactivated fear memories. Nat. Neurosci. 5, 348–355 (2002).

14.

Inuzuka, M., Hayakawa, M. & Ingi, T. Serinc, an activity-regulated protein family, incorporates serine into membrane lipid synthesis. J. Biol. Chem. 280, 35776–35783 (2005).

15.

Zhang, X., Rizo, J. & Südhof, T. C. Mechanism of phospholipid binding by the C2A-domain of synaptotagmin I. Biochemistry 37, 12395–12403 (1998).

16.

Bélanger, M., Allaman, I. & Magistretti, P. J. Brain energy metabolism: focus on astrocyte–neuron metabolic cooperation. Cell Metab. 14, 724–738 (2011).

17.

Williamson, L. L., Sholar, P. W., Mistry, R. S., Smith, S. H. & Bilbo, S. D. Microglia and memory: modulation by early-life infection. J. Neurosci. 31, 15511–15521 (2011).

18.

Ramilowski, J. A. et al. A draft network of ligand–receptor-mediated multicellular signalling in human. Nat. Commun. 6, 7866 (2015).

19.

Südhof, T. C. Synaptic neurexin complexes: a molecular code for the logic of neural circuits. Cell 171, 745–769 (2017).

20.

Saunders, A. et al. Molecular diversity and specializations among the cells of the adult mouse brain. Cell 174, 1015–1030.e16 (2018).

21.

Lacar, B. et al. Nuclear RNA-seq of single neurons reveals molecular signatures of activation. Nat. Commun. 7, 11022 (2016).

22.

Cho, J.-H., Huang, B. S. & Gray, J. M. RNA sequencing from neural ensembles activated during fear conditioning in the mouse temporal association cortex. Sci. Rep. 6, 31753 (2016).

23.

Hrvatin, S. et al. Single-cell analysis of experience-dependent transcriptomic states in the mouse visual cortex. Nat. Neurosci. 21, 120–129 (2018).

24.

Rao-Ruiz, P. et al. Engram-specific transcriptome profiling of contextual memory consolidation. Nat. Commun. 10, 2232 (2019).

25.

Zhou, M. et al. A central amygdala to zona incerta projection is required for acquisition and remote recall of conditioned fear memory. Nat. Neurosci. 21, 1515–1519 (2018).

26.

Picelli, S. et al. Full-length RNA-seq from single cells using Smart-seq2. Nat. Protoc. 9, 171–181 (2014).

27.

Butler, A., Hoffman, P., Smibert, P., Papalexi, E. & Satija, R. Integrating single-cell transcriptomic data across different conditions, technologies, and species. Nat. Biotechnol. 36, 411–420 (2018).
Acknowledgements
We thank L. Chen, M. Zhou and J. Li for discussion of the experimental design; S. Kolluru and D. Henderson for assistance in library preparation; N. Neff and J. Okamoto for assistance with sequencing; J. Lui for advice on brain dissociation; L. Denardo, J. Lui and L. Luo for the gift and help with the TRAP2 line; and W. Wang, G. Stanley and F. Horns for helpful discussions and computational assistance. S.R.Q. is a Chan Zuckerberg Investigator. This work is supported by a grant from the NIH (MH115999 to T.C.S.)
Ethics declarations
Competing interests
The authors declare no competing interests.
Additional information
Peer review information Nature thanks Steve Ramirez and the other, anonymous, reviewer(s) for their contribution to the peer review of this work.
Publisher's note Springer Nature remains neutral with regard to jurisdictional claims in published maps and institutional affiliations.
Extended data figures and tables
Supplementary information
About this article
Cite this article
Chen, M.B., Jiang, X., Quake, S.R. et al. Persistent transcriptional programmes are associated with remote memory. Nature 587, 437–442 (2020). https://doi.org/10.1038/s41586-020-2905-5
Received:

Accepted:

Published:

Issue Date:
Comments
By submitting a comment you agree to abide by our Terms and Community Guidelines. If you find something abusive or that does not comply with our terms or guidelines please flag it as inappropriate.