Abstract
Stellar mergers are a brief but common phase in the evolution of binary star systems1,2. These events have many astrophysical implications; for example, they may lead to the creation of atypical stars (such as magnetic stars3, blue stragglers4 and rapid rotators5), they play an important part in our interpretation of stellar populations6 and they represent formation channels of compact-object mergers7. Although a handful of stellar mergers have been observed directly8,9, the central remnants of these events were shrouded by an opaque shell of dust and molecules10, making it impossible to observe their final state (for example, as a single merged star or a tighter, surviving binary11). Here we report observations of an unusual, ring-shaped ultraviolet ('blue') nebula and the star at its centre, TYC 2597-735-1. The nebula has two opposing fronts, suggesting a bipolar outflow of material from TYC 2597-735-1. The spectrum of TYC 2597-735-1 and its proximity to the Galactic plane suggest that it is an old star, yet it has abnormally low surface gravity and a detectable long-term luminosity decay, which is uncharacteristic for its evolutionary stage. TYC 2597-735-1 also exhibits Hα emission, radial-velocity variations, enhanced ultraviolet radiation and excess infrared emission—signatures of dusty circumstellar disks12, stellar activity13 and accretion14. Combined with stellar evolution models, the observations suggest that TYC 2597-735-1 merged with a lower-mass companion several thousand years ago. TYC 2597-735-1 provides a look at an unobstructed stellar merger at an evolutionary stage between its dynamic onset and the theorized final equilibrium state, enabling the direct study of the merging process.
Access options
Subscribe to Journal
Get full journal access for 1 year
$199.00
only $3.90 per issue
All prices are NET prices.
VAT will be added later in the checkout.
Rent or Buy article
Get time limited or full article access on ReadCube.
from$8.99
All prices are NET prices.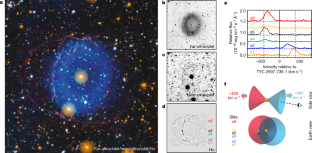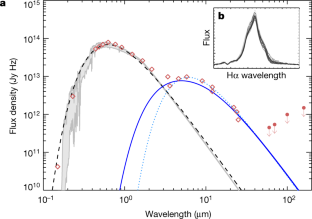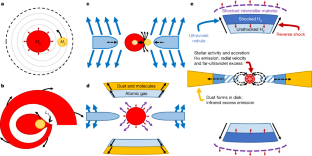 References
1.

Sana, H. et al. Binary interaction dominates the evolution of massive stars. Science 337, 444–446 (2012).

2.

Temmink, K. D., Toonen, S., Zapartas, E., Justham, S. & Gänsicke, B. T. Looks can be deceiving. Underestimating the age of single white dwarfs due to binary mergers. Astron. Astrophys. 636, A31 (2020).

3.

Schneider, F. R. N. et al. Stellar mergers as the origin of magnetic massive stars. Nature 574, 211–214 (2019).

4.

Davies, M. B., Piotto, G. & de Angeli, F. Blue straggler production in globular clusters. Mon. Not. R. Astron. Soc. 349, 129–134 (2004).

5.

Leiner, E., Mathieu, R. D., Vanderburg, A., Gosnell, N. M. & Smith, J. C. Blue lurkers: hidden blue stragglers on the M67 main sequence identified from their Kepler/K2 rotation periods. Astrophys. J. 881, 47 (2019).

6.

Wang, L., Kroupa, P., Takahashi, K. & Jerabkova, T. The possible role of stellar mergers for the formation of multiple stellar populations in globular clusters. Mon. Not. R. Astron. Soc. 491, 440–454 (2020).

7.

Belczynski, K. et al. The origin of the first neutron star–neutron star merger. Astron. Astrophys. 615, A91 (2018).

8.

Bond, H. E. et al. An energetic stellar outburst accompanied by circumstellar light echoes. Nature 422, 405–408 (2003).

9.

Kulkarni, S. R. et al. An unusually brilliant transient in the galaxy M85. Nature 447, 458–460 (2007).

10.

Tylenda, R. & Kamiński, T. Evolution of the stellar-merger red nova V1309 Scorpii: spectral energy distribution analysis. Astron. Astrophys. 592, A134 (2016).

11.

Ivanova, N. et al. Common envelope evolution: where we stand and how we can move forward. Astron. Astrophys. Rev. 21, 59 (2013).

12.

Adams, F. C., Lada, C. J. & Shu, F. H. Spectral evolution of young stellar objects. Astrophys. J. 312, 788–806 (1987).

13.

Figueira, P., Santos, N. C., Pepe, F., Lovis, C. & Nardetto, N. Line-profile variations in radial-velocity measurements. Two alternative indicators for planetary searches. Astron. Astrophys. 557, A93 (2013).

14.

Lima, G. H. R. A., Alencar, S. H. P., Calvet, N., Hartmann, L. & Muzerolle, J. Modeling the Hα line emission around classical T Tauri stars using magnetospheric accretion and disk wind models. Astron. Astrophys. 522, A104 (2010).

15.

Martin, D. C. et al. The galaxy evolution explorer: a space ultraviolet survey mission. Astrophys. J. Lett. 619, L1–L6 (2005).

16.

Martin, D. C. et al. A turbulent wake as a tracer of 30,000 years of Mira's mass loss history. Nature 448, 780–783 (2007).

17.

Gaia Collaboration. VizieR Online Data Catalog: Gaia DR2, I/345 https://vizier.u-strasbg.fr/viz-bin/VizieR?-source=I/345 (2018).

18.

Ness, M. et al. ARGOS - III. Stellar populations in the Galactic bulge of the Milky Way. Mon. Not. R. Astron. Soc. 430, 836–857 (2013).

19.

Edwards, S. et al. Forbidden line and H alpha profiles in T Tauri star spectra: a probe of anisotropic mass outflows and circumstellar disks. Astrophys. J. 321, 473–495 (1987).

20.

Sahai, R., Findeisen, K., Gil de Paz, A. & Sánchez Contreras, C. Binarity in cool asymptotic giant branch stars: a GALEX search for ultraviolet excesses. Astrophys. J. 689, 1274–1278 (2008).

21.

Fukui, Y. et al. Molecular outflows in protostellar evolution. Nature 342, 161–163 (1989).

22.

Kamath, D., Wood, P. R., Van Winckel, H. & Nie, J. D. A newly discovered stellar type: dusty post-red giant branch stars in the Magellanic Clouds. Astron. Astrophys. 586, L5 (2016).

23.

Bujarrabal, V. et al. High-resolution observations of IRAS 08544–4431. Detection of a disk orbiting a post-AGB star and of a slow disk wind. Astron. Astrophys. 614, A58 (2018).

24.

Paxton, B. et al. Modules for experiments in stellar astrophysics (MESA): pulsating variable stars, rotation, convective boundaries, and energy conservation. Astrophys. J. Suppl. Ser. 243, 10 (2019).

25.

Metzger, B. D., Shen, K. J. & Stone, N. Secular dimming of KIC 8462852 following its consumption of a planet. Mon. Not. R. Astron. Soc. 468, 4399–4407 (2017).

26.

Goldreich, P. & Soter, S. Q in the Solar System. Icarus 5, 375–389 (1966).

27.

Johnson, J. A. et al. Retired A stars and their companions: exoplanets orbiting three intermediate-mass subgiants. Astrophys. J. 665, 785–793 (2007).

28.

Pejcha, O., Metzger, B. D. & Tomida, K. Cool and luminous transients from mass-losing binary stars. Mon. Not. R. Astron. Soc. 455, 4351–4372 (2016).

29.

MacLeod, M., Ostriker, E. C. & Stone, J. M. Bound outflows, unbound ejecta, and the shaping of bipolar remnants during stellar coalescence. Astrophys. J. 868, 136 (2018).

30.

de Medeiros, J. R., Da Rocha, C. & Mayor, M. The distribution of rotational velocity for evolved stars. Astron. Astrophys. 314, 499–502 (1996).

31.

Kamiński, T. et al. Submillimeter-wave emission of three Galactic red novae: cool molecular outflows produced by stellar mergers. Astron. Astrophys. 617, A129 (2018).

32.

Pejcha, O., Metzger, B. D., Tyles, J. G. & Tomida, K. Pre-explosion spiral mass loss of a binary star merger. Astrophys. J. 850, 59 (2017).

33.

Martínez-González, S. et al. Supernovae within pre-existing wind-blown bubbles: dust injection versus ambient dust destruction. Astrophys. J. 887, 198 (2019).

34.

Kamiński, T. et al. Organic molecules, ions, and rare isotopologues in the remnant of the stellar-merger candidate, CK Vulpeculae (Nova 1670). Astron. Astrophys. 607, A78 (2017).

35.

Schleicher, D. R. G. & Dreizler, S. Planet formation from the ejecta of common envelopes. Astron. Astrophys. 563, A61 (2014).

36.

Castelli, F. & Kurucz, R. L. in Modelling of Stellar Atmospheres (eds Piskunov, N., Weiss, W. W. & Gray, D. F.) A20 (IAU, 2003).

37.

Bradley, L. et al. photutils: photometry tools (2016).

38.

The Astropy Collaboration. The astropy project: building an open-science project and status of the v2.0 core package. Astron. J. 156, 123 (2018).

39.

Afşar, M. et al. A Spectroscopic survey of field red horizontal-branch stars. Astron. J. 155, 240 (2018).
Acknowledgements
This research is based on observations made with GALEX, obtained from the MAST data archive at the Space Telescope Science Institute, which is operated by the Association of Universities for Research in Astronomy under NASA contract NAS 5–26555. Some of the data presented were obtained at the W. M. Keck Observatory, which is operated as a scientific partnership between the California Institute of Technology, the University of California and NASA. This research made use of the Keck Observatory Archive, which is operated by the W. M. Keck Observatory and the NASA Exoplanet Science Institute, under contract with NASA, and made possible by the financial support of the W. M. Keck Foundation. We recognize and acknowledge the very important cultural role and reverence that the summit of Maunakea has always had within the indigenous Hawaiian community. We are fortunate to have the opportunity to conduct observations from this mountain. Some of the data presented were obtained at the Palomar Observatory. This research made use of the NASA/IPAC Infrared Science Archive, which is operated by the Jet Propulsion Laboratory, California Institute of Technology, under contract with NASA. We thank V. Scowcroft for obtaining Spitzer/IRAC photometry of TYC 2597-735-1. Funding for APASS was provided by the Robert Martin Ayers Sciences Fund. The DASCH data from the Harvard archival plates was partially supported from National Science Foundation (NSF) grants AST-0407380, AST-0909073 and AST-1313370. The American Association of Variable Star Observers has been helpful for finder charts, comparison star magnitudes and recruiting skilled observers, including S. Dufoer, K. Menzies, R. Sabo, G. Stone, R. Tomlin and G. Walker. These results are based on observations obtained with the HPF on the Hobby–Eberly Telescope (HET), which is named in honour of its principal benefactors, William P. Hobby and Robert E. Eberly. These data were obtained during HPF's engineering and commissioning period. We thank the resident astronomers and telescope operators at the HET for the execution of our observations with HPF. We thank C. Cañas for providing an independent verification of the HPF SERVAL pipeline using a CCF-based method to calculate the radial velocities, which resulted in fully consistent radial velocities to the SERVAL-based radial velocities presented here. The HET is a joint project of the University of Texas at Austin, the Pennsylvania State University, Ludwig-Maximilians-Universität München and Georg-August Universität Gottingen. The HET collaboration acknowledges support and resources from the Texas Advanced Computing Center. This work was partially supported by funding from the Center for Exoplanets and Habitable Worlds, which is supported by the Pennsylvania State University, the Eberly College of Science and the Pennsylvania Space Grant Consortium. We thank A. Gil de Paz for obtaining the narrow-band-filter Hα imagery, J. Johnson for commissioning TYC 2597-735-1 radial velocity measurements as part of the California Planet Finder programme, and A. Howard for leading Keck–HIRES spectra and performing the primary radial-velocity reduction on all HIRES data. K.H. acknowledges support from a David and Ellen Lee Postdoctoral Fellowship in Experimental Physics at Caltech, and thanks L. Hillenbrand and E. Hamden for discussions about aspects of this work. B.D.M. acknowledges support from the Hubble Space Telescope (number HST-AR-15041.001-A) and the NSF (number 80NSSC18K1708). K.J.S. received support from the NASA Astrophysics Theory Program (NNX17AG28G). G.S. and A.Mo. acknowledge support from NSF grants AST-1006676, AST-1126413, AST-1310885, AST-1517592, AST-1310875 and AST-1907622, the NASA Astrobiology Institute (NNA09DA76A) and PSARC in their pursuit of precision radial velocities in the near-infrared with HPF. We acknowledge support from the Heising-Simons Foundation via grant 2017-0494 and 2019-1177. Computations for this research were performed on the Pennsylvania State University's Institute for Computational and Data Sciences. G.S. acknowledges support by NASA HQ under the NASA Earth and Space Science Fellowship Program through grant NNX16AO28H, and is a Henry Norris Russell Fellow.
Ethics declarations
Competing interests
The authors declare no competing interests.
Additional information
Peer review information Nature thanks the anonymous reviewer(s) for their contribution to the peer review of this work. Peer reviewer reports are available.
Publisher's note Springer Nature remains neutral with regard to jurisdictional claims in published maps and institutional affiliations.
Extended data figures and tables
Supplementary information
PDF of the entirety of Supplementary Information for this manuscript. Includes separate references, and 1 Supplementary Table.
About this article
Cite this article
Hoadley, K., Martin, D.C., Metzger, B.D. et al. A blue ring nebula from a stellar merger several thousand years ago. Nature 587, 387–391 (2020). https://doi.org/10.1038/s41586-020-2893-5
Received:

Accepted:

Published:

Issue Date:
Comments
By submitting a comment you agree to abide by our Terms and Community Guidelines. If you find something abusive or that does not comply with our terms or guidelines please flag it as inappropriate.