Abstract
Adipose tissue is usually classified on the basis of its function as white, brown or beige (brite)1. It is an important regulator of systemic metabolism, as shown by the fact that dysfunctional adipose tissue in obesity leads to a variety of secondary metabolic complications2,3. In addition, adipose tissue functions as a signalling hub that regulates systemic metabolism through paracrine and endocrine signals4. Here we use single-nucleus RNA-sequencing (snRNA-seq) analysis in mice and humans to characterize adipocyte heterogeneity. We identify a rare subpopulation of adipocytes in mice that increases in abundance at higher temperatures, and we show that this subpopulation regulates the activity of neighbouring adipocytes through acetate-mediated modulation of their thermogenic capacity. Human adipose tissue contains higher numbers of cells of this subpopulation, which could explain the lower thermogenic activity of human compared to mouse adipose tissue and suggests that targeting this pathway could be used to restore thermogenic activity.
Your institute does not have access to this article
Relevant articles
Open Access articles citing this article.
Thomas V. Rousselle

,

Jennifer M. McDaniels

…

Valeria R. Mas

Scientific Reports Open Access 14 June 2022

Seoyeon Lee

,

Abigail M. Benvie

…

Paul D. Soloway

Communications Biology Open Access 14 June 2022

Shengnan Liu

,

Siyi Shen

…

Hao Ying

Nature Communications Open Access 13 June 2022
Access options
Subscribe to Nature+
Get immediate online access to the entire Nature family of 50+ journals
Subscribe to Journal
Get full journal access for 1 year
$199.00
only $3.90 per issue
All prices are NET prices.
VAT will be added later in the checkout.
Tax calculation will be finalised during checkout.
Buy article
Get time limited or full article access on ReadCube.
$32.00
All prices are NET prices.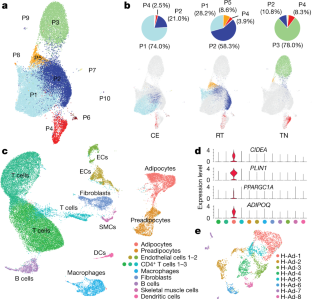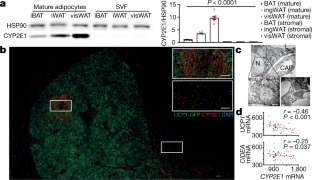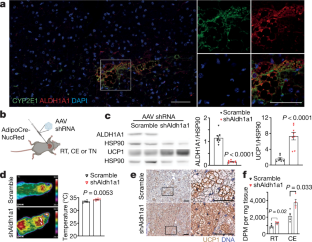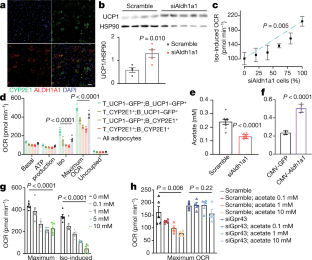 Data availability
All RNA sequencing (RNA-seq) data that support this finding of this study have been deposited in ArrayExpress, with the accession codes E-MTAB-8561 for snRNA-seq of mouse interscapular brown adipocytes at room temperature by Smart-seq2; E-MTAB-8562 for snRNA-seq of mouse interscapular brown adipocytes in room-temperature, cold-exposure and thermoneutral conditions by 10X sequencing; E-MTAB-8564 for snRNA-seq of human BAT cells; E-MTAB-9199 for snRNA-seq of human subcutaneous WAT cells; and E-MTAB-9192 for bulk RNA-seq of mouse iBAT, subscWAT and ingWAT. The datasets can be explored interactively at https://batnetwork.org/. Please address correspondence and requests for materials to C.W. and requests for bioinformatic information to W.S. Source data are provided with this paper.
References
Cannon, B. & Nedergaard, J. Brown adipose tissue: function and physiological significance. Physiol. Rev. 84, 277–359 (2004).

Lauby-Secretan, B. et al. Body fatness and cancer—viewpoint of the IARC working group. N. Engl. J. Med. 375, 794–798 (2016).

Hajer, G. R., van Haeften, T. W. & Visseren, F. L. J. Adipose tissue dysfunction in obesity, diabetes, and vascular diseases. Eur. Heart J. 29, 2959–2971 (2008).

Scheele, C. & Wolfrum, C. Brown adipose cross talk in tissue plasticity and human metabolism. Endocr. Rev. 41, 53–65 (2019).

Roh, H. C. et al. Warming induces significant reprogramming of beige, but not brown, adipocyte cellular identity. Cell Metab. 27, 1121–1137 (2018).

Rosenwald, M., Perdikari, A., Rülicke, T. & Wolfrum, C. Bi-directional interconversion of brite and white adipocytes. Nat. Cell Biol. 15, 659–667 (2013).

Rosenwald, M. & Wolfrum, C. The origin and definition of brite versus white and classical brown adipocytes. Adipocyte 3, 4–9 (2014).

Jung, S. M., Sanchez-Gurmaches, J. & Guertin, D. A. in Brown Adipose Tissue. Handbook of Experimental Pharmacology Vol. 251 3–36 (2018).

Min, S. Y. et al. Diverse repertoire of human adipocyte subtypes develops from transcriptionally distinct mesenchymal progenitor cells. Proc. Natl Acad. Sci. USA 116, 17970–17979 (2019).

Song, A. et al. Low- and high-thermogenic brown adipocyte subpopulations coexist in murine adipose tissue. J. Clin. Invest. 130, 247–257 (2020).

Rajbhandari, P. et al. Single cell analysis reveals immune cell-adipocyte crosstalk regulating the transcription of thermogenic adipocytes. eLife 8, e49501 (2019).

Habib, N. et al. Massively parallel single-nucleus RNA-seq with DroNc-seq. Nat. Methods 14, 955–958 (2017).

Habib, N. et al. Div-Seq: single-nucleus RNA-seq reveals dynamics of rare adult newborn neurons. Science 353, 925–928 (2016).

Picelli, S. et al. Full-length RNA-seq from single cells using Smart-seq2. Nat. Protocols 9, 171–181 (2014).

Shinoda, K. et al. Genetic and functional characterization of clonally derived adult human brown adipocytes. Nat. Med. 21, 389–394 (2015).

Schwalie, P. C. et al. A stromal cell population that inhibits adipogenesis in mammalian fat depots. Nature 559, 103–108 (2018).

Merrick, D. et al. Identification of a mesenchymal progenitor cell hierarchy in adipose tissue. Science 364, eaav2501 (2019).

Gaublomme, J. T. et al. Nuclei multiplexing with barcoded antibodies for single-nucleus genomics. Nat. Commun. 10, 2907 (2019).

Aran, D. et al. Reference-based analysis of lung single-cell sequencing reveals a transitional profibrotic macrophage. Nat. Immunol. 20, 163–172 (2019).

Sebastian, B. M. et al. Identification of a cytochrome P4502E1/Bid/C1q-dependent axis mediating inflammation in adipose tissue after chronic ethanol feeding to mice. J. Biol. Chem. 286, 35989–35997 (2011).

Lee, Y.-H., Petkova, A. P., Konkar, A. A. & Granneman, J. G. Cellular origins of cold-induced brown adipocytes in adult mice. FASEB J. 29, 286–299 (2015).

Cinti, S. Obesity, Type 2 Diabetes and the Adipose Organ (Springer, 2018).

Keijer, J., Li, M. & Speakman, J. R. What is the best housing temperature to translate mouse experiments to humans? Mol. Metab. 25, 168–176 (2019).

Perdikari, A. et al. BATLAS: deconvoluting brown adipose tissue. Cell Rep. 25, 784–797 (2018).

Kiefer, F. W. et al. Retinaldehyde dehydrogenase 1 regulates a thermogenic program in white adipose tissue. Nat. Med. 18, 918–925 (2012).

Eguchi, J. et al. Transcriptional control of adipose lipid handling by IRF4. Cell Metab. 13, 249–259 (2011).

Ziouzenkova, O. et al. Retinaldehyde represses adipogenesis and diet-induced obesity. Nat. Med. 13, 695–702 (2007).

Wu, J. et al. Beige adipocytes are a distinct type of thermogenic fat cell in mouse and human. Cell 150, 366–376 (2012).

Yang, K. et al. Aldehyde dehydrogenase 1 a1 regulates energy metabolism in adipocytes from different species. Xenotransplantation 24, e12318 (2017).

Yasmeen, R. et al. Autocrine function of aldehyde dehydrogenase 1 as a determinant of diet- and sex-specific differences in visceral adiposity. Diabetes 62, 124–136 (2013).

Alvarez, R. et al. A novel regulatory pathway of brown fat thermogenesis. Retinoic acid is a transcriptional activator of the mitochondrial uncoupling protein gene. J. Biol. Chem. 270, 5666–5673 (1995).

Matthias, A. et al. Thermogenic responses in brown fat cells are fully UCP1-dependent. J. Biol. Chem. 275, 25073–25081 (2000).

Tourniaire, F. et al. All-trans retinoic acid induces oxidative phosphorylation and mitochondria biogenesis in adipocytes. J. Lipid Res. 56, 1100–1109 (2015).

Li, H., Toth, E. & Cherrington, N. J. Alcohol metabolism in the progression of human nonalcoholic steatohepatitis. Toxicol. Sci. 164, 428–438 (2018).

Mews, P. et al. Alcohol metabolism contributes to brain histone acetylation. Nature 574, 717–721 (2019).

Liu, X. et al. Acetate production from glucose and coupling to mitochondrial metabolism in mammals. Cell 175, 502–513 (2018).

Balaz, M. et al. Inhibition of mevalonate pathway prevents adipocyte browning in mice and men by affecting protein prenylation. Cell Metab. 29, 901–916 (2019).

Husted, A. S., Trauelsen, M., Rudenko, O., Hjorth, S. A. & Schwartz, T. W. GPCR-mediated signaling of metabolites. Cell Metab. 25, 777–796 (2017).

Hernández, M. A. G., Canfora, E. E., Jocken, J. W. E. & Blaak, E. E. The short-chain fatty acid acetate in body weight control and insulin sensitivity. Nutrients 11, 1943 (2019).

Müller, M. et al. Circulating but not faecal short-chain fatty acids are related to insulin sensitivity, lipolysis and GLP-1 concentrations in humans. Sci. Rep. 9, 12515 (2019).

Drokhlyansky, E. et al. The human and mouse enteric nervous system at single-cell resolution. Science 182, 1606–1622.e23 (2020).

Chen, W., Gardeux, V., Meireles-Filho, A. & Deplancke, B. Profiling of single-cell transcriptomes. Curr. Protoc. Mouse Biol. 7, 145–175 (2017).

Satija, R., Farrell, J. A., Gennert, D., Schier, A. F. & Regev, A. Spatial reconstruction of single-cell gene expression data. Nat. Biotechnol. 33, 495–502 (2015).

Qiu, X. et al. Reversed graph embedding resolves complex single-cell trajectories. Nat. Methods 14, 979–982 (2017).

Ihaka, R. & Gentleman, R. R: a language for data analysis and graphics. J. Comput. Graph. Stat. 5, 299–314 (1996).

Fleming, S. J., Marioni, J. C. & Babadi, M. CellBender remove-background: a deep generative model for unsupervised removal of background noise from scRNA-seq datasets. Preprint at https://doi.org/10.1101/791699 (2019).

Wolock, S. L., Lopez, R. & Klein, A. M. Scrublet: computational identification of cell doublets in single-cell transcriptomic data. Cell Syst. 8, 281–291 (2019).

McGinnis, C. S., Murrow, L. M. & Gartner, Z. J. DoubletFinder: doublet detection in single-cell RNA sequencing data using artificial nearest neighbors. Cell Syst. 8, 329–337 (2019).

Stuart, T. et al. Comprehensive integration of single-cell data. Cell 177, 1888–1902 (2019).

Modica, S. et al. BMP4 promotes a brown to white-like adipocyte shift. Cell Rep. 16, 2243–2258 (2016).

Rosenwald, M., Efthymiou, V., Opitz, L. & Wolfrum, C. SRF and MKL1 independently inhibit brown adipogenesis. PLoS One 12, e0170643 (2017).

Kane, M. A. & Napoli, J. L. Quantification of endogenous retinoids. Methods Mol. Biol. 652, 1–54 (2010).

Sun, W. et al. Cold-induced epigenetic programming of the sperm enhances brown adipose tissue activity in the offspring. Nat. Med. 24, 1372–1383 (2018).

Cinti, S., Cigolini, M., Morroni, M. & Zingaretti, M. C. S-100 protein in white preadipocytes: an immunoelectronmicroscopic study. Anat. Rec. 224, 466–472 (1989).

Pliner, H. A., Shendure, J. & Trapnell, C. Supervised classification enables rapid annotation of cell atlases. Nat. Methods 16, 983–986 (2019).

Yu, G., Wang, L.-G., Han, Y. & He, Q.-Y. clusterProfiler: an R package for comparing biological themes among gene clusters. OMICS 16, 284–287 (2012).

Enomoto, M., Bunge, M. B. & Tsoulfas, P. A multifunctional neurotrophin with reduced affinity to p75NTR enhances transplanted Schwann cell survival and axon growth after spinal cord injury. Exp. Neurol. 248, 170–182 (2013).
Acknowledgements
We are grateful to R. Freimann for assistance with nuclei FACS; E. Yángüez for assistance with 10X and Smart-seq2 experiments; E. D. Rosen for discussions and suggestions; D. Peleg for discussions and suggestions on HPLC analysis; O. Ashenberg, Y. Shen, Y. He, U. Ghoshdastider, G. Tan, B. Deplancke, P. Rainer and T. Wang for comments on the bioinformatics analyses; and W. Koppenol and E. Kiehlmann for histology tissue sections. Data produced and analysed in this paper were generated in collaboration with the Functional Genomics Center Zurich, the Cytometry Facility of University of Zurich and the Scientific Center for Optical and Electron Microscopy of ETH. The work was supported by the Swiss National Science Foundation (SNSF 185011 to C.W.).
Ethics declarations
Competing interests
A.R. is a co-founder and equity holder of Celsius Therapeutics, an equity holder in Immunitas Therapeutics and a scientific advisory board member of Thermo Fisher Scientific, Syros Pharmaceuticals, Asimov and Neogene Therapeutics. As of 1 August 2020, A.R. is an employee of Genentech.
Additional information
Peer review information Nature thanks Patrick Seale and the other, anonymous, reviewer(s) for their contribution to the peer review of this work.
Publisher's note Springer Nature remains neutral with regard to jurisdictional claims in published maps and institutional affiliations.
Extended data figures and tables
Supplementary information
This file contains Supplementary Figures 1 and 2 and Supplementary Tables 1-9.
About this article
Cite this article
Sun, W., Dong, H., Balaz, M. et al. snRNA-seq reveals a subpopulation of adipocytes that regulates thermogenesis. Nature 587, 98–102 (2020). https://doi.org/10.1038/s41586-020-2856-x
Received:

Accepted:

Published:

Issue Date:

DOI: https://doi.org/10.1038/s41586-020-2856-x
Comments
By submitting a comment you agree to abide by our Terms and Community Guidelines. If you find something abusive or that does not comply with our terms or guidelines please flag it as inappropriate.