Abstract
Antibodies that antagonize extracellular receptor–ligand interactions are used as therapeutic agents for many diseases to inhibit signalling by cell-surface receptors1. However, this approach does not directly prevent intracellular signalling, such as through tonic or sustained signalling after ligand engagement. Here we present an alternative approach for attenuating cell-surface receptor signalling, termed receptor inhibition by phosphatase recruitment (RIPR). This approach compels cis-ligation of cell-surface receptors containing ITAM, ITIM or ITSM tyrosine phosphorylation motifs to the promiscuous cell-surface phosphatase CD452,3, which results in the direct intracellular dephosphorylation of tyrosine residues on the receptor target. As an example, we found that tonic signalling by the programmed cell death-1 receptor (PD-1) results in residual suppression of T cell activation, but is not inhibited by ligand-antagonist antibodies. We engineered a PD-1 molecule, which we denote RIPR-PD1, that induces cross-linking of PD-1 to CD45 and inhibits both tonic and ligand-activated signalling. RIPR-PD1 demonstrated enhanced inhibition of checkpoint blockade compared with ligand blocking by anti-PD1 antibodies, and increased therapeutic efficacy over anti-PD1 in mouse tumour models. We also show that the RIPR strategy extends to other immune-receptor targets that contain activating or inhibitory ITIM, ITSM or ITAM motifs; for example, inhibition of the macrophage SIRPα 'don't eat me' signal with a SIRPα–CD45 RIPR molecule potentiates antibody-dependent cellular phagocytosis beyond that of SIRPα blockade alone. RIPR represents a general strategy for direct attenuation of signalling by kinase-activated cell-surface receptors.
Access options
Subscribe to Journal
Get full journal access for 1 year
$199.00
only $3.90 per issue
All prices are NET prices.
VAT will be added later in the checkout.
Rent or Buy article
Get time limited or full article access on ReadCube.
from$8.99
All prices are NET prices.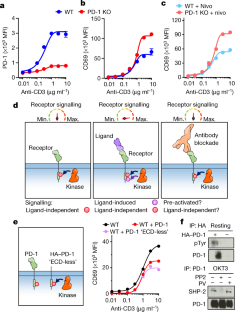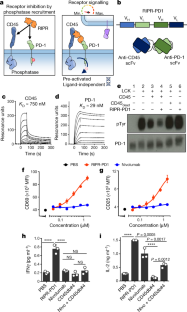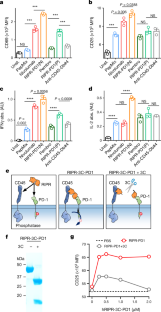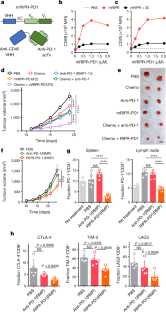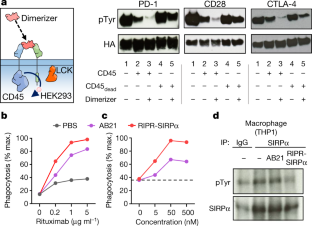 Data availability
Data that support the findings of this study are available from the corresponding author upon reasonable request. Source data are provided with this paper.
References
1.

Wei, S. C., Duffy, C. R. & Allison, J. P. Fundamental mechanisms of immune checkpoint blockade therapy. Cancer Discov. 8, 1069–1086 (2018).

2.

Hermiston, M. L., Xu, Z. & Weiss, A. CD45: a critical regulator of signaling thresholds in immune cells. Annu. Rev. Immunol. 21, 107–137 (2003).

3.

Barr, A. J. et al. Large-scale structural analysis of the classical human protein tyrosine phosphatome. Cell 136, 352–363 (2009).

4.

Smith-Garvin, J. E., Koretzky, G. A. & Jordan, M. S. T cell activation. Annu. Rev. Immunol. 27, 591–619 (2009).

5.

Chang, V. T. et al. Initiation of T cell signaling by CD45 segregation at 'close contacts'. Nat. Immunol. 17, 574–582 (2016).

6.

Stefanová, I., Dorfman, J. R. & Germain, R. N. Self-recognition promotes the foreign antigen sensitivity of naive T lymphocytes. Nature 420, 429–434 (2002).

7.

Vijayakrishnan, L. et al. An autoimmune disease-associated CTLA-4 splice variant lacking the B7 binding domain signals negatively in T cells. Immunity 20, 563–575 (2004).

8.

Hanawa, H. et al. A novel costimulatory signaling in human T lymphocytes by a splice variant of CD28. Blood 99, 2138–2145 (2002).

9.

Wei, F. et al. Strength of PD-1 signaling differentially affects T-cell effector functions. Proc. Natl Acad. Sci. USA 110, E2480–E2489 (2013).

10.

Wang, S.-F. et al. Early T cell signalling is reversibly altered in PD-1+ T lymphocytes infiltrating human tumors. PLoS ONE 6, e17621 (2011).

11.

Bardhan, K. et al. Phosphorylation of PD-1-Y248 is a marker of PD-1-mediated inhibitory function in human T cells. Sci. Rep. 9, 17252 (2019).

12.

Riley, J. L. PD-1 signaling in primary T cells. Immunol. Rev. 229, 114–125 (2009).

13.

Gong, J., Chehrazi-Raffle, A., Reddi, S. & Salgia, R. Development of PD-1 and PD-L1 inhibitors as a form of cancer immunotherapy: a comprehensive review of registration trials and future considerations. J. Immunother. Cancer 6, 8 (2018).

14.

Marasco, M. et al. Molecular mechanism of SHP2 activation by PD-1 stimulation. Sci. Adv. 6, eaay4458 (2020).

15.

Beane, J. D. et al. Clinical scale zinc finger nuclease-mediated gene editing of PD-1 in tumor infiltrating lymphocytes for the treatment of metastatic melanoma. Mol. Ther. 23, 1380–1390 (2015).

16.

Tonks, N. K. Protein tyrosine phosphatases: from genes, to function, to disease. Nat. Rev. Mol. Cell Biol. 7, 833–846 (2006).

17.

Hui, E. et al. T cell costimulatory receptor CD28 is a primary target for PD-1–mediated inhibition. Science 355, 1428–1433 (2017).

18.

Majzner, R. G. et al. Tuning the antigen density requirement for CAR T-cell activity. Cancer Discov. 10, 702–723 (2020).

19.

Neal, J. T. et al. Organoid modeling of the tumor immune microenvironment. Cell 175, 1972–1988.e16 (2018).

20.

Sabari, J. K., Lok, B. H., Laird, J. H., Poirier, J. T. & Rudin, C. M. Unravelling the biology of SCLC: implications for therapy. Nat. Rev. Clin. Oncol. 14, 549–561 (2017).

21.

Zimmerman, S. et al. 2017–2018 scientific advances in thoracic oncology: small cell lung cancer. J. Thorac. Oncol. 14, 768–783 (2019).

22.

Meuwissen, R. et al. Induction of small cell lung cancer by somatic inactivation of both Trp53 and Rb1 in a conditional mouse model. Cancer Cell 4, 181–189 (2003).

23.

George, J. et al. Comprehensive genomic profiles of small cell lung cancer. Nature 524, 47–53 (2015).

24.

Woo, S. R. et al. Immune inhibitory molecules LAG-3 and PD-1 synergistically regulate T-cell function to promote tumoral immune escape. Cancer Res. 72, 917–927 (2012).

25.

Weiskopf, K. et al. Engineered SIRPα variants as immunotherapeutic adjuvants to anticancer antibodies. Science 341, 88–91 (2013).

26.

Ho, C. C. M. et al. "Velcro" engineering of high affinity CD47 ectodomain as signal regulatory protein α (SIRPα) antagonists that enhance antibody-dependent cellular phagocytosis. J. Biol. Chem. 290, 12650–12663 (2015).

27.

Sim, J. et al. Discovery of high affinity, pan-allelic, and pan-mammalian reactive antibodies against the myeloid checkpoint receptor SIRPα. MAbs 11, 1036–1052 (2019).

28.

Davis, S. J. & van der Merwe, P. A. The kinetic-segregation model: TCR triggering and beyond. Nat. Immunol. 7, 803–809 (2006).

29.

Kolbinger, F. et al. Therapeutic binding molecules. WIPO patent WO/2005/026210 (2005).

30.

Davis, S. & Tyson, K. L. PD-1 specific antibodies and uses thereof. US patent US8927697B2 (2009).

31.

Bowman, E. et al. PD1 and/or LAG3 binders. US patent US20170137517A1 (2016).

32.

Rossotti, M. et al. Streamlined method for parallel identification of single domain antibodies to membrane receptors on whole cells. Biochim. Biophys. Acta 1850, 1397–1404 (2015).

33.

Collins, M. et al. Antibodies against PD-1 and uses thereof. WIPO patent WO2004056875A1 (2002).

34.

Zhao, P. et al. Depletion of PD-1-positive cells ameliorates autoimmune disease. Nat. Biomed. Eng. 3, 292–305 (2019).

35.

Dumoulin, M. et al. A camelid antibody fragment inhibits the formation of amyloid fibrils by human lysozyme. Nature 424, 783–788 (2003).

36.

Dumoulin, M. et al. Single-domain antibody fragments with high conformational stability. Protein Sci. 11, 500–515 (2002).

37.

Majzner, R. G., Weber, E. W., Lynn, R. C., Xu, P. & Mackall, C. L. Neurotoxicity associated with a high-affinity GD2 CAR—Letter. Cancer Immunol. Res. 6, 494–495 (2018).

38.

Lynn, R. C. et al. c-Jun overexpression in CAR T cells induces exhaustion resistance. Nature 576, 293–300 (2019).

39.

Pons, J. et al. Antibodies against signal-regulatory protein alpha and methods of use. WIPO patent WO2018057669A1 (2016).
Acknowledgements
We thank members of the Garcia Laboratory for advice and discussion, and M. M. Davis for support with the MC38 tumour model. This work was supported by the Howard Hughes Medical Institute and National Institute (K.C.G.), NIH (R01 AI103867 to K.C.G., U01 CA213273 and R35 CA2311997 to J.S., K00 CA223019 to N.C.), Mathers Foundation (K.C.G.), Stanford Cancer Institute seed grant (K.C.G.), Ludwig Foundation (K.C.G.), Wellcome Trust (Sir Henry Wellcome Fellowship, WT101609MA to R.A.F.), Taube Distinguished Scholar for Pediatric Immunotherapy at Stanford University School of Medicine (R.G.M.), Mentored Clinical Scientist Development Award 1K08DK114563-01 (M.D.) and the American Gastroenterological Association Research Scholars Award (M.D.)
Ethics declarations
Competing interests
RIPR is the subject of a pending patent application (63/056,156), with K.C.G. and R.A.F. listed as inventors. K.C.G. is the founder of Synthekine Therapeutics Inc.
Additional information
Peer review information Nature thanks Enfu Hui and the other, anonymous, reviewer(s) for their contribution to the peer review of this work.
Publisher's note Springer Nature remains neutral with regard to jurisdictional claims in published maps and institutional affiliations.
Extended data figures and tables
Supplementary information
Raw uncropped western blot source images for data shown in the main and Extended Data Figures are shown in Supplementary Figure 1. Boxes indicate cropping for representative images. Representative gating strategies used to analyze primary cells from mouse and human origin and Jurkat cells are shown in Supplementary Figure 2.
About this article
Cite this article
Fernandes, R.A., Su, L., Nishiga, Y. et al. Immune receptor inhibition through enforced phosphatase recruitment. Nature 586, 779–784 (2020). https://doi.org/10.1038/s41586-020-2851-2
Received:

Accepted:

Published:

Issue Date:
Comments
By submitting a comment you agree to abide by our Terms and Community Guidelines. If you find something abusive or that does not comply with our terms or guidelines please flag it as inappropriate.