Abstract
Mutations in the death receptor FAS1,2 or its ligand FASL3 cause autoimmune lymphoproliferative syndrome, whereas mutations in caspase-8 or its adaptor FADD—which mediate cell death downstream of FAS and FASL—cause severe immunodeficiency in addition to autoimmune lymphoproliferative syndrome4,5,6. Mouse models have corroborated a role for FADD–caspase-8 in promoting inflammatory responses7,8,9,10,11,12, but the mechanisms that underlie immunodeficiency remain undefined. Here we identify NEDD4-binding protein 1 (N4BP1) as a suppressor of cytokine production that is cleaved and inactivated by caspase-8. N4BP1 deletion in mice increased the production of select cytokines upon stimulation of the Toll-like receptor (TLR)1–TLR2 heterodimer (referred to herein as TLR1/2), TLR7 or TLR9, but not upon engagement of TLR3 or TLR4. N4BP1 did not suppress TLR3 or TLR4 responses in wild-type macrophages, owing to TRIF- and caspase-8-dependent cleavage of N4BP1. Notably, the impaired production of cytokines in response to TLR3 and TLR4 stimulation of caspase-8-deficient macrophages13 was largely rescued by co-deletion of N4BP1. Thus, the persistence of intact N4BP1 in caspase-8-deficient macrophages impairs their ability to mount robust cytokine responses. Tumour necrosis factor (TNF), like TLR3 or TLR4 agonists, also induced caspase-8-dependent cleavage of N4BP1, thereby licensing TRIF-independent TLRs to produce higher levels of inflammatory cytokines. Collectively, our results identify N4BP1 as a potent suppressor of cytokine responses; reveal N4BP1 cleavage by caspase-8 as a point of signal integration during inflammation; and offer an explanation for immunodeficiency caused by mutations of FADD and caspase-8.
Access options
Subscribe to Journal
Get full journal access for 1 year
$199.00
only $3.90 per issue
All prices are NET prices.
VAT will be added later in the checkout.
Rent or Buy article
Get time limited or full article access on ReadCube.
from$8.99
All prices are NET prices.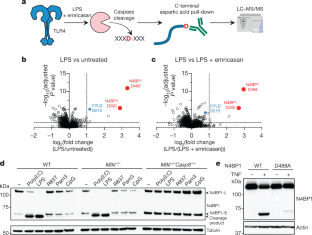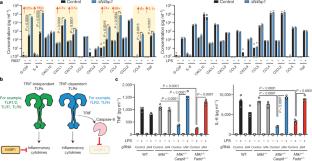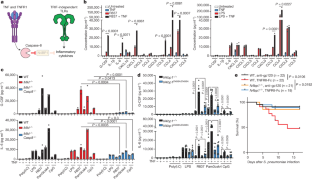 References
1.

Rieux-Laucat, F. et al. Mutations in Fas associated with human lymphoproliferative syndrome and autoimmunity. Science 268, 1347–1349 (1995).

2.

Fisher, G. H. et al. Dominant interfering Fas gene mutations impair apoptosis in a human autoimmune lymphoproliferative syndrome. Cell 81, 935–946 (1995).

3.

Del-Rey, M. et al. A homozygous Fas ligand gene mutation in a patient causes a new type of autoimmune lymphoproliferative syndrome. Blood 108, 1306–1312 (2006).

4.

Chun, H. J. et al. Pleiotropic defects in lymphocyte activation caused by caspase-8 mutations lead to human immunodeficiency. Nature 419, 395–399 (2002).

5.

Lehle, A. S. et al. Intestinal inflammation and dysregulated immunity in patients with inherited caspase-8 deficiency. Gastroenterology 156, 275–278 (2019).

6.

Bolze, A. et al. Whole-exome-sequencing-based discovery of human FADD deficiency. Am. J. Hum. Genet. 87, 873–881 (2010).

7.

Peterson, L. W. et al. Cell-extrinsic TNF collaborates with TRIF signaling to promote Yersinia-induced apoptosis. J. Immunol. 197, 4110–4117 (2016).

8.

Weng, D. et al. Caspase-8 and RIP kinases regulate bacteria-induced innate immune responses and cell death. Proc. Natl Acad. Sci. USA 111, 7391–7396 (2014).

9.

Kang, S. et al. Caspase-8 scaffolding function and MLKL regulate NLRP3 inflammasome activation downstream of TLR3. Nat. Commun. 6, 7515 (2015).

10.

Mandal, P. et al. Caspase-8 collaborates with caspase-11 to drive tissue damage and execution of endotoxic shock. Immunity 49, 42–55.e6 (2018).

11.

Philip, N. H. et al. Activity of uncleaved caspase-8 controls anti-bacterial immune defense and TLR-induced cytokine production independent of cell death. PLoS Pathog. 12, e1005910 (2016).

12.

DeLaney, A. A. et al. Caspase-8 promotes c-Rel-dependent inflammatory cytokine expression and resistance against Toxoplasma gondii. Proc. Natl Acad. Sci. USA 116, 11926–11935 (2019).

13.

Allam, R. et al. Mitochondrial apoptosis is dispensable for NLRP3 inflammasome activation but non-apoptotic caspase-8 is required for inflammasome priming. EMBO Rep. 15, 982–990 (2014).

14.

Varfolomeev, E. E. et al. Targeted disruption of the mouse caspase 8 gene ablates cell death induction by the TNF receptors, Fas/Apo1, and DR3 and is lethal prenatally. Immunity 9, 267–276 (1998).

15.

Watanabe-Fukunaga, R., Brannan, C. I., Copeland, N. G., Jenkins, N. A. & Nagata, S. Lymphoproliferation disorder in mice explained by defects in Fas antigen that mediates apoptosis. Nature 356, 314–317 (1992).

16.

Günther, C. et al. Caspase-8 regulates TNF-α-induced epithelial necroptosis and terminal ileitis. Nature 477, 335–339 (2011).

17.

Welz, P. S. et al. FADD prevents RIP3-mediated epithelial cell necrosis and chronic intestinal inflammation. Nature 477, 330–334 (2011).

18.

Wu, J. et al. Mlkl knockout mice demonstrate the indispensable role of Mlkl in necroptosis. Cell Res. 23, 994–1006 (2013).

19.

He, S., Liang, Y., Shao, F. & Wang, X. Toll-like receptors activate programmed necrosis in macrophages through a receptor-interacting kinase-3-mediated pathway. Proc. Natl Acad. Sci. USA 108, 20054–20059 (2011).

20.

Kaiser, W. J. et al. Toll-like receptor 3-mediated necrosis via TRIF, RIP3, and MLKL. J. Biol. Chem. 288, 31268–31279 (2013).

21.

Pham, V. C. et al. Complementary proteomic tools for the dissection of apoptotic proteolysis events. J. Proteome Res. 11, 2947–2954 (2012).

22.

Rush, J. et al. Immunoaffinity profiling of tyrosine phosphorylation in cancer cells. Nat. Biotechnol. 23, 94–101 (2005).

23.

Kumar, S., van Raam, B. J., Salvesen, G. S. & Cieplak, P. Caspase cleavage sites in the human proteome: CaspDB, a database of predicted substrates. PLoS ONE 9, e110539 (2014).

24.

Zhang, H. et al. Functional complementation between FADD and RIP1 in embryos and lymphocytes. Nature 471, 373–376 (2011).

25.

Oberst, A. et al. Catalytic activity of the caspase-8–FLIPL complex inhibits RIPK3-dependent necrosis. Nature 471, 363–367 (2011).

26.

Kaiser, W. J. et al. RIP3 mediates the embryonic lethality of caspase-8-deficient mice. Nature 471, 368–372 (2011).

27.

Dillon, C. P. et al. Survival function of the FADD–CASPASE-8–cFLIPL complex. Cell Rep. 1, 401–407 (2012).

28.

Newton, K. et al. Activity of caspase-8 determines plasticity between cell death pathways. Nature 575, 679–682 (2019).

29.

Yamasoba, D. et al. N4BP1 restricts HIV-1 and its inactivation by MALT1 promotes viral reactivation. Nat. Microbiol. 4, 1532–1544 (2019).

30.

Heger, K. et al. OTULIN limits cell death and inflammation by deubiquitinating LUBAC. Nature 559, 120–124 (2018).

31.

Oh, S. A., Seki, A. & Rutz, S. Ribonucleoprotein transfection for CRISPR/Cas9-mediated gene knockout in primary T cells. Curr. Protoc. Immunol. 124, e69 (2019).

32.

Nepravishta, R. et al. CoCUN, a novel ubiquitin binding domain identified in N4BP1. Biomolecules 9, 284 (2019).

33.

Zhang, X. et al. An interaction landscape of ubiquitin signaling. Mol. Cell 65, 941–955 (2017).

34.

Fenner, B. J., Scannell, M. & Prehn, J. H. M. Identification of polyubiquitin binding proteins involved in NF-κB signaling using protein arrays. Biochim. Biophys. Acta 1794, 1010–1016 (2009).

35.

Deguine, J., Wei, J., Barbalat, R., Gronert, K. & Barton, G. M. Local TNFR1 signaling licenses murine neutrophils for increased TLR-dependent cytokine and eicosanoid production. J. Immunol. 198, 2865–2875 (2017).

36.

Singh, J. A. et al. Risk of serious infection in biological treatment of patients with rheumatoid arthritis: a systematic review and meta-analysis. Lancet 386, 258–265 (2015).

37.

van der Poll, T., Keogh, C. V., Buurman, W. A. & Lowry, S. F. Passive immunization against tumor necrosis factor-α impairs host defense during pneumococcal pneumonia in mice. Am. J. Respir. Crit. Care Med. 155, 603–608 (1997).

38.

Murphy, J. M. et al. The pseudokinase MLKL mediates necroptosis via a molecular switch mechanism. Immunity 39, 443–453 (2013).

39.

Newton, K., Sun, X. & Dixit, V. M. Kinase RIP3 is dispensable for normal NF-κBs, signaling by the B-cell and T-cell receptors, tumor necrosis factor receptor 1, and Toll-like receptors 2 and 4. Mol. Cell. Biol. 24, 1464–1469 (2004).

40.

Newton, K. et al. Activity of protein kinase RIPK3 determines whether cells die by necroptosis or apoptosis. Science 343, 1357–1360 (2014).

41.

Yamamoto, M. et al. Role of adaptor TRIF in the MyD88-independent toll-like receptor signaling pathway. Science 301, 640–643 (2003).

42.

Peschon, J. J. et al. TNF receptor-deficient mice reveal divergent roles for p55 and p75 in several models of inflammation. J. Immunol. 160, 943–952 (1998).

43.

Newton, K. et al. Cleavage of RIPK1 by caspase-8 is crucial for limiting apoptosis and necroptosis. Nature 574, 428–431 (2019).

44.

Ryder, E. et al. Rapid conversion of EUCOMM/KOMP-CSD alleles in mouse embryos using a cell-permeable Cre recombinase. Transgenic Res. 23, 177–185 (2014).

45.

Hsu, P. D. et al. DNA targeting specificity of RNA-guided Cas9 nucleases. Nat. Biotechnol. 31, 827–832 (2013).

46.

Hindson, B. J. et al. High-throughput droplet digital PCR system for absolute quantitation of DNA copy number. Anal. Chem. 83, 8604–8610 (2011).

47.

Freund, E. C. et al. Efficient gene knockout in primary human and murine myeloid cells by non-viral delivery of CRISPR-Cas9. J. Exp. Med. 217, e20191692 (2020).

48.

Wu, T. D. & Watanabe, C. K. GMAP: a genomic mapping and alignment program for mRNA and EST sequences. Bioinformatics 21, 1859–1875 (2005).

49.

Ritchie, M. E. et al. limma powers differential expression analyses for RNA-sequencing and microarray studies. Nucleic Acids Res. 43, e47 (2015).

50.

Zhou, Y. et al. Metascape provides a biologist-oriented resource for the analysis of systems-level datasets. Nat. Commun. 10, 1523 (2019).

51.

Turner, M. D., Nedjai, B., Hurst, T. & Pennington, D. J. Cytokines and chemokines: at the crossroads of cell signalling and inflammatory disease. Biochim. Biophys. Acta 1843, 2563–2582 (2014).

52.

Elias, J. E. & Gygi, S. P. Target-decoy search strategy for mass spectrometry-based proteomics. Methods Mol. Biol. 604, 55–71 (2010).

53.

Kelley, L. A., Mezulis, S., Yates, C. M., Wass, M. N. & Sternberg, M. J. E. The Phyre2 web portal for protein modeling, prediction and analysis. Nat. Protocols 10, 845–858 (2015).
Acknowledgements
We thank members of the Dixit and D. Vucic laboratories for advice, discussions and reagents—in particular, K. Wickliffe, B. Lee and A. Maltzman; the Genentech genetic analysis, histology, necropsy, immunohistochemistry, clinical pathology and FACS groups for technical assistance; R. Asuncion, B. Torres, B. Hough, M. Long, E. Lu and M. Dempsey for animal husbandry; and B. Pulendran, S. Galli and T. Montine for support.
Ethics declarations
Competing interests
All of the authors, except for A.D.G., are employees of Genentech, Inc. A.D.G. is a Visiting Scientist at Genentech, Inc.
Additional information
Peer review information Nature thanks Igor Brodsky and the other, anonymous, reviewer(s) for their contribution to the peer review of this work.
Publisher's note Springer Nature remains neutral with regard to jurisdictional claims in published maps and institutional affiliations.
Extended data figures and tables
Supplementary information
This file contains the uncropped gel source data.
About this article
Cite this article
Gitlin, A.D., Heger, K., Schubert, A.F. et al. Integration of innate immune signalling by caspase-8 cleavage of N4BP1. Nature (2020). https://doi.org/10.1038/s41586-020-2796-5
Received:

Accepted:

Published:
Comments
By submitting a comment you agree to abide by our Terms and Community Guidelines. If you find something abusive or that does not comply with our terms or guidelines please flag it as inappropriate.