Abstract
The ability to recognize information that is incongruous with previous experience is critical for survival. Novelty signals have therefore evolved in the mammalian brain to enhance attention, perception and memory1,2. Although the importance of regions such as the ventral tegmental area3,4 and locus coeruleus5 in broadly signalling novelty is well-established, these diffuse monoaminergic transmitters have yet to be shown to convey specific information on the type of stimuli that drive them. Whether distinct types of novelty, such as contextual and social novelty, are differently processed and routed in the brain is unknown. Here we identify the supramammillary nucleus (SuM) as a novelty hub in the hypothalamus6. The SuM region is unique in that it not only responds broadly to novel stimuli, but also segregates and selectively routes different types of information to discrete cortical targets—the dentate gyrus and CA2 fields of the hippocampus—for the modulation of mnemonic processing. Using a new transgenic mouse line, SuM-Cre, we found that SuM neurons that project to the dentate gyrus are activated by contextual novelty, whereas the SuM–CA2 circuit is preferentially activated by novel social encounters. Circuit-based manipulation showed that divergent novelty channelling in these projections modifies hippocampal contextual or social memory. This content-specific routing of novelty signals represents a previously unknown mechanism that enables the hypothalamus to flexibly modulate select components of cognition.
Relevant articles
Open Access articles citing this article.
Ruy Gómez-Ocádiz

,

Massimiliano Trippa

…

Christoph Schmidt-Hieber

Nature Communications Open Access 15 July 2022

Antoine Besnard

&

Felix Leroy

Molecular Psychiatry Open Access 18 May 2022

Kasyoka Kilonzo

,

Daniel Strahnen

…

Dennis Kätzel

Translational Psychiatry Open Access 14 March 2022
Access options
Subscribe to Nature+
Get immediate online access to Nature and 55 other Nature journal
Subscribe to Journal
Get full journal access for 1 year
$199.00
only $3.90 per issue
All prices are NET prices.
VAT will be added later in the checkout.
Tax calculation will be finalised during checkout.
Buy article
Get time limited or full article access on ReadCube.
$32.00
All prices are NET prices.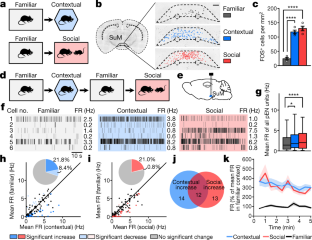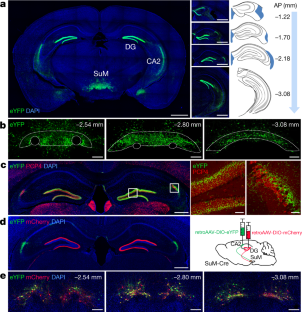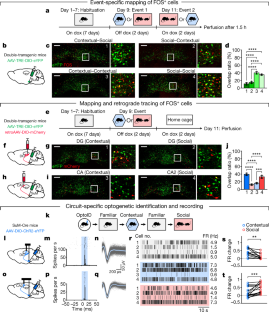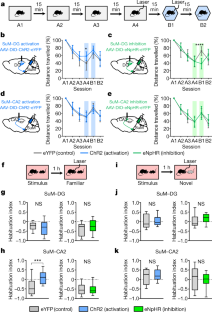 Data availability
Data supporting the findings of this study are available from the corresponding authors upon reasonable request.
Code availability
Custom code used in this study is available from the corresponding authors upon reasonable request.
References
Ranganath, C. & Rainer, G. Neural mechanisms for detecting and remembering novel events. Nat. Rev. Neurosci. 4, 193–202 (2003).

van Kesteren, M. T., Ruiter, D. J., Fernández, G. & Henson, R. N. How schema and novelty augment memory formation. Trends Neurosci. 35, 211–219 (2012).

Lisman, J. E. & Grace, A. A. The hippocampal–VTA loop: controlling the entry of information into long-term memory. Neuron 46, 703–713 (2005).

McNamara, C. G., Tejero-Cantero, Á., Trouche, S., Campo-Urriza, N. & Dupret, D. Dopaminergic neurons promote hippocampal reactivation and spatial memory persistence. Nat. Neurosci. 17, 1658–1660 (2014).

Takeuchi, T. et al. Locus coeruleus and dopaminergic consolidation of everyday memory. Nature 537, 357–362 (2016).

Pan, W. X. & McNaughton, N. The supramammillary area: its organization, functions and relationship to the hippocampus. Prog. Neurobiol. 74, 127–166 (2004).

Saper, C. B. & Lowell, B. B. The hypothalamus. Curr. Biol. 24, R1111–R1116 (2014).

Wirtshafter, D., Stratford, T. R. & Shim, I. Placement in a novel environment induces fos-like immunoreactivity in supramammillary cells projecting to the hippocampus and midbrain. Brain Res. 789, 331–334 (1998).

Ito, M., Shirao, T., Doya, K. & Sekino, Y. Three-dimensional distribution of Fos-positive neurons in the supramammillary nucleus of the rat exposed to novel environment. Neurosci. Res. 64, 397–402 (2009).

Kobayashi, Y. et al. Genetic dissection of medial habenula-interpeduncular nucleus pathway function in mice. Front. Behav. Neurosci. 7, 17 (2013).

Allen Institute for Brain Science. Allen Mouse Brain Atlas http://mouse.brain-map.org/gene/show/12767 (2006).

Franklin, K. & Paxinos, G. The Mouse Brain in Stereotaxic Coordinates (Academic, 2007).

Hama, H. et al. ScaleS: an optical clearing palette for biological imaging. Nat. Neurosci. 18, 1518–1529 (2015).

Soussi, R., Zhang, N., Tahtakran, S., Houser, C. R. & Esclapez, M. Heterogeneity of the supramammillary-hippocampal pathways: evidence for a unique GABAergic neurotransmitter phenotype and regional differences. Eur. J. Neurosci. 32, 771–785 (2010).

Reijmers, L. G., Perkins, B. L., Matsuo, N. & Mayford, M. Localization of a stable neural correlate of associative memory. Science 317, 1230–1233 (2007).

Pedersen, N. P. et al. Supramammillary glutamate neurons are a key node of the arousal system. Nat. Commun. 8, 1405 (2017).

Hashimotodani, Y., Karube, F., Yanagawa, Y., Fujiyama, F. & Kano, M. Supramammillary nucleus afferents to the dentate gyrus co-release glutamate and GABA and potentiate granule cell output. Cell Rep. 25, 2704–2715 (2018).

Tritsch, N. X., Granger, A. J. & Sabatini, B. L. Mechanisms and functions of GABA co-release. Nat. Rev. Neurosci. 17, 139–145 (2016).

Boehringer, R. et al. Chronic loss of CA2 transmission leads to hippocampal hyperexcitability. Neuron 94, 642–655 (2017).

Resendez, S. L. et al. Social stimuli induce activation of oxytocin neurons within the paraventricular nucleus of the hypothalamus to promote social behavior in male mice. J. Neurosci. 40, 2282–2295 (2020).

Wu, Z., Autry, A. E., Bergan, J. F., Watabe-Uchida, M. & Dulac, C. G. Galanin neurons in the medial preoptic area govern parental behaviour. Nature 509, 325–330 (2014).

Strange, B. A., Witter, M. P., Lein, E. S. & Moser, E. I. Functional organization of the hippocampal longitudinal axis. Nat. Rev. Neurosci. 15, 655–669 (2014).

Leutgeb, J. K., Leutgeb, S., Moser, M. B. & Moser, E. I. Pattern separation in the dentate gyrus and CA3 of the hippocampus. Science 315, 961–966 (2007).

McHugh, T. J. et al. Dentate gyrus NMDA receptors mediate rapid pattern separation in the hippocampal network. Science 317, 94–99 (2007).

Wintzer, M. E., Boehringer, R., Polygalov, D. & McHugh, T. J. The hippocampal CA2 ensemble is sensitive to contextual change. J. Neurosci. 34, 3056–3066 (2014).

Chiang, M. C., Huang, A. J. Y., Wintzer, M. E., Ohshima, T. & McHugh, T. J. A role for CA3 in social recognition memory. Behav. Brain Res. 354, 22–30 (2018).

Hitti, F. L. & Siegelbaum, S. A. The hippocampal CA2 region is essential for social memory. Nature 508, 88–92 (2014).

Piskorowski, R. A. et al. Age-dependent specific changes in area CA2 of the hippocampus and social memory deficit in a mouse model of the 22q11.2 deletion syndrome. Neuron 89, 163–176 (2016).

Alexander, G. M. et al. Social and novel contexts modify hippocampal CA2 representations of space. Nat. Commun. 7, 10300 (2016).

Smith, A. S., Williams Avram, S. K., Cymerblit-Sabba, A., Song, J. & Young, W. S. Targeted activation of the hippocampal CA2 area strongly enhances social memory. Mol. Psychiatry 21, 1137–1144 (2016).

Meira, T. et al. A hippocampal circuit linking dorsal CA2 to ventral CA1 critical for social memory dynamics. Nat. Commun. 9, 4163 (2018).

Chen, S, et al. Near-infrared deep brain stimulation via upconversion nanoparticle-mediated optogenetics. Science 359, 679–684 (2018).
Acknowledgements
We thank C. Yokoyama and Y. Mu for comments on the manuscript; J. Shi and X. Wang for experimental support; H. Kurokawa for help with preparing image data; M. Fujisawa and Y. Goto for daily assistance; the Advanced Manufacturing Support Team at RIKEN Center for Advanced Photonics for their assistance in microdrive production; all the members of the Laboratory for Circuit and Behavioral Physiology for advice; J. Johansen for advice and reagents for rabies tracing; and S. Itohara for supplying the Rosa-NLSLacZ Cre reporter mouse. This work was supported by a Japan Society for the Promotion of Science (JSPS) Postdoctoral Fellowship (16F16386 to S.C.), RIKEN Special Postdoctoral Researchers Program (S.C.), a Human Frontier Science Program Postdoctoral Fellowship (LT000579/2018 to S.C.), Grant-in-Aid for Young Scientists from MEXT (the Ministry of Education, Culture, Sports, Science and Technology of Japan) (16K18373 and 18K14857 to S.C.), RIKEN Incentive Research Project Grant for Individual Germinating Research (S.C.), Narishige Neuroscience Research Foundation Grant (S.C.), Nakatani Foundation Grant Program (S.C.), Grant-in-Aid for Scientific Research from MEXT (19H05646 to T.J.M.; 16H04663 to H. Hioki), Grant-in-Aid for Challenging Exploratory Research from MEXT (15K14357 to T.J.M.; 17K19451 to H. Hioki), Grant-in-Aid for Scientific Research on Innovative Areas from MEXT (17H05591, 17H05986 and 19H05233 to T.J.M.; 15H05948 to A.M.; 15H01430 and 18H04743 to H. Hioki), Brain/MINDS from the Japan Agency of Medical Research and Development (AMED) (JP18dm0207064 to H. Hioki), the NeurImag facility at the Institute of Psychiatry and Neurosciences of Paris (IPNP), the Foundation Recherche Médicale (FRM; FTD20170437387 to V.R.), a NARSAD independent investigator grant from the Brain and Behavior Research Foundation (R.A.P.), Ville de Paris Programme Emergences (R.A.P.), Agence Nationale de la Recherche (ANR-13-JSV4-0002-01 and ANR-18-CE37-0020-01 to R.A.P.) and RIKEN Brain Science Institute and Center for Brain Science (T.J.M.).
Ethics declarations
Competing interests
The authors declare no competing interests.
Additional information
Peer review information Nature thanks Masanobu Kano and the other, anonymous, reviewer(s) for their contribution to the peer review of this work.
Publisher's note Springer Nature remains neutral with regard to jurisdictional claims in published maps and institutional affiliations.
Extended data figures and tables
Supplementary information
About this article
Cite this article
Chen, S., He, L., Huang, A.J.Y. et al. A hypothalamic novelty signal modulates hippocampal memory. Nature 586, 270–274 (2020). https://doi.org/10.1038/s41586-020-2771-1
Received:

Accepted:

Published:

Issue Date:

DOI: https://doi.org/10.1038/s41586-020-2771-1
Comments
By submitting a comment you agree to abide by our Terms and Community Guidelines. If you find something abusive or that does not comply with our terms or guidelines please flag it as inappropriate.